News & Racing
Ironman 70.3 Mandurah Pro Fields
Ironman 70.3 Mandurah is only an hour away from the start. The pro fields are one of the strongest we have seen in Australia in a long time for a 70.3. Port Macquarie in 2011 was the last time we saw this sort of depth. There have been a few late entries which are not […]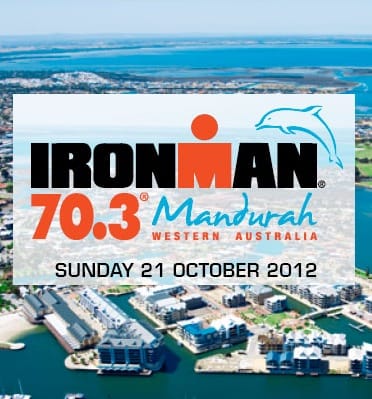 Ironman 70.3 Mandurah is only an hour away from the start. The pro fields are one of the strongest we have seen in Australia in a long time for a 70.3. Port Macquarie in 2011 was the last time we saw this sort of depth. There have been a few late entries which are not on the official start list. Cameron Good, Tim Reed, Mitch Anderson and Kiwi Callum Millward. These guys will add some flavour to the race.
In the men's race we will most likely see Paul Ambrose and Clayton Fettell try to swim and bike their way to an unassailable lead. But with the predicted fast currents we could see the gap between the fast swimmers and the chase pack a lot smaller than normal. This will benefit guys like Tim Reed. Pushing these two gun swim/bikers will be a few guys. Expect to see Cameron Good there after the swim. Good has been on a massive training camp for the last few months. Including training with Macca and Darren Smith's squad in Sedona. The Kiwi pair of James Bowstead and Callum Millward. We saw Millward dead heat in the Boise 70.3 this year with Matty Reed. Millward had an unbelievable race.
Fettell had a strong hitout at the Forster Ultimate two weeks ago. He put 11:30 on to the chase pack including Tim Berkel over the 120kms. Berkel did have a big week of training and this was more of a tester than anything else. Forster was not a goal race so expect to see a completely different Tim Berkel today. In Forster Berkel was around 3:30 down on the swim but we wouldn't read too much in to that.
Matty White will be one of the main contenders and has had plenty of success in WA before. White won the Port Douglas long course in September, was 3rd at Yeppoon 70.3, 4th at Ironman Cairns and second at the Bussleton 70.3 this year. White is here to win and will be one of the main contenders.
Tim Reed is in some good form this year. This is his goal race and after winning Yeppoon 70.3 a couple of months ago he is very confident about his chances this weekend. For someone who has come from a non swimming background Reed shows again and again that he can take it to the front guys. Today we will see a strong front pack and that will test Reed and the other guys.
It will be great to see how ex pro cyclist Casey Munroe has progressed since the Cairns 70.3. Munroe has been doing a lot of cycling with Pete Jacobs. What will remain to be seen is whether Pete Jacobs has returned the favour and given him a some swim coaching.
After a 3rd at this year's Challenge Copenhagen Jimmy Johnsen, one of the many Aeromax Team members racing this weekend, has some very good confidence going in to this weekend. He is showing that he has what it takes to get some big wins. Johnsen has been living and training at the team's Lennox Heads base for the last two seasons and with the likes of Berkel, Reed, Fettell, Lampe and co in the training squad he can't help but rise through the ranks.
Leon Griffin withdrew from the race.
In the women's race it is hard to go past Liz Blatchford and Melissa Hauschildt. Although Lisa Marangon will be interesting to watch along with Cairns 70.3 winner Sarah Crowley and ITU athlete Radka Vodickova.
We had a quick chat with Hauschildt yesterday. After a 'long and tiring' few days traveling with multiple bike bags etc there was an unknown factor in how she would be feeling. After a ride yesterday we can confirm that Hauschildt feels great and is really looking forward to racing today. "I'd prefer some hills but a fast race is always good too. But I've heard the wind can get pretty strong so it might still be a tough ride. Looks like a quality field so the pace should be on."
In August Blatchford won the Boulder 70.3 with Hauschildt coming in second. The big difference was the swim. Both women can ride and run.
Lisa Marangon showed some good form at Forster two weeks ago. She put in a fast swim, rode very well over the 120kms and ran 1:25 for the 20kms. The run pace will be a bit faster today and with a flat 90km bike ride we should see Marangon knock a few minutes off her run time.
Rebecca Hoschke goes very well for someone who holds down a full time job and has to also train as a pro. This is the hardest way to go about it. At Forster the other week Hoschke rode and ran similar times to Marangon. Her swim let her down. It was a very chopping day. The fast currents today should make it harder for the lead swimmers to get away.
We saw Sarah Crowley win Cairns 70.3 this year and the ex ITU triathlete has some good form. Crowley will be coming here to get a podium.
Last time Belinda Granger raced in WA was at the Bussleton 70.3. That eneded in a sprint finish between her and Michelle Wu with experience being the winner on the day. She will be hoping to avoid that this time.
Radka Vodickova has had a good year including a 9th at Hy-Vee finishing just behind Liz Blatchford. Vodickova will be one of the front runners and the ITU athlete can swim very fast and her 21km run is building momentum.
| | | | |
| --- | --- | --- | --- |
| Bib | Athlete | Suburb | Category |
| 3 | Paul Ambrose | Sydney | Pro Male |
| 11 | Matt Bailey | Williamstown | Pro Male |
| 12 | Simon Billeau | Boussais | Pro Male |
| 6 | James Bowstead | Auckland | Pro Male |
| 13 | Brett Carter | Wayville | Pro Male |
| 14 | Ben Cotter | Victoria | Pro Male |
| 5 | Clayton Fettell | Alstonville | Pro Male |
| 15 | Monty Frankish | Ivanhoe | Pro Male |
| 16 | MIKE GEE | NEDLANDS | Pro Male |
| 10 | Justin Granger | Noosa | Pro Male |
| 8 | Todd Israel | Woolloomooloo | Pro Male |
| 7 | Jimmy Johnsen | Brunswick | Pro Male |
| 9 | Christian Kemp (?) | Eaton | Pro Male |
| 17 | James Lewin | Churchlands | Pro Male |
| 18 | Casey Munro | Mooloolaba | Pro Male |
| 19 | Alex Reithmeier | Loftus | Pro Male |
| 20 | Alex Rigby | Carrara | Pro Male |
| 1 | Tim Van Berkel | Port Macquarie | Pro Male |
| 4 | Matt White | Magill | Pro Male |
| 21 | Ruedi Wild | | Pro Male |
| | | | |
| | | | |
| Bib | Athlete | Suburb | Category |
| 31 | Melissa Hauschildt | Indooroopilly | Pro Female |
| 32 | Liz Blatchford | Mermaid Waters | Pro Female |
| 33 | Lisa Marangon | Maroubra | Pro Female |
| 34 | Sarah Crowley | Auchenflower | Pro Female |
| 35 | Belinda Granger | Noosa | Pro Female |
| 36 | Rebecca Hoschke | Narrabeen, | Pro Female |
| 37 | ELLY FRANKS | South Yarra | Pro Female |
| 38 | Kat Baker | Bruce | Pro Female |
| 39 | Radka Vodickova | Jablonec nad Nisou | Pro Female |