News & Racing
Ironman Australia Women's Race Preview 2013
Whilst there has been talk of the small field we should see some competitive racing. Ange Castle is the unknown, Sydney triathletes Rebecca Hoschke and last year's Ironman Australia 2nd placed female Nicole Ward should provide a very competitive race. Kiwi Tamsyn Hayes (no relation) is hard to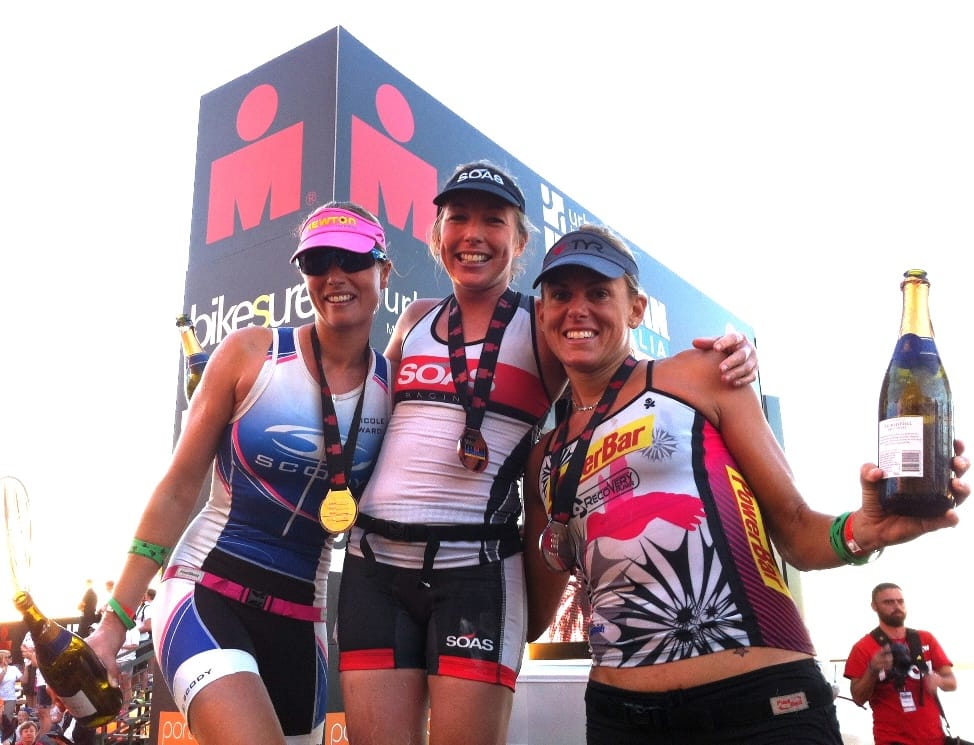 Whilst there has been talk of the small field we should see some competitive racing. Ange Castle is the unknown, Sydney triathletes Rebecca Hoschke and last year's Ironman Australia 2nd placed female Nicole Ward should provide a very competitive race. Kiwi Tamsyn Hayes (no relation) is hard to benchmark against the two Sydney women. There is no doubt that Ward should lead out of the swim and then it will be a battle to stay ahead of Hoschke on the bike. Their last head to head was at Ironman WA in December when Hoschke had the performance of her life to run herself on to the podium in a solid field with a 3:09 marathon.
Nicole Ward did not have the best days at IMWA and struggled for the last 1.5hrs on the bike and the whole run. That head to head doesn't really give us a good indication of how this weekend will pan out. Ward loves racing at Port Macquarie and is in some of the best form of her life. She has been looking relaxed over the last couple of weeks and is confident that she is stronger across all three disciplines.
Rebecca Hoschke is in a good place at the moment with her triathlon career. She is growing with every race and really enjoying her life. This is showing with her bike coming on in leaps and bounds and her run very strong. Ironman Melbourne was not a great day for Hoschke with really sever abductor and groin pains eventually forcing her out of the race midway through the bike leg.
Ironman Melbourne was always Hoschke's A race in Australia this year. However she now finds herself lining up at Ironman Australia to utlise that training and also to fine tune aspects of her racing to take in to the rest of the year. "I really do love racing Ironman Australia. It has a great atmosphere that is hard to replicate in the big cities. Everything about this race makes me so happy to be here. The volunteers, people of Port Macquarie, the competitors and supporters make this race so memorable."
Hoschke has always talkedd about Tamsyn Hayes to us and this time is no different. "Tamsyn is such a great talent. She is still young and growing in the sport. People may be very surprised with her performance this weekend. It is so great to see her here racing. I look forward to competing with her on Sunday."
The talk is all about the head to head between Nicole Ward and Hoschke. "Like myself Nicole has a career and somehow manages to train like a pro. I know what this race means to Nicole and she will be giving it 110% on Sunday in an attempt to get her first win."
Caloundra based Ange Castle (or Gator to her club mates) is the unknown of the four pro females racing this Sunday. Castle did her first triathlon in 2009 and only qualified for a pro license late in 2012. Training hasn't gone 100% to plan. "I haven't raced a great deal for various reasons. I love to train and love the lifestyle that comes with triathlon – plus it's so easy to enjoy in one of the best training locations there is!" (Although we hear a move to Sydney is on the cards)
Castle debuted in Ironman last year at Cairns and this weekend will be her second Ironman distance triathlon "I have been a lot more comfortable with the training volume this time round and very keen to see how my day pans out at Port.  "
Coached and sponsored by Scott Penny from GetBiking (Saucony is Ange's other main sponsor), Castle belongs to the Caloundra Triathlon Club. In her day job she works as an Event Coordinator on the Caloundra Music Festival. This is something in common she has with her competitors this weekend. Hoschke and Ward both have full time careers and somehow manage to train at a high level for Ironman.
Tamsyn Hayes is another that that is still somewhat of an unknown quantity. Pulling together an ideal race over the iron distance is still something that is being perfected by Hayes. She could be a surprise packet but we won't know until Sunday afternoon.
There is talk of more than one female age grouper pushing the lead ladies. That will remain to be seen on Sunday.
Age grouper Michelle Duffield could end up amongst the pro women. Her twin sister, Katy, was the first age group female at Ironman Melbourne this year and from all accounts they have been training up a storm together. Katy ran a 3:14 marathon in Melbourne for 16th overall.