News & Racing
Ironman Melbourne is the first BIG Ironman of 2014 and looks set to explode
Ironman Melbourne is one of the toughest professional Ironman races in the world due to the caliber and number of pros who come to Melbourne each year to chase the early season points and dollars on offer. Picking a winner is tough as there are a number of the world's best racing and as we [&h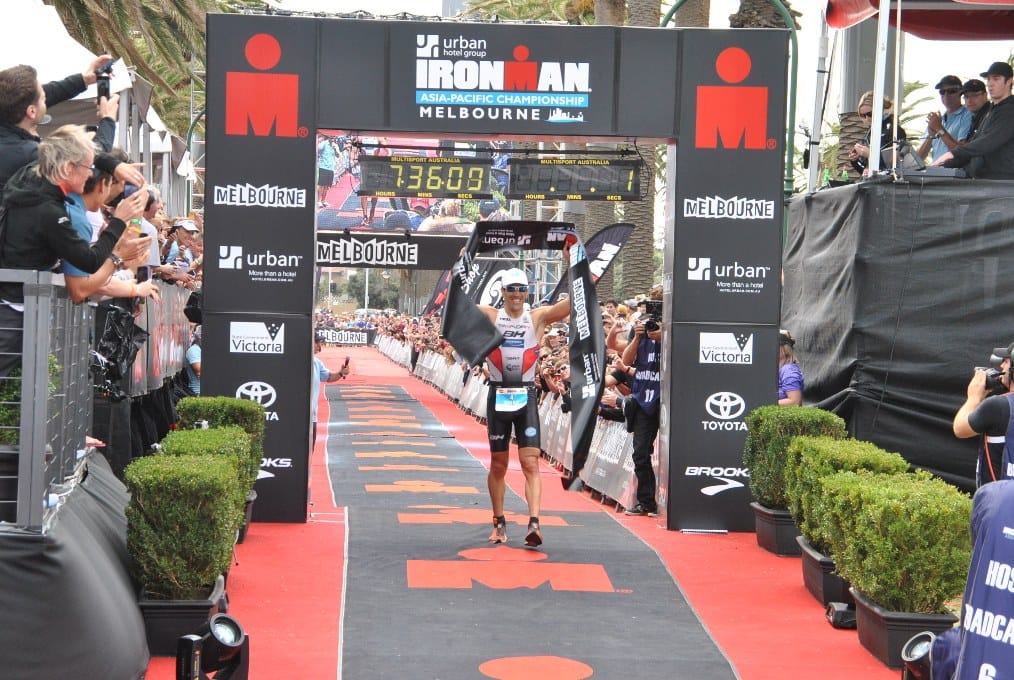 Ironman Melbourne is one of the toughest professional Ironman races in the world due to the caliber and number of pros who come to Melbourne each year to chase the early season points and dollars on offer.
Picking a winner is tough as there are a number of the world's best racing and as we know there are many variables on the day that can change the game. The top seeds are all capable of winning on their day (no surprises there) if they have been able to nail the training and are injury free.   Throw in some wild cards who don't have the experience but certainly have the talent and the race is wide open.
We are an Australian based website so it would be un-Australian not to start with Luke McKenzie and Craig Alexander.
The current world No.2 Luke McKenzie made some big changes at the start of last year which were needed to uncork his potential over this distance. The rest as they say is history. With a win at Ironman Cairns in the middle of 2013 McKenzie backed it up with a 2nd at the biggest Ironman race of the year.   We are really looking forward to see him go on with this great form.
Three time Ironman World Champion Craig Alexander retired from Ironman last year but left the door ajar for Melbourne if he was in a position to race competitively. After Auckland and Geelong 70.3 in January he knew he had the speed and with a focus on Ironman between Geelong and Melbourne he would be ready to race at his best. Standing between these two leading Aussies and the title are a few other Australians and some well credential Europeans.
Marino Vanhoenacker knows how to race Melbourne and went very close last year before succumbing to the 'on fire' Spaniard Eneko Llanos. Luxomberg's Dirk Bockel is also here to win. Bockel won Challenge Roth in 2013 but was disappointed with his Kona race after possibly some bad nutrition on the course. Something we will never get to the bottom of. He will be stronger than ever in 2014 and looking to win some big races for his new team Uplace BMC. Bockel's team mate Axel Zeebroek is also someone who will be challenging the front runners.
At Ironman Frankfurt last year, and in one of the toughest fields of the year, Zeebroeck finished 4th. Zeebroeck should be a lead swim/biker on Sunday and will have to back it up with a very fast run to be competitive. In Frankfurt he ran a 2:58. David Dellow should be recharged after finishing 2013 quietly when he had to pull out of Kona due to illness.
We were at Bintan when Dellow raced the iron distance there in 2013. Once we saw him run out of T2 there we knew that it was not going to be his day. After moving away from his coach and settling down in to his own rhythm we think we should see a reinvigorated Dellow. He had a hit out at Mooloolaba a week ago and hopefully this was a short and sharp 'race mode' training session. He ran a very handy 34min for the 10km. Racing at Mooloolaba was also Casey Munro. Jimmy Johnsen needs no introduction.
Jimmy Johnsen won Ironman Western Australia in 2012 and also Challenge Barcelona in 2010. He knows what it is like to cross the finishline first. In 2013 his title defense of Ironman Western Australia didn't go to plan but he hung in and finished the race which was good to see. Johnsen has just signed with Endura Nutrition and has put it out on social media that he is going to 'smash' the race. We love Jimmy's positive outlook.
Courtney Atkinson will be looking to test himself out again over the Iron distance. After Bintan last year he went back to the drawing boards to fine tune his race approach. Atkinson is an unknown quantity but the field will be keeping a very close eye on this very talented athlete. Atkinson should use his natural swim talent to be with the leaders out of the water and if he races his own race on the bike he will set himself up for a strong run.
2012 Ironman Australia champion Paul Ambrose had a good hit out recently at Huskisson against a solid field and came away with a 5th. He rode most of the race solo and came away with an impressive bike time. His run was a moderate 1:13 against his competition that ran 1:07 to 1:11. Ironman Melbourne will give us a good gauge of how his 2014 is shaping up.
Paul Matthews made his Ironman debut in Melbourne in 2012 and raced to an 8:05 giving him the second fastest Ironman debut time in history.   Matthews is a very successful triathlete with a long record of wins and podiums across all distances.
Christian Kemp is having his second ever Ironman race. For him this is a personal thing and he is totally focused on coming away with a positive experience that builds on his Ironman debut in Frankfurt last year. Kemp admittedly did not ride his own race and went with some surges on the bike which ultimately undid him on the back half of the ride in Frankfurt. A 2:10 first 90 was too quick with a 4:43 ride the end result. He ran to finish and posted a 3:00 marathon. There are many other high caliber triathletes racing.
The full start list from Ironman is below.
The Women
Australia's Rebekah Keat will be looking froward to having a successful race after being forced out of Kona. 2013 was also a successful year for Bek with three 70.3 wins and a second at Ironman Mt Tremblant. Bek has the credentials to go all the way on Sunday. Team Sirius produces great results and the squad is building an impressive resume. The Bek and Siri athlete/coach combination will have her firing on all cylinders this weekend.
The 2011 champion Caroline Steffen will be the one to beat. Steffen is always dangerous and with the changes she has made to her life recently we are all looking forward to seeing who she will go on Sunday. A new coach in Chris McCormack, and new nutrition plan thanks to Darryl Griffiths from Shotz Sport Nutrition and a more settled training environment that she is in control of must surely result in a strong performance.
Angela Naeth is a prolific winner and podium finisher over the 70.3 distance and along with her second at Abu Dhabi over the longer distance Naeth is a danger woman. The longer Ironman distance will be a great challenge for the talented triathlete. A 5th last year at Ironman Lake Tahoe (which was won by another competitor in Melbourne on Sunday  Åsa Lundström) saw her swim and ride well and finish with a credible, but slightly off the pace, 3:24 marathon.
Mary Beth Ellis is widely known as one of the toughest female triathletes around. The 8 time Ironman champion is alway ready to win. A bike crash put her out of the running at the Ironman world champs in 2013 so she will be even more motivated to win in 2014. Ellis holds the US female Ironman record.
Sydney's  Rebecca Hoschke is becoming a force to be reckoned with. Her gritty never say die attitude always has her ready to pounce. The long distance suits Hoschke who always has some ground to make up after the swim. She will bike and run herself in to a solid position on Sunday. Hoschke's positive attitude and motivation means that she always has a ball racing and this gives her some extra legs in most races.
Kate Bevilaqua raced Ironman New Zealand recently and came away with a result she knew was going to be a reality after having a break over Christmas
| | | | |
| --- | --- | --- | --- |
| Bib | Name | Cat | Country |
| 1 | Marino Vanhoenacker | MPRO | BEL |
| 2 | Craig Alexander | MPRO | AUS |
| 3 | Luke McKenzie | MPRO | AUS |
| 5 | Dirk Bockel | MPRO | LUX |
| 6 | David Dellow | MPRO | AUS |
| 7 | Axel Zeebroek | MPRO | BEL |
| 8 | Jimmy Johnsen | MPRO | DEN |
| 9 | Daniel Halksworth | MPRO | GBR |
| 10 | Christian Kramer | MPRO | GER |
| 21 | Mike Aigroz | MPRO | SUI |
| 22 | Paul Ambrose | MPRO | GBR |
| 23 | Paul Amey | MPRO | GBR |
| 24 | Courtney Atkinson | MPRO | AUS |
| 25 | Dan Brown | MPRO | PHI |
| 27 | Guy Crawford | MPRO | NZL |
| 28 | Balazs Csoke | MPRO | HUN |
| 29 | Adam Gordon | MPRO | NZL |
| 30 | Philip Graves | MPRO | GBR |
| 31 | Jarmo Hast | MPRO | FIN |
| 32 | Mathias Hecht | MPRO | SUI |
| 33 | Todd Israel | MPRO | AUS |
| 34 | Christian Kemp | MPRO | AUS |
| 35 | Arland Macasieb | MPRO | PHI |
| 36 | Paul Matthews | MPRO | AUS |
| 37 | Casey Munro | MPRO | AUS |
| 38 | David Nasvik | MPRO | SWE |
| 39 | Josh Rix | MPRO | AUS |
| 40 | Peter Robertson | MPRO | AUS |
| 42 | Sylvain Rota | MPRO | FRA |
| 43 | Benjamin Sanson | MPRO | FRA |
| 44 | Swen Sundberg | MPRO | GER |
| 45 | Michael Weiss | MPRO | AUT |
| 46 | Luke Whitmore | MPRO | AUS |
| 47 | Harry Wiltshire | MPRO | GBR |
| 48 | Pawel Wisniewski | MPRO | POL |
| | | | |
| 11 | Caroline Steffen | FPRO | SUI |
| 12 | Mary Beth Ellis | FPRO | USA |
| 13 | Rebekah Keat | FPRO | AUS |
| 15 | Åsa Lundström | FPRO | SWE |
| 16 | Rebecca Hoschke | FPRO | AUS |
| 17 | Stephanie Jones | FPRO | USA |
| 18 | Mareen Hufe | FPRO | GER |
| 19 | Angela Naeth | FPRO | CAN |
| 20 | Kim Schwabenbauer | FPRO | USA |
| 49 | Kate Bevilaqua | FPRO | AUS |
| 50 | Tracy Douglas | FPRO | AUS |
| 51 | Michelle Duffield | FPRO | AUS |
| 52 | Kristy Hallett | FPRO | AUS |
| 53 | Tine Holst | FPRO | DEN |
| 55 | Keiko Tanaka | FPRO | JPN |