News & Racing
Ironman World Championship Pre Race Media Conference 2012 – Kona
At the Ironman World Chamapionship 2012 Media Conference today were Kelly Williamson, Rachel Joyce, Leanda Cave, Caroline Steffen, Miranda Carfrae, Sebastian Kienle, Jordan Rapp, Andreas Raelert, Pete Jacobs and Craig Alexander. Greg Welch introduced them all and we had a few words from each of them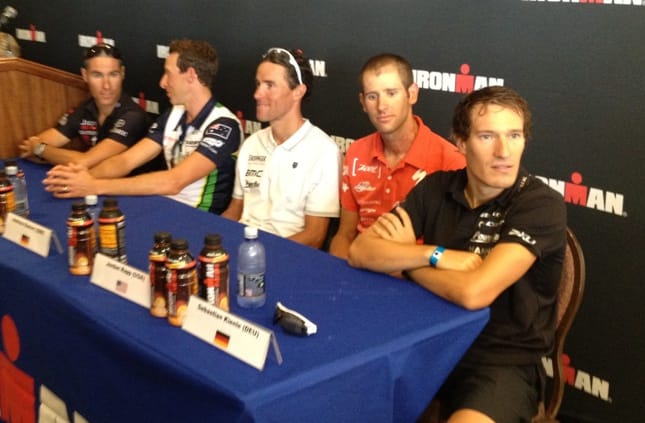 At the Ironman World Chamapionship 2012 Media Conference today were Kelly Williamson, Rachel Joyce, Leanda Cave, Caroline Steffen, Miranda Carfrae, Sebastian Kienle, Jordan Rapp, Andreas Raelert, Pete Jacobs and Craig Alexander.
Greg Welch introduced them all and we had a few words from each of them before the questions flowed.
Craig Alexander is preparing for a lot of heat and wind on Saturday. Crowie was asked if this suited the Southern Hemisphere athletes. "It suits athletes who have prepared well mentally and physically. It doesn't matter where you come from."
Crowie is not naive to think that there will not be tactics to counteract his strengths. "I suppose they will. If the wind is from the side then this won't matter. The successful people race their own race but don't disregard the competitors."
"When I crossed the line last year I felt I'd come back. I wanted to race Lance but when it was announced that he was not racing in I was already in Kona mode and it didn't affect me. Chris McCormack will be totally here to race. If people want to talk about the race being be Macca and I then that is fine. But it is insulting to the other guys here."
Commenting on Lance's troubles Craig said "I don't like someone getting done on innuendo I want to see the evidence or nick off. The integrity of the our sport comes first though before headlines so WTC did make the right decision and we all need to accept that."
Pete Jacobs explained to us what has been different this year? "It has been a slow year with injuries. The last few years I have had injuries but this year it was earlier and not so severe. I have more kms in legs this year. In fact I have has around two months more of running than recent years. I have had more work on the bike and have relaxed really well in the last two weeks."
"I look over the years and see that I didn't get off the bike with the right people. The guys that come here for a first and don't win really get hurt. I haven't been there before. I came here last year to get a podium and got it. This year I am coming here to win. This is the first time that has been my goal. I am in better shape than ever. Everything has gone well this year."
Mirinda Carfrae has had a mixed bag this year. "I got hammered earlier this year by Caroline and Rachel in Melbourne. I have been improving my bike but I am realistic about whether I will see the results this weekend. I didn't feel I was prepared properly last year. The bike is where I lose all my time and it needed to be fixed."
Mirinda has had a quieter year this year than previous. "I have been trying different things this year to address weaknesses and that is why I have had an up and down year. Sometimes you need to make bigger changes to get ahead."
Asked about the new 5min gap between the women and men Mirinda said "Pro women have been asking for a 5min delay. I don't think it is enough. I'd love to see 8-10min. There are still some women who will swim in to the guys."
Without Julie Dibbens and Chrissie Wellington racing Mirinda is not looking at changing her race stratgey. "I may not be as far behind off the bike but for me it is always about pushing myself and breaking run records. It has been my mentality since I started triathlon."
We finally met the German bike wizz and world 70.3 champ Sebastian Kienle. After being introduced by kind words from Greg Welch Kienle thanked him and said "It is nice to hear some kind words from an Australian. Not what we normally hear." This was of course a tongue in cheek comment and taken well by all. Kienle was quick to point out that he is not here to break the bike record." I want to have a good finish. I may have a nice walk in the Energy Lab though..
Leanda Cave, Vegas was a good surprise and showed that the years plan was on track. The hotter the better for me. Even as the stronger swimmers I still think it needs to have a bigger gap. If a women is a bit crafty she can sit on a guys fee.
Jordan Rapp is finally here to race at Kona for the first time. "After putting down a 2:46 in Texas I finally felt I could go to Kona and show the respect this race deserves."
Caroline Steffen says she is finally getting used to the big races now. On the swim start she said "We should get 10min behind the guys."
Rachel Joyce, had the flu and feeling better. Mon and Tues felt bad. Feeling good now. I agree also with a bigger swim gap. It makes it fairer and easier to follow.
Kelly Williamson, have run to where she is capable. Five ironman races and doesn't feel she is experienced enough on the run yet. I also thinking that the reflectors should be two and not one.
Jordan Rapp, how do you feel about racing at Kona for the first time? I just want to put together a solid race. At 20mile mark I'll see who is behind and ahead of me and work it out from there.
Andreas Raelert, do you need to be a bit meaner to win? Well I think you need to be a little mean to get on the podium here.