James Cunnama and Yvonne van Vlerken win Challenge Walchsee Triathlon
Athletes at Tyrol Challenge Walchsee-Kaiserwinkel competed against both the elements and each other this weekend with James Cunnama (RSA) and Yvonne van Vlerken (NED) coming out on top. The high-paced race was marked by heavy rains and fierce competition. Brit Jodie Swallow had a 45 second lead out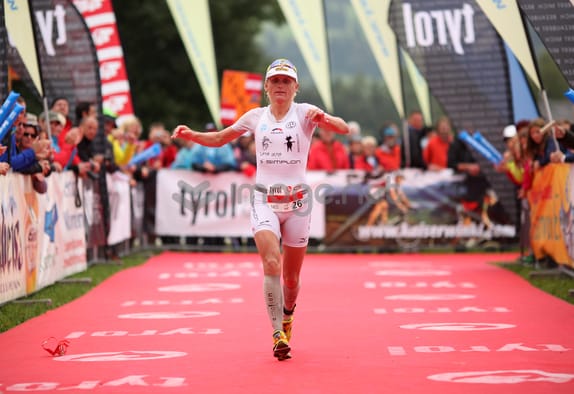 Athletes at Tyrol Challenge Walchsee-Kaiserwinkel competed against both the elements and each other this weekend with James Cunnama (RSA) and Yvonne van Vlerken (NED) coming out on top.
The high-paced race was marked by heavy rains and fierce competition. Brit Jodie Swallow had a 45 second lead out of the water while van Vlerken was four minutes back in sixth place. However, with a strong perfomance on the bike the two-time Challenge Walchsee-winner Van Vlerken closed the gap before the final 21 kilometres with the fastest bike split of 2:24:33. On the run, she showed immediately that she had on top form and increased her lead up to two minutes posting a 1:23:51 half marathon and taking the win in 4:19:13. Jodie Swallow came in as second in 4:21:42. Kaisa Lehtonen took the third place more than 10 minutes later.
In the men's race, Todd Skipworth (AUS) led of the water in 22:10, nearly two minutes faster than his competitors. The former rower was able to extend his lead on the bike course and took a lead of over three minutes onto the run. However, he had two of the sport's best runners behind him. Cunnama and Timo Bracht (DEU) last met at DATEV Challenge Roth in July and once again it was Cunnama who won the battle with the fastest run split of the day (1:14:01), taking the title in 3:55:43, just 28 seconds ahead of Bracht. Skipworth finished in third, just 27 seconds behind Bracht.
Professional men's results
| | | | | | | | |
| --- | --- | --- | --- | --- | --- | --- | --- |
| 1 | Cunnama, James (RSA) | TeamTBB | 3:55:43 | 0:24:03 | 2:14:20 | 1:14:01 | 3:55:43 |
| 2 | Bracht, Timo (GER) | Power Horse Triathlon Team | 3:56:11 | 0:24:05 | 2:14:12 | 1:14:32 | 3:56:11 |
| 3 | Skipworth, Todd (AUS) | Triathlon South | 3:56:38 | 0:22:10 | 2:13:00 | 1:17:59 | 3:56:38 |
| 4 | Fachbach, Markus (GER) | Software AG DSW Darmstadt | 3:58:12 | 0:24:08 | 2:14:26 | 1:16:28 | 3:58:12 |
| 5 | Bittner, Per (GER) | teamTBB | 4:03:55 | 0:24:10 | 2:15:20 | 1:21:08 | 4:03:55 |
| 6 | Conrad, Fabian (GER) | Team ARNDT | 4:09:42 | 0:25:10 | 2:22:09 | 1:18:41 | 4:09:42 |
| 7 | Hagen, Bernd (GER) | Team Arndt | 4:11:59 | 0:27:45 | 2:20:11 | 1:20:01 | 4:11:59 |
| 8 | Hörmann, Markus (GER) | CIS Amberg / teamTBB | 4:12:49 | 0:27:18 | 2:23:01 | 1:19:10 | 4:12:49 |
| 9 | Krämer, Lukas (GER) | Argi+ TriTeam Schongau | 4:13:22 | 0:27:21 | 2:21:37 | 1:20:59 | 4:13:22 |
| 10 | Bischof, Marcel (GER) | Tri TEAM SSKC Aschaffenburg | 4:13:31 | 0:27:27 | 2:22:23 | 1:19:53 | 4:13:31 |
Professional women's results
| | | | | | |
| --- | --- | --- | --- | --- | --- |
| Name | Swim | Bike | Run | Finish | Place |
| van Vlerken, Yvonne (NED) | 0:27:14 | 2:24:33 | 1:23:51 | 4:19:13 | 1 |
| Swallow, Jodie (GBR) | 0:23:39 | 2:28:24 | 1:26:13 | 4:21:41 | 2 |
| Lehtonen, Kaisa (FIN) | 0:26:05 | 2:33:44 | 1:25:46 | 4:29:36 | 3 |
| Csomor, Erika (HUN) | 0:27:45 | 2:36:30 | 1:23:45 | 4:32:32 | 4 |
| Blatt, Susan (GER) | 0:27:17 | 2:33:00 | 1:28:37 | 4:32:39 | 5 |
| Sämmler, Daniela (GER) | 0:26:49 | 2:35:03 | 1:29:54 | 4:35:16 | 6 |
| Kuhn, Nina (GER) | 0:31:21 | 2:36:18 | 1:28:10 | 4:39:44 | 7 |
| Finger, Annett (GER) | 0:27:48 | 2:41:27 | 1:31:33 | 4:44:51 | 8 |
| Potuckova, Eva (CZE) | 0:24:24 | 2:43:39 | 1:35:35 | 4:47:34 | 9 |
| Grohmann, Katharina (GER) | 0:35:10 | 2:47:44 | 1:29:43 | 4:56:40 | 10 |