News & Racing
Javier Gomez makes it three from three at season opening Auckland WTS
Spain's Javier Gomez kept his undefeated streak at the Auckland World Triathlon Series intact, recording a comprehensive win over Jonathan Brownlee in the first WTS event of the 2014 season in New Zealand. Gomez had already recorded wins on the Auckland course in 2012 and 2013, and while pushe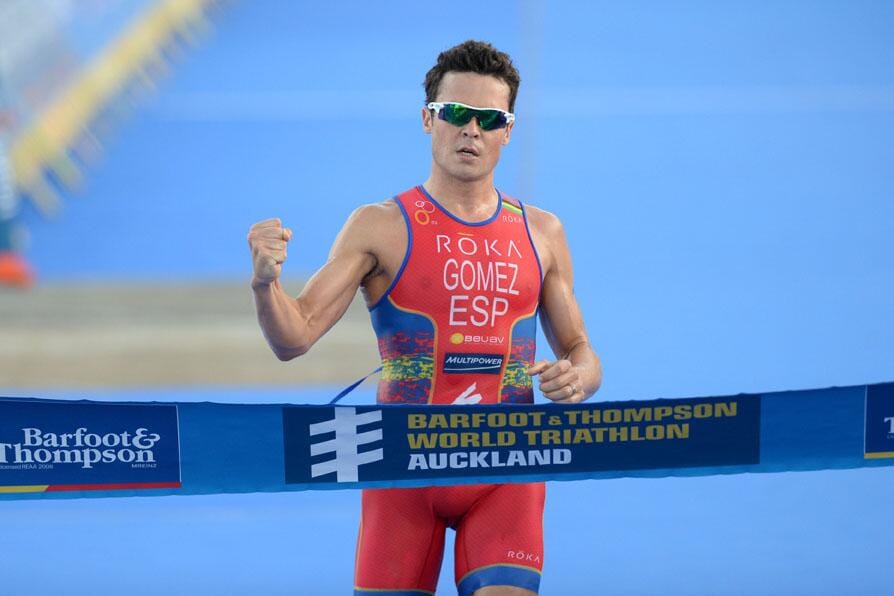 Spain's Javier Gomez kept his undefeated streak at the Auckland World Triathlon Series intact, recording a comprehensive win over Jonathan Brownlee in the first WTS event of the 2014 season in New Zealand.
Gomez had already recorded wins on the Auckland course in 2012 and 2013, and while pushed for most of the run by Brownlee, proved too strong again on the tough, hilly course. After Mario Mola's New Plymouth win blemished his completely perfect record in New Zealand, Gomez was happy to be back on top.
"It was another great race here in New Zealand," Gomez said. "I felt really good all the time, the water I felt good, the bike was really hard, some of us worked pretty hard to keep the gap between the second group and during the run I tried many times to drop Jonathan, he was pretty strong, but on the last lap I had something left and I just gave everything and didn't look back and it was a pretty good race."
It was Brownlee's first race of the 2014 season and he gave full credit to Gomez, as they added yet another chapter to their amazing rivalry.
"It was a tough race today, it was another pure triathlon," Brownlee said. "I keep using that word and with Javi as I keep saying the thing about him is that I'm always going to see him in the race because he's going to be out at the front of the swim and he's a great cyclist and then the run, to be honest he destroyed me today. It's the first race of the season today and he absolutely killed me, I was hanging most of the way through that and then the last lap he just had more than me. Well done to him, he's obviously in great shape."
Behind the two sport's heavyweights, a fractured field opened it up for a first-time podium place. While Joao Silva, Mario Mola, Sven Riederer, Steffen Justus and other pre-race medal contenders ended-up in a chase-pack that left T2 two minutes behind the leaders, a trans-tasman battle emerged between New Zealand's Ryan Sissons and a trio of Australians, Dan Wilson, Ryan Bailie and Aaron Royle. While Sissons fell away, the Australian trio ran shoulder to shoulder until the final kilometre, when first Bailie surged, then Wilson and Royle. But Royle backed his sprint, just as when he won the Under23 world title on the Auckland course in 2012.
"I was pretty confident in my sprint finish so I tried to go with about 2.5k to go but they hung on so I just thought no, I'm just going to save it for that final 100 and luckily I got the win for third," Royle said.
"To be honest I don't think I've ever felt so bad on a bike so to come out there and get on the podium, I was completely shocked but obviously very happy. It was a tough bike, I couldn't do anything today on the bike, I was totally spent and I got on the run and for some reason I found some legs that I didn't think I had today so I'm a bit shocked but obviously over the moon to get on the podium."
The men's race also started with a non-wetsuit swim and it was Slovakia's Richard Varga who led the field into T2. A large lead group of almost 20 was whittled down over the next few laps, led by Gomez, Brownlee, Henri Schoeman and Thomas Bishop pushing the pace at the top. At the halfway point it was stripped down to 12. But that wasn't quite the end of the story in the bike, as New Zealand's Tom Davison engineered an impressive bridge up to the lead pack. Davison left the swim a minute down from the leaders but showed the form that carried him to a national road cycling championships as he just sliced through the field, towing teammate Ryan Sissons and Australia's Declan Wilson with him to the leaders.
The lead pack of 15 entered T2 with a lead of over a minute and a half, meaning the medals were secure within the top 15. From there, another thrilling battle between Brownlee and Gomez loomed. They edged away from all chasers early on, before Gomez put down the hammer at 7km and comfortably collected his third Auckland win.
| | | | | | | |
| --- | --- | --- | --- | --- | --- | --- |
| Pos | Athlete | Country | Time | Swim | Bike | Run |
| 1 | Javier Gomez | ESP | 01:54:13 | 00:17:53 | 01:04:15 | 00:30:42 |
| 2 | Jonathan Brownlee | GBR | 01:54:33 | 00:17:51 | 01:04:19 | 00:31:03 |
| 3 | Aaron Royle | AUS | 01:55:49 | 00:18:02 | 01:04:07 | 00:32:16 |
| 4 | Dan Wilson | AUS | 01:55:52 | 00:18:04 | 01:04:04 | 00:32:24 |
| 5 | Ryan Bailie | AUS | 01:55:59 | 00:18:03 | 01:04:05 | 00:32:27 |
| 6 | Ryan Sissons | NZL | 01:56:23 | 00:18:46 | 01:03:24 | 00:32:48 |
| 7 | Vincent Luis | FRA | 01:56:30 | 00:18:02 | 01:04:08 | 00:32:55 |
| 8 | Mario Mola | ESP | 01:56:36 | 00:18:24 | 01:05:43 | 00:31:09 |
| 9 | Richard Varga | SVK | 01:56:37 | 00:17:47 | 01:04:20 | 00:33:02 |
| 10 | Gregor Buchholz | GER | 01:56:39 | 00:18:49 | 01:05:18 | 00:31:12 |
| 11 | Fernando Alarza | ESP | 01:56:49 | 00:18:22 | 01:05:44 | 00:31:16 |
| 12 | Grant Sheldon | GBR | 01:56:54 | 00:18:45 | 01:05:13 | 00:31:30 |
| 13 | Steffen Justus | GER | 01:57:00 | 00:18:05 | 01:06:00 | 00:31:34 |
| 14 | Alexander Bryukhankov | RUS | 01:57:09 | 00:18:00 | 01:06:00 | 00:31:30 |
| 15 | Matthew Sharp | GBR | 01:57:15 | 00:18:26 | 01:05:38 | 00:31:46 |
| 16 | Franz Loeschke | GER | 01:57:36 | 00:18:46 | 01:05:22 | 00:32:07 |
| 17 | Bryan Keane | IRL | 01:57:44 | 00:18:39 | 01:05:28 | 00:32:08 |
| 18 | Joao Pereira | POR | 01:57:47 | 00:18:37 | 01:05:30 | 00:32:17 |
| 19 | Marco Van Der Stel | NED | 01:58:05 | 00:18:03 | 01:04:08 | 00:34:29 |
| 20 | Sven Riederer | SUI | 01:58:19 | 00:18:17 | 01:05:45 | 00:32:54 |
| 21 | Benjamin Shaw | IRL | 01:58:22 | 00:17:56 | 01:04:17 | 00:34:43 |
| 22 | Conor Murphy | IRL | 01:58:24 | 00:18:29 | 01:05:37 | 00:32:53 |
| 23 | Thomas Springer | AUT | 01:58:38 | 00:18:48 | 01:05:20 | 00:33:02 |
| 24 | Ivan Rana | ESP | 01:58:39 | 00:18:42 | 01:05:23 | 00:33:09 |
| 25 | Maximilian Schwetz | GER | 01:58:50 | 00:18:01 | 01:06:05 | 00:33:20 |
| 26 | Henri Schoeman | RSA | 01:58:53 | 00:17:48 | 01:04:21 | 00:35:19 |
| 27 | Andrew Yorke | CAN | 01:58:56 | 00:18:27 | 01:05:39 | 00:33:24 |
| 28 | Thomas Bishop | GBR | 01:58:59 | 00:18:02 | 01:04:04 | 00:35:21 |
| 29 | Joe Maloy | USA | 01:59:07 | 00:18:08 | 01:06:07 | 00:33:26 |
| 30 | Yuichi Hosoda | JPN | 01:59:15 | 00:18:41 | 01:05:27 | 00:33:42 |
| 31 | Declan Wilson | AUS | 01:59:20 | 00:18:57 | 01:03:18 | 00:35:34 |
| 32 | Hirokatsu Tayama | JPN | 01:59:25 | 00:17:53 | 01:05:02 | 00:35:03 |
| 33 | Ron Darmon | ISR | 01:59:54 | 00:18:38 | 01:05:30 | 00:34:22 |
| 34 | Grégory Rouault | ITU | 02:00:07 | 00:18:45 | 01:05:25 | 00:34:30 |
| 35 | Ivan Vasiliev | RUS | 02:00:19 | 00:17:51 | 01:06:14 | 00:34:42 |
| 36 | Tom Davison | NZL | 02:00:23 | 00:18:36 | 01:03:33 | 00:36:54 |
| 37 | Akos Vanek | HUN | 02:00:36 | 00:18:04 | 01:06:02 | 00:35:09 |
| 38 | Andrea Salvisberg | SUI | 02:01:02 | 00:18:45 | 01:05:25 | 00:35:25 |
| 39 | Francesc Godoy | ESP | 02:01:12 | 00:18:01 | 01:06:05 | 00:35:40 |
| 40 | Cameron Goldsmid | NZL | 02:01:50 | 00:18:23 | 01:07:59 | 00:34:11 |
| 41 | Crisanto Grajales | MEX | 02:01:58 | 00:18:30 | 01:09:33 | 00:32:34 |
| 42 | Vicente Hernandez | ESP | 02:02:07 | 00:18:34 | 01:05:34 | 00:36:27 |
| 43 | William Huffman | USA | 02:03:04 | 00:18:40 | 01:09:56 | 00:33:06 |
| 44 | Yegor Martynenko | UKR | 02:03:20 | 00:18:43 | 01:07:34 | 00:35:39 |
| 45 | Gaspar Riveros | CHI | 02:03:32 | 00:18:39 | 01:05:27 | 00:38:05 |
| 46 | Bryce Mcmaster | NZL | 02:04:31 | 00:18:19 | 01:10:14 | 00:34:35 |
| DNF | Marten Van Riel | BEL | 00:00:00 | 00:18:29 | 01:07:44 | 00:00:00 |
| DNF | Tommy Zaferes | USA | 00:00:00 | 00:18:02 | 01:08:13 | 00:00:00 |
| DNF | Martin Van Barneveld | NZL | 00:00:00 | 00:18:55 | 01:09:44 | 00:00:00 |
| DNF | Vladimir Turbayevskiy | RUS | 00:00:00 | 00:18:09 | 01:10:27 | 00:00:00 |
| DNF | Miguel Arraiolos | POR | 00:00:00 | 00:18:40 | 01:09:56 | 00:00:00 |
| DNF | Joao Silva | POR | 00:00:00 | 00:18:18 | 01:08:45 | 00:00:00 |
| DNF | Dmitry Polyanskiy | RUS | 00:00:00 | 00:17:49 | 00:00:00 | 00:00:00 |
| DNF | Igor Polyanskiy | RUS | 00:00:00 | 00:17:53 | 00:00:00 | 00:00:00 |
| DNF | Kyle Jones | CAN | 00:00:00 | 00:18:05 | 00:00:00 | 00:00:00 |
| DNF | Ryan Fisher | AUS | 00:00:00 | 00:18:07 | 00:00:00 | 00:00:00 |
| DNF | David Hauss | FRA | 00:00:00 | 00:18:08 | 00:00:00 | 00:00:00 |
| DNF | Andrew Mccartney | CAN | 00:00:00 | 00:18:05 | 00:00:00 | 00:00:00 |
| DNF | Premysl Svarc | CZE | 00:00:00 | 00:18:26 | 00:00:00 | 00:00:00 |
| DNF | Jarrod Shoemaker | USA | 00:00:00 | 00:18:27 | 00:00:00 | 00:00:00 |
| DNF | Bruno Matheus | BRA | 00:00:00 | 00:18:42 | 00:00:00 | 00:00:00 |
| DNF | Brendan Sexton | AUS | 00:00:00 | 00:18:44 | 00:00:00 | 00:00:00 |
| DNF | Mark Buckingham | GBR | 00:00:00 | 00:18:48 | 00:00:00 | 00:00:00 |
| DNF | Andrey Bryukhankov | RUS | 00:00:00 | 00:18:45 | 00:00:00 | 00:00:00 |
| DNF | Ivan Ivanov | UKR | 00:00:00 | 00:18:53 | 00:00:00 | 00:00:00 |