News & Racing
Javier Gómez Wins The Men's 2017 Ironman 70.3 World Championship Title
Today, on the final day of the Ironman 70.3 World Championship in Chattanooga, Tennessee, Javier Gómez (ESP) ran his way to victory with a time of 3:49:45. Entering the run portion of the race, Gómez faced a four-minute deficit, but by mile-eight he made his pass on American Ben Kanute to seal his s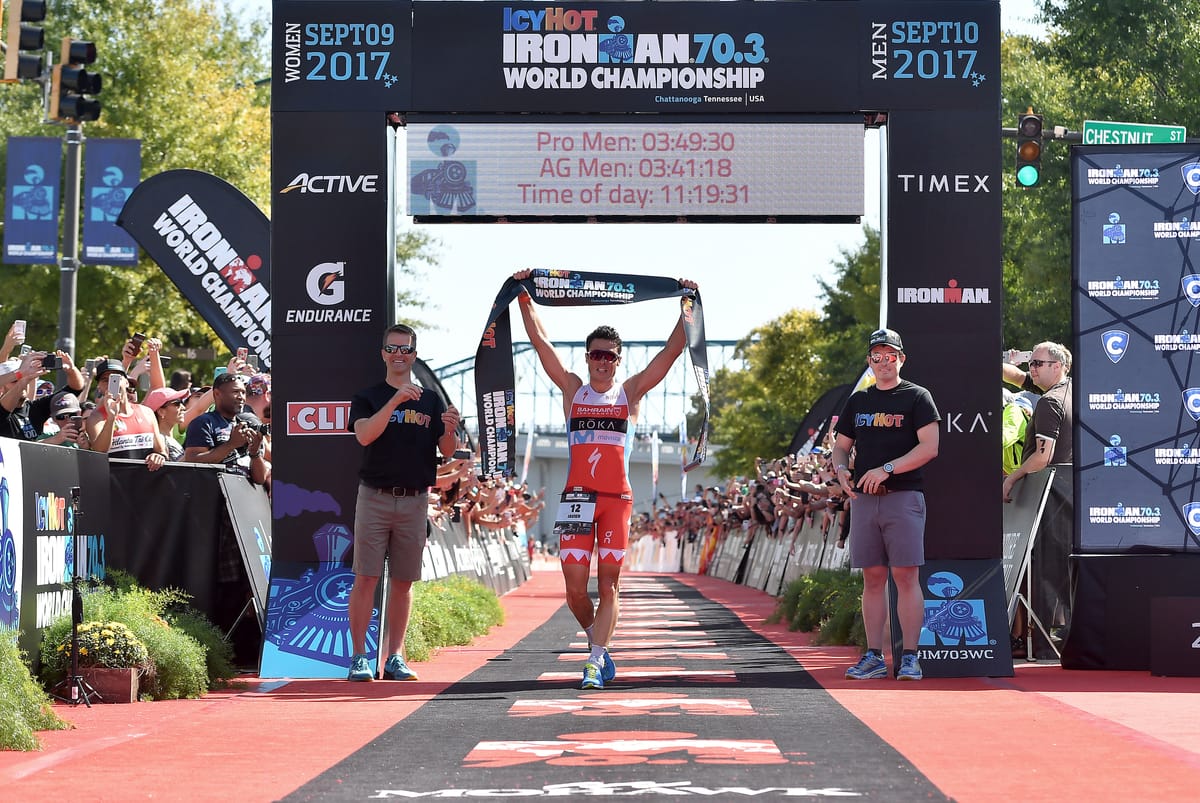 Today, on the final day of the Ironman 70.3 World Championship in Chattanooga, Tennessee, Javier Gómez (ESP) ran his way to victory with a time of 3:49:45. Entering the run portion of the race, Gómez faced a four-minute deficit, but by mile-eight he made his pass on American Ben Kanute to seal his second Ironman 70.3 World Championship victory. Closing out the first-ever two-day Ironman 70.3 World Championship, approximately 2,800 male athletes were registered to compete in the Ironman 70.3 World Championship.
As the professionals entered the water, Kanute and Gómez immediately put a gap on the rest of the field, making use of their short-course race experience. Once on the bike, Kanute rocketed to first, while Gómez managed to hang onto second until halfway through the bike, when strong cyclists began to dig. Sebastian Kienle (GER) and Maurice Clavel (GER) jostled for second through the latter half of the bike, as Kanute stretched his lead to four minutes on the front. Out onto the two-loop run, Gómez immediately began chipping into Kanute's lead. Kanute held on until the momentous pass was made at mile eight. The 2012 Olympic silver medalist ran down the finish chute, clocking a time that proved he was back to form after his injury a year ago that forced him from the Olympic Games in Rio.
After a grueling performance, Gómez was welcomed at the finish line by a supportive crowd and yesterday's women's  Ironman 70.3 World Champion Daniela Ryf (CHE). Gómez is the most decorated ITU athlete of all time, with a record five ITU world titles to accompany 13 ITU World Triathlon Series wins. His half marathon time in Mont Tremblant at the 2014 Ironman 70.3 World Championship still ranks as the fastest Ironman 70.3 run in history (1:09:27).
"I wasn't expecting [to run] 1:10 [this year] and had to take some risks," said Gómez. "I had my racing strategy in mind, knowing that Ben (Kanute) was there and a very fast racer, so I warmed up in the water a bit more than usual for an Ironman 70.3 race. I knew I would need a good start to stay with him."
"I just went for it from the beginning. I didn't think too much, I just tried to find a hard pace that I felt I could keep for the whole race. When I eventually caught him, I didn't have much left, but luckily it was enough to pass him and take the win."
Giving up only a minute and-a-half to the Spaniard, Kanute held on for second—the best finish for an American male since Chris Lieto in 2011. Ironman world record holder Tim Don joined the short-course specialists on the podium, working his way from sixth into third. Sam Appleton (AUS) finished in fourth, while Kienle rounded out the top five.
Javier Gómez  03:49:44
Ben Kanute 03:51:06
Tim Don 03:51:59
Sam Appleton 03:53:32
Sebastian Kienle 03:54:44
Maurice Clavel 03:55:17
Tyler Butterfield 03:56:20
Andreas Dreitz 03:56:33
Ivan Tutukin RUS 03:56:53
Pieter Heemeryck 03:57:36
The impressive field of athletes tackled a 1.2-mile (1.9 km) swim in the Tennessee River, followed by a 56-mile (90 km) bicycle ride through Lookout Mountain and into downtown Chattanooga, capped with a 13.1-mile (21 km) run through Downtown Chattanooga along the Tennessee Riverwalk and Riverfront Parkway, finishing at Ross's landing. In order to qualify for the 2017 Ironman 70.3 World Championship, more than 185,000 age-group athletes competed to earn slots at over 100 Ironman 70.3 events held worldwide.
Yesterday, September 9, Daniela Ryf (CHE) claimed the women's 2017 Ironman 70.3 World Championship title. As the weekend draws to a close, approximately 4,500 athletes from 90 countries, regions and territories competed in this world-renowned event, marking the largest field of any Ironman or Ironman 70.3 triathlon to-date.