Jeremy Jurkiewicz and Elizabeth Lyles too good for the locals at Sunsmart Ironman Western Australia 2013
Frenchman Jeremy Jurkiewicz and American Elizabeth Lyles have put on classy performances -particularly on the run course- in Bussleton, WA, to record their names on the last Ironman titles handed out in 2013 at the 10th Anniversary of the Sunsmart Ironman Western Australia. In doing so, Jurkiewicz a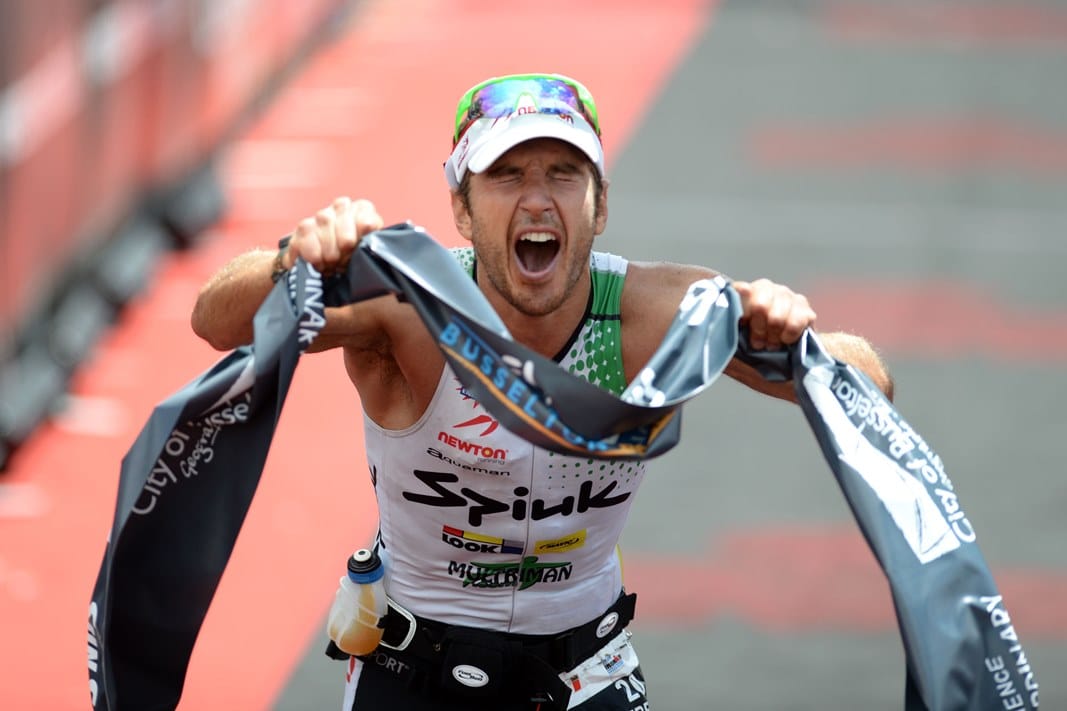 Frenchman Jeremy Jurkiewicz and American Elizabeth Lyles have put on classy performances -particularly on the run course- in Bussleton, WA, to record their names on the last Ironman titles handed out in 2013 at the 10th Anniversary of the Sunsmart Ironman Western Australia. In doing so, Jurkiewicz and Lyles continue keep the titles in international hands once again, despite some gutsy efforts from Australian competitors.
Men's Race:
This race was set to be a cracker, with a hot international field including the likes of German Andreas Raelert, Frenchman Jeremy Jurkiewicz and Dane Jimmy Johnson -the defending champion- taking on the local guns lead by Luke Bell, Dave Dellow, Matty White, Matt Burton, Leon Griffen and Todd Israel.
Bell and Jurkiewicz lead the men out of the water in a sharp 47:02, with Guy Crawford, Dave Dellow, Alex Reithmeier   and  Andreas Raelert just over a minute back, posting 48:14, 48:16, 48:19 and 48:20 swims respectively. Sneaking under the 50-minute mark were Leon Griffen (49:47), Todd Israel (49:43), Josh Rix (49:49) and Jimmy Johnson (49:57) who formed an early chase group. Off the pace out of the drink were Matty White, Matt Burton and Markus Thomschke who post 53-0dd minute swims, giving them plenty of work to do to chase down the leaders.
Onto the bike course it was Bell and Jurkiewicz early on who pu"shed the pace, maintaining a lead close to two minutes by the 50km mark over a chase group containing Dellow, Ralert and Reithmeier, with Giffen, Israel and Rix a further 1:40-odd back. Right from the get-go, defending champion Jimmy Johnson couldn't match the pace, falling almost 5-minutes behind by the 20km mark.
Experiencing lower-back problems, German Andreas Raelert's day appeared to be over by the 80km mark on the bike, making it a "bitterly disappointing" and short race for the perennial Kona contender. Not long after, at around the 95km mark, Bell also had to drop out after suffering a knee injury, leaving Jurkiewivz solo at the front with a 2:15 gap over the nearest chasers, and over four minutes to the next group.
The Frenchman fought on over the fast and hot Bussleton course, posting a 4:29:17 bike split to enter T2 with a near-four minute advantage over the chasers, lead by Matt Burton.
Burton crushed the pedals of his Giant to post a race-best 4:25:25 bike split to put himself at the pointy end of the chase pack. Other big movers were Matty White and Markus Thomschke who both used a 4:27-odd rides to find themselves in 4th and 5th off the bike, just ahead of Dave Dellow.  White was second onto the run after a quick chance in the tents, leading out Crawford and Burton.
After the first lap, Jurkiewicz held a 3:17 lead over Matty White who was having a solid dig, at one stage closing the lead to under three minutes. Burton remained in third whilst Dellow had moved to fourth and Thomschke remained steady in fifth.
By the half-way point, Dellow had run up to second, pushing Matty White back to third as Matt Burton fell back. Jurkiewicz meanwhile was busy extending his lead to almost six-minutes by the 32km mark. German Thomschke was also making moves, pushing past Matty White and eventually Dave Dellow, for second place.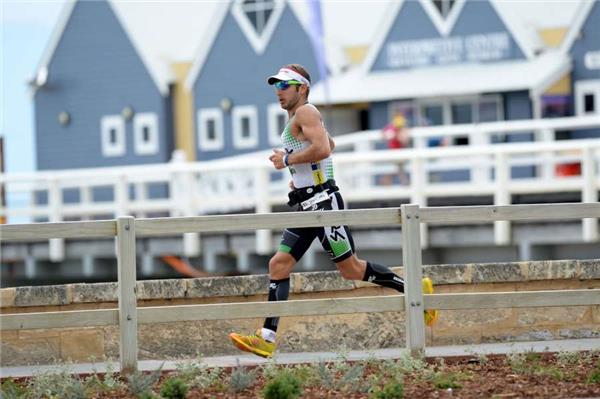 Jurkiewicz produced a race-best 2:48:18 run in the heat of Bussleton to take the 10th anniversary edition of Ironman Western Australia in 8:08:16, his second Ironman title. Markus Thomschke's 2:51:23 earned him second in 8:16:01 whilst Dave Dellow hung on to the final podium in 8:19:10 ahead of a charging Todd Israel.
Israel's breakout performance -with a 49:43 swim, 4:36:07 bike and a solid 2:52:18 marathon- to claim fourth demonstrated his development is continuing well. David Dellow will also be walking away from this result with a smile on his face. After struggling with injury, illness as well as having left Team TBB this year, the 2012 Ironman Cairns champion showed he's on the way back to form.
Women's Race:
In the women's race, American Elizabeth Lyles spent a lot of her day at the front of the race and used a fast 3:01:00 marathon to take the win.
Australian Lisa Marangon used a 54:10 swim to lead the field out of the water, giving her a three-minute gap over the pack which included hometown hero Kate Bevilaqua, Rebecca Preston and Elizabeth Lyles whilst Michelle Bremer of New Zealand,   Julia Grant, Erin Furness, German athlete Mareen Hufe and Challenge Forster champion Rebecca Hoschke all exited the water some five minutes back.
Knowing the final leg isn't her strong suit, Maragnon pushed hard early in the bike to capitalise on her lead. Bremer, however, was on fire and reduced Maragnon's advantage to less than a minute after the first lap. Bevilaqua Hufe and Lyles had also taken time out of the leader.
By the halfway mark on the bike, 2011 champion Michelle Bremer had bridged up to Maragnon and was riding steadily behind her with a 10-15 second gap separating the pair. Mareen Hufe was having a good ride in third, 40 seconds behind the leader. By 120kms, however, Bremer had faded to sit almost three minutes back of Maragnon, unable to match her pace. Hufe, on the other hand, inched closer.
Liz Lyles was riding comfortably in third behind the jostling at the front, holding a steady 3:40-3:50 gap and conserving her pennies for the run leg.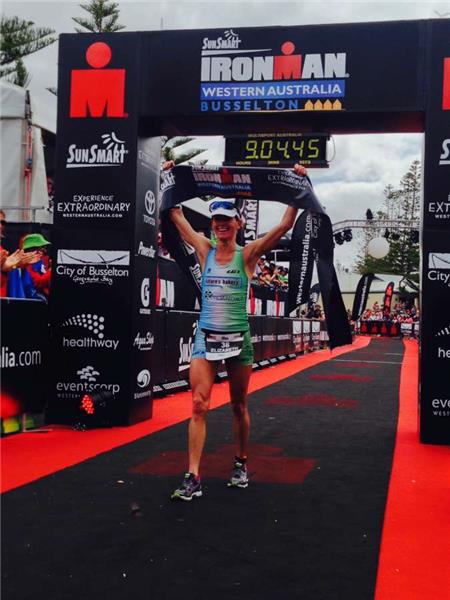 After riding solo off the front for over 130 clicks, Maragnon was passed by Hufe. The German laid her cards down and rode a 40 second advantage into the Australian by the 140km mark. Entering T2, Hufe had built a 2:52 lead over second-placed Maragnon and 7:44 over Lyles. Bec Hoschke pulled out late in the bike leg, reportedly having a bad day.
Mareen Hufe held a steady three-odd minute gap over Maragnon, but it was Lyles who was showing the best run form, taking back three minutes after less than 7km on the run course. Lyles maintained the relentless pace, passing Maragnon before the 10km mark.
Lyles' wasted little time charging to the front, passing Hufe and building an 80-second advantage through the halfway mark of the run, which became more than five minutes by the 38km marker. Lyles eventually crossed the line in 8:59:43, just seconds off Kiwi Gina Crawford's course record. Her run of 3:00:17 the quickest of the day by some sixteen minutes. Hufe held second, finishing in 9:07:59 whilst Maragnon ran a gritty 3:24:29 to round out the podium.
Men's Top 10:
| | | | | | | |
| --- | --- | --- | --- | --- | --- | --- |
| Position | Name | Country | Swim | Bike | Run | Total |
| 1 | Jeremy Jurkiewicz | FRA | 47:03 | 4:29:17 | 2:48:18 | 8:08:16 |
| 2 | Markus Thomschke | DEU | 53:17 | 4:27:16 | 2:51:23 | 8:16:01 |
| 3 | David Dellow | AUS | 48:16 | 4:32:34 | 2:54:26 | 8:19:10 |
| 4 | Todd Israel | AUS | 49:43 | 4:36:07 | 2:52:18 | 8:22:39 |
| 5 | Matty White | AUS | 53:13 | 4:27:14 | 3:01:46 | 8:25:29 |
| 6 | Matt Burton | AUS | 54:16 | 4:25:25 | 3:01:57 | 8:25:42 |
| 7 | Alex Reithmeier | AUS | 48:19 | 4:36:35 | 3:05:59 | 8:34:00 |
| 8 | Guy Crawford | NZL | 48:14 | 4:32:03 | 3:12:42 | 8:36:31 |
| 9 | Benjamin Williams | AUS | 53:33 | 4:48:43 | 2:55:26 | 8:41:19 |
| 10 | Josh Rix | AUS | 49:49 | 4:33:39 | 3:15:05 | 8:42:43 |