News & Racing
Kiwi Braden Currie takes out ACT-Belong-Commit Augusta Adventure Race
Augusta came alive over the weekend with the Act-Belong-Commit Augusta Adventure Fest, which saw New Zealander Braden Currie take the crown in the headline race today, Sunday 2nd November, 2014 in Augusta, Western Australia, for the second year in a row. The premier Act-Belong-Commit Augusta Adventu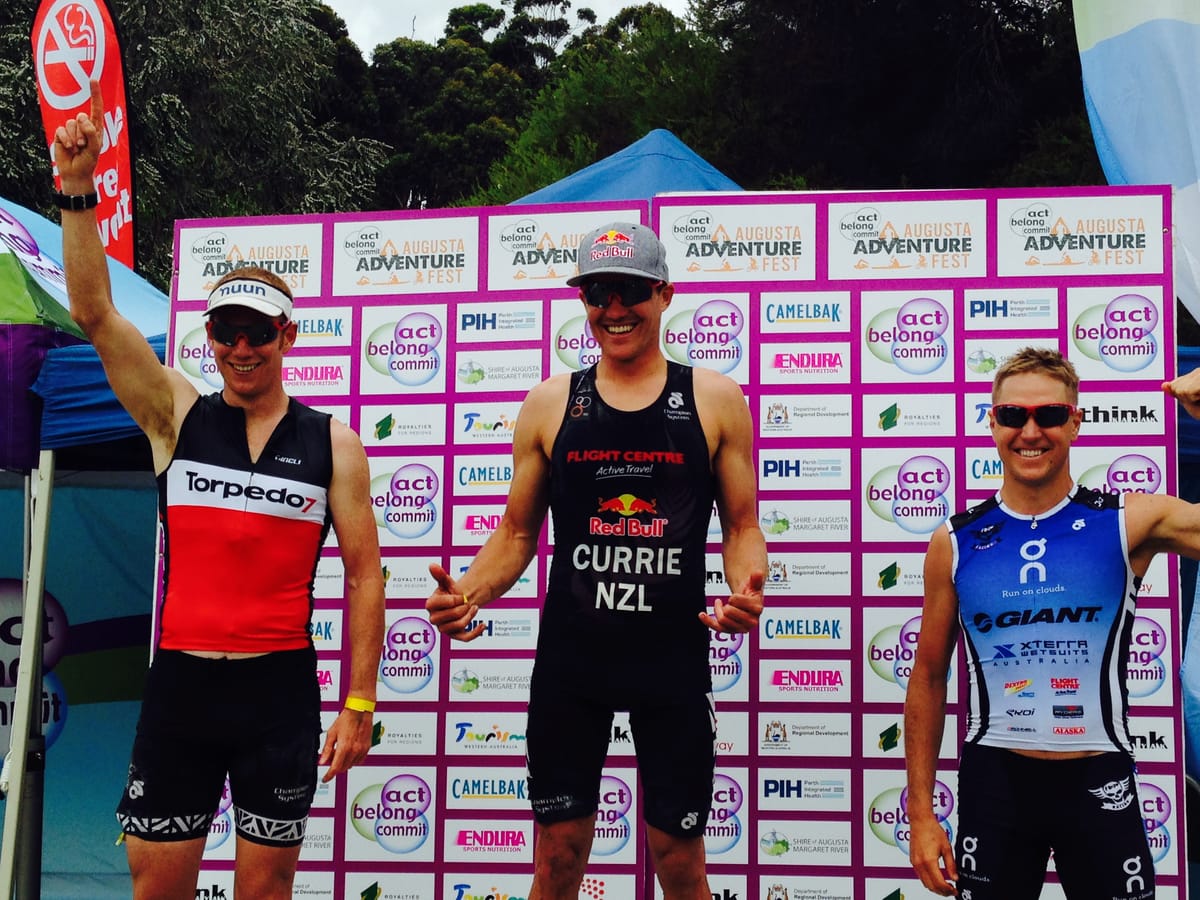 Augusta came alive over the weekend with the Act-Belong-Commit Augusta Adventure Fest, which saw New Zealander Braden Currie take the crown in the headline race today, Sunday 2nd November, 2014 in Augusta, Western Australia, for the second year in a row.
The premier Act-Belong-Commit Augusta Adventure Race consisted of a multidiscipline off-road race which saw a capacity field of 1,800 competitors take on a 13.5km coastal run, 1.5km ocean swim (shortened), 8km ocean paddle (shortened), 32km mountain bike and 2.5km beach run to the finish.
The start line was truly spectacular with competitors lining up underneath the iconic Cape Leeuwin Lighthouse to take on the spectacular coastal run course which saw Currie take an early lead.
Last year's winner, Currie, lead the race from start to finish reigning supreme in a time of 3:47:54.
Currie's trail run was lightning fast and his swim, paddle and bike leg strong enough to put time into nearest rivals, countryman Dougal Allan and Australia's Ben Allen.
"It was perfect conditions for racing and we had a lot of fun out there, said Currie.
"It was a stellar line up and the strongest field that I've raced on against down. It was great to have a good gap after the swim and it was a bit of fun knowing they were chasing me, trying to hunt me down.
"Augusta is an incredibly scenic place, it's really beautiful and the course is a real contrast to the conditions we have at home in New Zealand," Currie said.
New Zealander Dougal Allan caught up some time in the paddle to overtake Ben Allen and finish second in a time of 3:53:20. Ben Allen from Australia was the first Trans-Tasman Adventure Racing Challenge competitor to cross the line, coming in third overall in 3:59:55.
In the women's field, Elizabeth Dornom from Victoria took the win in 4:40:56 with Kristen Gadsdon hot on her heels to finish less than a minute behind her in 4:41:40. Rachael Smith rounded out the top three, finishing in 4:52:59.
"Kristen pushed me the whole way and I had a bit of a spill in the mountain bike and but I managed to pull away from her in the last run. It was an amazing race," said Dornom.
The coveted Trans-Tasman Trophy was held within the premier race and all eyes were on the competitors wearing the race bibs carrying the Australian and New Zealand flags. Australian athletes Ben Allen (2nd overall), Jarad Kohlar (4th overall) and Peri Gray (4th overall female) proved too strong for the Kiwis and were able to bring the trophy back onto home turf.
"The course was brutal but I've heard a lot about this race from the other Kiwis so I was really keen to have a go and being able to represent New Zealand was a great honour," said Olly Shaw, part of the New Zealand Tri Tasman team.
"I didn't have a great day today with a few mechanical issues in the mountain bike but Australia won the trophy and that's the most important thing today "go Aussies!" said Peri Gray, part of the Australian Tri Tasman team.
It was clear again today that the local support and camaraderie were a highlight with a hoard of spectators and supporters right around the course and making plenty of noise at the finish line.
The weekend also included two additional race formats; the Act-Belong-Commit Augusta Mini Adventure Race, and the Act-Belong-Commit Junior Survivor held yesterday (Saturday 1 November). In total, there were 3,841 competitors in Augusta making it the biggest adventure race weekend in the world.
The Act-Belong-Commit Augusta Adventure Fest is proudly sponsored by Healthway to promote Act-Belong-Commit, a community-based health campaign encouraging people to take action to improve their mental health and wellbeing. The event was also made possible thanks to the team of enthusiastic and dedicated volunteers who helped out over the weekend, even when the rain set in later in the afternoon.
Act-Belong-Commit Augusta Adventure Race Results
Overall Top 3 Male and Females:
Male
1. Braden Currie: 3:47:54
2. Dougal Allan: 3:53:20
3. Ben Allen: 3:59:55
Female
1. Elizabeth Dornom: 4:40:56
2. Kristen Gadsdon: 4:41:40
3. Rachel Smith: 4:52:59