News & Racing
Kiwi National Triathlon Championship in Tasmania – For a Very Good Reason
So serious are the Kiwis about the race this weekend in Devonport that they have also designated the Oceania Championships as their National Championships – an event normally hosted in Wellington. With only eight countries allowed the maximum of three athletes per gender on the London start line,
So serious are the Kiwis about the race this weekend in Devonport that they have also designated the Oceania Championships as their National Championships "an event normally hosted in Wellington. With only eight countries allowed the maximum of three athletes per gender on the London start line, the battle to secure the one automatic spot granted to Oceania countries will be fiercely contested.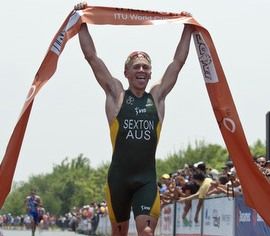 And ever since 2008, Australia has been smarting after the Kiwis dominated the nomination race, stealing a march on their cross-Tasman rivals.
But if the Australian contingent gets its way then it will be a different story in 2012.
The Trans Tasman triathlon rivalry will unravel on the streets of Devonport this Saturday March 10, in what is shaping as one of most hotly contested events on the Oceania Triathlon Union calendar.
The Devonport City Council's recent multi-million dollar foreshore makeover will be a perfect location when some of the biggest names in Australian and New Zealand triathlon line up in the 2012 OTU Oceania Championships which will include multi-faceted races for Elites, Under 23s, Juniors and Age Groupers.
At the top of the list will be all-important London Olympic positions which are up for grabs for Oceania Federations as well as all-important ITU and Olympic rankings points; ITU World Championship qualification for Age Groupers; the Elite, Under 23s, Age Group Oceania Championships; the final race in the Australian Junior Series as well as the exciting Trans Tasman Teams Challenge.
Inter-twined through all the various race classifications will be the age-long Aussie-Kiwi rivalry that is very much alive and kicking in the competitive world of triathlon.
In what will develop into a classic day of Trans Tasman racing, the winners of the men's and women's Elite OTU Oceania Championship events can lock in all-important London Olympic positions for their National Federations.
"As far as Olympic positions alone are concerned, Devonport is a "must win" for Australia and that alone is sure to produce some dynamic racing," said Australian High Performance Manager Michael Flynn.
"The Kiwis got under our guard in 2008 and I don't want to let that happen again in 2012, so expect the finishes to go right down to the wire.
"Devonport is an ideal and proven venue and it will also allow us to assess athlete performances while competing under similar conditions and course design that we are expecting in London.
"Australia is fully aware of the significance of this race in terms of automatically locking in one of a possible three spots in London and you can smell the sense of urgency amongst our coaches and athletes.
"Back in 2008 the Kiwis were better organised than us and took the automatic Oceania spots and we will be going all out to ensure that does not happen again."
The men's race has attracted an almost capacity field with the established stars sure to be pushed by the next generation of Australian men keen to seize this opportunity to show their wares.
Flying the Australian men's flag will be Beijing Olympian Courtney Atkinson, former ITU World Champion-cum-Ironman king Chris McCormack, emerging Victorian World Cup-winner Brendan Sexton and a host of emerging stars including Dan Wilson, Jamie Huggett, Drew Box, Aaron Royle, James Seear and Ryan Fisher.
While the women's field may not have the numbers, it has attracted a select field with Australia's contingent led by Beijing Olympian Erin Densham, the brilliant Emma Jackson (fourth in the 2011 ITU World Championship), the evergreen former ITU World ranked number one Felicity Abram along with World Cup winner Ashleigh Gentle.
Atkinson has been in solid form, chalking up recent wins in Caloundra and Byron Bay, while Sexton will be looking for a change in luck after his seat worked loose and forced him out of the recent Australian Sprint Championships in Geelong.
Box broke through for his maiden Elite win in Geelong and he knows he will have his fellow green and gold brigade tapping at his heels.
Keeping them all honest will be the ever-present 38-year-old McCormack, who has built up some impressive performances to keep his name well and truly in the Olympic selection mix.
Meanwhile Erin Densham knows if she can put her race together from the opening swim then she will be in line for a win after a brilliant final run leg almost stole the show in Geelong.
Jackson, the only Emma in this field, with fellow christian name-sakes Moffatt and Snowsill keeping their powder dry for later in the season, has also been in good early season form, winning in Caloundra and Raby Bay.
For the Kiwis, two-time Olympic medallist Bevan Docherty, two-time NZ Commonwealth Games representative and former world aquathlon   champion Kris Gemmell, the under 23 Oceania champion Ryan Sissons and Tony   Dodds, who was second across the line in the Australian Sprint Championship in Geelong last month, will lead the New Zealand men.
The Kiwi women's group will also have an impressive look to it with last year's ITU Mooloolaba World Cup winner Nicky Samuels joined by Debbie Tanner and Kate McIlroy.
Devonport last hosted the Oceania Championships back in 2004 when Beijing Olympian Brad Kahlefeldt outsprinted Sydney Olympian Miles Stewart to win the men's race.
British athlete Liz Blatchford won the women's race from Barb Lindquist (USA) and Nicole Hackett.   Interestingly, in that year Triathlon New Zealand used the Devonport race as it final selection race for the Athens Olympic Games.
Nathan Richmond finished fourth overall and beat a fast finishing Kris Gemmell to secure the third and final New Zealand Olympic spot for Athens.
In the women's race Samantha Warriner held out Shanelle Barrett by ten seconds to secure her Athens spot on the New Zealand Olympic team.
The 2004 race also included Athens Gold medallist Hamish Carter (NZL), Ironman athletes Craig Alexander and Chris McCormack, while the women's field in 2004 included 2008 Beijing Olympians Erin Densham and Emma Moffatt along with Ironman athletes Mirinda Carfrae and Sam McGlone (CAN).
The 2012 event will be conducted at a brand new venue in Devonport at the Devonport Surf Life Saving Club and Mersey Bluff foreshore which will allow for a natural amphitheatre for athletes and spectators alike.
START TIMES (Mersey Bluff Beach)
7-7:30am – AGE GROUP (Olympic Distance)
10.15am "ITU JUNIOR WOMEN
11.30am "ITU JUNIOR MEN
1pm – ELITE WOMEN AND UNDER 23S
3.30pm – ELITE MEN AND UNDSER 23S