News & Racing
Kona 2013 Pro Men's Preview
The 2013 Ironman World Championship has slightly more unknown quantities this year with the phenomenal bike strength of Sebastian Kienle coming in to play along with the unknown (at Kona) ability of Kiwi ITU great Bevan Docherty and the early year form of Eneko Llanos also looming large. Throw in An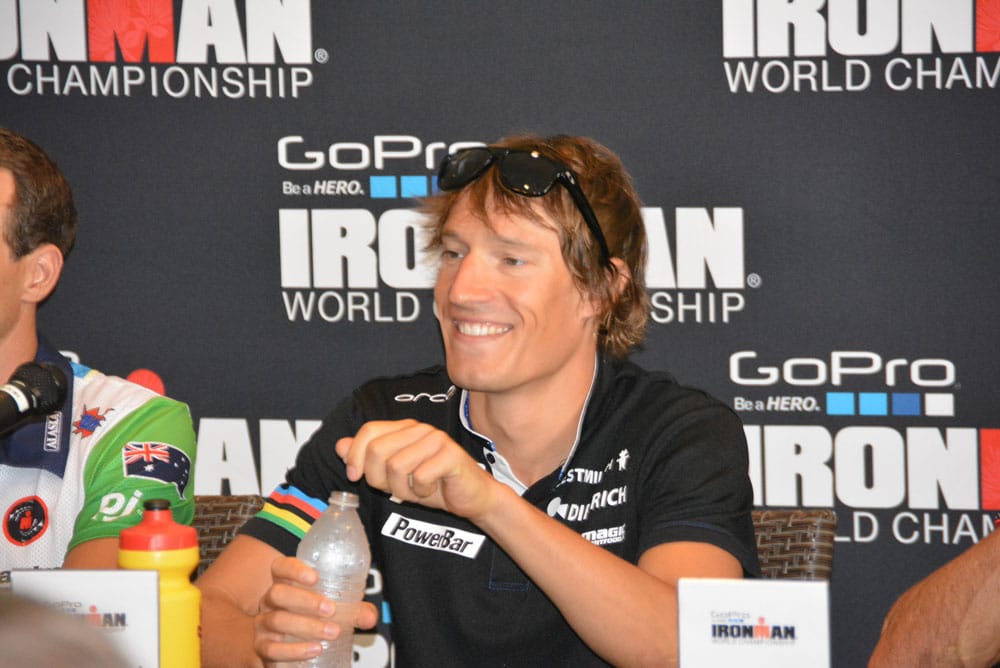 The 2013 Ironman World Championship has slightly more unknown quantities this year with the phenomenal bike strength of Sebastian Kienle coming in to play along with the unknown (at Kona) ability of Kiwi ITU great Bevan Docherty and the early year form of Eneko Llanos also looming large. Throw in Andreas Raelert, Dirk Bockel, and a host of other world class triathletes and as always this race, like the Melbourne Cup, is almost impossible to pick.
Our dark horse for a podium is this year is Bart Aernouts. He had the fastest run last year and has been very quiet this year. Too quiet. If he can come out of the swim close to the front then he will be someone to watch. The former duathlete has a very strong bike/run combo. We bumped in to Bart today and he is looking relaxed was very coy about being a dark horse. Trying to fly under the radar.
Speaking with a few of the top pros and there is no surprise that a lot of the money is on Kienle to take out this race with Jacobs second and Docherty a dark horse for third. Also mentioned in the same breath is Llanos and Andreas Raelert. This seems to be what their fellow pros are predicting. Frederik Van Leirde, Faris Al Sultan, Andy Potts and a host of others will all be fighting for one of the top ten spots. There are too many to go in to detail.   (2012 Top 20 finishers and splits below 2013 start list)
The recent Ironman 70.3 Sunshine Coast and Ironman 70.3 World Championship have shown that two of the race favourites, current Ironman World Champion Pete Jacobs and current 70.3 World Champion Sebastian Kienle are in scintillating form. Jacobs showed in Australia that he is quite possibly at the best form so far of his career and we know that he will be stronger, faster and more experienced than he was when he won the world title this time last year. This will have his competitors talking quietly behind closed doors about the race strategy they need to put together to try to nullify Jacob's strengths. This could be hard as he is stronger than he has ever been.
Last year Jacobs chose to swim with the pack, ride with the lead pack then use his 'best of class' Ironman marathon run to win. His final run time last year did not show what he was capable of as he knew he had the race won with a few miles to go and chose to enjoy the atmosphere as he came back in to town. This wasn't to show any disrespect to his fellow competitors. He simply wanted to enjoy his first ever Ironman World Champion title with the people who were there to watch this amazing race. This year however he will have the shadow of Kienle looming larger
on the bike. With Kienle's bike power being one of the best in the game many are picking that Jacobs will swim harder than last year to try and put more time in to Kienle. We don't think this will be the case. We saw a huge lift in Jacobs bike power recently at the Sunshine Coast 70.3 and there is no doubt that he will be even stronger now. He will swim conservatively (swimming hard uses a lot of energy), ride very strongly and trust his run to bring him home for his second world title. Don't be surprised to see Jacobs compete strongly with Kienle on the bike if he feels it is the right thing to do. We think Jacobs could still give up to 10mins to Kienle and win but doubt that it will be as big a gap as that if any.
We have only seen the Kiwi Bevan Docherty race one Ironman and he did it with style. At Ironman New Zealand this year not only did he win in his first ever tilt at this distance he also broke the course record. His race was near text book perfect in New Zealand. Since then the Kiwi has been focusing 100% on Kona. With Docherty's experience you can guarantee that he will have left no stone unturned, his homework would have been completed on time and his potential for receiving 100% in the exam this Saturday will be hard to match. As we said though, Docherty is unproven at Kona and as many before him have learnt this Saturday is a completely different ball game.
Clayton Fettell will be up against the best field he has ever faced over this distance. It will be interesting to see if he has the ability to swim with the chase pack and not surge ahead, ride strongly but not to the point where he leaves his run legs out on the bike and put in a solid run for a top finish. As we have seen in the past Fettell seems to know one way to race these big races. He impressed his fellow competitors in Melbourne this year with Craig Alexander commenting after the race that for a 26 year old Fettell showed incredible strength on the bike when he rode with Alexander, Llanos and Marino Van Hoenacker. He struggled in the run however as he did again at Ironman Cairns. It is early days for the 26 year old over the full distance and is only a matter of time before his run times drop and he becomes one of the world's best over the distance. The one thing with Fettell is that he has stamped his name on the world stage by leading from the front and leaving few questions unanswered.
The one thing we hear about Fettell is that when training with stablemate Tim Berkel (one of the faster runners over the full distance) Fettell has no problem keeping up with Berkel and even raising the bar one level.
Craig Alexander showed during his USA season that there is still plenty of speed and strength left in him. Although Las Vegas saw him slightly off the pace on the bike. His power seemed to be down slightly but he still ran a world class half marathon. Crowie knows that his time at Kona at this level is nearing the end but this year he is more determined than ever to finish the race on a high. Last year we saw his class and respect for the race as he dug deep to run the marathon and finish the race after not having the ride he wanted. This is why people have so much respect for the three time Ironman World Champion.
It is hard to say too much else about Crowie that hasn't already been said. He is one of the best known names in the game, is playing his cards very close to his chest and only himself and his team know where he is at.
Luke Bell is another Australian who will be here to run in to at least a top five position. As with everyone racing Bell is up against a massive field of potential top five finishers. Bell is one of the better swimmers in the game and after winning Ironman Australia and Ironman Mont-Tremblant this year is in some of the best form of his life.
Fellow Australian and Luke, Luke McKenzie won Ironman Cairns this year and will be once again one of the strongest riders in the field at Kona. With his turn around in form this year we should see a better performance than his 24th place last year. McKenzie has made some big changes this year and has seen the benefits as he races faster than he has in recent times.
Speaking to Chris Legh yesterday and also other pros the one thing we hear more and more from many of them is that there is more focus on simplifying racing and training with particular emphasis on quality over quantity.
| | | | | |
| --- | --- | --- | --- | --- |
| BIB # | Last Name | First Name | Country | Category |
| 1 | Jacobs | Pete | AUS | MPRO |
| 2 | Kienle | Sebastian | DEU | MPRO |
| 3 | Llanos | Eneko | ESP | MPRO |
| 4 | Raelert | Andreas | DEU | MPRO |
| 5 | Alexander | Craig | AUS | MPRO |
| 6 | Van Lierde | Frederik | BEL | MPRO |
| 7 | O'Donnell | Timothy | USA | MPRO |
| 8 | Potts | Andy | USA | MPRO |
| 9 | Aernouts | Bart | BEL | MPRO |
| 10 | Diederen | Bas | NLD | MPRO |
| 11 | Bell | Luke | AUS | MPRO |
| 12 | Johnsen | Jimmy | DNK | MPRO |
| 14 | Docherty | Bevan | NZL | MPRO |
| 15 | Al-sultan | Faris | DEU | MPRO |
| 17 | Vabrousek | Petr | CZE | MPRO |
| 18 | Marsh | Brandon | USA | MPRO |
| 19 | Schildknecht | Ronnie | CHE | MPRO |
| 20 | Russell | Matthew | USA | MPRO |
| 21 | Jammaer | Bert | BEL | MPRO |
| 22 | Raphael | Jan | DEU | MPRO |
| 23 | Zeebroek | Axel | BEL | MPRO |
| 24 | Schifferle | Mike | CHE | MPRO |
| 25 | Bracht | Timo | DEU | MPRO |
| 26 | Bittner | Per | DEU | MPRO |
| 27 | Berger | Dominik | AUT | MPRO |
| 28 | Schmid | Stefan | DEU | MPRO |
| 29 | Rapp | Jordan | USA | MPRO |
| 30 | Amey | Paul | GBR | MPRO |
| 31 | Plese | David | SVN | MPRO |
| 32 | Dellow | David | AUS | MPRO |
| 33 | Rana | Ivan | ESP | MPRO |
| 34 | Reichel | Horst | DEU | MPRO |
| 35 | Halksworth | Daniel | GBR | MPRO |
| 36 | Boecherer | Andi | DEU | MPRO |
| 37 | Amorelli | Igor | BRA | MPRO |
| 38 | Gomes | Pedro | PRT | MPRO |
| 39 | Ritter | Christian | DEU | MPRO |
| 40 | Kriat | Maxim | RUS | MPRO |
| 41 | Viennot | Cyril | FRA | MPRO |
| 42 | Hoffman | Ben | USA | MPRO |
| 43 | Tollakson | Tj | USA | MPRO |
| 44 | Butterfield | Tyler | BMU | MPRO |
| 45 | Gerlach | Thomas | USA | MPRO |
| 46 | Albert | Marko | EST | MPRO |
| 47 | Bockel | Dirk | LUX | MPRO |
| 48 | Csoke | Balazs | HUN | MPRO |
| 49 | Mckenzie | Luke | AUS | MPRO |
| 50 | Mikelson | Ian | USA | MPRO |
| 51 | Legh | Christopher | AUS | MPRO |
| 52 | Starykowicz | Andrew | USA | MPRO |
| 53 | Fettell | Clayton | AUS | MPRO |
| 54 | Cotter | Ben | CAN | MPRO |
| 55 | Cunnama | James | ZAF | MPRO |
2012 Ironman World Championship top 20 results
| Name | Country | Swim | Bike | Run | Finish | Div. Rank | Overall Rank |
| --- | --- | --- | --- | --- | --- | --- | --- |
| Jacobs, Pete | AUS | 00:51:28 | 04:35:15 | 02:48:05 | 08:18:37 | 1 | 1 |
| Raelert, Andreas | GER | 00:55:17 | 04:36:34 | 02:47:23 | 08:23:40 | 2 | 2 |
| Van Lierde, Frederik | BEL | 00:51:36 | 04:35:25 | 02:52:49 | 08:24:09 | 3 | 3 |
| Kienle, Sebastian | GER | 00:55:21 | 04:33:23 | 02:54:24 | 08:27:08 | 4 | 4 |
| Al-Sultan, Faris | ARE | 00:51:39 | 04:35:53 | 02:56:49 | 08:28:33 | 5 | 5 |
| Bracht, Timo | GER | 00:53:45 | 04:37:16 | 02:55:36 | 08:30:57 | 6 | 6 |
| Potts, Andy | USA | 00:50:32 | 04:43:52 | 02:53:18 | 08:31:45 | 7 | 7 |
| O'Donnell, Timothy | USA | 00:51:37 | 04:44:15 | 02:53:59 | 08:33:28 | 8 | 8 |
| Dellow, David | AUS | 00:51:33 | 04:40:27 | 02:59:02 | 08:35:02 | 9 | 9 |
| Bockel, Dirk | LUX | 00:52:30 | 04:34:17 | 03:05:47 | 08:36:21 | 10 | 10 |
| Aernouts, Bart | BEL | 01:00:15 | 04:45:11 | 02:47:10 | 08:37:31 | 11 | 11 |
| Alexander, Craig | AUS | 00:51:35 | 04:44:44 | 03:00:29 | 08:40:49 | 12 | 12 |
| Rapp, Jordan | USA | 00:59:07 | 04:40:02 | 02:59:27 | 08:42:49 | 13 | 13 |
| Jurkiewicz, Jeremy | FRA | 00:51:31 | 04:52:26 | 02:56:39 | 08:44:45 | 14 | 14 |
| Zeebroek, Axel | BEL | 00:51:41 | 04:42:09 | 03:07:00 | 08:45:12 | 15 | 15 |
| Clerbout, Bruno | BEL | 00:55:22 | 04:55:32 | 02:51:54 | 08:46:44 | 16 | 16 |
| Guillaume, Romain | FRA | 00:51:41 | 04:36:10 | 03:15:32 | 08:47:54 | 17 | 17 |
| Viennot, Cyril | FRA | 00:55:23 | 04:48:25 | 03:00:51 | 08:48:45 | 18 | 18 |
| Schildknecht, Ronnie | SWI | 00:55:23 | 04:38:57 | 03:11:22 | 08:50:18 | 19 | 19 |
| Russell, Matthew | USA | 01:08:01 | 04:46:35 | 02:51:23 | 08:50:21 | 20 | 20 |