Interviews
Kona Bound Age Grouper and Surfboard Shaper Eden Saul talks with Trizone
Age Grouper Eden Saul will be putting down his shaping tools for a couple of weeks to tackle triathlons biggest mountain in Kona on Oct 14. After completing only one Ironman Saul qualified for the 2012 Ironman World Championship showing what an athlete he is and what focus and drive he possesses. Af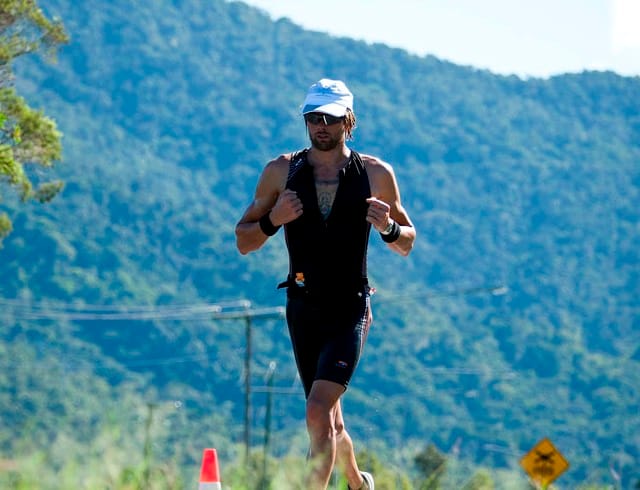 Age Grouper Eden Saul will be putting down his shaping tools for a couple of weeks to tackle triathlons biggest mountain in Kona on Oct 14. After completing only one Ironman Saul qualified for the 2012 Ironman World Championship showing what an athlete he is and what focus and drive he possesses.
After completing only his first Ironman in June this year in Cairns Saul has obtained membership to an exclusive club. The surfboard shaper and owner of Dead Kooks from the Gold Coast has made a very successful transition from the waves to the bike and run.
Most triathletes who have not done an Ironman do so because they 'aren't ready'. To think this is limiting your horizons. Just go to any Ironman and you will see people racing who have more challenges to overcome than most. To say you can't do an Ironman is limiting what you are capable of.
This is what Eden Saul realised through his friend, and triathlon pro, Clayton Fettell. After debuting at Challenge Cairns in 2011 with only a few weeks to prepare, Fettell absolutely loved the experience and finished with a solid 5th overall in a very fast time. He told Saul to just do it. "There are people doing Iron distance races who would love to have the lifestyle and health that the young people have. Why are you waiting?" This is what Fettell hit Eden with and changed his thinking.
Fast forward to 2012 and Eden Saul took to the start line at his first Ironman race. Four months later he is about to dive in to the waters at Kona.
Saul picked up the triathlon bug when he was around 19. A few friends from the surf club were racing triathlons when he decided to have a go. He came from a surf club and competitive swimming background and started with a few sprint triathlons.
From then it was an on and off love affair with the need to walk away a couple of times due to injury.
Eden lamented on the lessons he learnt at Cairns this year. Almost as if he was fine tuning his Ironman preparation for a tilt at Kona. If this hadn't been his first every Ironman you would almost be lulled in to thinking that he was a seasoned pro as he talked about nutrition and race plans. "My big lesson in Cairns was to stick to your own race plan and run your own race. Coming from shorter stuff where you go hard you don't normally let people past you I really struggled with the concept of athletes passing me. This was hard to deal with at Cairns."
"The amount of times in my head when I started to tell myself it was a bad idea to be doing an Ironman was sometimes overwhelming. But I loved the feeling of running down a highway in the heat in Cairns, hurting and loving it."
For those of us that follow Eden on Twitter and facebook the envy is obvious. Living in an endless summer and riding with the crew on the Gold Coast is stuff dreams are made of. Robbie McEwan, Matt Hodges, Kerry Stubbs… the names just keep on coming. But regardless of the pedigree (or mongrel) of the bunch, being able to get out and train with these guys is something that Saul is very thankful for. "The quality of the riders on the Gold Coast is amazing. I am so lucky to be able to go out with these guys regularly. Recently I have been running with one of the lifeguards on the Gold Coast who does ultra marathons. With this new level of base fitness I have developed I now feel confident looking at doing some other sports challenges that I would previously have never contemplated."
Work flexibility helps massively. "I am luck to be an owner of my own business and have the option of work hours. This has been a part of my success in the sport."
Every race leaves you with 'I could have…' and for Eden this is what has drawn him to this addictive sport. "I haven't booked anything ahead. Relationships and work have suffered during the training for Kona but I want to go back and do some things better at Cairns. Better prep and better planning to see how it goes. I'll also to the Byron Bay triathlon. That is on my list."
Saul is heading to Kona with some good mates and training partners.   Jethro Lampe and Brendan Brooks (instantly recognisable at 6'5 and red hair) plus another famous Australian from the surf side Caine Eckstein.
Like Eckstien who we interviewed a couple of weeks ago, Saul is amazed at the lack of main stream media coverage that triathlon gets in Australia. Even other sports with less of a following get more coverage often.
One of the secrets to Saul's success has been his coach. He has been lucky enough to train under Grant Giles of Aeromax Team. This triathlon team has some of the best triathletes in the worlds and the sharpest minds in the game. Saul has spent time at Lennox Heads training with the team. "One of the best things Gilesy has nailed in to me is body maintenance. Be conscious of how you are feeling every day. Stretching every day, bikram yoga and more. Getting to the start line in one piece is a major focus of everything we do in training. It has been an emotional roller coaster. I have had to learn not to beat myself up when I have a bad session."
Body Science have helped Eden out massively with nutrition, race kit etc. Eden is a vegetarian and so has to have a real focus on his diet. "I keep getting told how to eat by so many different people. I need to look at other things to eat because I am a vegetarian. It wasn't an ethical decision to become a vegetarian it has just happened over the years."
Saul has become very inventive with his food and also very knowledgeable. "I have been making some energy ball snacks with cocoa powder, goji berries etc. Porridge with quinoa in the morning which has lots of protein in it. I eat a lot of spinach, kale etc. Fresh juice with a focus on beetroot juice (link to a great article on Trizone about Beetroot juice) and loads of orange veggies such as sweet potatoes and carrots after a hard day."
Saul has been to Hawaii surfing a few times but this is going to be something different. "I haven't been to Kona and this is definitely a dream come true."