News & Racing
Leanda Cave wins the 2012 Ironman World Championship
Leanda Cave has put in a late effort on the run to pass Caroline Steffen with around 3 miles to go and take the 2012 World Ironman Championship crown. Always threatening early on in the run was eventual third placed Australian Mirinda Carfrae. Carfrae laid it all down early on to try and take back [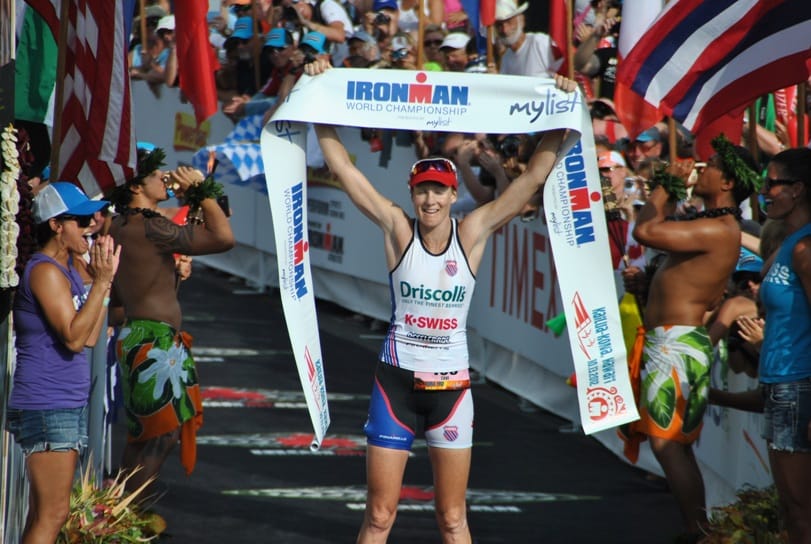 Leanda Cave has put in a late effort on the run to pass Caroline Steffen with around 3 miles to go and take the 2012 World Ironman Championship crown.
Always threatening early on in the run was eventual third placed Australian Mirinda Carfrae. Carfrae laid it all down early on to try and take back the deficit that she had to the three women ahead. Caroline Steffen, Leanda Cave and Mary Beth Ellis had built a lead over Carfrae on the bike. Steffen had a four minute penalty which would eventually come back to haunt her late in the race.
Chrissie Wellington spoke to Rachel Joyce and Leanda Cave in the week leading up to the race about keeping the title in English hands. "I saw Mirinda on Alii Dv when we turned around. I knew I had around an 8min lead off the bike on Mirinda. I thought 'damn' she has closed the gap. I was worried. When I saw her at the Energy Lab turnaround I thought that she must be playing with me."
I got the penalty for trying to pass Caroline and then I didn't have the power.
The women's race was exciting with a lot of movement amongst the leaders. "I hadn't raced these girls this year so I didn't really know how I would stack up against them. I kept my training the same this year and having that consistent training paid off. I have changed my mindset. I am in a better place mentally this year."
Leanda was one of many leading women who received a penalty on the bike. "I wanted to pass Caroline on the bike but as I went to I didn't have the power to complete the pass and received a penalty. On the run I mad sure that when I passed Caroline it was not a repeat of the bike."
After the race Mirinda Carfrae talked about how the race unfolded. "I was pleased to see the splits coming off the bike. I was 11:30 behind at the far turnaround. Then when we came back to start the run I had closed the gap which I was pleased about. I was a little worried at the start of the run because I wasn't pulling as much time back. I was hurting at the start. I tried to make a pass on Leanda twice but my body wouldn't respond. I lost a bottle on the bike so was down a bit on nutrition and I paid for it."
Out on the run early Caroline Steffen held the lead over Mary Beth Ellis with Leanda Cave just behind her. By the time they came back down Alii Drive Leanda Cave caught Mary Beth just outside Lava Java and then set about reigning in Caroline Steffen.
In the end after the pass by Cave as the two lead women headed home Steffen was
Fourth place Sonja Tajsich had an incredible race after a slow start. Coming out of the water in about 28th place she then set about reeling the competitors in. "I had a terrible start swimming completely alone. I came out in 28th place and started the run in tenth. I was going harder on the run. I was told I might be able to reach Mary Beth and I had to dig really deep to get there."
| | | | | | | | |
| --- | --- | --- | --- | --- | --- | --- | --- |
| Name | Country | Swim | Bike | Run | Finish | Div. Rank | Overall |
| Cave, Leanda | USA | 0:56:03 | 5:12:06 | 3:03:13 | 9:15:54 | 1 | 46 |
| Steffen, Caroline | SWI | 0:57:37 | 5:06:49 | 3:08:08 | 9:16:58 | 2 | 50 |
| Carfrae, Mirinda | USA | 1:00:06 | 5:12:18 | 3:05:04 | 9:21:41 | 3 | 65 |
| Tajsich, Sonja | GER | 1:10:36 | 5:07:57 | 2:59:26 | 9:22:45 | 4 | 73 |
| Ellis, Mary Beth | USA | 0:56:06 | 5:08:06 | 3:10:30 | 9:22:57 | 5 | 75 |
| Badmann, Natascha | | 1:06:21 | 5:06:07 | 3:09:18 | 9:26:25 | 6 | 91 |
| Crawford, Gina | NZL | 0:55:59 | 5:21:30 | 3:06:16 | 9:28:54 | 7 | 101 |
| Corbin, Linsey | USA | 1:02:53 | 5:16:55 | 3:07:55 | 9:32:18 | 8 | 127 |
| Snow, Caitlin | USA | 0:57:43 | 5:30:47 | 3:03:06 | 9:36:18 | 9 | 145 |
| Marsh, Amy | USA | 0:56:08 | 5:16:36 | 3:20:27 | 9:38:15 | 10 | 167 |
| Joyce, Rachel | GBR | 0:57:42 | 5:24:27 | 3:12:31 | 9:40:16 | 11 | 182 |
| Vesterby, Michelle | DNK | 0:57:44 | 5:16:57 | 3:22:47 | 9:42:22 | 12 | 196 |
| Keat, Rebekah | AUS | 0:57:44 | 5:26:53 | 3:14:05 | 9:43:43 | 13 | 205 |
| Wurtele, Heather | CAN | 1:00:04 | 5:16:58 | 3:22:28 | 9:44:04 | 14 | 210 |
| Williamson, Kelly | USA | 0:57:39 | 5:40:03 | 3:05:01 | 9:46:51 | 15 | 225 |
| Deckers, Tine | BEL | 1:06:18 | 5:19:25 | 3:18:43 | 9:48:38 | 16 | 242 |
| Wicks, Hilary | NZL | 1:02:41 | 5:16:05 | 3:25:15 | 9:50:03 | 1 | 263 |
| Kehoe, Danielle | USA | 1:07:30 | 5:11:26 | 3:27:32 | 9:51:07 | 1 | 270 |
| Moller, Kristin | GER | 1:16:43 | 5:23:46 | 3:06:36 | 9:51:16 | 17 | 272 |
| Stevens, Amanda | USA | 0:55:09 | 5:27:07 | 3:24:50 | 9:51:59 | 18 | 278 |
| Hufe, Mareen | GER | 1:06:25 | 5:20:44 | 3:21:01 | 9:52:58 | 19 | 287 |
| Jaenke, Kym | AUS | 0:58:11 | 5:31:42 | 3:18:04 | 9:53:18 | 2 | 291 |
| Brandli, Simone | SWI | 0:57:40 | 5:29:07 | 3:21:38 | 9:53:24 | 20 | 293 |
| Adam, Stefanie | BEL | 1:03:36 | 5:00:42 | 3:42:37 | 9:53:50 | 1 | 298 |
| Faux, Catherine | GBR | 1:00:43 | 5:21:34 | 3:25:38 | 9:53:53 | 2 | 299 |
| Lawn, Joanna | NZL | 1:00:09 | 5:21:27 | 3:28:41 | 9:55:11 | 21 | 310 |
| Esefeld, Katrin | GER | 1:07:59 | 5:25:25 | 3:17:38 | 9:55:59 | 2 | 321 |
| Jackson, Christina | USA | 0:56:14 | 5:25:21 | 3:31:03 | 9:57:45 | 3 | 329 |
| Croft, Sheila | USA | 1:10:46 | 5:29:30 | 3:14:12 | 10:00:55 | 3 | 354 |