News & Racing
Lesley Paterson wins XTERRA European Tour Championship
In the women's race it was all about Jacqui Slack early and almost all the way through the bike.  Christine Jeffrey was first female out of the water but Slack was close behind and had an incredible bike and was putting more and more time on the rest of the field.  "I had an amaz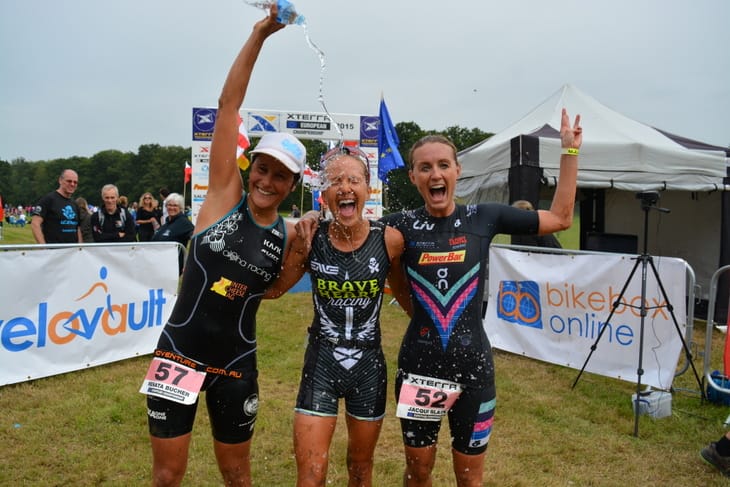 In the women's race it was all about Jacqui Slack early and almost all the way through the bike.   Christine Jeffrey was first female out of the water but Slack was close behind and had an incredible bike and was putting more and more time on the rest of the field.
"I had an amazing swim, came out with Ruben," smiled Slack.   "I've been working so hard and I felt like it paid off today.   I spent so much time training, working on corners, and was really confident, and I like the mud, and the longer the girls didn't catch me the more I was motivated.   Renata caught me with about 4K to go on the bike. I made a mistake on a hill and she rode up it and off and was really, really strong and I had no chance to hang with her but Lesley never caught me on the bike which I was really surprised about so that gave me some confidence.   I went on the run hoping I could catch Renata but she ran strong and then Lesley came flying past early on.   She's so fast."
Bucher, the 33-time XTERRA winner, was out in front and if not for the blistering foot speed of Paterson would've made it 34.
"I gave it everything I had on the run, and when Lesley came by on the first lap I was thinking to myself 'oh, Lesley, please come back'" said Paterson.   "I tried to keep it steady after that and hold off Jacqui. I'm super happy now.   I changed a few things this year, and have a real base, and know what I want, and I'm my own boss.   I have amazing sponsors, and I feel really good with no pressure, my family is healthy. I'm in a good place."
As for Peterson, she didn't play the dominant role she normally does until it counted, then she poured it on thick.
"I was pretty down on myself after the first lap because I couldn't stay upright, but I talked myself into staying positive," said the two-time XTERRA World Champ who has now won all four XTERRA races she has entered this season all the while chasing mountain bike racing dreams.   "I've not been running, so when it came down to the run I was like, awesome (sarcastically).   I got to the run though and I'm comfortable with that.   Ironically, I'm Scottish and it was like I've never been in the mud before. I live out in San Diego where it's sandy and rocky and the mud out there today was just something else.   I was with one guy and he said 'c'mon, c'mon just say positive because everybody is running' … and this was on the bike!   Seriously though, those girls were awesome out there today. There's just so much camaraderie, everyone is very encouraging.   It's really cool, it's what I love."
Brigitta Poor, who finished the year ranked 2nd on the XTERRA European Tour, came in fourth and Jessie Roberts had a great day on the trails to finish fifth.
All in all the day of racing was magnificent, and exciting. The race announcer Richard Campbell could be heard through the fields and in the trees around the course and the action was everywhere.   Passionate fans, a really great course, and brilliant racing all around.
"It's made me proud to be English," said Slack.   "Every corner, every turn someone was shouting your name so I'm really pleased I could put together a good race. Looking forward to putting in some more work and giving it my best shot in Maui."
Women
Pl
Name
Time
Points
1
Lesley Paterson, GBR
02:54:26
100
2
Renata Bucher, SUI
02:55:35
90
3
Jacqui Slack, GBR
02:56:14
82
4
Brigitta Poor, HUN
03:04:52
75
5
Jessie Roberts, GBR
03:05:40
69
6
Alena Stevens, SVK
03:07:34
63
7
Elisabetta Curridori, ITA
03:09:34
58
8
Christine Jeffrey, CAN
03:17:22
53
9
Louise Fox, GBR
03:19:29
49
10
Verena Eisenbarth, FRA
03:19:35
45
Also: Genevieve Evans (41), Belinda Hadden (37), Karin Hansen (34), Emily Bashton (31), Daz Parker (28), Hana Kolarova