Lou Wotton – the triathlete kicking goals in AFLW
On Sunday Lou Wotton helped Collingwood's AFLW side claim an important win to keep the club's finals hopes alive. The Pies accounted for the GWS Giants by 36-points at Olympic Park, but it wasn't so long ago their ruckman was kicking goals in triathlon. Wotton, 33, was a footballer first and foremos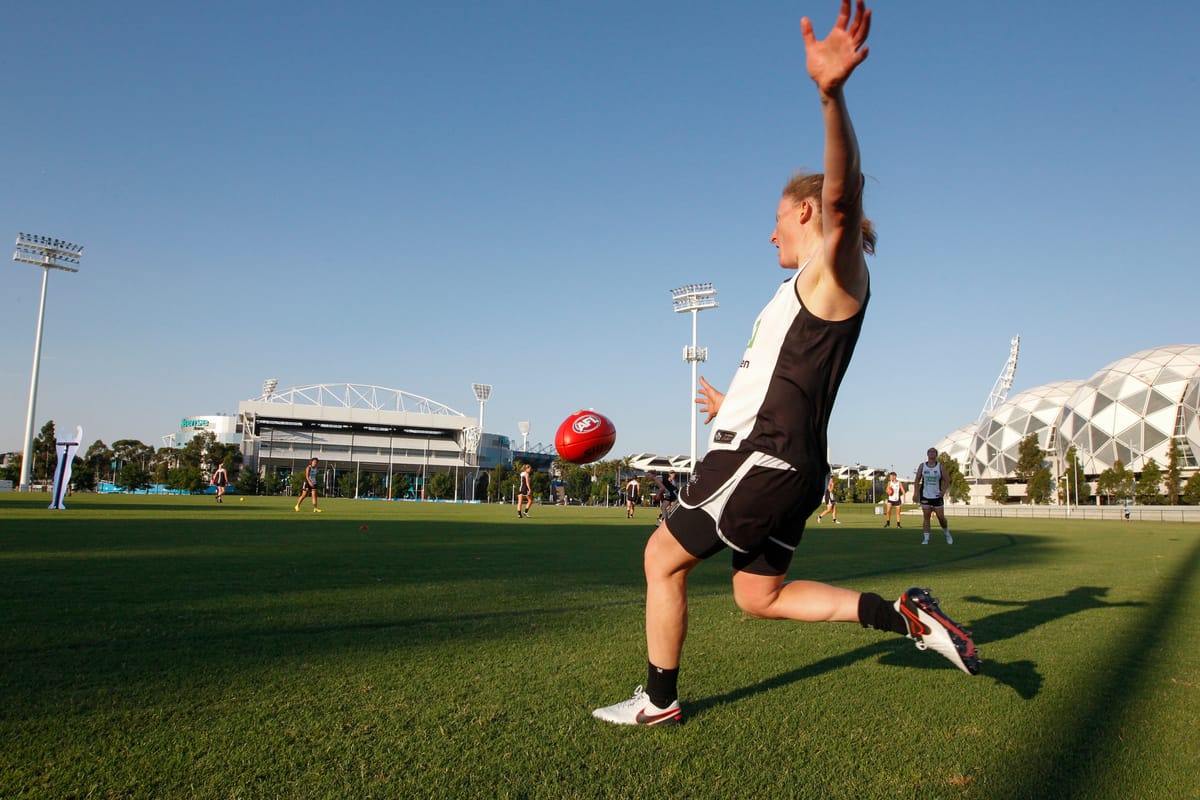 On Sunday Lou Wotton helped Collingwood's AFLW side claim an important win to keep the club's finals hopes alive. The Pies accounted for the GWS Giants by 36-points at Olympic Park, but it wasn't so long ago their ruckman was kicking goals in triathlon.
Wotton, 33, was a footballer first and foremost until a chance introduction to triathlon fell in her lap in 2010. "A friend of mine didn't want to do the swim at the Noosa Triathlon so I said I'd do it. Once I did the swim leg I felt a bit lazy… everyone was talking about doing all three legs so I came back to Melbourne and started in the Gatorade Series," she said.
The lure of a new challenge and the judgement women's football had hit its ceiling and was unlikely to go professional led to her swapping the Sherrin for a TT bike. Wotton had captained the Eastern Devils for more than 10 years and won multiple league best and fairest awards, there were simply no more boxes left for her to tick on the footy field.
"I played footy for 13 years and I thought AFLW wouldn't come around during my playing time. I'm 33 and towards the end of my career, I just wanted to try triathlon and see where it could take me," the school teacher said.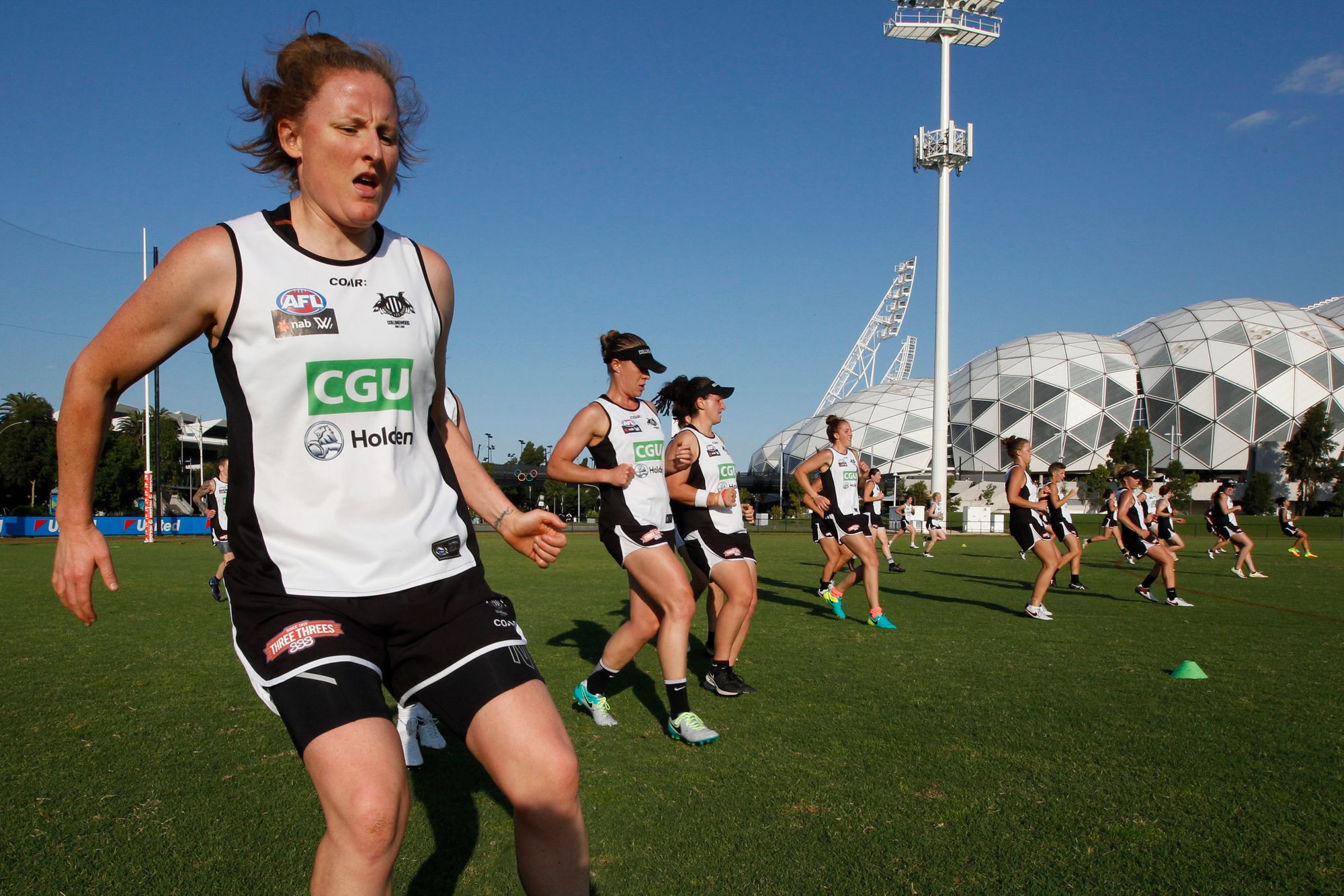 It took her as far as London for the 2013 ITU Age-Group World Championships, where she competed over the Olympic distance. While this was the highlight of her sprint and Olympic distance racing, it also proved to be the moment she realised she wasn't fast enough for this format. A moment which led to her adopting 70.3s and forgoing football – Wotton's not one to do things half-heartedly.
"I found it really hard towards the end of my footy career because I was training for 70.3 Worlds and playing footy. With the nature of footy as a ruckman I was getting battered around, so to back that up with training was tough," she said.
Instead of contesting ruck contests in suburban Victoria, Wotton contested an Ironman in Cairns. She also completed various 70.3s throughout Australia, including Geelong and Ballarat, which led to her qualifying for the 2016 Ironman 70.3 World Championships on the Sunshine Coast. She achieved so much in such a short period, relishing the swim, bike and run life.
"It was a totally different challenge. I was used to the team sport of footy," she said.
"I really enjoyed tri because training and races are completely up to you – you can't rely on any teammates or anything to motivate your or pull you along – it's all you. I'm a driven person so I really enjoyed the challenge of tri.
"I find triathlon really emotional. You feel that awesome sense of achievement when you cross the line. I remember talking to people about Ironman and I thought 'Oh my gosh, that's way too far – I'll never be able to do that'. It's a personal satisfaction when you cross that finishing line. Knowing you've put in all the hours and done everything your coach has told you. You really have to live and breathe it."
While Wotton did live and breathe triathlon, footy was in her blood, and on the night before the 2016 70.3 World Championships on the Sunshine Coast she decided it was time to dig out the football guernsey and bench the wetsuit – at least for the time being.
"I went back to footy because I still thought I had it in me. I would've had regrets if I didn't try. We've been waiting years and years for this and a lot of people have worked really hard to get it up and running," she said.
"I made the decision to nominate for the (AFLW) draft the night before 70.3 Worlds after watching a women's exhibition match on the tele. Walking through the rego area the day before I thought my time's ticking in football but tri will always be there. People of all shapes and sizes can do tri… I think there was an 80-year-old competing at worlds which just blew me away.
"What I really love about footy and winning a game is sharing that experience, sharing that emotion. I had tremendous support at Ironman Melbourne and shared it with friends and family, but it's different because you really get a sense of joy and pride for each other when you come off the footy field."
That pride and joy has been shared with Collingwood teammates through Wotton's two AFLW games in what has been an astoundingly successful inaugural year for the competition. Personally, she had to overcome a hamstring injury in the preseason but nonetheless she has been able to fulfill her life-long dream.
Another dream, however, remains in triathlon – and despite the fact she left the sport to return to footy, it burns just as brightly as her AFLW ambition.
"One day I'd love to qualify for Kona. I've seen a few club (Elite Triathlon Performance Australia) members do it and it's the mecca of triathlon. I was a couple of spots away in the roll down in Cairns, which gave me belief that I wasn't too far away," she said.
"I had no idea where I could go with tri and what was out there, but now I look back and think I'll definitely be back to try and get to Kona."
Considering how driven and motivated she is, it won't be surprising to see Wotton take a specky coming out of T2 at Kona in the ensuing years.