News & Racing
Luke McKenzie wins Ironman Cairns 2013
Luke Mckenzie has won his first Ironman on home soil after he put together a race that played to his strengths. McKenzie has earned five previous Ironman wins around the globe, but his last came three years ago, and today he stamped his class on a top-notch field including two-time Ironman World Cha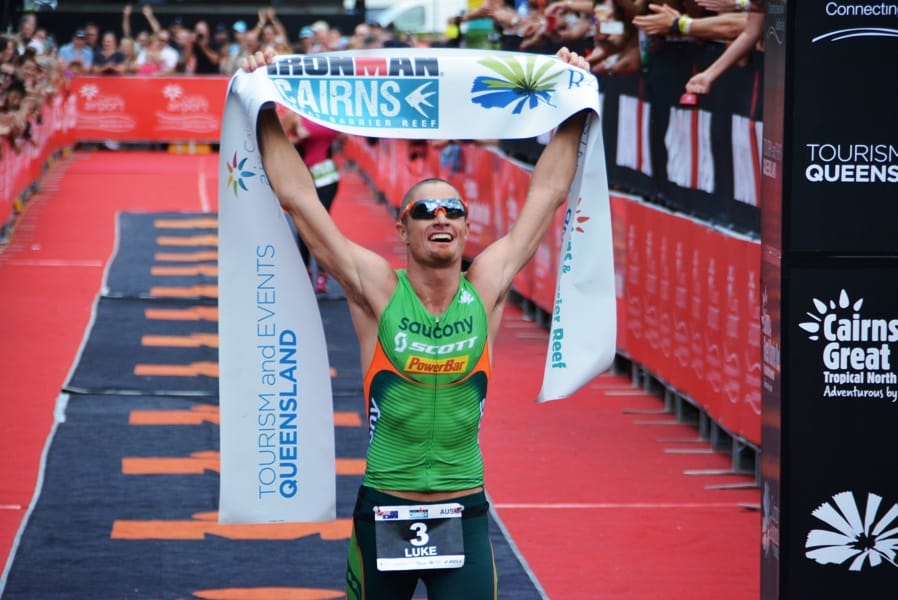 Luke Mckenzie has won his first Ironman on home soil after he put together a race that played to his strengths. McKenzie has earned five previous Ironman wins around the globe, but his last came three years ago, and today he stamped his class on a top-notch field including two-time Ironman World Champion Chris McCormack, 10-time Ironman New Zealand champion Cameron Brown and a host of quality Australians.
He swum extremely well to come out just behind Clayton Fettell with Chris McCormack. Out on to the bike and McKenzie did what he knows best. He out rode all of the field except Clayton Fettell. McKenzie and Fettell rode together for a good part of the race until Fettell received a penalty. The penalty was for going in to the draft zone and not passing within 25 seconds. Instead he drifted back out. McKenzie felt that Fettell wasn't doing anything wrong and was generally riding very fairly. Fettell did it twice which ultimately got him the penalty.
For McKenzie getting back on the top spot of the podium provided a little validation that he was again heading in the right direction. "Three years ago I won my last Ironman and it's been a fairly rocky road since."
"This win signals that I am still on the right path and I do have that ability in me and it gives me that confidence leading into the rest of the year and in the future," said McKenzie. A split from his coach and a focus back on to what he used to do that worked incredibly well has seen his racing get back to the level he used to enjoy.
McKenzie started his career with a bang winning five Ironman races from 2008 to 2010. His strength in those races, his bike, had slowly over the last three years become something of a weakness.
But all week long he had been talking about how happy he was to have his bike back at the level he expects.
And when McKenzie rides well he wins Ironman titles, which is what he did today at the Cairns Airport IRONMAN Cairns.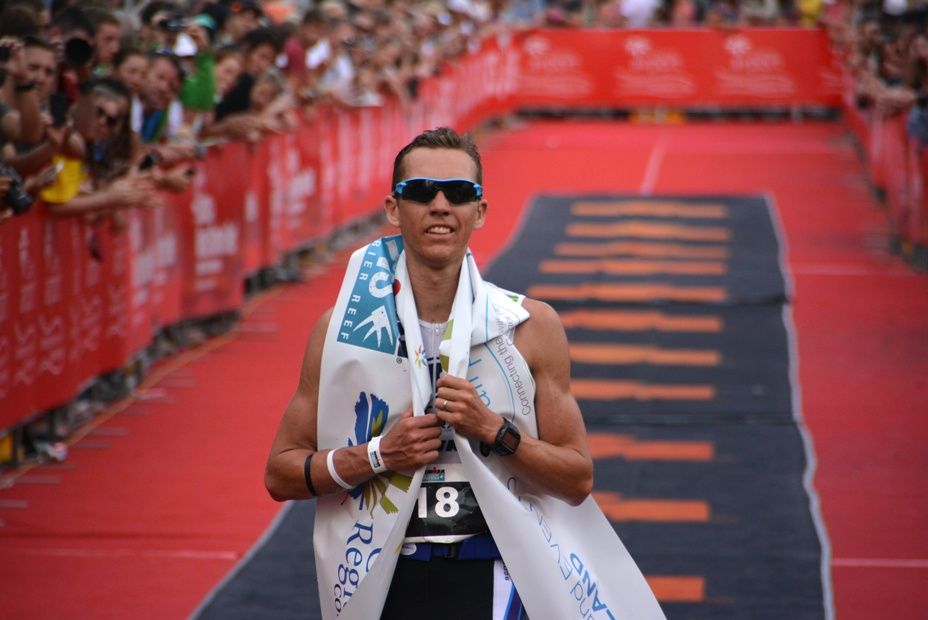 He tore the legs off the rest of the field with a superb 4:21:52 bike leg, and left just enough in the tank to hold on during the run and notch up his sixth Ironman title.
"I felt really bad in the swim, but got on the bike and felt amazing, after Clayton Fettell got his penalty I had to go solo, and coming off the bike with a lead of over ten minutes I thought I could win if I raced smart," he said.
McKenzie paid tribute to his parents, who today saw him win an Ironman for the first time.
It's the first time my parents have ever seen me win an Ironman, I am so thankful to them, they have supported me throughout my career and I'm so happy they could be here to see me win today," he said.
Tim Berkel ran his way into second and Chris McCormack hung on for a gutsy third place.
For Berkel a penalty also left him thinking 'What if'. But there possibly wasn't a lot of time lost in the end. After being penalised Berkel rode off at a faster pace than what he had been holding. Stopped at the next penalty box, served his time then got back in to the race with a vengeance. However he did loose touch and got out of rhythm.
"Full credit to Luke today he smashed that bike, I just needed to run as fast as I could and I did. I was really happy with that performance," Berkel said. A 2:44 marathon is a seriously fast one and Berkel knew he needed this. He ran 17 minutes faster than Luke but after Luke's strong ride and his penalty it fell short by just under 6 minutes.
As recently as four weeks ago Berkel was questioning why he was doing this sport after a 'crappy start to the year'. After spending some time with Tim on the Friday before the race we came away with the view that he was going to make this race count and really enjoy it. For someone who had no background in the sport prior to the age of 19 he has been consistently over performing. With three iron distance titles under his belt and the 2012 Australian 70.3 pro championship title he should not feel he has to give the knockers a second thought. Hopefully now he will start to ignore them and build on this great result.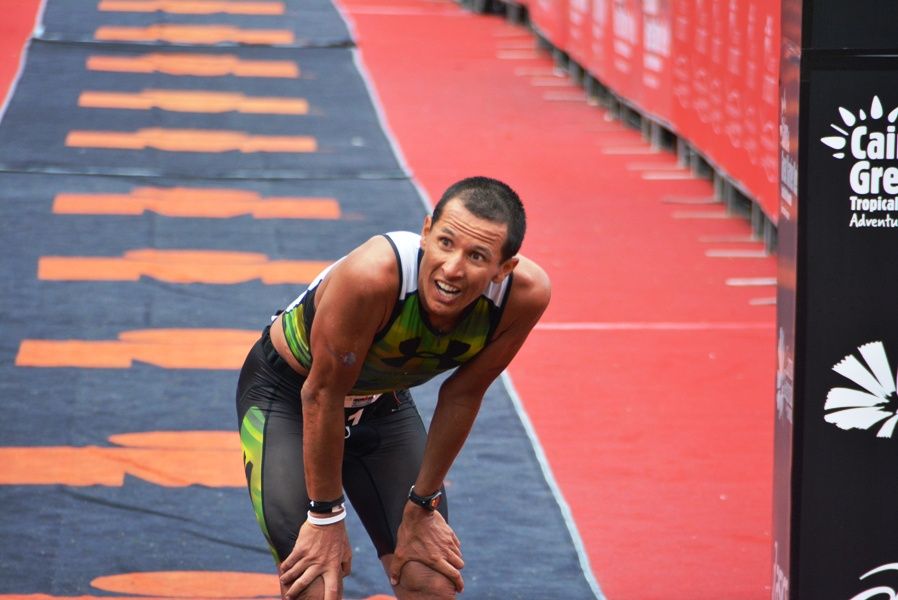 McCormack showed just how tough he is, a third place finish was a herculean effort after the spent last Sunday in Cairns International Hospital.
Diagnosed with a virus that attacked his kidney, his doctors gave him the green light to race advising that by racing he couldn't make the situation worse. They did however tell him he would be unlikely to make it to the finish.
Not only did he defy medical opinion and finish, he held on to a podium spot.
"You play the cards you're dealt and full credit to the two boys in front of me they were in a different zip code to me today. There were so many moments that I wanted to quit, but I hung tough," McCormack said
Macca looked like he was struggling in the second half of the run. At the finish he was gone. After the podium ceremony and before the bubbly was sprayed Macca looked a bit wobbly and made the right decision to get some help and he went off to medical.
Racing his last Ironman after a mechanical put him out of Ironman Australia where announced pre race that he was retiring. Shortis ran his usual super fast marathon and took out fourth overall.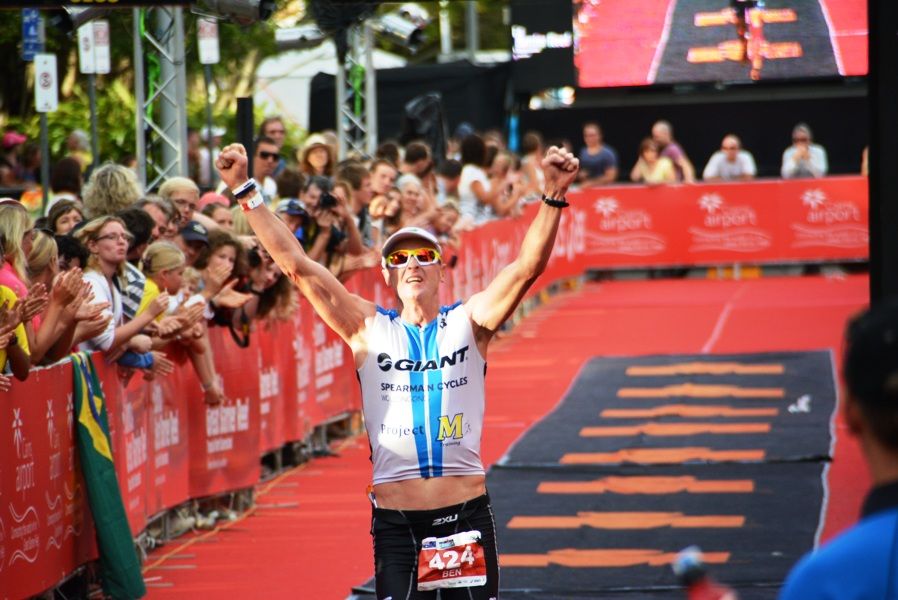 Clayton Fettell raced the only way he knows how. A penalty on the bike cost him dearly. McKenzie said after the race that he felt Clayton was racing fairly and shouldn't have been penalised. For McKenzie this meant losing the only other person in the race capable of riding with him. Each race that Fettell lays down like this is a race closer to his first Ironman win.
Matty White stepped up after a initially planning to race the 70.3. With a limited Ironman base White went well although feel short of his 2011 result at Cairns.
First age grouper home was Wollongong's   Ben Bell. Bell consistently performs at the top of his field. Despite being hassled constantly by his mates to step up and race open Bell loves racing as an age grouper without the pressure of having to step up his training another level. As Bell keeps pointing out to them all 'Check out my swim times'.
Full results and details Ironman.com (Direct link to Ironman Carins)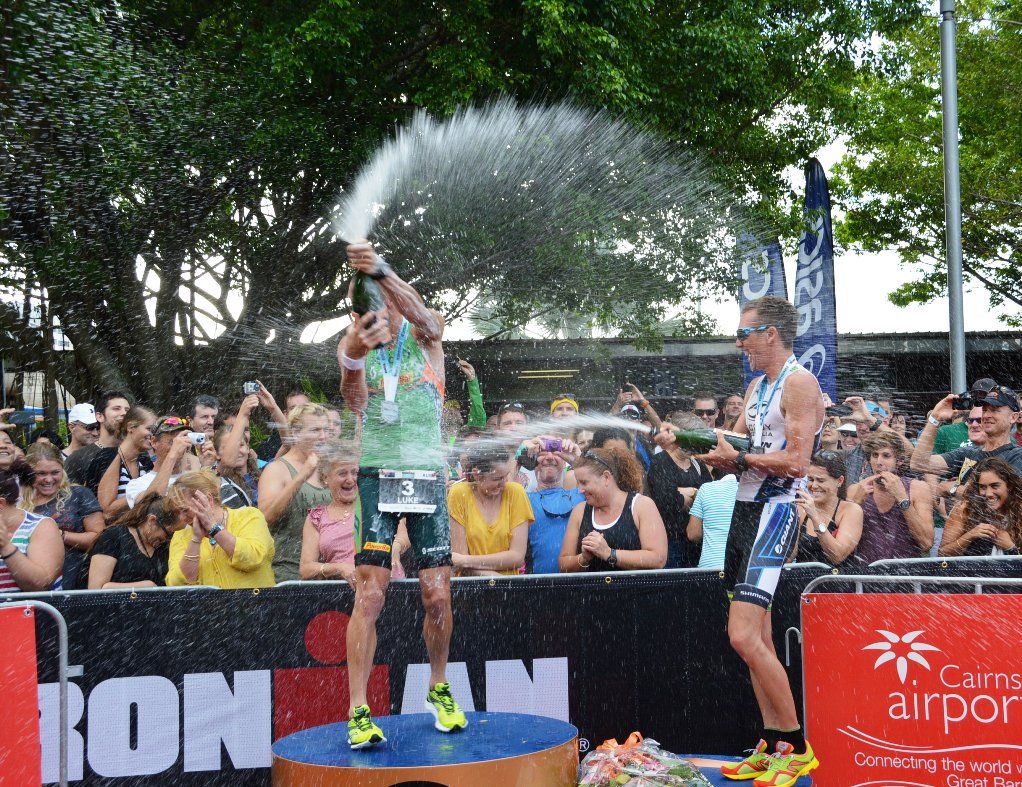 Full details Ironman.com
| | | | | | | | |
| --- | --- | --- | --- | --- | --- | --- | --- |
| Name | Country | Swim | Bike | Run | Finish | Div. Rank | Overall |
| MCKENZIE, Luke | Australia | 0:49:47 | 4:21:52 | 3:01:32 | 8:17:43 | 1 | 1 |
| BERKEL, Timothy | Australia | 0:52:25 | 4:40:57 | 2:44:24 | 8:22:16 | 2 | 2 |
| MCCORMACK, Christopher | Australia | 0:49:55 | 4:43:38 | 2:54:52 | 8:32:50 | 3 | 3 |
| SHORTIS, Jason | Australia | 0:58:31 | 4:38:36 | 2:55:47 | 8:38:21 | 4 | 4 |
| FETTELL, Clayton | Australia | 0:47:53 | 4:35:36 | 3:13:16 | 8:41:42 | 5 | 5 |
| WHITE, Matty | Australia | 0:51:14 | 4:42:07 | 3:12:50 | 8:51:18 | 6 | 6 |
| ISRAEL, Todd | Australia | 0:51:19 | 4:39:24 | 3:22:51 | 8:58:38 | 7 | 7 |
| BELL, Ben | Australia | 0:56:32 | 5:03:08 | 2:59:36 | 9:03:23 | 1 | 8 |
| COCHRANE, Simon | New Zealand | 0:52:26 | 4:56:55 | 3:11:38 | 9:05:48 | 8 | 9 |
| GOLLACH, Amos | Australia | 0:59:53 | 4:54:21 | 3:05:58 | 9:06:21 | 1 | 10 |
| CRAFT, Matthew | Australia | 0:55:11 | 4:55:29 | 3:13:04 | 9:09:18 | 1 | 11 |
| BORG, Johan | Australia | 0:56:21 | 4:45:20 | 3:22:40 | 9:09:38 | 9 | 12 |
| MACPHERSON, Daniel | Australia | 0:54:02 | 4:56:00 | 3:17:46 | 9:14:49 | 1 | 13 |
| GATES, Nick | Australia | 0:51:39 | 4:34:35 | 3:43:52 | 9:16:13 | 1 | 14 |
| FITZAKERLEY, Nathan | Australia | 0:54:01 | 4:56:10 | 3:25:18 | 9:20:39 | 2 | 16 |
| BAILEY, Christopher | United Kingdom | 1:04:47 | 4:55:55 | 3:15:01 | 9:21:56 | 3 | 17 |
| FERGUSSON, Kevin | Australia | 0:55:30 | 4:47:15 | 3:34:50 | 9:24:01 | 1 | 19 |
| WRIGHT, Brad | Australia | 0:55:22 | 4:48:54 | 3:34:51 | 9:24:54 | 4 | 20 |
| THOMPSON, Daniel | United Kingdom | 0:59:41 | 5:09:56 | 3:11:16 | 9:26:16 | 2 | 21 |
| LISLE, Marcus | Australia | 1:04:12 | 5:06:15 | 3:12:00 | 9:28:56 | 5 | 22 |
| FESCHE, Anthony | Singapore | 1:02:37 | 0:00:00 | 3:29:00 | 9:29:18 | 2 | 23 |
| SCANLAN, Dan | Australia | 0:55:22 | 5:00:13 | 3:26:08 | 9:30:02 | 6 | 24 |
| ZANKER, Mark | Australia | 1:01:30 | 5:02:11 | 3:21:22 | 9:30:11 | 3 | 25 |
| ZWIERLEIN, Rob | Australia | 1:05:13 | 4:55:38 | 3:23:39 | 9:30:21 | 2 | 26 |
| MURPHY, Samuel | Australia | 0:56:39 | 5:04:48 | 3:23:14 | 9:30:25 | 2 | 27 |
| FUCHS, Chris | Australia | 0:59:58 | 5:08:42 | 3:18:29 | 9:33:58 | 4 | 29 |
| SILVA, Lucas | Brazil | 0:54:33 | 5:08:04 | 3:24:36 | 9:35:04 | 5 | 30 |
| WATERS, Scott | Australia | 1:04:59 | 5:01:02 | 3:23:18 | 9:35:14 | 6 | 31 |
| ASHCROFT, Antony | Australia | 0:55:36 | 4:56:10 | 3:37:35 | 9:35:22 | 7 | 32 |
| TANAKA, Takeshi | Japan | 1:03:35 | 5:17:08 | 3:06:40 | 9:35:28 | 3 | 33 |
| LARGE, Richard | United Kingdom | 0:55:10 | 5:11:55 | 3:21:00 | 9:35:42 | 7 | 34 |
| SPACKMAN, Todd | Christmas Island | 0:59:47 | 5:13:42 | 3:15:25 | 9:36:21 | 3 | 35 |
| PALMER, Matt | Australia | 0:57:38 | 5:02:29 | 3:29:39 | 9:36:46 | 8 | 36 |