Gear & Tech
Magellan smart running watch echoes your iPhone
Australian-first Magellan Echo watch brings your smartphone fitness apps to your wrist. Around 4.8 million Australians jog regularly or occasionally and fitness apps on smartphones have become an increasingly popular way for health-minded people to receive and track their running data. However, as m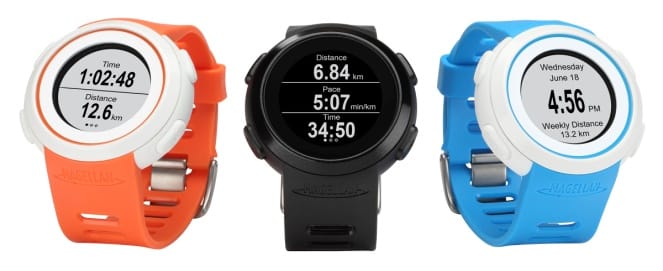 Australian-first Magellan Echo watch brings your smartphone fitness apps to your wrist.
Around 4.8 million Australians jog regularly or occasionally and fitness apps on smartphones have become an increasingly popular way for health-minded people to receive and track their running data. However, as many runners know, holding a smartphone while you're on the move is a recipe for disaster and attempting to glance at your smartphone when it's strapped to your bicep is just inconvenient. Finally these are about to become annoyances of the past, thanks to an Australian-first solution from Magellan, with the release of its Echo range of Smart running watches.
The Echo, launched by leading outdoor and fitness GPS brand Magellan, is the first dedicated Smart fitness running watch in the country that uses Bluetooth Smart technology to wirelessly connect to your iPhone and echo details from your fitness apps – such as distance, time, elevation and pace – in real time to your Echo watch.
All you need to do is tuck your phone away and simply view and control your app from the Echo's hard buttons or screen. This allows you to start, stop or lap your fitness app as well as play, change and pause songs on your smartphone's music playlist from your running watch. The Magellan Echo features four simple control buttons or you can just tap the screen to scroll through additional data screens. Audible alerts are also an option.
"As its name suggests, this device echoes anything your fitness app tracks. At the moment the Magellan Echo is compatible with popular fitness apps including all Wahoo Fitness apps, Strava, MapMyRun, iSmoothRun and Runtastic with more being added each month. The watch has been specifically built on an open platform so new apps can be developed for compatibility with Echo all the time," said Paris Basson, Brand Manager Magellan Australia/New Zealand.
Once you have completed your workout all your running data is live in your fitness app, so it can be shared online straight away "there's no need the plug the Echo into a computer to upload your stats.
Echo users will be able to keep their device updated with the latest app compatibilities via free software updates available on the Magellan Active website. There are hundreds of great fitness apps out there and new ones launching all the time, so with Echo, the door is open for users to choose the ones they like best.
The popularity of apps as a fitness tool is hard to deny: RunKeeper has 17 million downloads, MapMyFitness has 18 million downloads, Endomondo and has 12 million app download and Strava Run has 4 million worldwide. Australian app downloads are yet to be quantified but we've no doubt that in our fitness-aware country, we're following a similar trend. So we're very excited to introduce this new wave of Smart fitness watches to the Australian market," said Paris.
The Magellan Echo has a rugged and shower proof design so it is suited to all types of environments and runs on a replaceable battery, with up to six months battery life, so it doesn't need to be charged before every use.
Echo also has a range that comes with a Bluetooth Smart heart rate monitor, compatible with any fitness apps that can track heart rate data.
The Echo can also be used as an everyday watch that shows you the date and time, so you can leave it on your wrist and have it there ready to go when you are set for your next training session. It is available in black, tangerine and blue to suit different styles.
The Magellan Echo will be available in stores from November 2013.
For more information visit www.magellangps.com.au
Model Colours RRP
| | | |
| --- | --- | --- |
| Model | Colours | RRP |
| Magellan Echo | Black, tangerine and blue | $149 |
| Magellan Echo with BLE HRM | Black, tangerine and blue | $199 |