News & Racing
Mandurah to host Australia's premier Ironman 70.3 event
 Mandurah will become home to Australia's premier IRONMAN® 70.3® event thanks to Government support announced today.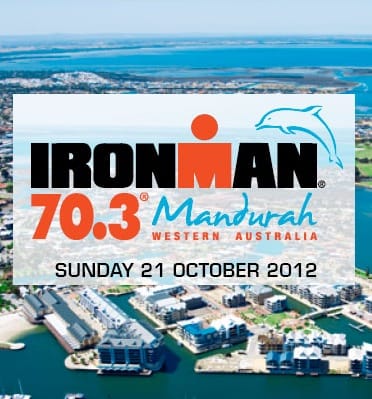 Tourism Minister Dr Kim Hames said the new IRONMAN 70.3 Australian Professional Championship (APC) would be the nation's main qualifier for the IRONMAN World Championship 70.3 in the USA, and would therefore attract a high quality field.
"IRONMAN 70.3 Mandurah will be the showpiece of the Australian IRONMAN 70.3alendar and as such will be a great event to promote Mandurah, the Peel region and WA to the world," Dr Hames said.
"The IRONMAN 70.3 Series is the fastest growing triathlon series in the world, with 59 events held in 24 countries that serve as qualifiers for the IRONMAN World Championship 70.3, set to take place at Lake Las Vegas in Henderson, Nev., on September 9, 2012
"We expect IRONMAN 70.3 Mandurah to attract approximately 1,500 competitors and thousands of visitors to the Peel region, providing a tremendous economic boost".
Western Australia already hosts the very popular IRONMAN Western Australia and IRONMAN 70.3 Busselton. The World Triathlon Corporation, owner and operator of the IRONMAN and IRONMAN 70.3 Series believes WA is ideally placed to host a third major triathlon event.
Regional Development Minister Brendon Grylls said Mandurah was geographically a perfect host city for the new IRONMAN 70.3.
"The event requires athletes to complete a 1.9km swim, a 90km cycle and a 21.1km run, incorporating Mandurah's beautiful waterways, foreshore, and city centre." Mr Grylls said.
"Events like the IRONMAN 70.3 Mandurah really engage the communities that host them, and excite both visitors and locals alike."
The funding for the IRONMAN 70.3 Mandurah was part of a significant $40 million Royalties for Regions investment over four years for regional events.
The IRONMAN 70.3 Mandurah will offer a USD 50,000 prize purse for the Australian Professional Championship and 40 age group qualifying slots for the 2012 Ironman World Championship 70.3.
Event organisers USM EVENTS are committed to bringing the IRONMAN experience to as many regions as possible and Mandurah presents a perfect location, course and forwarding thinking stakeholders that see the great opportunity the event brings to the area.
"The IRONMAN brand is globally acknowledged and since its inception in 2007 the IRONMAN 70.3 series has become the fastest growing series in the world," said Daryl Herbert, Managing Director of USM EVENTS.
"Mandurah is well positioned to attract the local market, the timing also entices national participation and significant prize purse and Championship status ensure the professionals support," added Mr Herbert.
Fact File

The IRONMAN 70.3 Mandurah APC will be held on October 19-21, 2012.
It will offer US$50,000 in prize money and 40 world championshp slots