News & Racing
Mario Mola makes it two from two with New Plymouth win
Spain's Mario Mola re-affirmed himself as the one to beat in the season-opening World Triathlon Series race in New Zealand on Sunday, claiming back to back World Cup victories with a win in New Plymouth. After taking the opening title of the season in Mooloolaba just last weekend, Mola pulled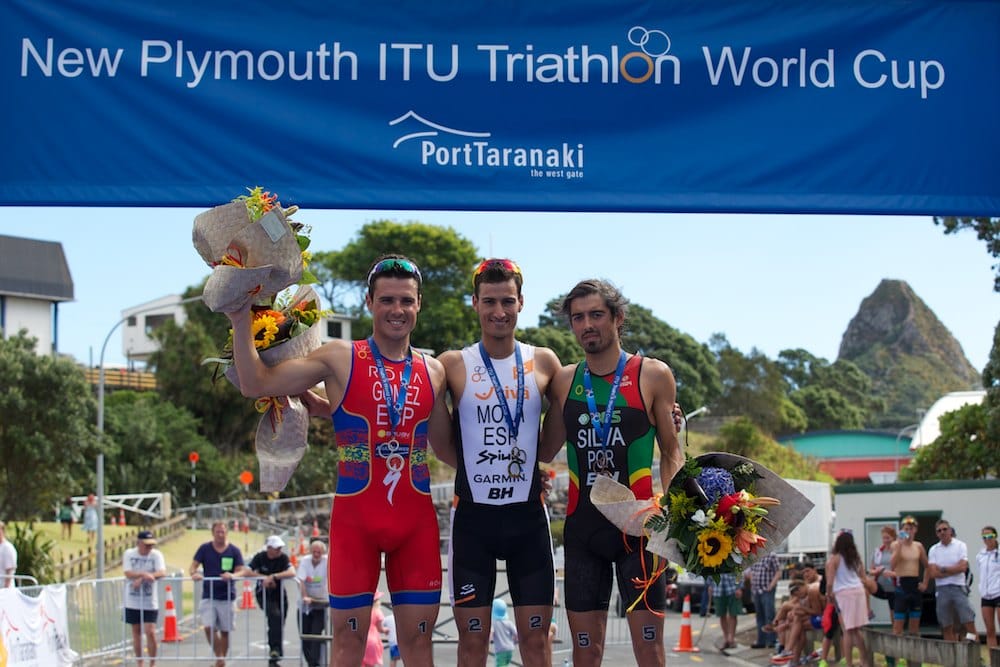 Spain's Mario Mola re-affirmed himself as the one to beat in the season-opening World Triathlon Series race in New Zealand on Sunday, claiming back to back World Cup victories with a win in New Plymouth.
After taking the opening title of the season in Mooloolaba just last weekend, Mola pulled out another stellar performance, this time even more impressive as he beat compatriot and friend Javier Gomez across the line in a time of 52 minutes and 30 seconds. Portugal's Joao Silva collected bronze.
The men started under blue skies and humid temperatures and the USA's Tommy Zaferes led a huge 75-strong field out of the swim. The 750m sprint distance failed to do much to split the pack and at the end of the first lap on the bike, there were 35 men in the lead group.
While Silva positioned himself well from the start, Gomez and Mola had to work their way through the pack ahead of transition. They managed to maneuver their way there on the third of four laps, and were among a group that included Laurent Vidal, Fernando Alarza and Vincent Luis who were first out on the run.
Like so many ITU races though, it was Gomez who went to the front. This time however Mola went with him and further, taking the lead for the majority of the 5km. With the finish line in sight he found yet another gear and rocketed to his second consecutive World Cup title.
"It was perfect for me, I felt good on the swim and then I knew I had to be careful on the bike because there are a lot of guys racing here and the course was a bit tricky and a lot of corners," Mola said. "But I did what I was supposed to do, what I had in my mind before the race. Then on the 5kms of the run, I was lucky to have the win. Congratulations to Javi and Joao for the race, I have a lot of respect for Javi so I feel very happy to been able to have this race. I'm also really happy to have raced with or against Javi, that's always great."
Gomez collected silver in his first ITU race of the season, but the result ended his perfect record in New Zealand, having previously won in New Plymouth, Queenstown and twice in Auckland. While Silva continued his strong run of form in New Zealand to claim bronze. Another quick Spainard in Alarza finished just off the podium in fourth, while Australia's Brendan Sexton claimed fifth.
| | | | | | | |
| --- | --- | --- | --- | --- | --- | --- |
| Pos | Athlete | Country | Time | Swim | Bike | Run |
| 1 | Mario Mola | ESP | 00:52:30 | 00:08:53 | 00:28:39 | 00:14:06 |
| 2 | Javier Gomez | ESP | 00:52:33 | 00:08:49 | 00:28:45 | 00:14:14 |
| 3 | Joao Silva | POR | 00:52:56 | 00:08:42 | 00:28:52 | 00:14:37 |
| 4 | Fernando Alarza | ESP | 00:53:03 | 00:08:57 | 00:28:33 | 00:14:38 |
| 5 | Brendan Sexton | AUS | 00:53:08 | 00:09:04 | 00:28:24 | 00:14:43 |
| 6 | Ryan Sissons | NZL | 00:53:10 | 00:09:16 | 00:28:17 | 00:14:44 |
| 7 | David Hauss | FRA | 00:53:11 | 00:09:05 | 00:28:26 | 00:14:46 |
| 8 | Kyle Jones | CAN | 00:53:13 | 00:08:58 | 00:28:38 | 00:14:44 |
| 9 | Dan Wilson | AUS | 00:53:22 | 00:08:57 | 00:28:07 | 00:15:27 |
| 10 | Laurent Vidal | FRA | 00:53:26 | 00:09:10 | 00:28:15 | 00:15:07 |
| 11 | Sven Riederer | SUI | 00:53:27 | 00:09:07 | 00:28:22 | 00:10:16 |
| 12 | Matthew Sharp | GBR | 00:53:28 | 00:09:06 | 00:28:25 | 00:15:05 |
| 13 | Richard Varga | SVK | 00:53:31 | 00:08:44 | 00:28:42 | 00:15:09 |
| 14 | Vincent Luis | FRA | 00:53:34 | 00:09:04 | 00:28:26 | 00:15:11 |
| 15 | Grant Sheldon | GBR | 00:53:34 | 00:09:03 | 00:28:27 | 00:15:07 |
| 16 | Benjamin Shaw | IRL | 00:53:35 | 00:09:04 | 00:27:53 | 00:15:40 |
| 17 | Cameron Good | AUS | 00:53:40 | 00:09:01 | 00:28:29 | 00:15:14 |
| 18 | Jason Pedersen | USA | 00:53:41 | 00:09:27 | 00:28:04 | 00:15:12 |
| 19 | Andrea Salvisberg | SUI | 00:53:44 | 00:09:14 | 00:28:11 | 00:15:24 |
| 20 | Irving Perez | MEX | 00:53:46 | 00:09:08 | 00:28:35 | 00:15:08 |
| 21 | Simon Viain | FRA | 00:53:51 | 00:09:10 | 00:28:25 | 00:15:24 |
| 22 | Tommy Zaferes | USA | 00:53:51 | 00:08:37 | 00:29:02 | 00:15:19 |
| 23 | Jesse Featonby | AUS | 00:53:55 | 00:09:18 | 00:28:25 | 00:10:26 |
| 24 | Ben Kanute | USA | 00:53:57 | 00:08:48 | 00:28:42 | 00:15:37 |
| 25 | Marten Van Riel | BEL | 00:53:57 | 00:09:02 | 00:28:26 | 00:15:29 |
| 26 | Martin Van Barneveld | NZL | 00:53:59 | 00:09:11 | 00:28:13 | 00:15:39 |
| 27 | Thomas Bishop | GBR | 00:54:00 | 00:09:16 | 00:28:07 | 00:15:36 |
| 28 | Akos Vanek | HUN | 00:54:01 | 00:09:00 | 00:28:31 | 00:15:36 |
| 29 | Marco Van Der Stel | NED | 00:54:04 | 00:08:56 | 00:28:32 | 00:15:41 |
| 30 | Kenji Nener | AUS | 00:54:05 | 00:08:56 | 00:28:43 | 00:15:36 |
| 31 | Ron Darmon | ISR | 00:54:08 | 00:09:28 | 00:28:05 | 00:15:39 |
| 32 | Sergio Sarmiento | MEX | 00:54:12 | 00:09:20 | 00:28:13 | 00:15:34 |
| 33 | Grégory Rouault | ITU | 00:54:15 | 00:09:07 | 00:28:28 | 00:15:51 |
| 34 | Sam Ward | NZL | 00:54:17 | 00:09:33 | 00:28:03 | 00:15:50 |
| 35 | Conor Murphy | IRL | 00:54:19 | 00:09:29 | 00:28:10 | 00:15:49 |
| 36 | Ivan Kalashnikov | RUS | 00:54:24 | 00:09:13 | 00:28:29 | 00:15:45 |
| 37 | Gabor Faldum | HUN | 00:54:28 | 00:09:32 | 00:28:04 | 00:16:03 |
| 38 | James Chronis | ITU | 00:54:34 | 00:09:08 | 00:28:23 | 00:16:04 |
| 39 | Andrew Mccartney | CAN | 00:54:42 | 00:08:42 | 00:28:54 | 00:16:13 |
| 40 | Rodrigo Gonzalez | MEX | 00:54:46 | 00:09:20 | 00:28:19 | 00:16:10 |
| 41 | Tamas Toth | HUN | 00:54:55 | 00:09:18 | 00:00:00 | 00:00:00 |
| 42 | Kaleb Vanort | USA | 00:54:59 | 00:09:15 | 00:29:29 | 00:15:20 |
| 43 | Gaspar Riveros | CHI | 00:55:04 | 00:09:17 | 00:00:00 | 00:00:00 |
| 44 | Yegor Martynenko | UKR | 00:55:08 | 00:09:23 | 00:28:14 | 00:16:36 |
| 45 | Mateusz Kazmierczak | POL | 00:55:14 | 00:09:37 | 00:28:06 | 00:16:36 |
| 46 | Stefan Zachaeus | ITU | 00:55:24 | 00:08:50 | 00:28:45 | 00:16:57 |
| 47 | Declan Wilson | AUS | 00:55:30 | 00:09:36 | 00:27:58 | 00:16:58 |
| 48 | Bryce Mcmaster | NZL | 00:55:33 | 00:09:04 | 00:29:34 | 00:16:01 |
| 49 | Vicente Hernandez | ESP | 00:55:42 | 00:09:04 | 00:29:07 | 00:16:33 |
| 50 | William Huffman | USA | 00:55:46 | 00:09:08 | 00:29:40 | 00:16:07 |
| 51 | Adam Bowden | GBR | 00:55:48 | 00:09:04 | 00:30:07 | 00:15:36 |
| 52 | Christophe De Keyser | BEL | 00:55:58 | 00:09:19 | 00:29:24 | 00:16:21 |
| 53 | Ivan Ivanov | UKR | 00:56:02 | 00:09:00 | 00:29:38 | 00:16:20 |
| 54 | Andrew Ranford | NZL | 00:56:06 | 00:09:35 | 00:27:56 | 00:17:42 |
| 55 | Vladimir Turbayevskiy | RUS | 00:56:17 | 00:09:03 | 00:29:36 | 00:16:35 |
| 56 | Premysl Svarc | CZE | 00:56:19 | 00:09:09 | 00:29:35 | 00:16:34 |
| 57 | Francesc Godoy | ESP | 00:56:30 | 00:08:59 | 00:29:43 | 00:16:50 |
| 58 | Jarrod Shoemaker | USA | 00:56:36 | 00:09:18 | 00:30:23 | 00:15:54 |
| 59 | Ivan Lo Ching Hin | HKG | 00:58:22 | 00:09:30 | 00:31:21 | 00:16:40 |
| 60 | Mauro Cavanha Conceicao | BRA | 00:58:22 | 00:10:03 | 00:30:48 | 00:16:36 |
| 61 | Lukas Siska | SVK | 00:59:20 | 00:09:29 | 00:31:10 | 00:17:35 |
| 62 | Leong Tim Law | HKG | 00:59:57 | 00:09:32 | 00:31:17 | 00:18:07 |
| 63 | Vasco Pessoa | POR | 01:00:15 | 00:09:34 | 00:33:25 | 00:16:19 |
| 64 | Shen-yen Hsieh | TPE | 01:00:18 | 00:09:36 | 00:31:17 | 00:18:32 |
| 65 | Simon Brunovsky | SVK | 01:03:51 | 00:09:59 | 00:33:01 | 00:19:56 |
| DSQ | Thomas Springer | AUT | 00:00:00 | 00:09:27 | 00:30:24 | 00:16:15 |
| DNF | Matthew Sharpe | CAN | 00:00:00 | 00:08:54 | 00:28:39 | 00:00:00 |
| DNF | Tony Dodds | NZL | 00:00:00 | 00:08:55 | 00:00:00 | 00:00:00 |
| DNF | Tyler Mislawchuk | CAN | 00:00:00 | 00:08:57 | 00:00:00 | 00:00:00 |
| DNF | Jan Celustka | CZE | 00:00:00 | 00:09:13 | 00:00:00 | 00:00:00 |
| DNF | Csaba Rendes | HUN | 00:00:00 | 00:09:19 | 00:00:00 | 00:00:00 |
| DNF | Jesus Gomar | ESP | 00:00:00 | 00:09:21 | 00:00:00 | 00:00:00 |
| DNF | Thomas André | FRA | 00:00:00 | 00:09:32 | 00:00:00 | 00:00:00 |
| DNF | Bruno Matheus | BRA | 00:00:00 | 00:09:33 | 00:00:00 | 00:00:00 |
| DNF | Jumpei Furuya | JPN | 00:00:00 | 00:09:38 | 00:00:00 | 00:00:00 |