News & Racing
Matt Hauser and Non Stanford win in Chengdu with a World Cup victory
Stanford and Hauser won their first World Cup wins in Chengdu last weekend. Here's how the weekend's races played out. Women's recap: Chengdu World Cup 2017 Chengdu was British athlete Non Stanford's first World Cup race since 2011, and a solid victory for the Brit. Saturday was full of heats and se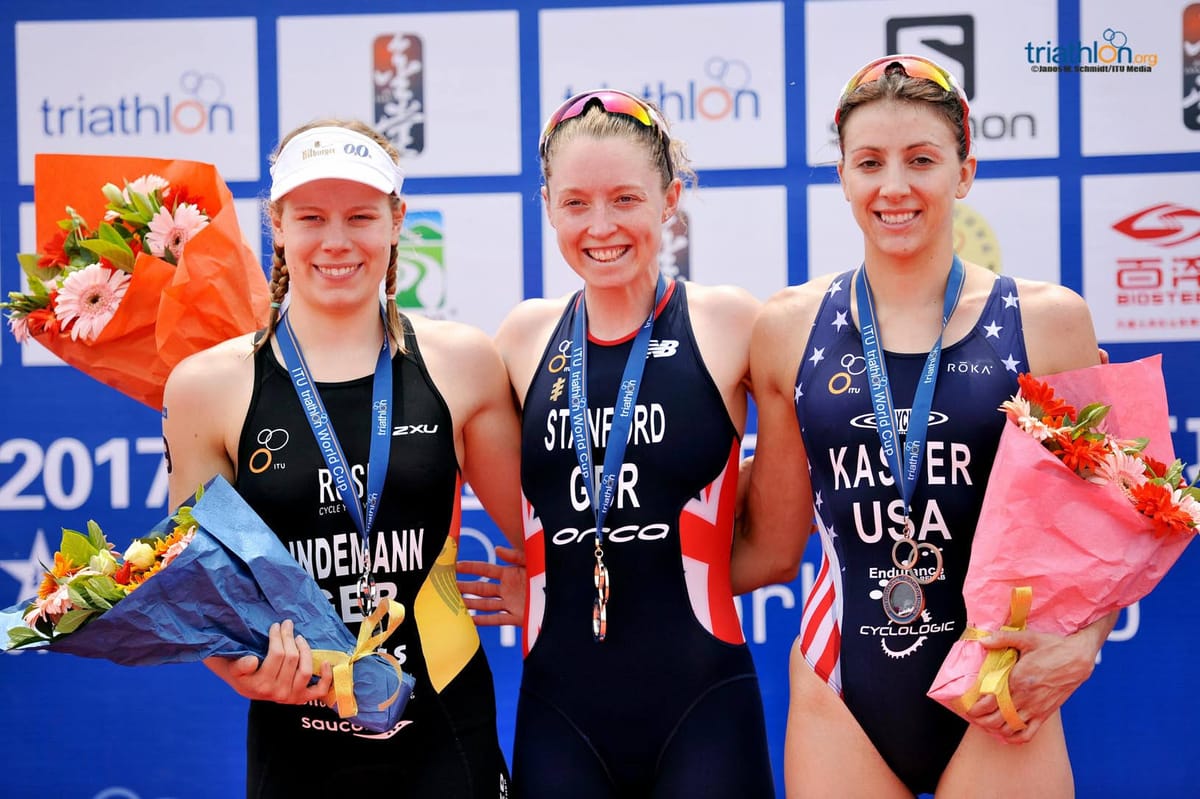 Stanford and Hauser won their first World Cup wins in Chengdu last weekend. Here's how the weekend's races played out.
Women's recap: Chengdu World Cup 2017
Chengdu was British athlete Non Stanford's first World Cup race since 2011, and a solid victory for the Brit.
Saturday was full of heats and semifinals, eventually creating a final pack of women to compete the next day in the supersprint. The supersprint had an exciting pontoon dive start and a short 400m swim. Fierce British swimmer Jessica Learmonth led out of the water, but as soon as her chasers reached their bikes, the race began to change.
Two large groups formed early on in the bike leg, with just 200 metres separating them. The lead pack was made up of the top female ranked athletes and by T2, China's Chunyan Xiong was in the lead. Almost as soon as Xiong had started running though, Non Stanford passed her and continued to lead throughout the 2.5km run course, eventually running to victory.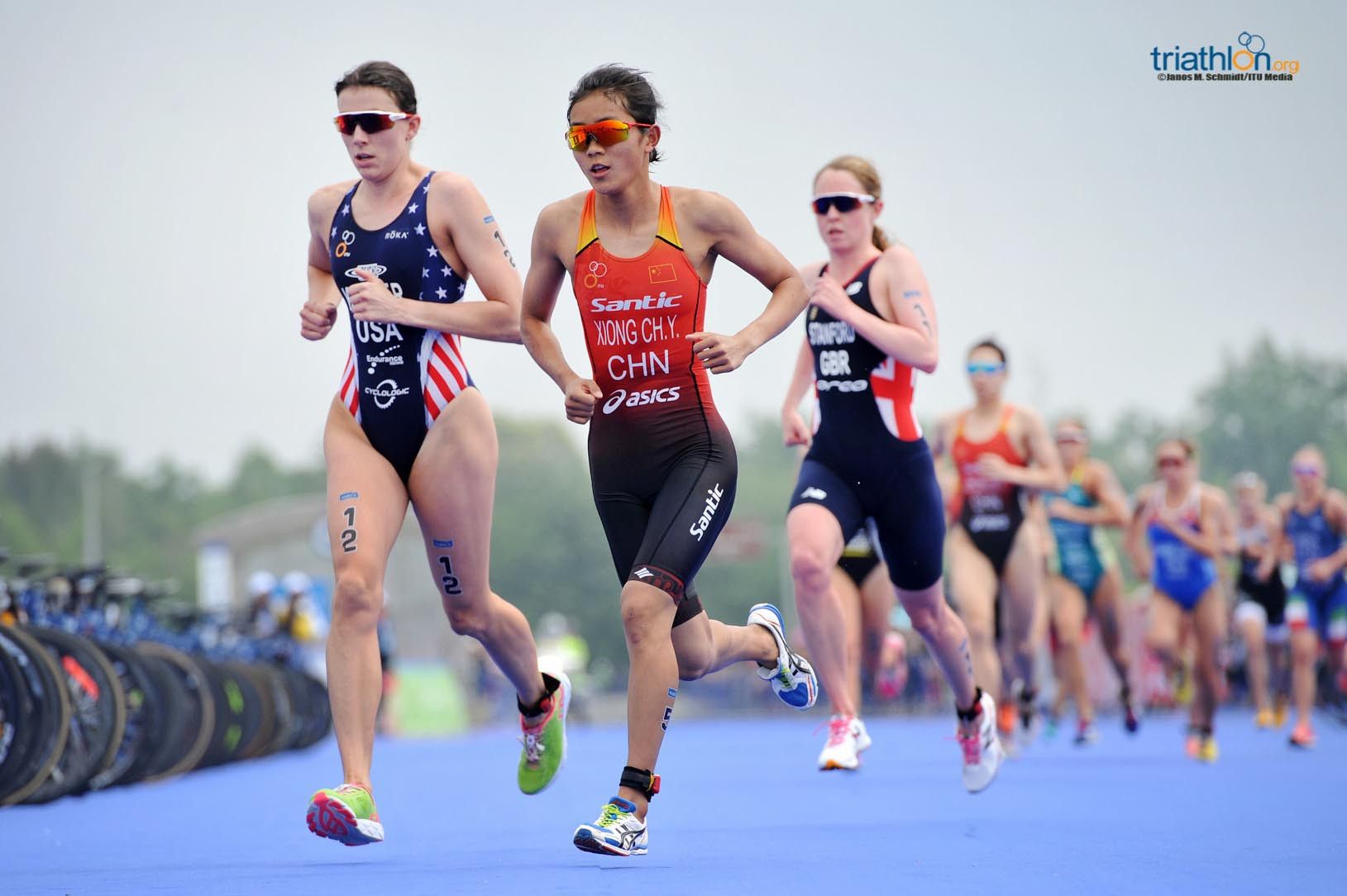 Stanford told triathlon.org; "it's always great to start the season with a win, but I was not confident until the end, because everything was so quick. The key thing today was to have good transitions, and I'm not known for my good transitions, so I just focussed on staying calm and getting out fast", said Stanford at the finish line. "I knew there were a few strong runners on the field today and that it could be a sprint finish, but I was quite confident in my ability and didn't worry too much, and that helped a lot", she said.
Behind Stanford, Claire Michel, Germany's Laura Lindemann and American Kirsten Kasper were battling hard. Michel passed Lindemann with just one kilometre to go, and Kasper was in front of her. Lindemann fought hard throughout the last few hundred metres, and managed to run her way back to the front, into second place.
Lindemann described the multiple races to Triathlon.org "(it) was hard on the legs. I thought about saving some energy because I knew the final was going to be very hard".
Kasper said: "It was a lot of fun this format, and quite a hard fight today for the podium. The semi final went very well and today I was very focussed on getting on the podium on the final meters"
Men's recap: Chengdu World Cup 2017
Saturday's heats saw Australian Matthew Hauser in sixth place after the semifinals, but the supersprint race was still to come the next day.
Diving off the pontoon, the men had a lightning fast 400m swim sprint, lead by Alois Knabl with Richard Varga chasing fast behind.
The bike leg saw the men's race combine into one huge pack, and by the second transition, the huge mass of athletes were still lumped together, with Hungarian athlete Gabor Faldum and Luxemborg's Bob Haller out the front with a very narrow lead.
As the run progressed, the race became more interesting and Matt Hauser managed to make his way to the front, eventually running his way to victory.
"I'm absolutely stoked, it was my debut world cup after doing Gold Coast WTS a couple of weeks ago," said Hauser. "I'm really pleased with the effort and I'm looking forward to the rest of the year. I knew I conserved a lot of energy yesterday in the heats and just did what I could to get to the final. I knew it was always going to be a running race today, so I tried to conserve on the swim and bike and save it for the run and I managed to execute the processes right," Hauser said.
Pevtsov and Willian were right behind him to take out the second and third spots. "I focused on saving some energy for the run, Chengdu is my lucky race", said Pevtsov, who also finished on the podium last year. "After just near missing the podium on my last race, I feel great today. Everyone knew that it was going to be all to the running, and that's what happened", said William.