Interviews
Matthew Hauser's Bike Crash Injury & Recovery
Australian triathlete Matthew Hauser was involved in a bike crash that resulted in a dislocated shoulder and broken hand. He underwent surgery to repair the injuries and also suffered nerve damage in his deltoid muscle.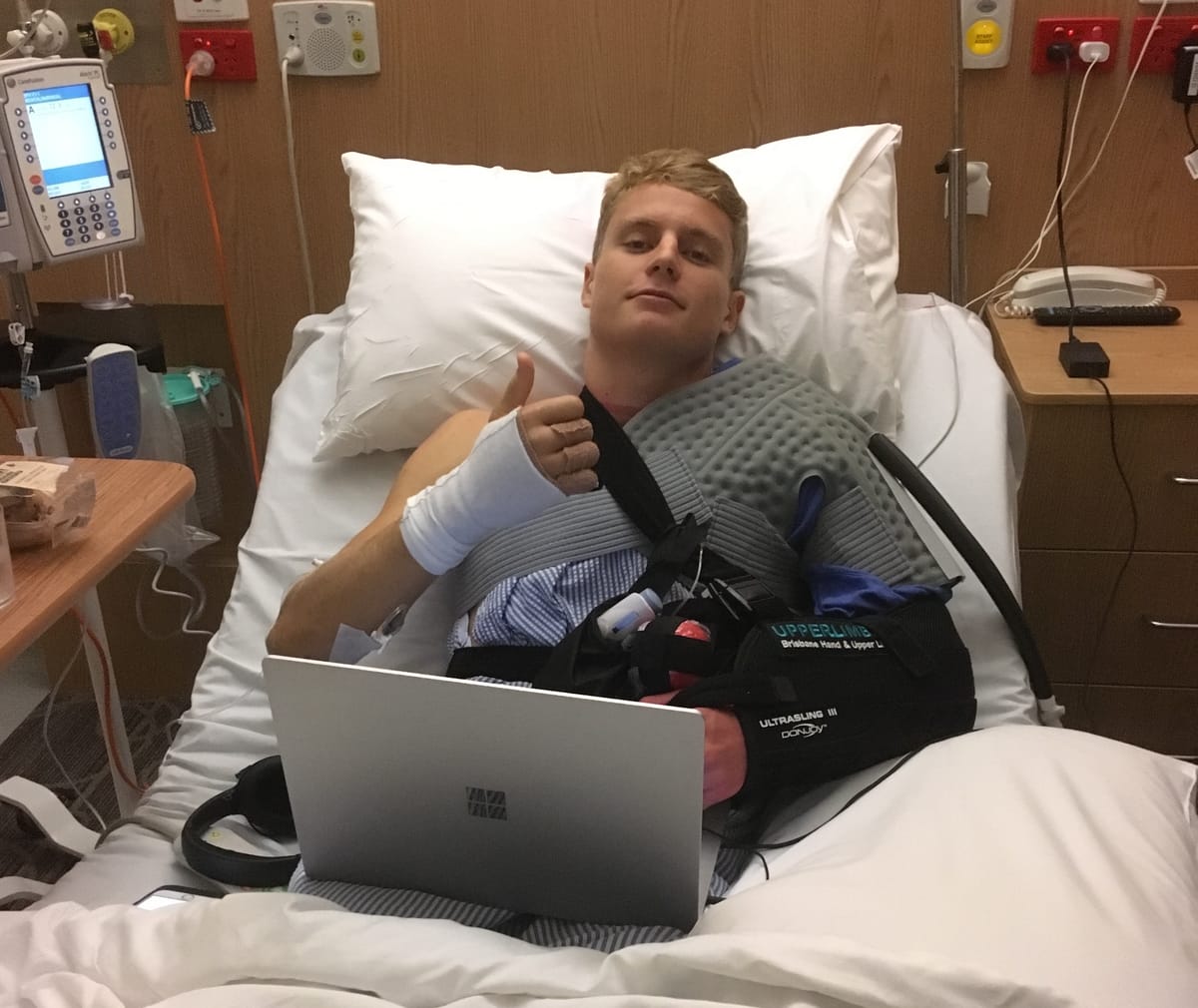 Australian triathlete Matthew Hauser felt like he reached his 2018 goals in April, when he won a gold medal in the Australia Gold Coast Commonwealth Games mixed relay triathlon. This was just after missing the podium by a couple of seconds in the Games' individual men's elite triathlon.
Australian triathlete Matthew Hauser was involved in a bike crash during a training session on a beach road on the Gold Coast, Australia.
Hauser's shoulder was dislocated and he suffered a broken hand, which was not immediately diagnosed.
He underwent reconstructive surgery on his shoulder and had a plate and screws inserted into his hand.
Hauser also suffered nerve damage in his deltoid muscle, but is hopeful that it will eventually recover.
It's a good thing he got in a year's worth of accomplishments early on. As the high and the fanfare from the Games began winding down, his 2018 triathlon season came to a sudden halt.
In a routine mid-May training session, Hauser was speeding downhill on a Gold Coast beach road with some training partners when a car door opened right in front of him. The collision sent him flying through the car door window.
Kye Wylde, one of Hauser's training partners, was also injured. He suffered a cracked vertebra.
Trizone interviewed Hauser on 17thJune in the Australian time zones. We plan to provide regular updates on his injury recovery process, both physical and mental, and his transition back into his pro triathlon career.
Hauser Describes the Bike Crash Incident
Hauser explained the moment of the accident. "We were descending the hill, as we normally do, and Kye was on my wheel. Then, in a matter of a split second or two, I was on the ground. I wasn't quite sure what happened, but I knew I hit the door," he said.
The rest of the Gold Coast Performance Squad were a few metres behind them, giving them time to hit the brakes.
After the bike crash, Hauser got up and recognized that his shoulder was dislocated. That's when he tried to pop it back into place. Fellow Squad members discouraged him from finishing the job. After a few attempts, he took their advice. "I obviously couldn't do it because I didn't have the expertise in that area," he said.
At the Hospital
Hauser and Wylde were transported to Gold Coast University Hospital. After popping the shoulder back into place, medical staff X-rayed Hauser's entire body.
Hauser figured, with only a dislocated shoulder, he may have to skip some races for a month or two and continue the 2018 season after that.
However, there was one body part they forgot to check.
New Injuries Discovered Later
The next day, Hauser made the trip to Brisbane Private Hospital to see Dr. Phillip Duke, an Orthopaedic Surgeon who specialises in shoulders and upper limbs. Dr. Duke had just returned from a two-week holiday in Italy and came into work specifically to see Hauser.
Dr. Duke recommended reconstructive surgery because younger people are more likely to re-dislocate their shoulders than others.
The doctor also said that 5% of people who dislocate their shoulders suffer nerve damage in the deltoid. 2% of those 5% snap the nerve so that it doesn't function at all.
"I was thinking that was very small odds, and hopefully I was not one of those," Hauser said, referring to the 2% of cases. "Later down the track, and just before surgery, he tested the nerve by doing a few exercises with my arm. He said he saw little flickers in the muscle, so that was a good sign. It would be a matter of time before it gets feeling back in the arm, back in the deltoid."
Dr. Duke also examined Hauser's hand and said that needed to be X-rayed. Afterward, as Hauser explained it, "He spoke to his hand specialist mate who said it needed to be operated on. Two operations were booked for the next week.
His right hand was broken. This happened to be the one body part the original hospital missed in its series of X-rays.
Hauser said, "That was a bit of a pain finding out it was broken four or five days down the track. I wasn't really aware of it because all my pain was in my shoulder."
So, What's the Damage?
Matthew gave Trizone a summary of his injuries.
"The impact of the fall dislocated my shoulder and broke my hand (5th metacarpal)," Hauser said. "The shoulder was popped back in within two hours. A full reconstruction was required to fix the internal damage, and sow the shoulder joint casing (labrum) back into place, so it doesn't re-dislocate. There was a plate and screws surgically inserted into my right hand as well." As stated above, his deltoid also suffered nerve damage.
Injury Recovery to Last At Least Six Months
According to Hauser, most of the remainder of the 2018 season will be devoted to healing.
"The expected recovery time for a full reconstruction is six months out of "full" strength swimming. That's not taking into account the damaged nerve in the deltoid, which will take time to heal," Hauser said.
For the first 1.5 weeks, Hauser experienced pain and discomfort, especially when trying to sleep. After this passed, he had what he called "little discomforts". He still wasn't able to do many basic physical activities. His father helped out by taking time off work.
"He's been driving me to cafes, and to the beach, and stuff like that, which has been pretty cool," Hauser said. "He's not complaining either. He's got time off work. It all works out. I've been trying to keep busy. I just got off the last assignment for the school trimester.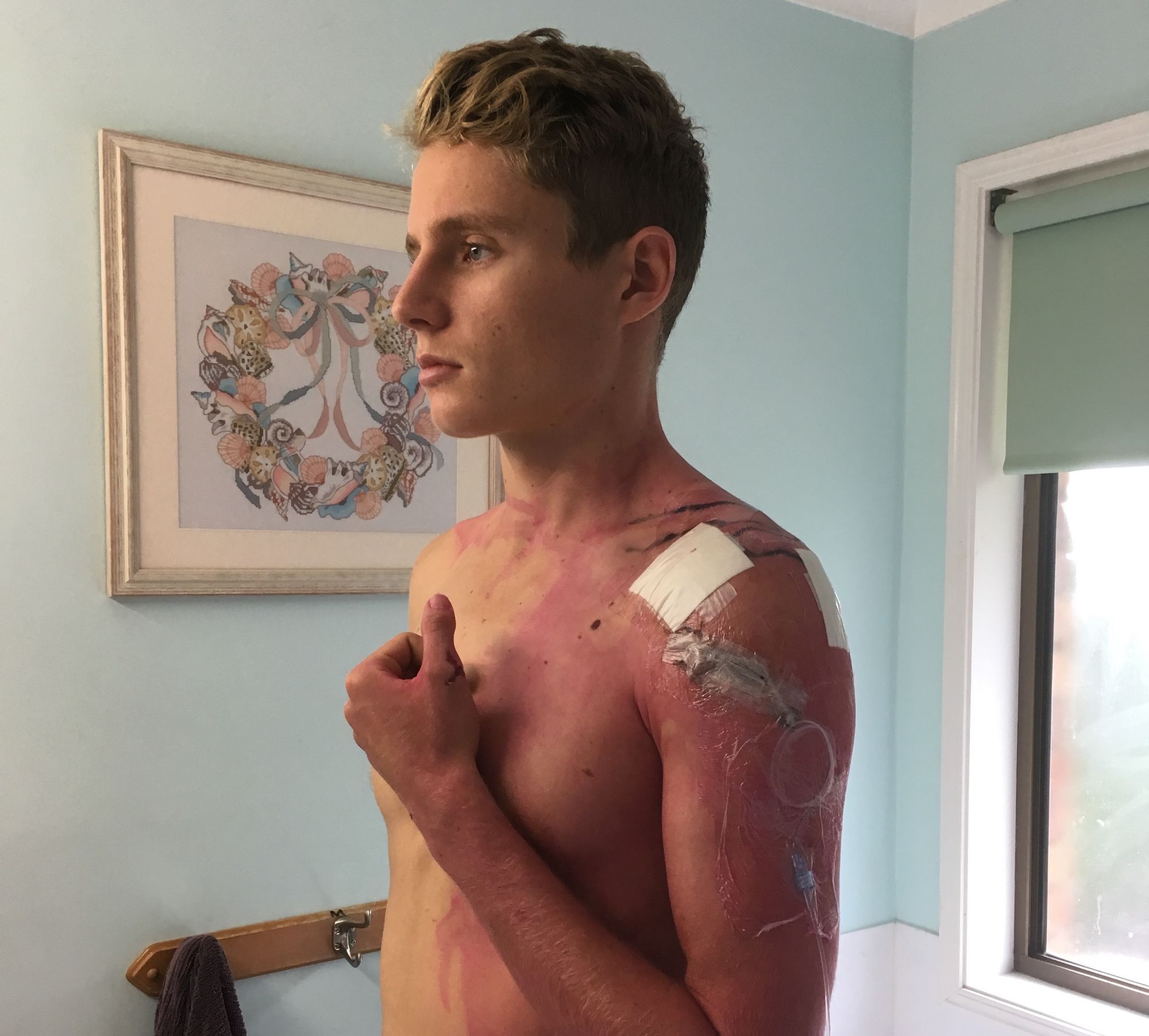 The bike crash did affect his studies at first. When at home, he was fatigued, and just wanted to do something mindless like playing video games on the Playstation. Before long, he wasn't as fatigued, and he was able to concentrate more on his studies. However, this was still a struggle.
Hauser explained it better: "Everyone knows that exercise and regular activity stimulates the brain, and helps with refocusing and being stress-free. I've kind of had to divvy up my time on the books, because I haven't been able to concentrate for very long periods of time. I've just been wanting to get out and do something, to stimulate the other side of my brain a little bit more."
Both Dr. Duke and Hauser are optimistic about the recovery. "It's a matter of waiting for that labrum to knit back together," Hauser said. "It was sewn back on, so that was all good. The hand's pretty much right to go already. It's the three or four-week mark post-surgery. I already have a lot of strength back in it. I can already move it quite well. It's just a matter of keeping the shoulder still until that six-week mark, then I get my sling off. Then I'm able to do physio and strength work from then on."
Back in Training
As Hauser just stated, the June 17thinterview with Hauser was 3.5 weeks post-surgery.
For a full week leading up to the interview, and beyond, Hauser has been training on an indoor recumbent bike. The reason, according to Hauser, is "Being on a normal trainer is bad for my back if I have to be upright all the time. Being on a recumbent bike is about the extent of what I've been able to do. I've had a couple sessions in the gym, and it's been as boring as f#ck. My thought is just to do it enough to keep me sane."
Swimming's out for most of this year, at least at full strength. Hauser also doesn't see the point of complementing cycling with running without adding the swim component. That leaves only recumbent cycling for now. It won't be long before he adds runs to his training sessions.
"As soon as I get out of the sling, I really want to get my run mileage up," Hauser said. "I think that's always a big thing I'm lacking at the moment in terms of Olympic distance racing. When I come out of the sling, it will be in the middle of cross country season. Maybe I can get around to a few races just to keep my competitive nature satisfied. I'm looking forward to stepping back and doing a few things I otherwise wouldn't have had the opportunity to do."