News & Racing
Melissa Hauschildt Race Report – ITU Long Distance World Champion
Melissa Hauschildt is one of the nicest and most unassuming professional triathletes around. Since Hauschildt stormed on to the scene in 2010 when out of nowhere she ran past a field of pro women to take out the rain soaked Gold Coast Half Ironman we have seen her take out many major races including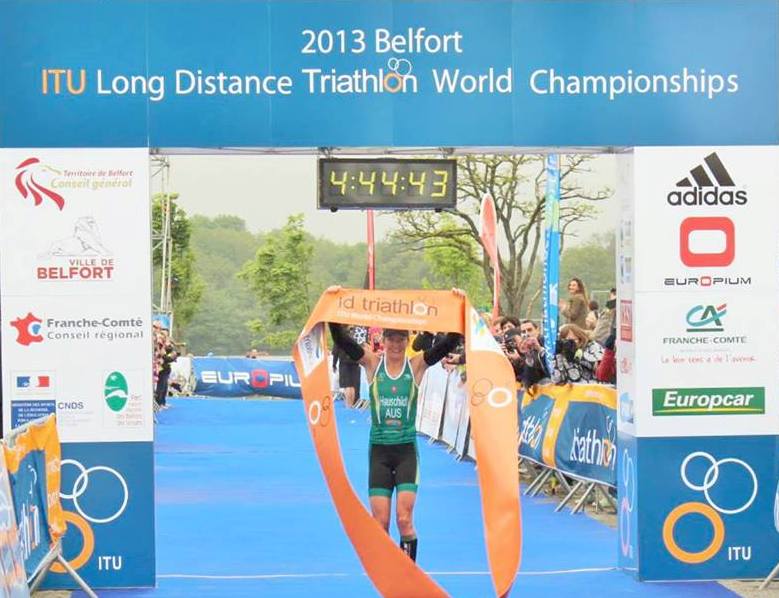 Melissa Hauschildt is one of the nicest and most unassuming professional triathletes around. Since Hauschildt stormed on to the scene in 2010 when out of nowhere she ran past a field of pro women to take out the rain soaked Gold Coast Half Ironman we have seen her take out many major races including the 70.3 World Championship. The women racing that day in 2010 still comment on the run from this spiky blond haired woman they had never seen race before.
Not long after, Mel was at the Port Macquarie 70.3 and racing against the likes of Jo Lawn and many other well known female triathletes. At transition we can remember her asking who they were as we gave her some basic info. Conversely Jo Lawn and co had no idea who Mel was. They had heard she could run. And could she!
We saw Mel run for the first time at the Nepean triathlon that year. She is the most exciting runner to see first hand. If you get the chance get to a race and witness it. We again watched Mel first hand at Super Sprint's Falls Creek Australian Long Course Championship where she put in one of the fastest overall runs of the day.
Of course running is not new to Hauschildt. The 2006 Commonwealth Games 3000m Steeplechase Silver Medalist has a running pedigree.
Winning the Abu Dhabi International Triathlon this year was another step towards an Ironman. With a 200km bike and a 30km run Hauschildt is one step closer to her dream of racing at Kona and winning the Ironman World Championship.
We look forward to 2014!
In Melissa Hauschildt's words…
1st 4:42:38
Run 1st 35:18
Bike 2nd 2:39:46
Run 2nd 1:20:37
I arrived in France Tuesday, 4 days before the world champs. It was cold, a lot colder than I'm used to. But nothing some warm clothes and a wetsuit wouldn't fix (or so I thought). There was some talk that the water was cold and that the swim could possibly be reduced or cancelled. NO WAY! I thought to myself. I've been training hard for this. I flew all the way to France to compete in the World Long Course Triathlon Champs – 4km swim, 120km bike, 30km run. I want to do the full course, the accurate distance.
On Thursday I went to race start for a practice swim in the lake where I'll be racing on Saturday morning. Standing on the sand with my wetsuit on, neoprene cap plus silicone cap on, a jumper and jacket over top and still in socks and shoes, I was shivering uncontrollably. Jared said "you don't have to do this". How will I do it for 4 whole kilometers if I can't even jump in now. I stripped off and dived in and it felt like I'd face planted straight into a cold hard rock wall. I swam like a stiff robot trying to avoid any water getting into my wetsuit. After a few strokes my frozen face was so sore that I had to start doing polo. I gritted my teeth and told myself to just make it to the first buoy. I got a little over half way there before I started to panic… What if I can't get back? What if I freeze out here? I can't yell to anyone cos my mouth is too frozen to get words out. I turned around and tried to get back as fast as I could. When I reached the sand Jared was there to put my jackets back on me. I didn't remove my neoprene cap. I was shaking like crazy and couldn't move my fingers. Jared had to put my shoes on me before throwing me in the car with heaters blasting. I didn't get out of my wetsuit for over an hour. I lasted less than 5minutes in the water. Maybe I wouldn't mind if they cancelled the swim after all.
That night at race brief we were informed that "the swim is cancelled, it will now be a duathlon". I didn't know whether to be disappointed or relieved. I guess I was a little of both. Disappointed that I couldn't put the training I'd done to the real test. I'd increased my Sunday long runs, I'd worked on longer race pace runs off the bike. 30km is a big jump from 21km (IM 70.3 distance) and I was up for the challenge. I raced this same distance 6 weeks ago off my normal 70.3 training and I was really looking forward to seeing how much I'd improved. I'd also been doing swim sessions in my wetsuit in preparation for almost an hour in it. BUT… I was very relieved I didn't have to get back in that water.
Race day arrived. I was prepared. I'd ridden up the mountain pass earlier in the week and I'd ridden 3 out of the 14km down. I knew how many layers I'd need. I had long tights, arm warmers and three jackets on for warm up. I started the race in arm warmers and a vest on over my race kit.
The first leg was a 9.5km run. I'd planned to sit on around 3:30/km pace. Minus the two very steep hills where I'd naturally slow a little. I was wearing my new Garmin 910XT which came in handy because It's been some time since I've done a "running race". How fast should I run? How much should I save for the rest of the race? The first 10km felt very comfortable and I entered T1 with decent lead. I upended my bag in the change tent and all sorts of goodies fell out. Now, for the hard bit, remembering the order to layer them on. First I started putting my bike shoes on, then the full Specialized booties over my bike shoes so I had to sit down to zip them up. They took a while. I had practiced this over and over but when under pressure with cold fingers it always seems to take longer. Next I threw my Scody thermal jacket over my arm warmers and vest. It was then I saw my leg warmers. Damn! I needed those on for the descent but I couldn't take my booties off, they took too long to get on. I left them. Then I put my full fingered gloves on. I threw a muesli bar in my pocket, grabbed my helmet and awkwardly ran in my bike shoes through mud to my bike. I fiddled for a while with my helmet clip as I'd completely messed up my dressing order. Helmet before gloves cos I can't feel properly with gloves on. Then I fiddled around for even longer trying to zip up my jacket. By the time I got on my bike I was in second position. Camilla, who entered T1 about 1min 40 behind me was now in the lead by 30seconds.
The 87km bike leg started with a slight climb out of town. I caught Camilla at 10km and took the lead. I worked hard on the bike for the first half but couldn't drop her. On a few of the corners I would peak over my shoulder to see if she was still there…she was. At the 45km mark we started the steep part of the mountain pass. From here, it was almost 10km up at an average gradient of 10%, topping out at an altitude of 1250m. And freezing! The last few k's to the top, we were in thick clouds and my Rudy Project sunnies started fogging up. I tried to take them off to see where I was going but they were wedged under my aero helmet. I grabbed a new bottle at the aid station on top of the mountain, refilled my fuelselage and prepared for the long, chilly, 14k descent down the sketchy switchbacks on the other side of the mountain. I couldn't see a thing. Not more than a metre in front of me. Camilla had come right up on my shoulder. I had try again to take off my sunnies for the descent. I pulled on them but they didn't budge. I tried again a little harder but this time my sunnies slipped through my fingers and I dropped them. Bugger!
I was now chasing. Camilla was flying down the hill like a demon possessed. She'd approach the switchbacks like they were nothing. I followed her lead but by the bottom of the descent I could only just see her in the distance. We powered over some rolling hills and I tried to keep her in sight but my legs felt like they no longer wanted to co-operate. Was I toast from the climb? Or were my quads frozen and seized up from the descent? I still don't know. I tried to pick up the pace but it wasn't happening. Camilla was long gone. The last 20km was technical with slightly wet roads. I hoped I wasn't losing too much time as I saw how good Camilla was technically.
As I approached the dismount line I had to think for a bit… I had booties on, I couldn't slip out of my shoes. I un-clipped and stepped off my bike then ran the long way to rack my bike (a lap and a half of the entire transition area…a long way). Boy was it hard running in bike shoes after jumping off a hard bike ride. I racked my bike then got confused as to which way to head to get my T2 bag. I back tracked a couple of times before spectators helped me out. As I began running still in my bike shoes I saw there was still quite a way to go so I ditched my bike shoes and helmet and threw them back to land under MY bike. I put my Adidas Adios runners back on and made my way to the change tent. One jacket off. Gloves off. Visor on and GU gels in my pockets. Damn! I had no pockets. I didn't think to check my new Aussie race kit before race day. I put my gels down my pants.
The final leg was a 20km run. Soon after I started the run Jared called out "3min down".
That's some work to do. I felt terrible. My legs were like heavy stumps. I could hardly move them and my splits were showing that. I plodded along almost convinced I could not catch Camilla. The run course was awesome. Nice dirt trails with beautiful green trees on either side. The first 10km went rather quick because of the tight trails and continual turns but it didn't help the fact I still felt terrible and I wasn't catching Camilla as fast as I'd hoped. The split Jared gave me at 8k was still about 1min 30 down. Jared popped up again at the 12km mark at the top of the 2nd last hill and told me I was still 1min down. I thought "It's all over, second place it's going to be". Then he yelled "you can still win this". It was then that something finally triggered in my head.
The next 500m these are just some of the thoughts that ran through my crazy brain -   "Pull ya finger out Mel, you can do this. Your not going home with a silver medal. You didn't come here to come second. Your going to regret this if you don't get your act together, you're not buggered, you're being soft. If you think you're hurting, ask Camilla how she's feeling. Chrissie can win an IM from minutes down with a torn pec and gravel burns down half of her body. Pick yourself up and DO SOMETHING!". I took off. And my cyclist (the guy that leads the second place getter) knew it. Everyone knew it. People/other competitors started yelling at me "you can catch her, she's only just up ahead, you've got this". I went from shuffling along at over 4minutes/km to 3:45 pace. At 14km Camilla was just up ahead. I threw my vest off so that my Aussie uniform was showing. Camilla and I exchanged some friendly words before I took the lead. I passed by Jared for the last time at 1k to go, gave him a smile and thought to myself "I hope he can get to the finish line to see me win the WORLD CHAMPIONSHIP!"