News & Racing
Michael Fox wins Nowra Olympic Distance Triathlon
Cronulla's Michael Fox took out the Nowra Olympic distance triathlon title in the weekend holding off a two faster finishing athletes in James Davy and Kieran Roche. Fox used his strong swim to lead out on to the bike where he continued to put time in to the chasers. A pace line of four guys [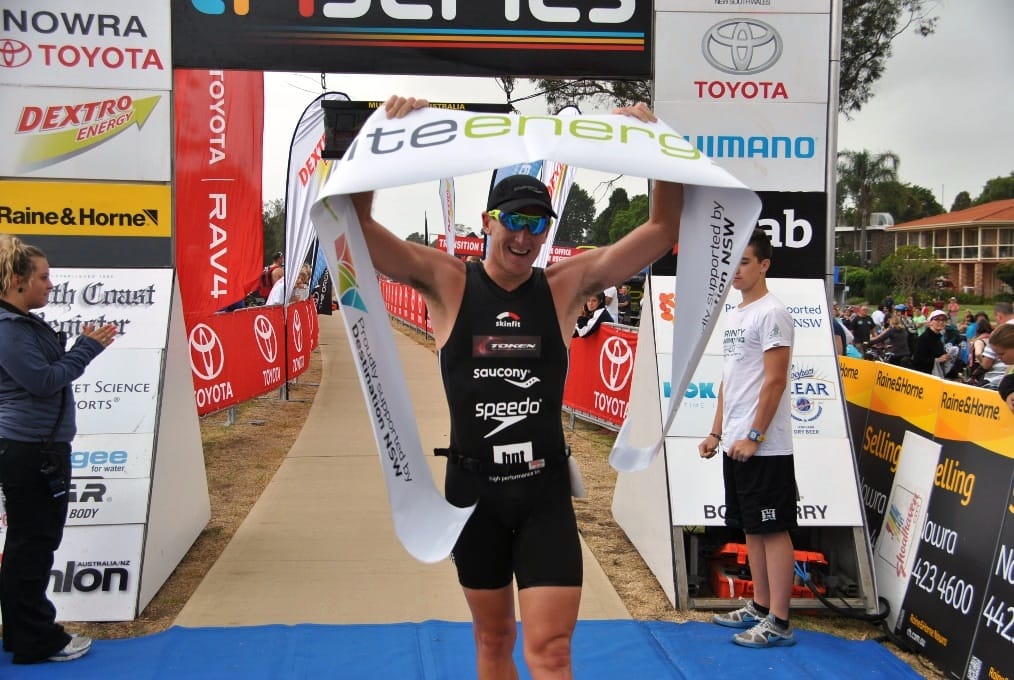 Cronulla's Michael Fox took out the Nowra Olympic distance triathlon title in the weekend holding off a two faster finishing athletes in James Davy and Kieran Roche. Fox used his strong swim to lead out on to the bike where he continued to put time in to the chasers. A pace line of four guys formed in the chase pack with James Davy, Kieran Roche, Patrick Baldacchino and David Mainwaring coming together to try to limit Fox's stronger bike.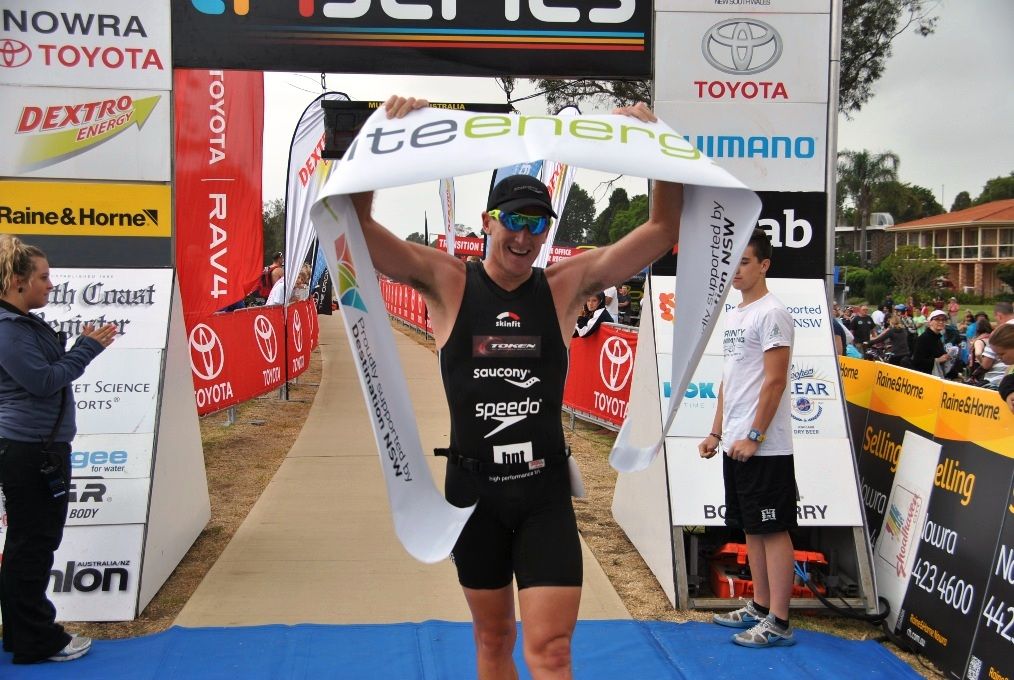 Fox headed out on to the run with a 2:25min advantage over Davy, Roche, Baldacchino and Mainwaring with everyone expecting Mainwaring to set about reeling Fox in. As the lead males came back past transition at the 4km mark Fox's lead was down to 2:15 and it was Roche leading Davy followed by Baldacchino another 30sec back with Mainwaring losing 35seconds over the first 4kms. This was not the Mainwaring we saw here last year when he ran a 31:33 over the same course. With his new leap in to long course triathlon it transpired that a massive training block had left him a bit short of leg speed on Sunday.
Roche and Davy were now pushing themselves hard to attempt to reel Fox in but with Auckland 70.3 next weekend and Fox in the form of his career he was comfortable with the race and made sure that he left some in the tank.
Fox heads off to Auckland this weekend and is looking forward to the experience of racing in such a strong field. 'I am just hoping that I've done enough now to see me up there in the mix on the swim and bike next week. I think it will be very important not to get left behind before the start of the run.' Auckland will give Fox a good benchmark on the level of work he has to do before heading back overseas this year.
'It's good to see the work I've been doing on the bike come together. Last time I raced that course in 2011 I was over 2mins slower in the bike and 5 minutess over the whole race.'
In a case of 'Where are they now?' Sunday's race saw Patrick Baldacchino racing in the open division. Last seen placing 3rd in an ITU Junior Oceania Cup race in Tasmania in 2006 Baldachinno has spent the last few years focusing on getting trade qualifications and is now back training and competing and enjoying it. The last time Baldacchino raced he beat some very good athletes such as Aaron Royle to name one. A 16:15 5km run in that race showed he speed. Whilst he didn't have that in him on Sunday he impressed all with his first race back in open.
It was great to see Ben Bell and Scott Ashcroft having a great age group battle. Both train with Project M and post race Ashcroft commented 'I am getting sick of seeing Ben's backside. I wish he'd put a picture on it and change it for each race'. They were first and second age groupers overall.
In the women's race there was only one competitor, Sarah Fletcher. It is a shame we don't see more females racing open. There is always a good selection of guys. Sarah won the Husky Olympic distance triathlon last November.
Stephanie Graves was had the overall fastest female time of the day.
Full results click here (see links down right hand side of website)
| | | | | | | | |
| --- | --- | --- | --- | --- | --- | --- | --- |
| Pos | Name (#) | Time | Categ (Pos) | Gender (Pos) | Swim | Cycle | Run |
| 1 | Michael FOX (2) | 1:54:51 | Open (1) | Male (1) | 0:20:29 | 0:59:08 | 0:35:13 |
| 2 | James DAVY (9) | 1:56:50 | Open (2) | Male (2) | 0:21:18 | 1:00:51 | 0:34:41 |
| 3 | Kieran ROCHE (3) | 1:57:15 | Open (3) | Male (3) | 0:20:59 | 1:01:22 | 0:34:53 |
| 4 | David MAINWARING (1) | 1:58:56 | Open (4) | Male (4) | 0:22:13 | 1:00:05 | 0:36:37 |
| 5 | Ben BELL (20) | 2:01:12 | 35-39 (1) | Male (5) | 0:24:22 | 1:01:37 | 0:35:12 |
| 6 | Patrick BALDACCHINO (8) | 2:01:34 | Open (5) | Male (6) | 0:21:18 | 1:01:02 | 0:39:13 |
| 7 | Scott ASHCROFT (7) | 2:01:52 | 30-34 (1) | Male (7) | 0:24:45 | 1:01:16 | 0:35:50 |
| 8 | Emir MUJCINOVIC (92) | 2:03:21 | 30-34 (2) | Male (8) | 0:26:57 | 1:00:16 | 0:36:08 |
| 9 | Liam RAPLEY (4) | 2:03:56 | Open (6) | Male (9) | 0:23:45 | 1:04:39 | 0:35:31 |
| 10 | Jared MEDHURST (89) | 2:06:31 | 30-34 (3) | Male (10) | 0:24:32 | 1:02:05 | 0:39:54 |
| 11 | Mitchell BROWN (5) | 2:08:32 | Open (7) | Male (11) | 0:25:15 | 1:05:22 | 0:37:53 |
| 12 | Shane THOMPSON (108) | 2:09:10 | 30-34 (4) | Male (12) | 0:26:16 | 1:05:32 | 0:37:21 |
| 13 | James MASTERS (84) | 2:10:17 | 30-34 (5) | Male (13) | 0:24:44 | 1:04:50 | 0:40:43 |
| 14 | Josh HENRY (61) | 2:11:53 | 30-34 (6) | Male (14) | 0:23:30 | 1:04:39 | 0:43:44 |
| 15 | Matt CARROLL (31) | 2:11:57 | 25-29 (1) | Male (15) | 0:28:29 | 1:06:53 | 0:36:34 |
| 16 | Alex DUNN (49) | 2:12:17 | Open (8) | Male (16) | 0:26:28 | 1:02:48 | 0:43:00 |
| 17 | Malcolm RAMSAY (103) | 2:12:42 | 20-24 (1) | Male (17) | 0:24:07 | 1:08:08 | 0:40:26 |
| 18 | Tommy MINOGUE (90) | 2:12:49 | 25-29 (2) | Male (18) | 0:28:51 | 1:04:58 | 0:38:58 |
| 19 | Mathew EDSALL (50) | 2:13:09 | 30-34 (7) | Male (19) | 0:27:20 | 1:04:34 | 0:41:15 |
| 20 | Dave LIVANES (76) | 2:13:16 | 25-29 (3) | Male (20) | | | 9:20:16 |
| 21 | Benjamin LOWE (79) | 2:14:18 | 30-34 (8) | Male (21) | 0:30:18 | 1:06:38 | 0:37:21 |
| 22 | Ilyas MUSKER (93) | 2:15:45 | 35-39 (2) | Male (22) | 0:27:58 | 1:03:48 | 0:43:58 |
| 23 | Chris JALLARD (71) | 2:16:17 | 35-39 (3) | Male (23) | 0:23:44 | 1:06:06 | 0:46:26 |
| 24 | Hamish TRAIN (110) | 2:16:46 | 30-34 (9) | Male (24) | 0:27:01 | 1:07:39 | 0:42:05 |
| 25 | Stephen CROSSMAN (43) | 2:17:15 | 25-29 (4) | Male (25) | 0:30:02 | 1:08:23 | 0:38:50 |
| 26 | Sam GARLING (54) | 2:17:19 | 20-24 (2) | Male (26) | 0:24:46 | 1:04:00 | 0:48:33 |
| 27 | Jorge CERVANTES (33) | 2:17:46 | 25-29 (5) | Male (27) | 0:27:06 | 1:08:24 | 0:42:15 |
| 28 | Michael CHAPMAN (36) | 2:18:14 | 20-24 (3) | Male (28) | 0:26:35 | 1:11:53 | 0:39:46 |
| 29 | Ian BLAIKLOCK (123) | 2:19:23 | 40-44 (1) | Male (29) | 0:29:48 | 1:07:05 | 0:42:30 |
| 30 | Darren ATKINSON (116) | 2:20:06 | 40-44 (2) | Male (30) | 0:28:51 | 1:06:37 | 0:44:38 |
| 31 | Matt LEWIS (75) | 2:20:13 | 20-24 (4) | Male (31) | 0:29:00 | 1:07:23 | 0:43:49 |
| 32 | Ryan HECKENBERG (60) | 2:20:34 | 30-34 (10) | Male (32) | 0:27:38 | 1:07:28 | 0:45:26 |
| 33 | Brett CAMM (128) | 2:21:23 | 45-49 (1) | Male (33) | 0:28:52 | 1:09:03 | 0:43:27 |
| 34 | Andrew HOURIGAN (155) | 2:21:45 | 40-44 (3) | Male (34) | 0:26:28 | 1:09:35 | 0:45:41 |
| 35 | Stephanie GRAVES (225) | 2:21:57 | 25-29 (1) | Female (1) | 0:28:39 | 1:12:03 | 0:41:14 |
| 36 | Craig PAGER (98) | 2:22:25 | 35-39 (4) | Male (35) | 0:34:03 | 1:08:57 | 0:39:25 |
| 37 | Thomas HANRAHAN (56) | 2:24:07 | 20-24 (5) | Male (36) | 0:28:34 | 1:10:53 | 0:44:40 |
| 38 | James CAHILL (28) | 2:24:13 | 25-29 (6) | Male (37) | 0:27:03 | 1:11:21 | 0:45:48 |
| 39 | Geoff SMITH (183) | 2:24:18 | 45-49 (2) | Male (38) | 0:27:57 | 1:10:50 | 0:45:30 |
| 40 | Peter GOLDIE (147) | 2:24:28 | 50-54 (1) | Male (39) | 0:27:31 | 1:08:13 | 0:48:44 |
| 41 | Jocie EVISON (219) | 2:24:34 | 35-39 (1) | Female (2) | 0:28:11 | 1:09:32 | 0:46:50 |
| 42 | Jose COLLADO (39) | 2:25:17 | 25-29 (7) | Male (40) | 0:30:25 | 1:11:31 | 0:43:20 |
| 43 | Justin HOLBROOK (64) | 2:25:31 | 35-39 (5) | Male (41) | 0:28:48 | 1:14:12 | 0:42:31 |
| 44 | Michael KAPR (11) | 2:25:41 | 40-44 (4) | Male (42) | 0:30:32 | 1:08:37 | 0:46:31 |
| 45 | David PRICE (171) | 2:25:55 | 40-44 (5) | Male (43) | 0:35:53 | 1:05:54 | 0:44:07 |
| 46 | William STAHLHUT (186) | 2:25:58 | 50-54 (2) | Male (44) | 0:35:13 | 1:08:04 | 0:42:40 |
| 47 | Wesley CAMPBELL (129) | 2:26:11 | 45-49 (3) | Male (45) | 0:30:32 | 1:11:47 | 0:43:51 |
| 48 | Rolf BEHRENS (122) | 2:26:11 | 40-44 (6) | Male (46) | 0:32:59 | 1:08:47 | 0:44:24 |
| 49 | Katherine MACKAY (303) | 2:26:22 | 35-39 (2) | Female (3) | 0:32:23 | 1:07:58 | 0:46:00 |
| 50 | Sarah FLETCHER (13) | 2:26:22 | Open (1) | Female (4) | 0:24:54 | 1:12:31 | 0:48:56 |