Michael Raelert and Helle Frederiksen 2014 Challenge Bahrain champions
RAELERT, FREDERIKSEN REIGN IN BAHRAIN 6 December, 2014 (Bahrain, UAE) Germany's Michael Raelert returned to the winners' circle today in commanding style to claim the world's richest half-Iron distance prize purse and title of Challenge Bahrain champion. While Denmark's Helle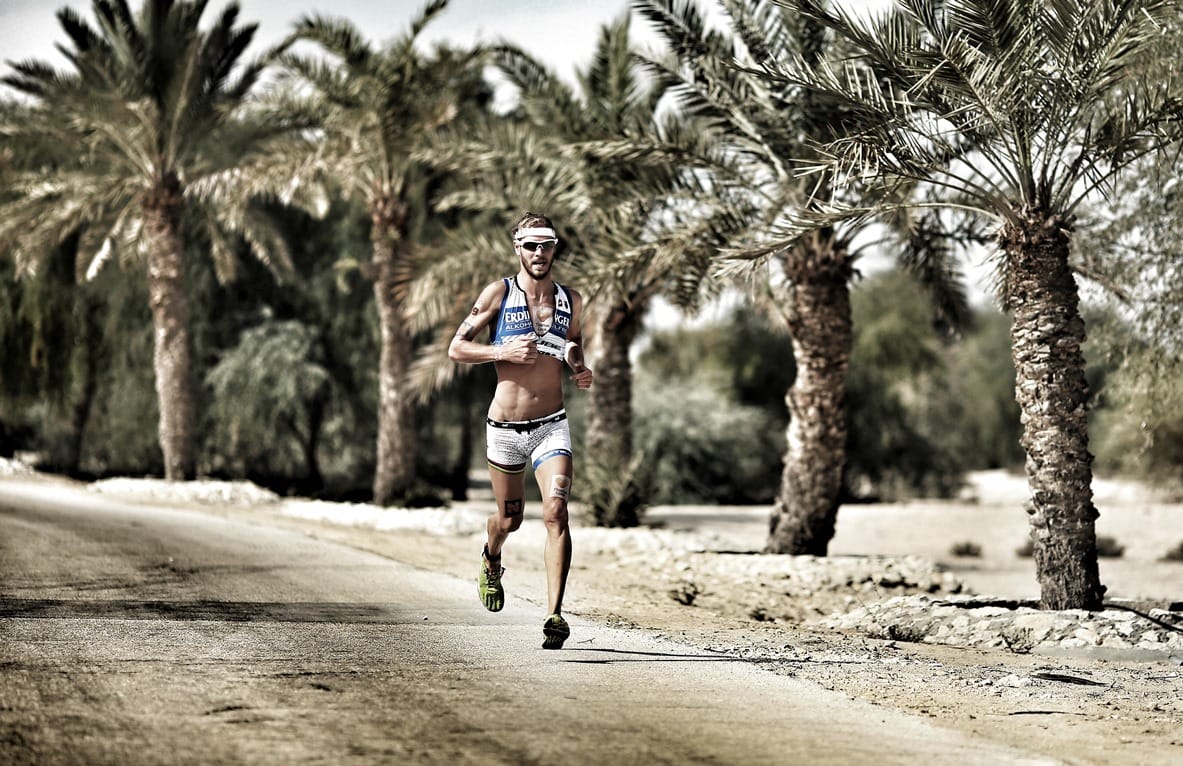 RAELERT, FREDERIKSEN REIGN IN BAHRAIN
6 December, 2014 (Bahrain, UAE) Germany's Michael Raelert returned to the winners' circle today in commanding style to claim the world's richest half-Iron distance prize purse and title of Challenge Bahrain champion. While Denmark's Helle Frederiksen struck gold in the women's race.
After surrendering his lead late into the bike to fellow countryman Andreas Dreitz, Raelert clawed it back on the run to record one of the world's fastest times over the half distance, Dreitz took second with Australian Tim Reed third.
"I'm overwhelmed "it was a tough race but the finish was sweet," said Raelert.
It was an emotional Frederiksen who claimed her biggest win of the year.
"I'm speechless because as many know I didn't have the race I wanted at the World Champs so I wanted to make Challenge Bahrain my world championship and the field was actually better," said Frederiksen.
Frederiksen laid down a brilliant performance in all three legs to runaway with the win from Rachel Joyce (GBR) and Jodie Swallow (GBR) in one of the most exciting women's races seen.
As expected Dylan McNiece (NZ) led them out of the swim from Pete Jacobs (AUS), Raelert, Eric Watson (AUS), and Tim Don (GBR).
Raelert seemed to have pent up energy to burn as he hit the highway with speed and went about putting space between himself and the field.
The first casualty of the day was Sebastian Kienle who punctured 30km into the bike.
"I'm disappointed as I think I had my best bike legs ever today," said Kienle.
At the 30km mark Australia's Tim Reed looked strong in third about 30sec back. The next group was Nils Frommhold, Tim Don (GBR), Luke Bell (AUS), Dylan McNiece (NZ) and Brad Kahlefeldt (AUS).
At the 70km mark it was Dreitz who put the hammer down and went to the front extending his lead to 1min 20sec to arrive back into transition first with a 1:57:22 bike split, but would the big German have the run legs to stay away from Raelert?
Reed was next out but had some work to do, but there was no stopping Raelert today he eventually passed Dreitz with a quick word and ran away with the win.
Raelert was full of praise for the event and organization of Challenge Bahrain.
"Honestly I've done triathlon for 20 years and I've seen a lot of places and done a lot of races but this is one of a kind. I never thought this would be possible, how we are treated, the hospitality, the people. It's incredible. This is far above any race I've done before "whether it's world championships or any other race. Thank you so much to Sheikh Nasser, what the Bahrainis have done today is just amazing," said Raelert.
The women put on an outstanding race today, Jodie Swallow (GBR), Annabel Luxford (AUS), Helle Frederiksen were first out onto the bike but in close proximity were the dangers, Rachel Joyce (GBR), Angela Naeth (CAN) and Jodie Stimpson (GBR).
Showing what a big talent she is Frederiksen was the best across all three legs today, with a solid bike which Swallow, Joyce and Luxford lead for a long time but all the women remained in close touch.
Off the bike four girls ran onto the Bahrain International Circuit together, Frederiksen, Luxford, Joyce and Swallow all with their game faces on and a determination to cross the tape first for the USD100,000 first place prize.
Running through the Al Areen Wildlife Park they were shadowed by the wildlife which they all agreed was a great distraction.
"On the bike I just focused on the girls in front and just kept my mind very simple. I could see I had a lot of power on the bike. Jodie stuck with me on the run but it wasn't frustrating," said Frederiksen.
Frederiksen and Swallow ran shoulder to should before Frederkisen stepped up the pace and the elastic band eventually broke.
"I know she can run hard "but we couldn't keep that pace, and in the end it's all about who's hurting the least," said Frederiksen.
An emotional Frederiksen said this was her World Championship win.
Joyce overtook Swallow in the last kilometres of the run to grab second and finish off a very successful year, Swallow hung on for third.
"It was a relief to cross the line! I couldn't have dreamed of a better way to finish my 2014 season, its crazy.
"This setting, what they 've done and how we've been treated "I've felt like a queen. It's an amazing set up and everything was really professional," said Frederiksen.
The professional field races for a total prize purse of USD500,000, the richest race in the world over this distance.
The Kingdom of Bahrain turned on perfect race conditions for the 1000 plus athletes in the first international triathlon here, all agreed it was an enormous success.
Results
Men
1. Michael Raelert (GER) 3:38:23
2. Andreas Dreitz (GER) 3:39:26
3. Tim Reed (AUS) 3:41:06
4. Eneko Llanos (ESP) 3:42:04
5. James Cummana (RSA) 3:44:29
Women
1. Helle Frederiksen (DEN) 3:55:50
2. Rachel Joyce (GBR) 3:58:15
3. Jodie Swallow (GBR) 3:58:39
4. Annabel Luxford (AUS) 4:00:17
5. Angela Naeth (CAN) 4:00:48
Click here for full results