News & Racing
Mooloolaba Triathlon kicks off with thousands of new and seasoned athletes
The 2023 Mooloolaba Triathlon began with thousands of athletes, including many first-timers, competing in the Sprint Triathlon and enjoying the supportive atmosphere.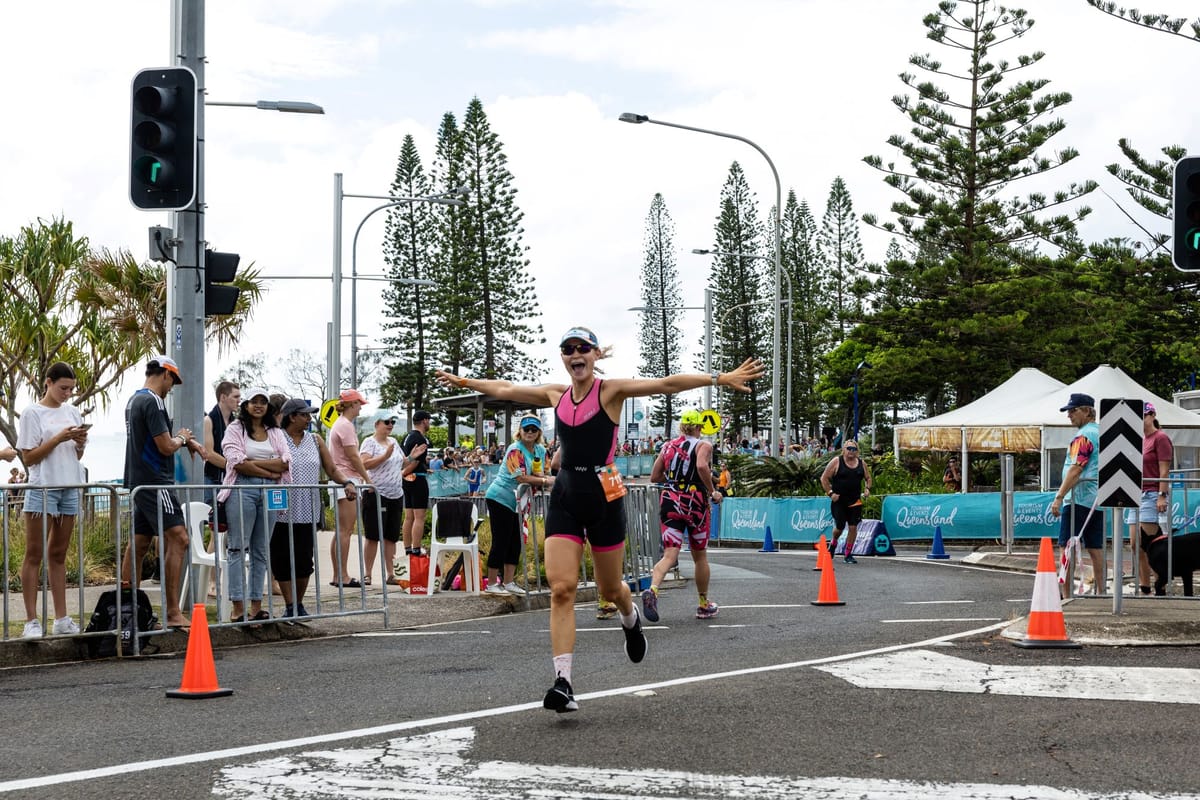 Thousands of athletes and supporters from all over Australia gathered on Saturday for the opening day of the 2023 Mooloolaba Triathlon. Athletes took on the Sprint Triathlon, a perfect event for beginners in the sport, consisting of a 750m swim, 20km bike ride, and 5km run, ending at the beachfront at Mooloolaba.
Driving the news: 60% of the participants were racing in the Mooloolaba Triathlon for the first time, with Lesleigh Winks and Heather Farrell traveling from Brisbane to be a part of the action. Lesleigh, who is not a swimmer or a runner, expressed her happiness, stating that the support on the course was fantastic, particularly during the swim. The day was made even more special for the pair as they raced and finished together.
What they are saying:
"It was fantastic out there today, it's the longest ocean swim I've ever done in my life, and I'm so proud of myself," said Lesleigh Winks.
"We did the whole race together, it's been a really good day," said Heather Farrell.
"Everyone was so supportive, I've got some friends here and saw them the whole way," said Charlotte Cosgrove.
By the numbers: The quickest male around the course was Ben Cook, who crossed the line in 1:02:43, with Casey Munro second and Keanu Staader third. The fastest female on Saturday was Georgia Ensbey, who finished in 1:09:57, more than four minutes quicker than Tamsyn Hill, with Taylah Arlidge coming in third overall.
Between the lines: Saturday's racing had an almost even split of men and women, with plenty of support for athletes of all ages and abilities as they worked their way around the course.
Why it matters: The Mooloolaba Triathlon is a significant event that attracts athletes and supporters from all over Australia.
The bottom line: The Mooloolaba Triathlon is a great event for athletes and supporters, with a variety of activities to suit everyone's abilities and preferences. The Standard Triathlon will take place on Sunday, March 12, with triathletes taking on a 1.5km swim, 40km bike ride, and 10km run, while the relay option is available for those entering as a team.