News & Racing
Natalie Van Coevorden reports on ITU World Triathlon Stockholm
We love to hear from athletes racing around the world, and hope that you enjoy reading about this amazing race on the extremely competitive ITU triathlon circuit. Australian triathlete Natalie Van Coevorden reported in after her race at ITU World Triathlon Stockholm. From the eyes of Natalie Va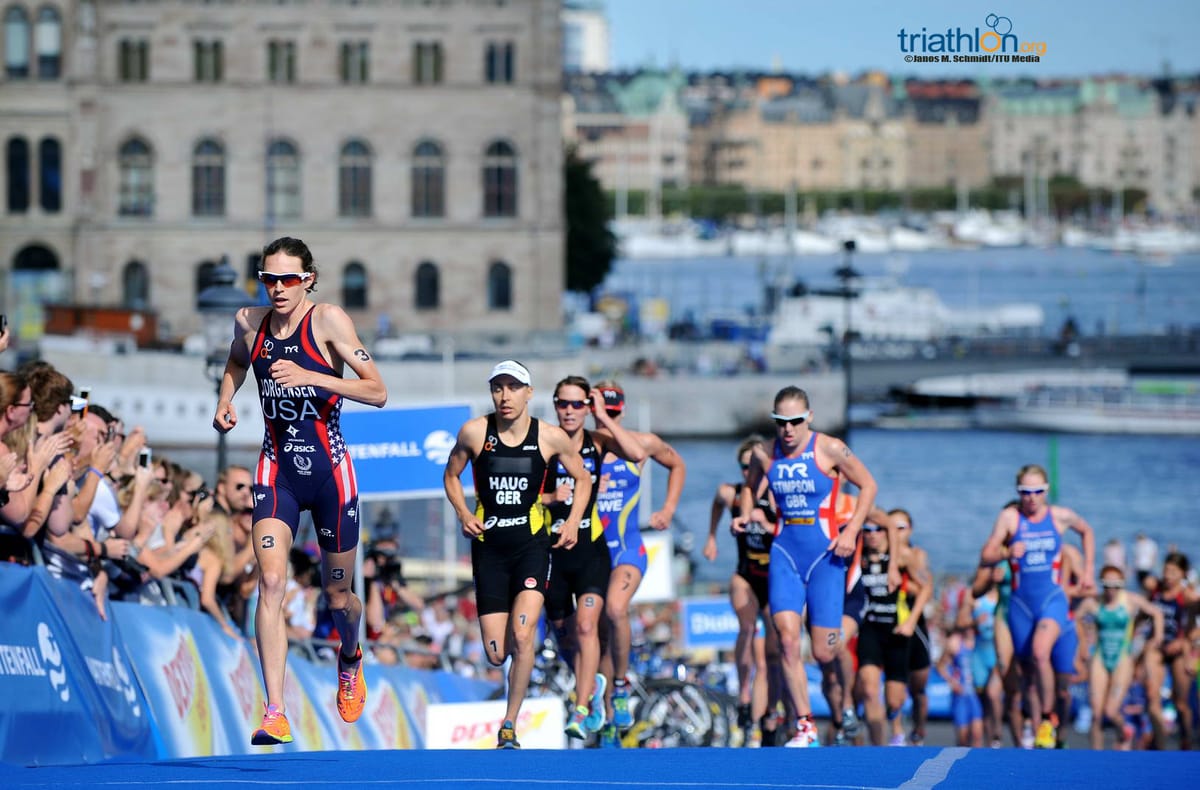 We love to hear from athletes racing around the world, and hope that you enjoy reading about this amazing race on the extremely competitive ITU triathlon circuit. Australian triathlete Natalie Van Coevorden reported in after her race at ITU World Triathlon Stockholm.
From the eyes of Natalie Van Coevorden
One of my favourite cities on the World Triathlon Series circuit, Stockholm is a beautiful and unique place to hold a race. Some of the busiest bike paths, everyone commutes on bikes and I feel like we are understood. The feeling of being under dressed, surrounded by plenty of men in business suits, lots of coffee shops and a buzzing atmosphere in the city. Having a day off on Thursday when we arrived, I took the opportunity to stretch the legs in the central of Stockholm, do a lot of window shopping and put the feet up at local coffee shops. We stayed in a perfect location this year with the swimming pool being 300m, running trails alongside the water and still close to race sight. I wanted to come back this year with more confidence in my ability to ride this type of course and see where I am at before London in a few weeks time.
Race morning was pretty relaxed with a morning swim in the pool as I didn't plan on getting into the water at race start. A chill 14.7 degrees in the water was not that inviting. Thanks to HUUB for getting me a new Axena wetsuit soon quick this week, as I ripped a hole in mine earlier this week. The pretty pink was definitely a stand out!
The field split up all over the pontoon and I went where the Australian coaches instructed, having worked out the shortest line to the first buoy. I wouldn't say I had a perfect or clean start but by the first buoy, I worked my way around people and got on some good feet coming back into the pontoon, which I clung to having no idea where the girls behind me were. After watching the replay, I now realise the field split dramatically into two and I was sitting comfortably at the front.
The swim slowed a lot in the second lap, becoming 3 abreast but I felt comfortable as I was swimming next to familiar faces. Exiting the water in 5th place, I wanted to make up as much time as I could going into T1 as the swim doesn't end till you jump on your bike. I have been practicing my transitions a lot lately as they have been costing me time in past races. Thanks Gwen for the extra motivation of the past few weeks and many lost elastic bands chilling in the recovery centre car park.
After jumping onto your bike, it's straight downhill onto cobbles with a sharp turn back on yourself at the bottom. I got my feet in early and made my way up the front to keep a good position for the whole ride. The course was 9 laps.
To be honest I had no idea who was in our group but when I found out we had over a minute on the next group we had to work together to keep it away. Unfortunately, this didn't go to plan and I spent too much time on the front doing the work that no one wanted to do. When the chase group caught us after a few laps, I made sure to keep my position at the front of the group.
Andrea Hewitt went off the front with Vanessa Raw and I remember thinking, should I go? Within that two seconds of thought, they were already gone. I felt good riding and happy with how my strength has improved since this course last year. I knew I had nothing lose on the cobbles and after Hamburg and Tiszy I was ready for the technical components of the course.
Riding up the hill into transition, it felt just like our HOP (hour of power) loop at home with some familiar faces powering up the hill. Another thing I did wrong was let the girls that have been sitting back the whole ride come around me on the last lap and I lost my position coming into T2. Last year, I just got dropped from the front group to one of the last. It's amazing what a year can do, a bit of confidence, strength and a clear goal.
Going onto the run, I actually felt really good considering the hard ride. My first 2.5km felt comfortable and I wanted to keep running at that pace and keep relaxed. The cobbles up and down the hill make it hard to get grip and keep your cadence up. I tried to keep with the small group behind me on the second lap but my legs just wouldn't go. The third and fourth lap, my body was lifting. The 2 x double espresso's that morning started to kick in. I started to pick up girls ahead of me which was a big positive and that's when you have to do your best work; in the back end of the run.
I am not going to lie, running up the hill on the last lap to finish, I was so excited to sit down but obviously not enough as I got out sprinted for 16th ;). I am very pleased with 17th and can take many positives from this race and onwards to London.
Thank you to Triathlon Australia for organising most of our trip with flights, accommodation, massage and ice bath post race. Thanks to Alex Price for the massages and taking our wheels to and from the race. Sorry about that white shirt with the new grease marks on it. You can borrow some stain remover! Always a thank you to Jamie for helping us get ready for the demands of the course and helping me progress as an athlete but also a person. I am will sure be back to race Stockholm again, the challenge is addictive!