News & Racing
New Zealand dominates Mixed Relay Triathlon at Kinloch, New Zealand
Teams racing took centre stage at the Contact Tri Series in Kinloch today, with athletes returning to compete alongside friends, family and in some cases club mates in a fast and fun format of tag racing while the elites raced in the ITU mixed team format for the Oceania Cup that will be seen at [&h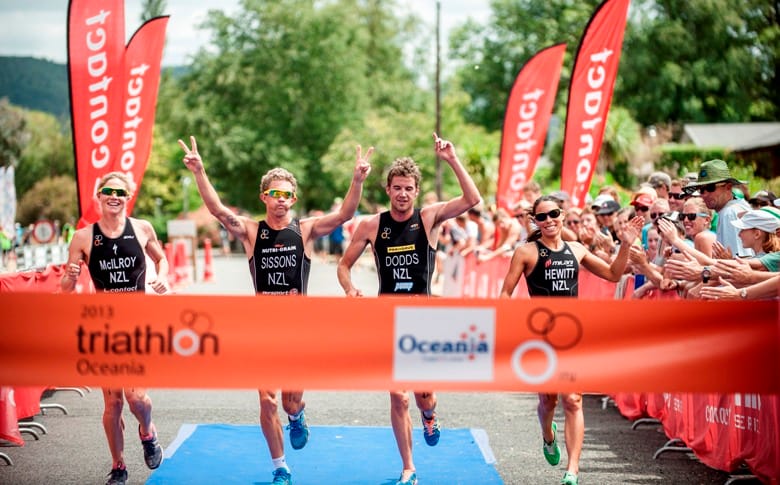 Teams racing took centre stage at the Contact Tri Series in Kinloch today, with athletes returning to compete alongside friends, family and in some cases club mates in a fast and fun format of tag racing while the elites raced in the ITU mixed team format for the Oceania Cup that will be seen at the Glasgow Commonwealth Games next year.
It was a look to the future of the sport at elite level, with the ITU chasing inclusion at the Olympic Games for the teams racing format meaning today was invaluable experience for the Tri NZ High Performance Squad.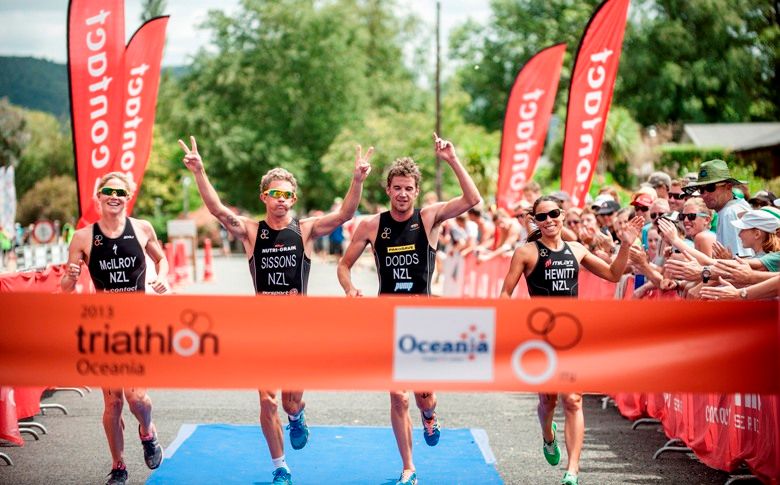 In the elites it was the New Zealand A team who dominated, with Kate McIlroy leading away before handing over to Ryan Sissons and then Andrea Hewitt in her first appearance since being injured in a bike crash at Pegasus before Tony Dodds brought the team home, well clear of New Zealand U23 team and the Australians in third.
After crashing out on his bike yesterday, Dodds was a little more circumspect on the bike today.
"I was a bit more careful around the hairpin, I don't like riding in a T T format by myself but since I didn't race much yesterday I just gave it all and emptied the tank today. I was trying to keep the heart rate down while the others were racing and I was watching but this is a great format of racing, overseas and in the big races it is country on country which makes for a great atmosphere and great racing."
Andrea Hewitt was returning to racing for the first time since suffering an injury to her hip in a crash at Pegasus in mid-January and enjoyed the outing with her New Zealand team mates.
"That was a bit of fun today, even without the hill it was hard enough, the weather was perfect and the scenery here amazing so it is perfect to be in a place like this. I managed fine with the leg and had a hard race which is good."
McIlroy backed up her win yesterday in the Contact event with another strong display in leading the team away today and is excited about the future of the format.
"This is great experience for us ahead of world champs in Hamburg this year and the Commonwealth Games next year. Usually we get thrown together once a year at world's and told to race hard, this is great and will hopefully continue our development in teams racing and give us a shot at medals on the big days, including the Commonwealth Games next year in Glasgow."
Second place went to another New Zealand team, with Sam Osborne, Maddie Dillon, Aaron Barclay and Sophie Corbidge (all U23) racing superbly to hold off the Australians in warm and still conditions in front of a large and enthusiastic crowd.
The age groupers were an eclectic mix of crazy uniforms, serious competitors and those looking for some fun on another great day at a stunning location beside Lake Taupo. First across the line was a team led by local Kinloch athlete Graham O'Grady, the Port of Tauranga Half winner enjoyed his workout, even if it was rather shorter than he is used to.
"That was good fun and really fast, I enjoyed it but it is just as well there wasn't another 20km to go on the run with the speed I was going!"
The Board of Triathlon New Zealand got into the spirit of it with Arthur Klap and Mark Cross joined by CEO Craig Waugh and well performed age group athlete and 'ring in' Sam Franklin. Waugh returned to transition moments after leaving with his bike however, having suffered a puncture "he was able to complete the course though on Franklin's bike before Klap and then Franklin himself completed the distance with Klap describing Franklin's role as 'making up about 500 places for us on the final leg'.
Oceania Cup
Mixed Team Relay
Kinloch, Taupo
300m swim, 6km bike, 1.8km run
1 New Zealand "McIlroy, Sissons, Hewitt, Dodds 1.22.28
2 New Zealand U23 "Corbidge, Barclay, Dillon, Osborne 1.23.32
3 Australia "Dueble, Kastelein, Musgrove, Evans 1.23.41
Other results for all age groups will be posted at www.triseries.co.nz