News & Racing
Race Preview: Ironman South Africa
In just two weeks, a huge field of men and women will head to the picturesque yet gruelling Ironman Africa Championship to try and either cross the line, win, or qualify for one of 75 Kona slots up for grabs. This year Daniela Ryf is in the mix and we think she may be able […]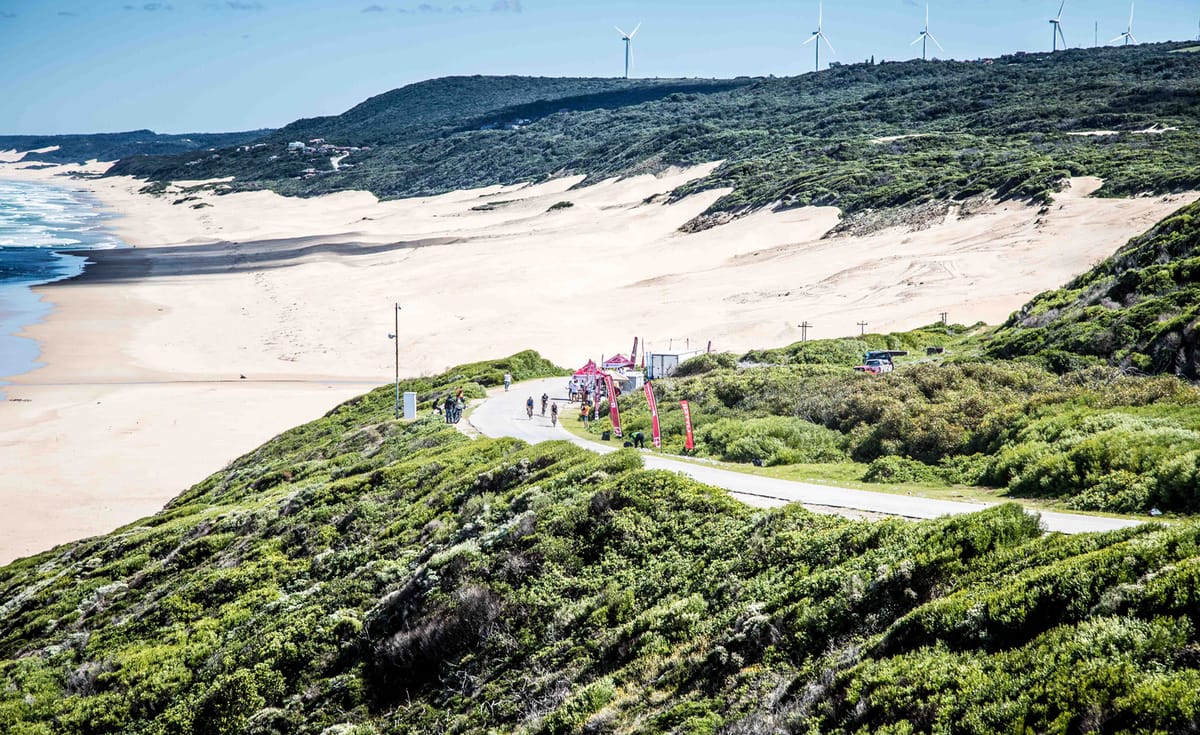 In just two weeks, a huge field of men and women will head to the picturesque yet gruelling Ironman Africa Championship to try and either cross the line, win, or qualify for one of 75 Kona slots up for grabs. This year Daniela Ryf is in the mix and we think she may be able to break the course record that has stood since 2011.
Here's a breakdown of the course, and some handy info to help you prepare for the race.
Ironman South Africa Swim
Nelson Mandela Bay is truly picturesque, but the African waters are certainly wild. Tim van Berkel, who placed second last year said:
…conditions for the swim could only be described as tough. The water was really choppy and one of the first things that happened when I got into the swim was I was stung by a jellyfish.
On the plus side, if conditions are tough, everyone suffers so you won't be the only one battling the waves. Tim Berkel described last years swim:
"The good thing about bad conditions is everyone suffers. Even some of the well known strong swimmers, lost minutes on the swim."
The swim course is also very straight forward, with a single lap 3.8km swim. If you can, try to prepare with a few open ocean swims before the race, so the waves don't feel too challenging for you. The water temperature fluctuates year to year, but wet suits will be compulsory if the ocean is below 16 degrees celsius, so have your ready in case.
Ironman South Africa Bike
Strava distance: 179.7km
KOM: Tim Van Berkel, 4:32.15
QOM: Mary Sage, 4:55.48
Two laps of a 90km loop, the bike course starts with athlete taking a sharp left turn after the first transition. A steep climb in the first 10km will help separate the athletes from one another. The first half of the first lap is mostly uphill, and the course is notoriously tough. Matt Trautam, who placed fourth last year said: "You head out with the wind and it's mostly uphill on the way out inland and then on the way back you're coming back along the coast into the wind and you're a lot more exposed, so we never really got much rest. It was work all the way round the course." Temperatures fluctuate drastically, and last year a heat wave made the ride incredibly tough.
Ben Collins said
The pavement was hot and the air stagnant and as the day wore on the African sun was unrelenting against my Chicago-white skin.
So, check the weather forecast and make sure to manage your hydration. Those who have just raced in Ironman NZ, you'll be used to the bumpy/poor road conditions. This course is very similar, which can take it out of your legs.


Ironman South Africa Run
The course is made up of 4 x 10.55 km laps. The repetition of laps ensures every athlete has the chance to see where their ranking in relation to the field. At each turn around, you can see exactly how far ahead the rest of the field is. Ironman describes the run as a "very fast and fairly flat route," with the elevation fluctuations of around 140 metres.
Due to the heat wave conditions last year, many athletes didn't attain the results they wanted, or ended with a DNF. Ben Collins said:
I maintain that an Ironman hurts less than a short course event, but the duration and the need to push through mental doubt and physical fatigue is a challenge unlike the pain that I've trained so hard to tolerate at the shorter distances.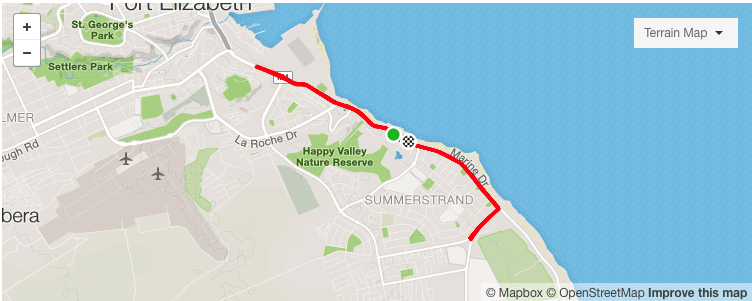 Strava distance: 41.9km
KOM: Ben Hoffman, 2:43.56
QOM: Claudia Harcus, 3:28.06


Who's tipped to win
Two favourites are tipped almost equally to win this year: Belgium's Frederik Van Lierde and American Ben Hoffman. Hoffman, who won last year, had a very strong 2016 and is in fighting form as the 2017 season progresses. German Nils Frommold is in with a strong chance after his 2016 season was cut short by a stress fracture; so he's eager to regain his competitive edge.
Frederik Van Lierde: 33% (2-1)
Ben Hoffman: 32% (2-1)
Nils Frommhold: 21% (4-1)
Boris Stein: 9% (10-1)
Remember how Daniela Ryf set the new course record for Kona last year, and absolutely smashed through the women's field? Well she's racing at the Ironman African Championship in South Africa and is set to win, by a lot. Jodie Cunnama is in with a shot too, and as a previous winner in 2015, she knows the course and conditions well. Plus Cunnama is a fierce swimmer, so we're expecting her to be first out of the water, which could be a key determinant in the rest of the race. Siri Lindley, who also coaches Australian Ironman pro Mirinda Carfrae, has been working with Finnish athlete Kaisa Lehtonen (also Ironman SA's 2016 winner) and we think this, plus her knowledge of the course from last year, may put her in the running for second or third. Laura Siddall and Mareen Hufe have pulled out of the race, but Susie Cheetham of Great Britain and Germans Astrid Stienen and Julia Gajer may also finish in the top five.
Daniela Ryf: 69% (1-1)
Kaisa Lehtonen: 15% (6-1)
Jodie Cunnama: 7% (14-1)
Who won last year- Men?
Ben Hoffman won last year in 08:12:37 thanks to a flawlessly consistent race. He managed to be in the lead pack of the bike, and run consistently without surging for the marathon. Australian Tim van Berkel placed second last year in 8:14:51 with an impressive race that showcased his biking and running skills.
Estonian Marko Albert who raced impressively at Ironman New Zealand 2017 just a few weeks ago placed third last year at Ironman South Africa, finishing in 8:18:52.
Who won last year- Women?
Finnish Kaisa Lehtonen won last year's race in 9:06:50, three minutes ahead of Susie Cheetham, who ran to the finish with a time of 9:09:49. Two minutes behind her was friend and constant rival Great Britain's Lucy Gossage who finished with 9:11:43.
Who holds the records?
No one has broken the overall course records set in 2011 by both Raynard Tissink in the men's race, and Chrissie Wellington in the women's race. Despite course records being blown out of the water at most other Ironman races, South Africa remains the one to break. We're confident Daniela Ryf can beat Wellington's ferocious record of 8:33:56. We're also betting Jodie Cunnama can beat Lucie Reed's swim record from 2009; a lightning time of 00:47:40.
Event Info
Ironman South Africa Weather
Nelson Mandela Bay is known as one of the most breathtaking spots on South Africa's rugged coast, and this event has been ranked by athletes as one of their favourite among Ironman events. That said, both the ocean and outdoor temperatures vary dramatically year to year, so it's imperative you check what wet suit you need on the day.
You'll also want to double check the weather as last year's heat wave took many athletes by surprise and they struggled because of it.
Kona Qualification
Standard Bank IRONMAN African Championship 2017 offers 75 qualifying slots for the 2017 IRONMAN World Championship in Kailua-Kona, HI.