News & Racing
Reigning Champions Lucy Charles and Lionel Sanders Storm To Victory To Take The Championship 2018 Titles
Lionel Sanders (CAN) and Lucy Charles (GBR), have triumphed once again at THECHAMPIONSHIP 2018, defeating a remarkable line-up of pro athletes in order to take the title and a share of the 150,000 Euro prize purse. Charles gave a phenomenal performance, dominating the course throughout, however, it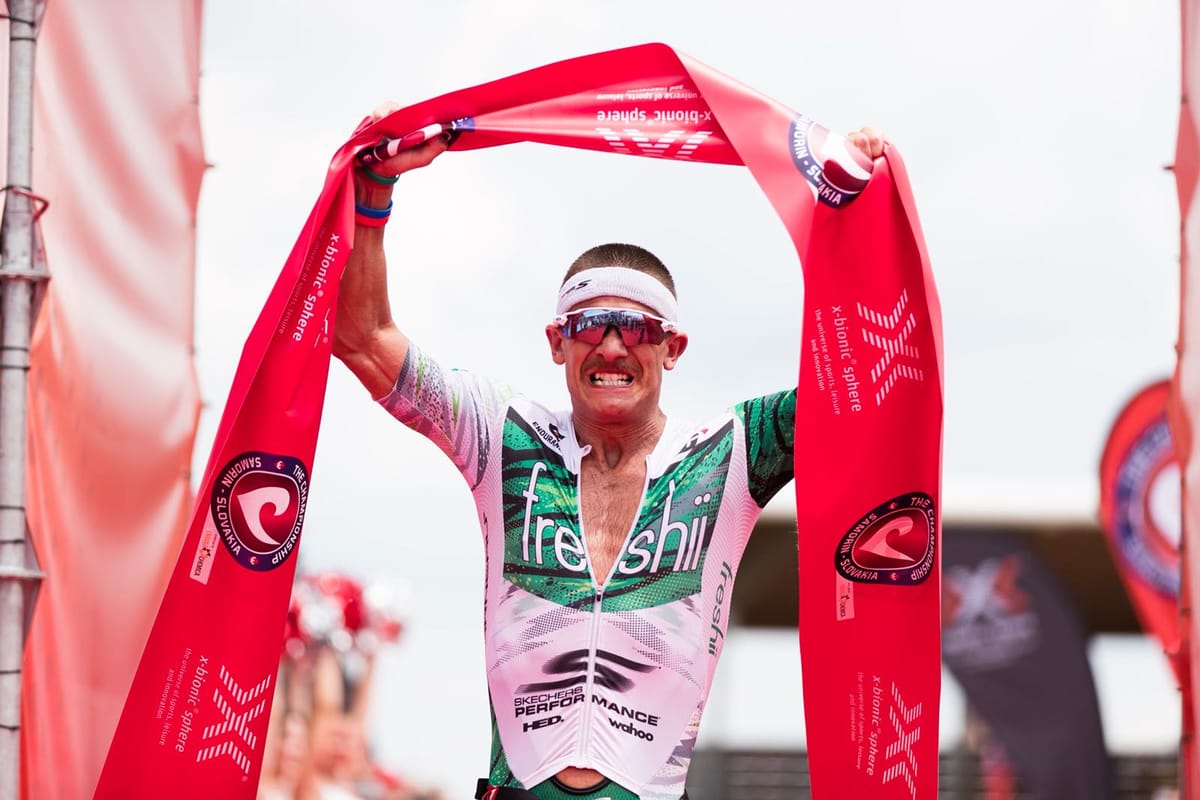 Lionel Sanders (CAN) and Lucy Charles (GBR), have triumphed once again at THECHAMPIONSHIP 2018, defeating a remarkable line-up of pro athletes in order to take the title and a share of the 150,000 Euro prize purse.
Charles gave a phenomenal performance, dominating the course throughout, however, it was more of a struggle for Sanders, who climbed his way from seventh position at the beginning of the run leg to go head to head with Sebastian Kienle, before taking the win. Sanders commented after the race: "It took everything in my being to catch Sebastian."
Spectators watched in their thousands as the outstanding athletes crossed the finish line under stunning conditions at the x-bionic® sphere in Samorin, Slovakia, following a gruelling, but intoxicating middle-distance race that commenced at 9AM (local time).
CEO of CHALLENGEFAMILY, Zibi Szlufcik, said: "We are immensely proud to have held yet another captivating race at THECHAMPIONSHIP 2018. We saw an incredible line-up of both pro athletes and AG racers alike, representing almost 60 nations on the starting line. The implementation of the 20 metre no drafting rule, as well as offering an equal prize purse for both our male and female athletes, contributed to ensuring that our middle-distance race is the fairest for all. Congratulations to all those who took part!"
Men's Pro Category
The top three finishers in The Championship 2017 – Lionel Sanders (CAN), Sebastian Kienle (GER) and Michael Raelert (GER) – returned this year to, yet again, battle it out for the title. It was local triathlete, Richard Varga however, who took an early lead in the race, exiting the water first, with Florian Angert following in second place and Samuel Appleton in third, completing the top three.
Men's Pro swim positions
Richard Varga (SVK) – 24:42
Florian Angert (GER) – 25:22
Samuel Appleton (AUS) – 25:33
Following a speedy transition, Maurice Clavel took an unprecedented sizeable lead in the bike leg, cycling at an impressive 60km/hour, with Pieter Heemeryck following in second place, and Max Neumann in third. By 68km however, Florian Angert had raced to first place, which he maintained for the remainder of leg 2. Kienle climbed to second spot, whilst Clavel dropped to third.
During the bike leg, Mexican triathlete, Mauricio Mendez, suffered an unfortunate casualty as he punctured his bike tyre, in addition to Richard Varga having to drop out before the 30km mark.
Men's Pro bike positions
Florian Angert (GER)
Sebastian Kienle (GER)
Maurice Clavel (GER)
Despite a difficult bike leg, Sanders raced his way up from seventh position, and at the beginning of run lap 2, spectators were kept on the edge of their seats as last year's top two males, Kienle and Sanders, set off with just 23 seconds between them, with Kienle leading. In a dramatic turn, Sanders overtook Kienle and managed to break away within the last three kilometers, taking the win with a time of 3:43:28.
Top three men's finishers
Lionel Sanders (CAN) – 3:43:28
Sebastian Kienle (GER) – +1:04
Florian Angert (GER) – +3:54
Commenting on the race, Sanders said: "I am very happy to have been able to participate at this CHALLENGEFAMILY race. I absolutely love this venue, it's fantastic! That's why I came back – I loved it here last year, and hope to be back here again next year. To do triathlon is an opportunity to do what I can do and how I can push myself to a limit, and this race was a particular example of that."
Women's Pro category
As with the men's pro athletes, the top three female finishers from THECHAMPIONSHIP 2017 – Lucy Charles (GBR), Annabel Luxford (AUS) and Heather Wurtele (CAN) – all returned this year to race for the win. No doubt, all eyes were following Lucy Charles, who has gone from strength to strength, and recently won the Cannes Triathlon.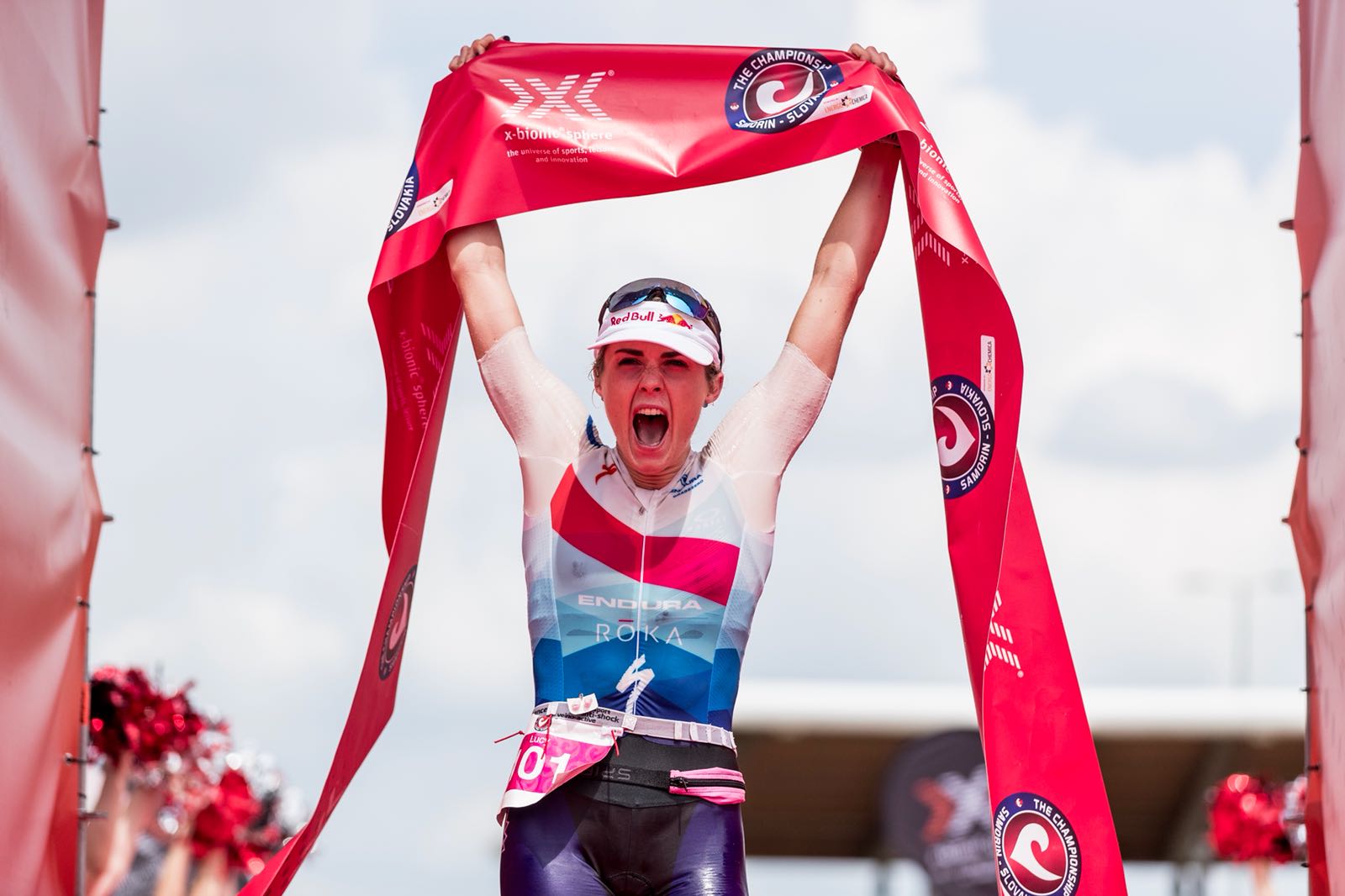 To nobody's surprise, Charles had a strong swim and took an early lead, exiting the water 2.08 seconds ahead of Vodičková, closely followed by Ellie Salthouse.
Women's Pro swim positions
Lucy Charles (GBR) – 26:11
Radka Vodičková (CZE) – 28:19
Ellie Salthouse – 28:22
The bike leg got off to a swift start with Charles leading from the off, followed by last year's leader in the bike leg, Kimberley Morrison – a fellow GBR athlete.
Women's Pro bike positions
Lucy Charles (GBR)
Kimberley Morrison (GBR)
Heather Wurtele (CAN)
As expected Charles started the run with a very comfortable 2:20 lead on second place Morrison. Within the first 5km of the run, it was clear that with such a strong race, defending champion Charles was set to take the title, and the true battle was that for second and third place.
Morrison and Vodičková raced head to head, only to be taken over by Anne Haug, who took the second podium position. Third place went to Vodičková, who was competing only months after the birth of her first child.
Top three women's finishers
Lucy Charles (GBR) – 4:06:10
Anne Haug (GER) – +1:48
Radka Vodičková (CZE) – +5:30
Following her exhilarating win, Lucy Charles, who absolutely smashed her 2017 winning time of 4:13:59, said: "It was hard as nails out there!" On winning the second CHALLENGEFAMILY THECHAMPIONSHIP race in a row, Charles said: "It's definitely a 10/10. I knew it would be so much tougher this year, but I'm so happy to have done it."
Following her impressive performance, third place Radka Vodičková said: "I didn't expect this result at all, but for sure, it is the greatest result of my career. I still can't believe it! I really love the course and venue, and this place is superb for family and amazing for the race."
Head of THECHAMPIONSHIP 2018 and CEO of x-bionic® sphere, Richard Ungerhofer, said of the event: "The atmosphere today has been second to none, and it has been wonderful hosting such an enticing race for the second year running. We are extremely proud to be a part of THECHAMPIONSHIP."