Gear & Tech
Review: Wattbike Atom - The Powerhouse Indoor Cycling System
We review the Wattbike Atom (generation 2) which is a tried and tested piece of British engineering that has now given us an impressive indoor cycling system for anyone.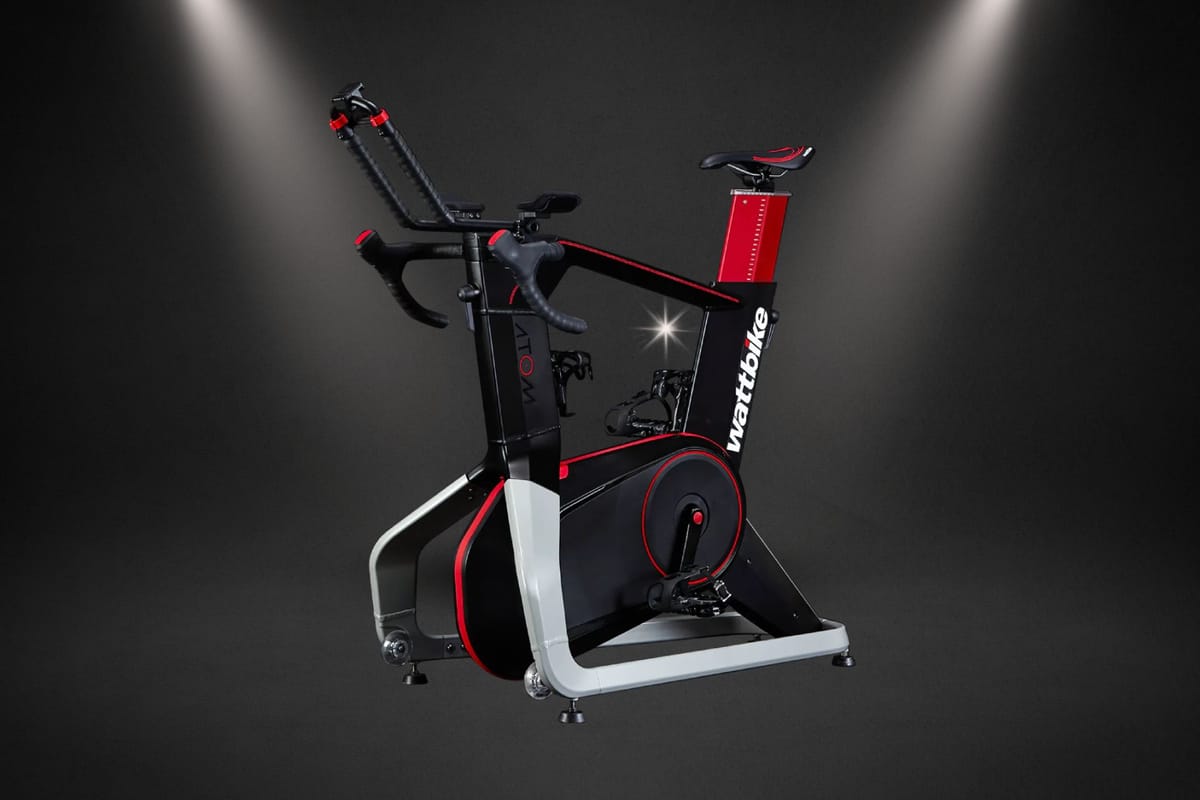 Wattbike made their move into the consumer indoor smartbike arena back in 2017 with their Wattbike Atom. Their latest version has taken some lessons from it's well known commerial brother, the Atom X, which has proven a worthy makeover.
The indoor cycling market has evolved dramatically over the past 10 years. Being one of the first people in Australia to receive a Wahoo Kickr (v1) and using TrainerRoad while being entertained with The Sufferfest videos. All the while seeing this as a great tool to aid in the continuing pursuit of better performance on the bike - especially during the colder days here in Melbourne.
Sometimes you aren't quite sure what to expect and this was one of those moments.
I'd been eyeing off a Wattbike for some time as I was curious due to the pedigree the brand has. They'd released their smart indoor bike, named the Atom next generation, aka v2, and they now have a partner here in Australia. Could this actually work out?
Before continuing, I want to let you know what this article will be about and what it's not. Ok? So let's start with what I will be covering -
First impressions
Rider experience
Is this a good investment
Now onto what I won't be covering -
In-depth power profiling against other know sources - I'll leave that to others to do
Any 3rd party hardware accessories
So let's dive in.
---
As part of our dedication to trustworthy journalism, we strictly adhere to our Editorial Standards and Independence Policy, ensuring all our content, including this product review, remains unbiased and uninfluenced by external commercial interests. For more details on our editorial practices and our approach to product reviews, please refer to our Editorial Standards and Independence Policy and Product Review Disclaimer.
---
Before it arrived
Before taking delivery of the Wattbike, I headed to the Wattbike Atom Owners Facebook group - which is not part of the Wattbike company - to read about what real people have experienced so far. This was me attempting to make sure things that I thought were good, were actually good and things that I needed to take into account, I did.
Saddle and pedals
Right off the bat I read about several people changing out the saddle and pedals. This made complete sense as the ones that are shipped are OK but not great. I travelled to my local bike shop and purchased the same saddle and pedals I have on my road bike. Swapping both of these out was fairly painless - remember to add a little grease to those pedals before attaching to the crank arms.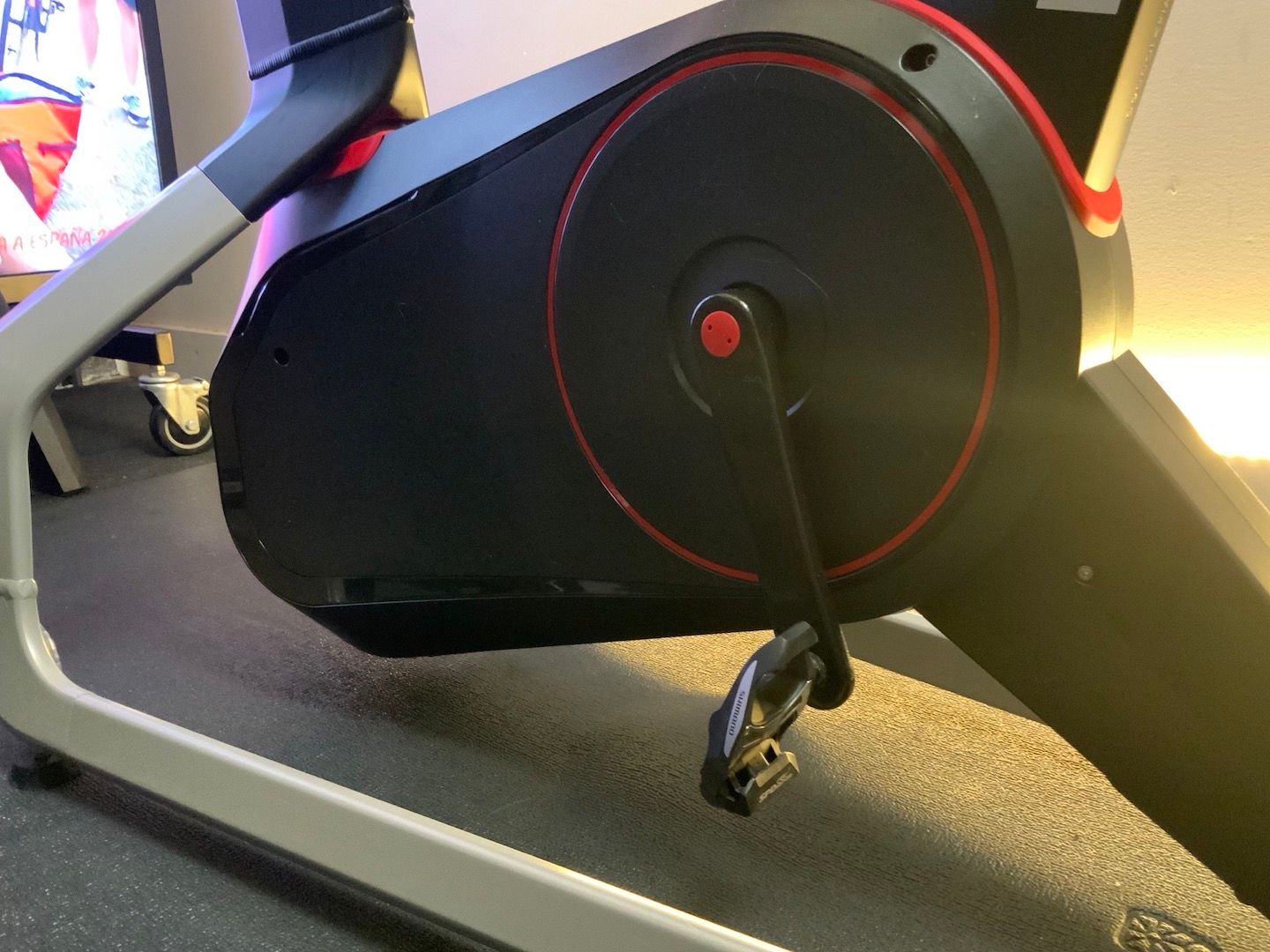 This is of course a personal choice - especially the saddle - and something that you don't have to do to get riding straight away.
Taking delivery
The bike arrived by their partner here in Australia fully assembled and tested. Once we decided on the best way to take the bike out of the back of the van, I happily tilted it forward just enough to have the front wheels engage and I pushed it inside. For a 45kg bike, I was moving it around like it was 5kg.
Having done a little spring cleaning by moving my Kickr and Climb out of the way, it was time to have the Wattbike Atom make its way into the pain cave (my garage).
Now slotted into it's new home in front of the TVs, I was ready to get it started.
Powering up the Wattbike
Getting the bike powered up was easy as pie. The cables were long enough and the connection for the power to the bike was thoughtfully placed underneath the lower back part of the bike. Well away from my salty drips of sweat.
I flicked the switch on the Wattbike and waited. The red glow on the switch indicated that all systems were go.
Connecting to something
Like a little kid, I couldn't wait to take the bike for a little spin, even if I hadn't got things correctly configured or my position dialled in.
The first option was using the Hub application.
I grabbed my iPad and I started tapping away.
Wattbike Hub
Next, I downloaded the Wattbike Hub App to my iPad.
The Hub is Wattbike's application that provides the relevant things you need to get riding. Things like;
Workouts ranging from beginners to intermediate plus performance tests, eg. 20-min FTP test
Plans to keep you on track
Refinements for your enjoyment eg. virtual gearing
Connecting to other 3rd party services eg. Strava and TrainingPeaks
Geeky things like firmware updates and lots of numbers
You'll also find some simple, yet impressive, insights that can assist in your pedalling technique - more on that later.
The onboarding into the Hub was thoughtful and provided just enough information without spewing out bits and pieces that aren't relevant.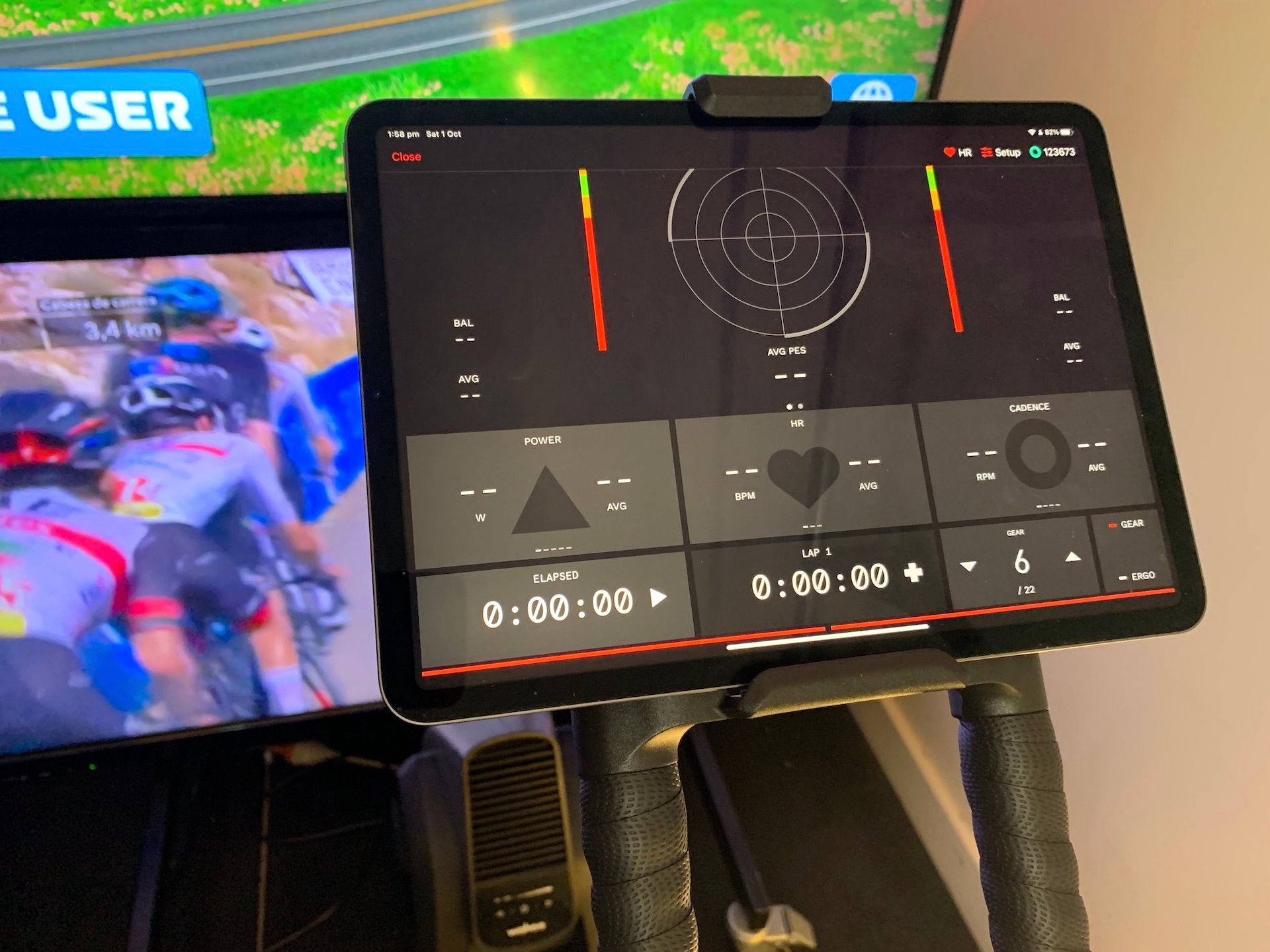 Once the App fired up, connecting it to the bike was a breeze. I tapped on Quick Ride then the little red doughnut (top right hand corner) to make the connection from the iPad to the bike - easy stuff. Once it was done, the red doughnut turned green.
First Impressions
Now that I'm into my first ride, I'm very impressed. There's definitely a feeling you get once you are seated that it's (hopefully) unbreakable.
Sound (noise)
As I mentioned previously, I'm coming off many years of riding in the Wahoo ecosystem with a Kickr and Climb. I also had a small stint with the Tacx Neo (it was the only quiet one on the market at the time) - and I felt like the sound wasn't drowning out my thougths. There's a definite whirring sound however that should be expected.
Ride sensations
I never got the feeling that this was too rigid to enjoy long sessions on. The longest session I did was 3.5 hours. Sure, on any stationary bike that's a long time but I never felt the Wattbike was hampering my enjoyment.
Adjustability
Getting a good workout is in part getting your bike as close to your outdoor bike as possible - that is of course if you have one.
There's plenty of areas where the Wattbike can adjusted, including;
Seat height
Seat forward, back and tilt
Handlebars forward, back and rotation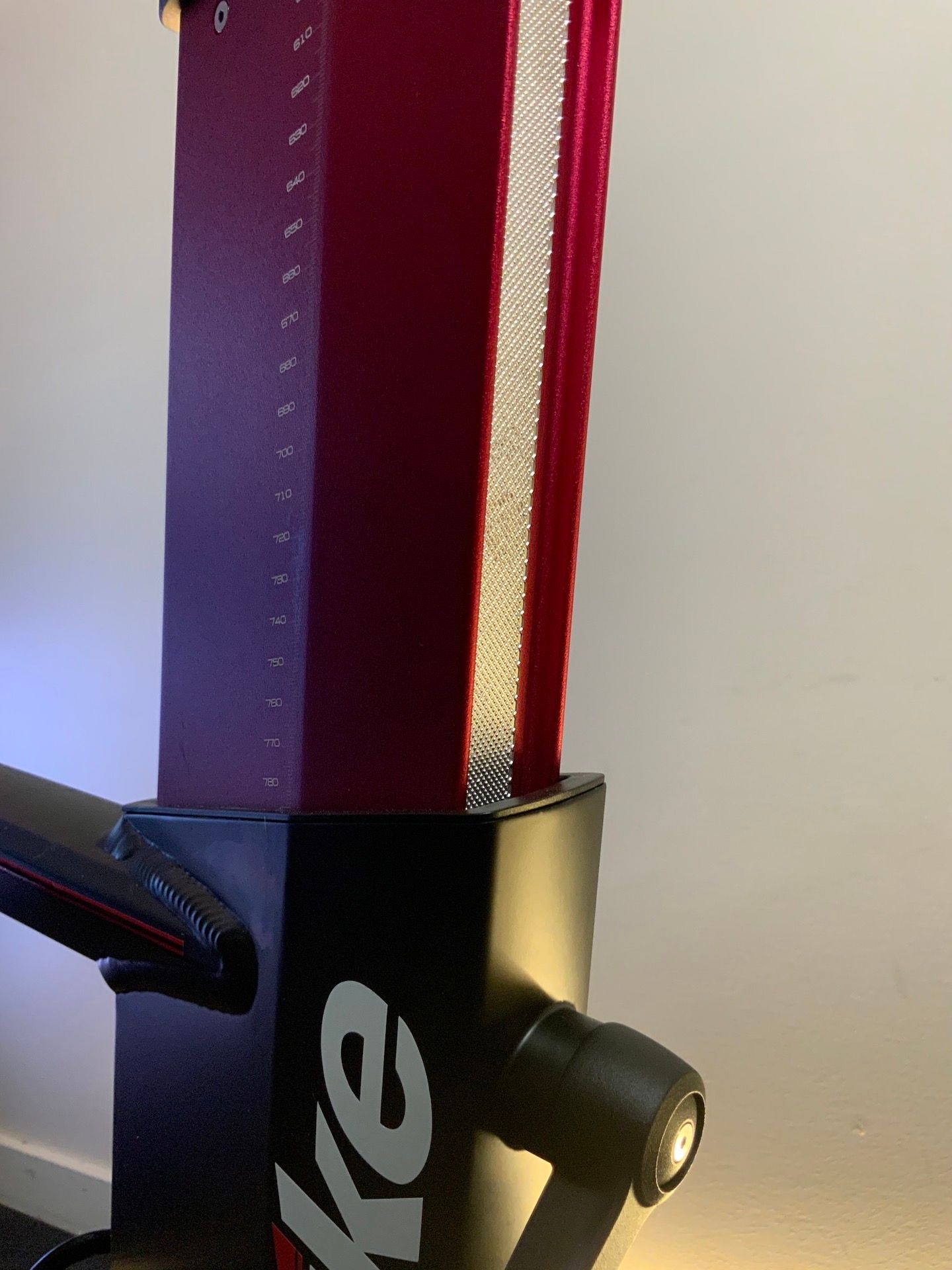 Bike Fit
A few years ago, I had a professional bike fit which, should, provided me with the optimal bike position - it's a little aggressive given my racing.
Using the bike fit calculator, it will get you close to a comfortable ride position based off your current bike setup.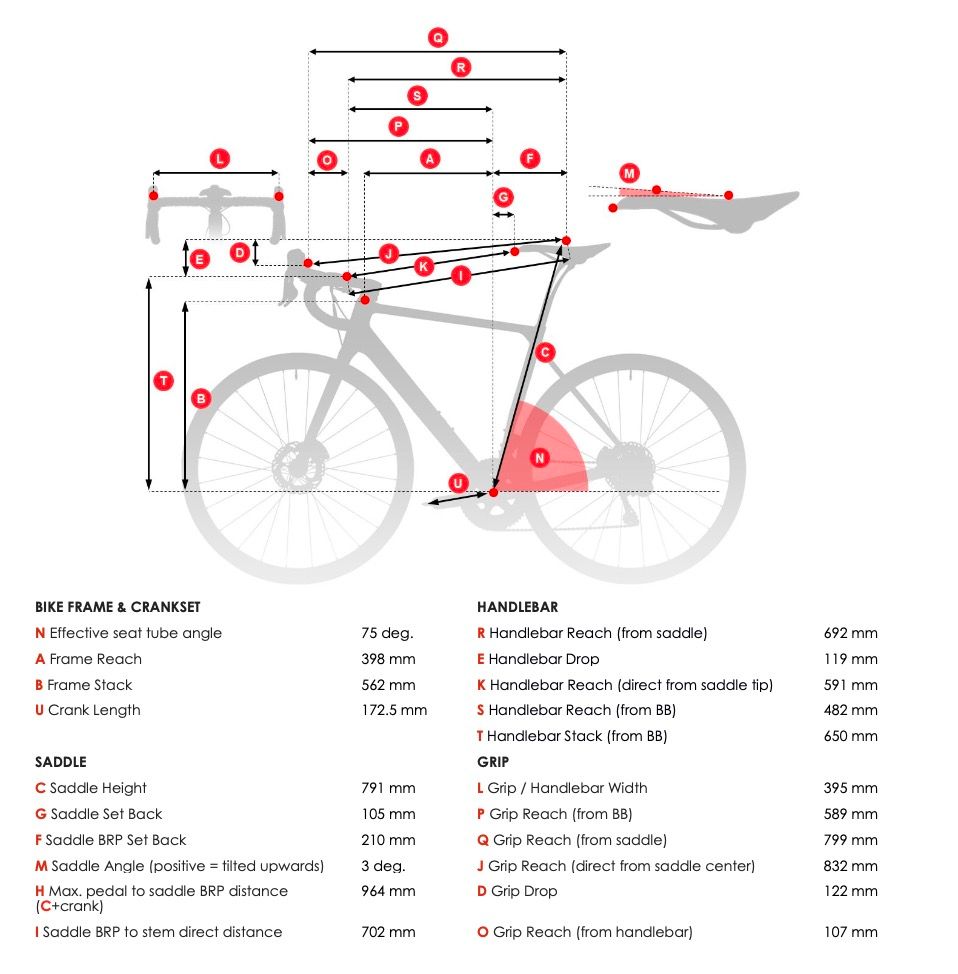 Wattbike could improve things here. Make a simple dropdown where you can select your bike fit system, my fitter used STT System, and for me to punch in my numbers and then for the calulator to translate those measurements to the Wattbike. (Wahoo does this already).
Once I completed my measurements, it was time to start with the changes.
The changes took only a matter of minutes and was very easy.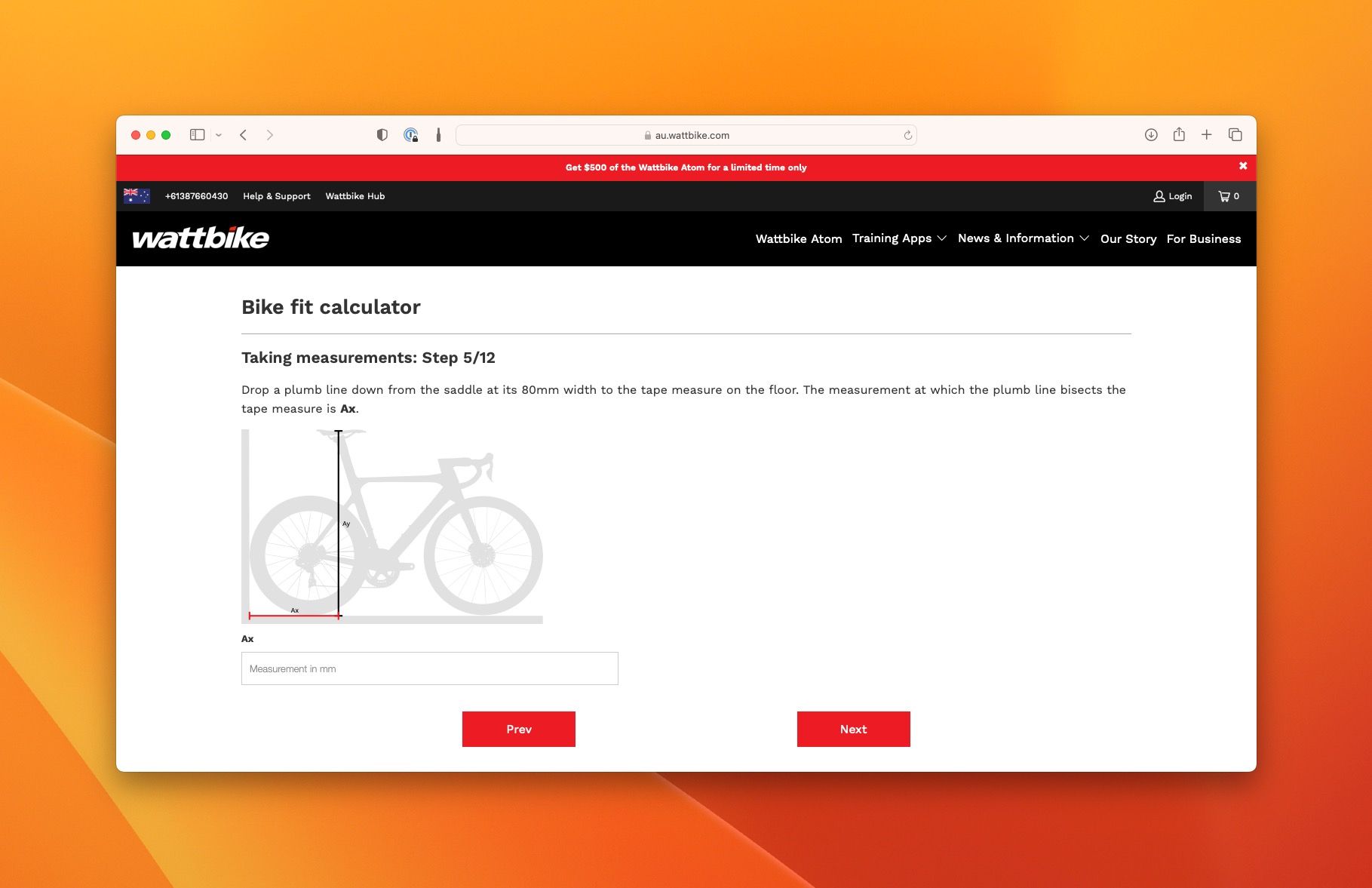 First Ride
My first ride was done using one of the predefined rides within the Hub. I chose something random to get things going with the intention to observe rather than belting out some Caleb Ewan type watts.
During the ride, I was presented with several data points, including the usual power (watts), cadence (rpm) and heart rate (bpm). The more facinating one is the realtime revolution data - more on that a little later.
Once I finished, I went to onto the Hub website to review my numbers in all their glory. There's plenty to review.
I was intrigued about the pedalling metrics (revolution data) which then rolls up to a pedalling efficiency score (PES). My PES is 44 - Wattbike recommends something closer to 75. I've got some work to do.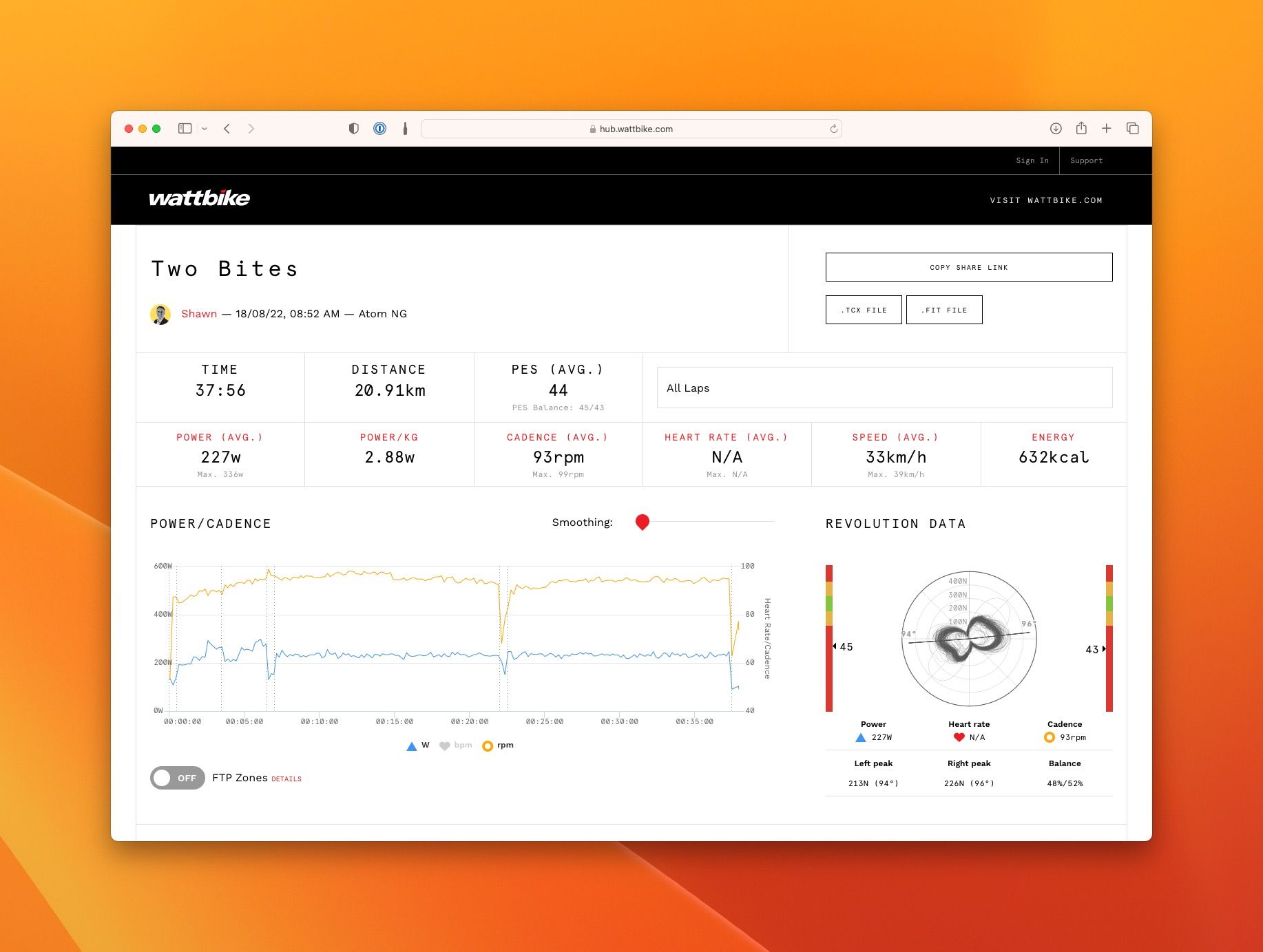 Insights
Wattbike's use of key metrics is where I feel they have delivered.
I'm going to use my specific area of concern from above to demonstrate. Let's drill a little deeper into my revolution data and leg balance. (hold your laughter until later please).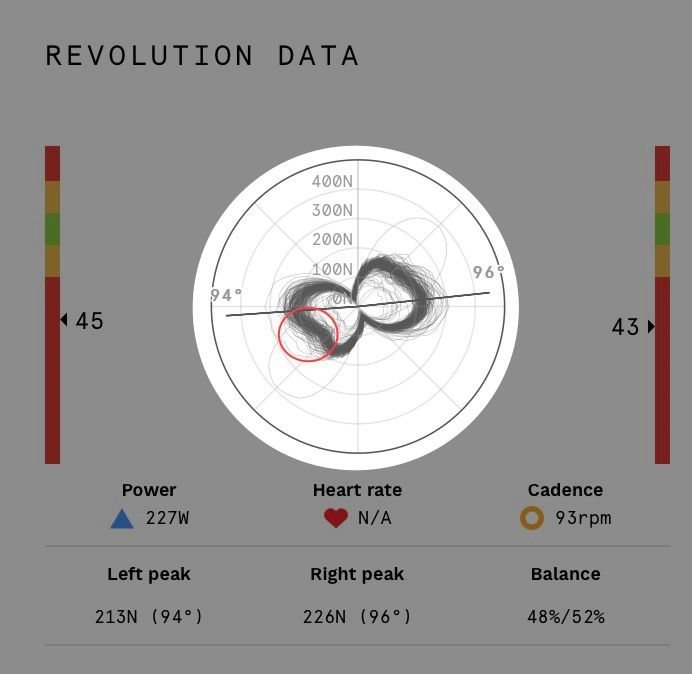 The above shows how my left leg is isn't fully engaged through the rotation - as highlighted by the red circle. There's a sort of kink happening (a very scientific term). Upon further investigation, I've discovered I need to focus on;
Keep pulling backwards and so called scraping mud off my shoe - this will maximise my pedalling effectiveness
Emphasise engaging my hamstrings at the bottom of the pedal stroke
Working on this will make a positive difference in producing power more effectively. I do want more of that.
Let's hope that in a few more months this has improved.
Riding in Zwift
Zwift has become the standard for indoor sessions, including racing and general social rides. So I thought I'd take the Wattbike for a spin and see how it goes.
Right from the outset, it was easy to connect via Bluetooth without the need for extra equipment.
The virtual gearing felt fanatstic and was very responsive - especially for someone who is on the latest Shimano DA Di2. The gear information is found just below your power display.
Is this a good investment?
The simple answer is yes.
For someone that has had the several indoor smart trainers, I was of the view that my bike was never really designed to be attached to a stationary object. Maybe it's just me, but I've always worried about strain/fatigue of certain bike parts because of it. It was always in the back of my mind that if I open up an all-out sprint, that the bike maybe under load in a not so favourable way.
Also, having it already setup and ready to go was something that's great. There's less of an excuse to get on the bike and ride.
I'd recommend a Wattbike Atom (v2) to anyone looking for the best indoor bike experience. I'm sure it handle the forces that you will dish out.
Final thoughts
For anyone that is wanting a high-performing piece of indoor cycling gear that is built like a British tank, then this is the one for you.
It has all the modern connectivity, is highly adjustable and works well with many 3rd applications.
With it's recent major update, the Wattbike Hub application is moving into a full-fledged rider application.
And even if I was Caleb Ewan, the Wattbike can more than handle the stress and strain.
Wattbike Atom (next generation/v2)