News & Racing
Sam Appleton and Caroline Steffen win Flight Centre Active Travel IRONMAN 70.3 Cairns
The student handed out a lesson to his teachers when Sam Appleton dominated today's Flight Centre Active Travel IRONMAN 70.3 Cairns. Meanwhile the Australian-based Swiss star Caroline Steffen was in a class of her own claiming her 17th IRONMAN 70.3 title in Cairns today. Men's Race Apple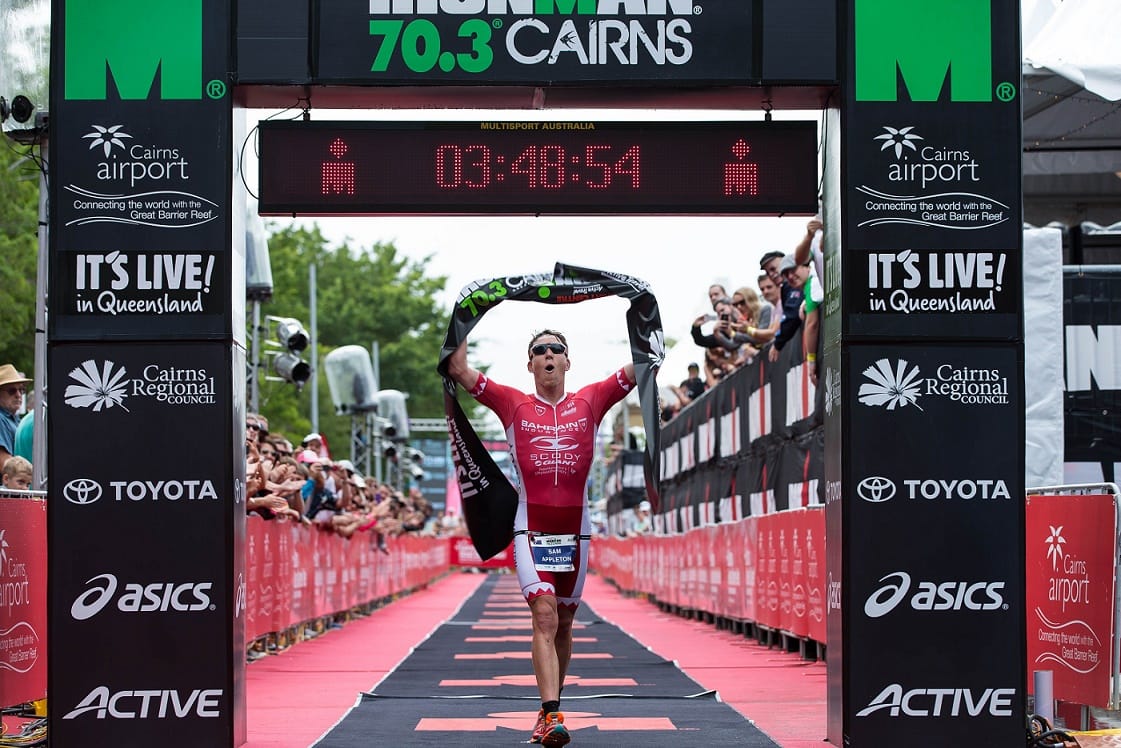 The student handed out a lesson to his teachers when Sam Appleton dominated today's Flight Centre Active Travel IRONMAN 70.3 Cairns.
Meanwhile the Australian-based Swiss star Caroline Steffen was in a class of her own claiming her 17th IRONMAN 70.3 title in Cairns today.
Men's Race
Appleton, 24, produced a faultless display today, exiting the swim with the leaders, and then producing the fastest bike and fastest run to earn the best win of his young career.
In doing so he bettered the five-time world champion Craig Alexander and his coach and mentor, Tim Reed, the IRONMAN 70.3 Asia-Pacific champion.
"That was super hard, I pushed the whole time out there, I felt really good I'm stoked to win," says Appleton.
"Tim didn't give me any advice while he still thought he had a chance, but after 10km he started giving me some encouragement."
Wearing his coach's hat Reed said that he advised Appleton to rest up last week, as he felt he was over training.
"To tell you the truth I didn't think he was in that sort of shape. Craig and I were running really well but we weren't putting any time into Sam. That's pretty disheartening," says Reed.
"I just felt last week he needed a rest, he took it and was fantastic, I'm really proud of him."
Appleton was third out of the 1.9km swim at Palm Cove with fellow Australians Eric Watson and Clayton Fettell, but quickly made his move on the 90km bike.
While many IRONMAN 70.3 races comprise a pack on the bike, the Western Sydney triathlete pushed hard with his 2:08.21 effort opening up a 2:32 advantage over Alexander and Reed, with a further 1:45 to Tim Van Berkel.
But this trio of experienced, celebrated and fleet-footed stars were unable to make any inroads into the deficit.
Rather Appleton finished with a 1:14.16 effort on the 21.1km run, the only runner under the 1:15 barrier, winning in 3:48:54.
Alexander ran 1:15:48 to push clear into second four minutes adrift, with Reed a distant 6:41 back in third.
Women's Race
In the women, Victorian-based Annabel Luxford enjoyed a 14 second buffer on pre-race favourite Caroline Steffen out of the swim, and with a minute back to the best of the rest, it looked like a two-horse race.
A drafting penalty to Luxford meant Steffen entered started the run with a 3 minute lead.
Steffen ran superbly off it to record one of her most impressive victories in 4:19:40.
"My legs felt heavy early on the bike, after 40km I didn't think I could even finish the race. But it got better and better the whole day. I felt really comfortable on the run and knew if I held on to the same pace I'd take the win," says Steffen.
Like the men's race, Steffen took control early on the bike, and went on to record the fastest bike split (2:26:36) and run (1:23:45).
The Sunshine-Coast based star followed on from her recent win in Vietnam as she takes a lot of confidence into the championship races ahead in Europe and USA, and adds to the building kudos for the recently formed Bahrain Endurance 13 team.
Luxford finished more than seven minutes in arrears but was well clear of the rest of the field with her 4:26:55 effort six minutes ahead of third places Katy Duffield from Western Australia.
Results
Elite Men:
1 Sam Appleton AUS 3:48:55
2 Craig Alexander AUS 3:52:57
3 Tim Reed AUS 3:55:39
4 Tim Berkel AUS 3:57:55
5 Ben Wriede AUS 4:06:31
Elite Women:
1 Caroline Steffen SUI 4:19:41
2 Annabel Luxford AUS 4:26:56
3 Katy Duffield AUS 4:32:47
4 Katey Gibb AUS 4:37:26
5 Jessica Mitchell AUS 4:37:36