News & Racing
Sam Osborne from New Zealand and Helena Erbenova from the Czech Republic win XTERRA Sweden Championship
Sam Osborne from New Zealand and Helena Erbenova from the Czech Republic captured the 2nd annual XTERRA Sweden Championship elite titles in Hellasgaarden this afternoon. It's the third win in five weeks for Erbenova, who also won at XTERRA Spain on June 7 and XTERRA Greece on June 20 (in betwe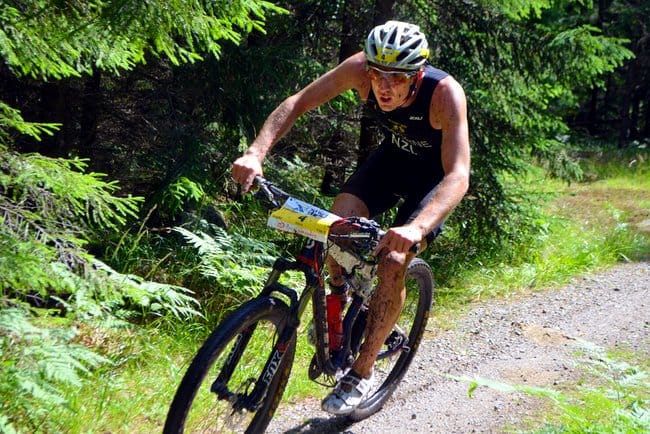 Sam Osborne from New Zealand and Helena Erbenova from the Czech Republic captured the 2nd annual XTERRA Sweden Championship elite titles in Hellasgaarden this afternoon.
It's the third win in five weeks for Erbenova, who also won at XTERRA Spain on June 7 and XTERRA Greece on June 20 (in between she finished 3rd at XTERRA Switzerland and was 2nd last week at XTERRA France).   With the win Erbenova jumps past Brigitta Poor to take the lead in the XTERRA European Tour points standings.
As for Osborne, an ITU racer from Rotorua, he led from start-to-finish thanks to a race-best 19:35 swim split and the second-best bike split. XTERRA Greece champion Kris Coddens put himself within striking distance after posting the best bike of the day but came up just 16-seconds short in second place.   Behind those two Jan Pyott had the best run of the day and finished just eight seconds behind Coddens in third.
In the end it was Osborne taking the tape in 2:31:45, Coddens in 2:32:01, and Pyott in 2:32:09, just 24-seconds difference in the top three.   The Kiwi, who finished just 13-seconds behind Braden Currie at XTERRA New Zealand in April, knows all about tight finishes.
XTERRA Managing Director Dave Nicholas was on-site to take in all the action and brings us this report
It almost kept raining," he said.   "Cold and windy early gave all of us a gloomy outlook that matched the skies.   Magically, it slowly started warming up and we ended up with really nice weather for the second edition of XTERRA Sweden.
And, that nice weather brought us another new winner.   7 races with 4 new winners plus Ruben Ruzafa.
The water temp was only 18C so it was wetsuits for all.   The 24-year-old New Zealand pro Sam Osborne led the swim and never looked back.   Swede Jonas Djurback followed him in 2d with Jan Pyott and Lars-Erik Fricke about a minute back then another minute to Jan Kubicek and Kris Coddens.

It was a big battle back and forth between Coddens, Pyott and Djerback.   Pyott passed Jonas then Coddens got by both of them.   Coddens got a flat, fixed it but was back to 4th.   Pyott had big problems in the muddy sections and Coddens went back by into second passing both and closing on Sam.
Into transition it was Osborne, Coddens, Djurback, and Pyott.   Djurback pulled out of the race on the run.   On lap one Osborne led comfortably but Pyott got ahead of Coddens.
"After the flat I went so hard on the bike I just did not have my legs" said Coddens.   Still, it was fabulous as Pyott and Coddens were catching Osborne.
"I kept hearing different splits," Said Osborne.   "One time I am 2 minutes up, next time they said nobody is near me and then I heard 40 seconds.   I just kept going at as good a pace as I could and hoped for the best."
Indeed Pyott and Coddens were catching the leader.   They fell short by 16 seconds with Coddens second and Pyott a scant 8 seconds back of the Belgian.   Coddens had the fastest bike, Pyott the fastest run and Sam the fastest swim.   I guess that kind of blows the old saying that you can't win the race on the swim.   His lead over Coddens coming into T1 after the swim was 2:31 seconds, and his transition time was 37-seconds faster.
For the women Brigitta Poor once again had the quick swim, but conditions today were not in her favor.   This course is sweet single track with short steep climbs and lots of technical sections.   The mud played well into Helena Erbenova's skills and she took the lead quickly.
Carina Wasle had a good day but could not match the Czech woman's pace on the bike.
"I have to thank #255" said Erbenova.   "My back wheel fell off out on the trails and this man stopped and fixed it for me.   I owe everything to him today."   There was no #255 in the results so we'll never know who her angel was, but that is the spirit of XTERRA and we thank him.
The women ended with Erbenova ahead by over a minute.   Wasle was feeling much better than last week in France, "Yes, I feel good but I crashed the bike three times" she grinned through a muddy face.   Poor soldiered on, clearly off her game today, but a good 3rd place.
The Euro Tour now has a full 10 days or a bit more off before XTERRA Italy in Scanno.   That will be a welcome relief for some sore and tired bodies.   As for Sam Osborne?
"I really like XTERRA and am working towards Maui.   I wanted to see what the European competition was like and this fit my schedule perfectly," he said while getting a knee wound treated.
"I feel great but this is what happens when you don't stay on the bike" he smiled, referring to the injury.

Pro Results

Pro Men
Pl
Name
Time
Points
1
Sam Osborne, NZL
2:31:45
75
2
Kris Coddens, BEL
2:32:01
67
3
Jan Pyott, SUI
2:32:09
61
4
Lars Erik Fricke, GER
2:38:23
56
5
Jan Kubicek, CZE
2:42:26
51
6
James Walker, GBR
2:55:46
47
7
Christopher Schwab, AUT
3:06:29
43
Pro Women
Pl
Name
Time
Points
1
Helena Erbenova, CZE
2:56:20
75
2
Carina Wasle, AUT
2:57:41
67
3
Brigitta Poor, HUN
3:07:50
61
XTERRA EUROPEAN TOUR UPDATE
XTERRA Sweden was the seventh of 12 races in the XTERRA European Tour, and the fourth of five Silver level events.   Elite athletes count their best four (4) Gold and three (3) Silver finishes.   Elites can compete in as many events as they wish, but will count only their best four Gold and three Silver finishes. How it Works.
Next up: July 26 – XTERRA Italy Championship, Abruzzo, Italy*
Updated Elite Standings after 7 events:

| | | | | | | | | | |
| --- | --- | --- | --- | --- | --- | --- | --- | --- | --- |
| Men | | | S | S | G | S | G | G | S |
| Pl | Name, NAT | TOTAL | MLT | POR | ESP | GRE | SUI | FRA | SWE |
| 1 | Roger Serrano, ESP | 354 | 67 | 56 | 82 | 67 | 82 | DNS | DNS |
| 2 | Francois Carloni, FRA | 332 | 47 | 67 | 75 | 61 | DNS | 82 | DNS |
| 3 | Ruben Ruzafa, ESP | 275 | DNS | 75 | 100 | DNS | DNS | 100 | DNS |
| 4 | Kris Coddens, BEL | 232 | DNS | DNS | DNS | 75 | 90 | DNS | 67 |
| 5 | Albert Soley, ESP | 219 | 43 | 39 | 90 | 47 | DNS | DNS | DNS |
| 6 | Jan Pyott, SUI | 202 | DNS | 23 | 49 | DNS | 69 | DNS | 61 |
| 7 | Arthur Forissier, FRA | 175 | DNS | DNS | DNS | DNS | 100 | 75 | DNS |
| 8 | Henry Sleight, GBR | 165 | DNS | 25 | DNS | 33 | 58 | 49 | DNS |
| 9 | Jan Kubicek, CZE | 153 | 39 | DNS | DNS | DNS | 63 | DNS | 51 |
| 10 | Yeray Luxem, BEL | 136 | DNS | 61 | DNS | DNS | 75 | DNF | DNS |
| 11 | Nicolas Fernandez, FRA | 122 | 75 | 47 | DNS | DNS | DNS | DNS | DNS |
| 12 | Xavier Riart, ESP | 105 | 36 | DNS | 69 | DNS | DNS | DNS | DNS |
| 13 | Tim Van Daele, BEL | 103 | 25 | 27 | DNS | 51 | DNS | DNS | DNS |
| 14 | Fabien Combaluzier, FRA | 92 | 56 | 36 | DNS | DNS | DNS | DNS | DNS |
| 15 | Veit Hönle, GER | 90 | DNS | DNS | DNS | DNS | 53 | 37 | DNS |
| 16 | Bradley Weiss, RSA | 90 | DNS | DNS | DNS | DNS | DNS | 90 | DNS |
| 17 | Martial Schmidt, FRA | 83 | DNS | DNS | DNS | DNS | 49 | 34 | DNS |
| 18 | Tomas Kubek, SVK | 82 | DNS | 43 | DNS | 39 | DNS | DNS | DNS |
| 19 | Sam Osborne, NZL | 75 | DNS | DNS | DNS | DNS | DNS | DNS | 75 |
| 20 | Malte Plappert, GER | 69 | DNS | DNS | DNS | DNS | DNS | 69 | DNS |
| 21 | James Walker, GBR | 68 | DNS | DNS | DNS | 21 | DNS | DNS | 47 |
| 22 | Lars Van der Eerden, NED | 66 | 21 | DNP | DNS | DNS | 45 | DNS | DNS |
| 23 | Gonzalo Bernal, ESP | 63 | DNS | DNS | 63 | DNS | DNS | DNS | DNS |
| 24 | Damien Guillemet, FRA | 63 | DNS | DNS | DNS | DNS | DNS | 63 | DNS |
| 25 | Brice Daubord, FRA | 61 | 61 | DNS | DNS | DNS | DNS | DNS | DNS |
| 26 | Fabrizio Bartoli, ITA | 60 | 30 | DNS | DNS | 30 | DNS | DNS | DNF |
| 27 | Ruben Salmeron, ESP | 58 | DNS | DNS | 58 | DNS | DNS | DNS | DNS |
| 28 | Rory Downie, GBR | 58 | 33 | DNP | DNS | 25 | DNS | DNS | DNS |
| 29 | Damien Derobert, FRA | 58 | DNS | DNS | DNS | DNS | DNS | 58 | DNS |
| 30 | Llewellyn Holmes, GBR | 57 | DNS | 30 | DNS | 27 | DNS | DNS | DNS |
| 31 | Tomas Jurkovic, SVK | 56 | DNS | DNS | DNS | 56 | DNS | DNS | DNS |
| 32 | Lars Erik Fricke, GER | 56 | DNS | DNS | DNS | DNS | DNS | DNS | 56 |
| 33 | Jose Borrino, ESP | 53 | DNS | DNS | 53 | DNS | DNS | DNS | DNS |
| 34 | Tomas Jiranek, CZE | 53 | DNS | DNS | DNS | DNS | DNS | 53 | DNS |
| 35 | Clement Briere, FRA | 51 | 51 | DNS | DNS | DNS | DNS | DNS | DNS |
| 36 | Hector Guerra, ESP | 51 | DNS | 51 | DNS | DNS | DNS | DNS | DNS |
| 37 | Juan Gracia, ESP | 45 | DNS | DNS | 45 | DNS | DNS | DNS | DNS |
| 38 | Florian Luquet, FRA | 45 | DNS | DNS | DNS | DNS | DNS | 45 | DNS |
| 39 | Markus Benesch, AUT | 43 | DNS | DNS | DNS | 43 | DNS | DNS | DNS |
| 40 | Christopher Schwab, AUT | 43 | DNS | DNS | DNS | DNS | DNS | DNS | 43 |
| 41 | Dominique Fernando, ESP | 41 | DNS | DNS | 41 | DNS | DNS | DNS | DNS |
| 42 | Juan Marti, ESP | 37 | DNS | DNS | 37 | DNS | DNS | DNS | DNS |
| 43 | Marc Pschebizin, GER | 37 | DNS | DNS | DNS | DNS | DNS | 37 | DNS |
| 44 | Grigoris Souvatzoglou, GRE | 36 | DNS | DNS | DNS | 36 | DNS | DNS | DNS |
| 45 | Carlos Martinez, ESP | 34 | DNS | DNS | 34 | DNS | DNS | DNS | DNS |
| 46 | Jens Roth, GER | 33 | DNS | 33 | DNS | DNS | DNF | DNS | DNS |
| 47 | Sergio Espejo, ESP | 31 | DNS | DNS | 31 | DNS | DNS | DNS | DNS |
| 48 | Dr. Felix Schumann, GER | 31 | DNS | DNS | DNS | DNS | DNS | 31 | DNS |
| 49 | Javier Oliver, ESP | 28 | DNS | DNS | 28 | DNS | DNS | DNS | DNS |
| 50 | Sebastian Veith, GER | 28 | DNS | DNS | DNS | DNS | DNS | 28 | DNS |
| 51 | Arthur Serrieres, FRA | 27 | 27 | DNS | DNS | DNS | DNF | DNS | DNS |
| 52 | Nicolas Corentin, BEL | 25 | DNS | DNS | DNS | 25 | DNS | DNS | DNS |
| 53 | Matt Dewis, GBR | 23 | 23 | DNS | DNS | DNS | DNS | DNS | DNS |
| 54 | Simone Calamai, ITA | 23 | DNS | DNS | DNS | 23 | DNS | DNS | DNS |
| 55 | Rob Woestenborghs, BEL | 21 | DNS | 21 | DNS | DNS | DNS | DNS | DNS |
| 56 | Pablo Navarrete, ESP | 0 | DNS | DNS | DNP | DNS | DNS | DNS | DNS |
| 57 | Jon Heasman, GBR | 0 | DNS | DNS | DNS | DNS | DNS | DNP | DNS |
| 58 | Maxime Boudot, FRA | 0 | DNS | DNS | DNS | DNS | DNS | DNP | DNS |
| 59 | Kevin Grieten, BEL | 0 | DNS | DNS | DNS | DNS | DNS | DNP | DNS |
| 60 | Kenny Van Laere, BEL | 0 | DNS | DNS | DNS | DNS | DNS | DNP | DNS |
| | | | | | | | | | |
| Wom | | | S | S | G | S | G | G | S |
| Pl | Name, NAT | TOTAL | MLT | POR | ESP | GRE | SUI | FRA | SWE |
| 1 | Helena Erbenova, CZE | 489 | DNS | 67 | 100 | 75 | 82 | 90 | 75 |
| 2 | Brigitta Poor, HUN | 446 | 75 | 61 | 90 | 67 | 90 | 63 | x61 |
| 3 | Louise Fox, GBR | 340 | 51 | 51 | 82 | 56 | 63 | 37 | DNS |
| 4 | Carina Wasle, AUT | 228 | DNS | DNS | DNS | 61 | 100 | DNF | 67 |
| 5 | Jessica Roberts, GBR | 196 | 47 | DNF | DNS | 51 | 53 | 45 | DNS |
| 6 | Kathrin Mueller, GER | 175 | DNS | 75 | DNS | DNS | DNS | 100 | DNS |
| 7 | Morgane Riou, FRA | 156 | DNS | 56 | DNS | 47 | DNS | 53 | DNS |
| 8 | Myriam Guillot, FRA | 151 | DNS | DNS | DNS | DNS | 69 | 82 | DNS |
| 9 | Karin Hansen, SUI | 139 | 43 | 47 | DNS | DNS | 49 | DNF | DNS |
| 10 | Maud Golsteyn, NED | 136 | 61 | DNS | DNS | DNS | 75 | DNS | DNS |
| 11 | Sandra Koblemueller, AUT | 136 | 67 | DNS | DNS | DNS | DNS | 69 | DNS |
| 12 | Coralie Redelsperger, FRA | 75 | DNS | DNS | DNS | DNS | DNS | 75 | DNS |
| 13 | Ladina Buss, SUI | 58 | DNS | DNS | DNS | DNS | 58 | DNS | DNS |
| 14 | Becci Kaltenmeier, GER | 58 | DNS | DNS | DNS | DNS | DNS | 58 | DNS |
| 15 | Elisabetta Curridori, ITA | 56 | 56 | DNS | DNS | DNS | DNS | DNS | DNS |
| 16 | Celine Augueux, FRA | 49 | DNS | DNS | DNS | DNS | DNS | 49 | DNS |
| 17 | Sofia Brites, POR | 43 | DNS | 43 | DNS | DNS | DNS | DNS | DNS |
| 18 | Deniz Dimaki, GRE | 43 | DNS | DNS | DNS | 43 | DNS | DNS | DNS |
| 19 | Lenka Cibulkova, CZE | 41 | DNS | DNS | DNS | DNS | DNS | 41 | DNS |
| 20 | Danica Spiteri, MLT | 39 | 39 | DNS | DNS | DNS | DNS | DNS | DNS |