Shepparton: Chat with 3rd place youngster Lachlan Kerin
After a rollercoaster year of ups and downs and a battle with a sacral fracture, 22-year-old Lachlan Kerin came third today at Challenge Shepparton. Trizone caught up with the athlete to talk race prep and hear about his race strategy. Challenge Shepparton – Lachlan Kerin's Pre-race Trai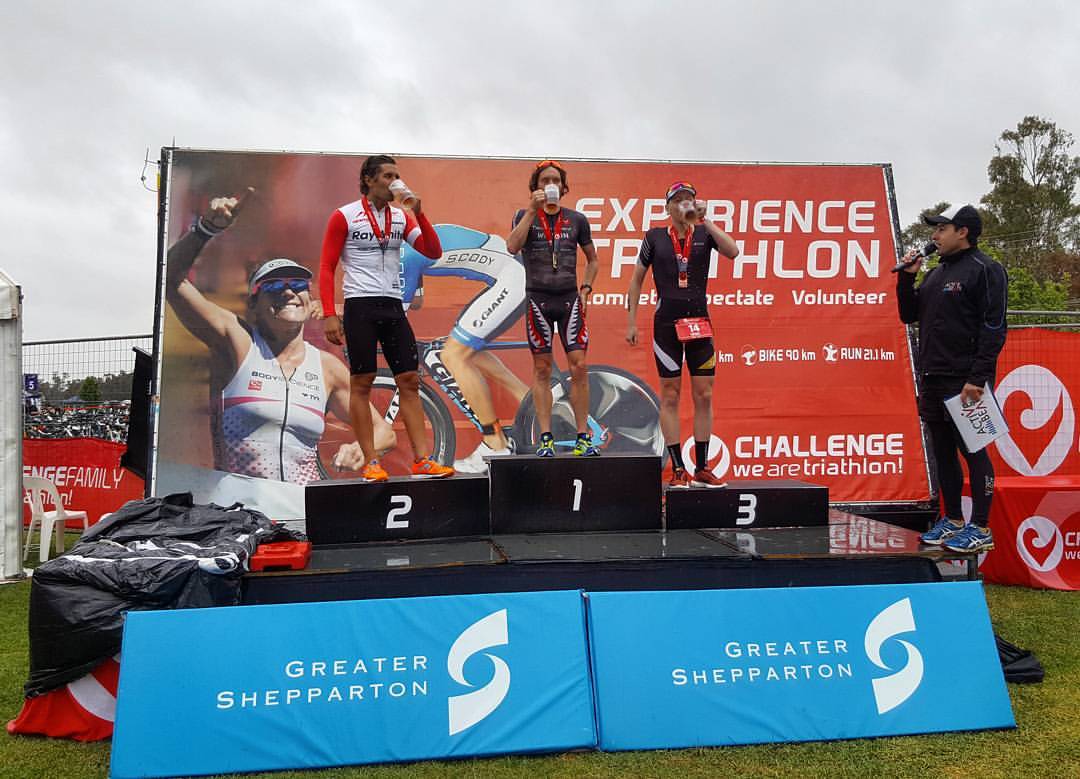 After a rollercoaster year of ups and downs and a battle with a sacral fracture, 22-year-old Lachlan Kerin came third today at Challenge Shepparton. Trizone caught up with the athlete to talk race prep and hear about his race strategy.
Challenge Shepparton – Lachlan Kerin's Pre-race Training
Training in Melbourne's every-changing weather can be tough on any young triathlete, but 22-year-old Lachlan maintains his workouts by cycling on an indoor Tacx NEO trainer on rainy days. "Since I've started working with Grant Giles, my training is lower volume but race-pace stuff," says Kerin. "It was perfect for Challenge Shepparton since it's pretty much a two hour time trial."
Lachlan's Key Bike Session Stats
4 x 12 minute bursts with 5 minutes of recovery:
First, 6 bursts at 285-290 watts (IRONMAN pace)
Next, 4 bursts at 310-320 watts (70.2 pace)
Last, 2 bursts at 340 (Olympic race pace)
Then, when most everyday people would be clambering for the couch, Lachlan finishes his session with 25 minutes at aerobic threshold. "Those sessions take three hours all up," he adds. "They're really important sessions for me and I was doing them a week out from Challenge Shepparton."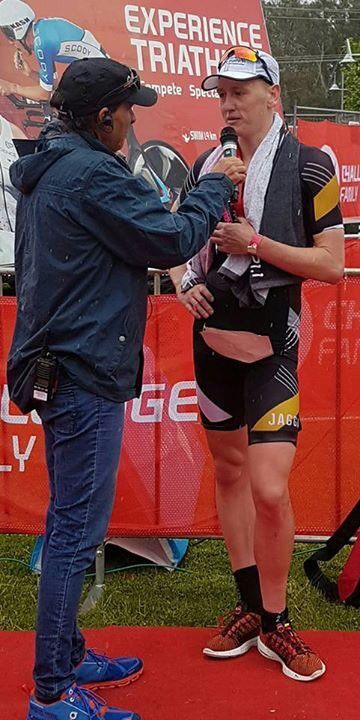 Lachlan Kerin on his Pre-Race Week Prep
Now training with coach Grant Giles, Lachlan has adopted a standard tapering schedule for pre-race weeks, so there's no question whether the week before has made a difference to his results. "I trained hard on Monday, did a solid day on Tuesday; working to threshold on the bike and run," he explains. "On Wednesday, I went for a slightly longer ride. Then, Thursday to Saturday I brought things back in; travelling on Friday and going for a slow swim, bike, run on Saturday."
"On these days before the race I wasn't testing my fitness or my legs," Kerin continues. "It's hard to do that, as you're really trusting your fitness is there for race day."
Lachlan Kerin tackles Challenge Shepparton's swim
"I knew how well Dan had swum at Noosa, so I was content to let Sam and Dan go ahead," says Lachlan. "I just knew I had to be part of the chase bunch, which I ended up leading. For me, it's about translating pool swimming into actually doing those things in races."
Lachlan has been working on swimming powerfully in a wetsuit as it's one of his greatest weaknesses – or so he says. The young athlete impressively lost just one minute to strong swimmer Dan Wilson in the water over a long 1.9km swim.
Kerin's approach to Challenge Shepparton bike leg
"I started in a pack with some of the guys from the ITU circuit, but I was pretty keen to break the group up and move forward," says Kerin. "I went to the front and maintained my power, and just tried to avoid big sparks of power above threshold."
Lachlan's tactics clearly worked, with the pack he'd been leading from the swim beginning to break apart behind him. "My power was a bit higher than 70.3 pace, but nothing too outrageous," he adds. "My first 45 minutes were at 320, but I stopped noticing after that; I knew I'd done the job to get in a good position, so I knew I just had to maintain it."
Lachlan surged onwards, soon catching up to Dan Wilson. As Sam Betten dropped away from the leaders, Lachlan spotted Matt Burton at the turnaround. "He's so strong on the bike, I just wanted to hang on," Lachlan says of Matt. He certainly did hang on and led the race into T2, with Matt and Dan just behind him.
The young athlete spent a few moments at the transition preparing his socks and gels, and refused to rush needlessly through the transition. "I wanted to have all my gels and put my socks on," he adds. "It's worth spending an extra 30 seconds making sure you've got everything, instead of losing five minutes on the run because your feet are cut up and you've run out of nutrition. I prepare and keep things simple and try not to rush."
Lachlan can attribute his strong bike leg to intense training, along with decreasing 15mls on his front handlebars."I'd had some issues with my back getting tight in races and was only on the handlebars 70% of the time," he says. "This race, though, I was down there the whole way to be more aerodynamic."
Challenge Shepparton's run – Lachlan Kerin's pointers
After suffering a stress fracture of his sacrum earlier this year, Lachlan hadn't been able to run as much as he'd like during training but he certainly worked hard this morning. "I just worked on holding my form and cadence to give me a reasonable speed," he remembers. "I was going great in the first two laps but in the last lap I was hurting and lost some time, probably because I haven't been able to run that much."
Far from giving up, though, Lachlan worked hard to push on, despite the course being deceptive. "Between around four and six kilometres, people seem closer than they are," he says. "You see them after the turnaround and it puts on the pressure. At around the 20km mark I was hurting, but thankfully had enough time to have a bit of fun and finish it off."
Lachlan finished in third place with a time of 3:56:54, behind Matt Burton and Dan Wilson.
A huge congratulations to the thrilled Lachlan Kerin, who told Trizone: "I'm really happy with it and it's a bit of a breakthrough for my confidence. Knowing I can make it with some of the guys who have been in it for a long time is pretty great."