News & Racing
Showtime for XTERRA in France this Weekend
It's show-time on the XTERRA European Tour as stop No. 9 heads to the Vosges Mountains in eastern France where more than 2,000 racers, huge crowds, fan-friendly features like a monster wooden ramp, big-screen TVs, and an incredibly talented ensemble of elite athletes gather for one of the toughest c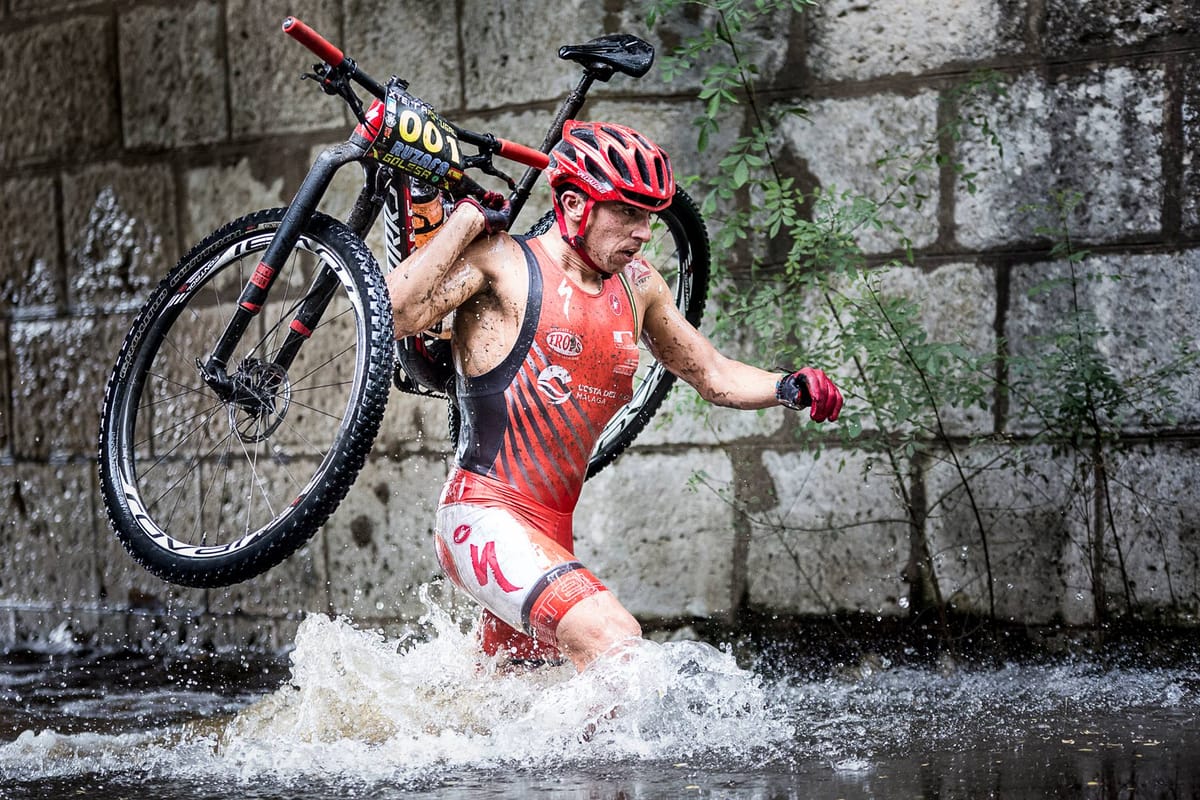 It's show-time on the XTERRA European Tour as stop No. 9 heads to the Vosges Mountains in eastern France where more than 2,000 racers, huge crowds, fan-friendly features like a monster wooden ramp, big-screen TVs, and an incredibly talented ensemble of elite athletes gather for one of the toughest challenges in XTERRA.
Sunday's 11th annual XTERRA France Championship in Xonrupt, which combines a one-mile swim with a grueling 41-kilometer mountain bike loop and lung-busting 10k trail run, is truly one of the marquee events on the World Tour.
"It's a great show from start to finish," explained XTERRA World Tour managing director Dave Nicholas.  "The swim start is total chaos and huge fun.  It is a water start with the entire field treading water, then the horn goes off and it looks like an old B Movie with a thousand Piranha's chasing a meal."
Things get even wilder once competitors jump on their bikes.
"The bike is brutal with 600-meters of climbing each lap.  Tired, exhausted riders and runners return to the compound and are fed from the sounds and smells, the applause and cheers of the crowd and ready to do their second lap.  The fantastic wood ramps the crew builds at the main compound have been moved farther from the lake to allow spectators to come inside the ramps.  Riders will literally circle all around the spectators going over wood moguls and steeply banked turns. All this enhanced by a great sound system, music and enthusiastic announcers."
And the crowd will have plenty of big names to cheer for on Sunday including a match-up between two of the masters of the sport, XTERRA World Champions Ruben Ruzafa and Josiah Middaugh.
"This year again the pro field will be strong, especially for the men with our guest star Josiah Middaugh from Colorado," said XTERRA European Tour director Nicolas Lebrun.  "Josiah picked this race because of all the things he has heard about it, and to challenge himself against the best of the best on the European Tour so he has an idea of what to expect in Maui."
The men's elite field features 40 racers from 16 countries including the top five ranked men on the Euro Tour (Ruzafa, Francois Carloni, Xavier Dafflon, Yeray Luxem, and Rui Dolores), the current Asia-Pacific Tour leader Sam Osborne, last week's XTERRA Switzerland Champ Arthur Forissier, and XTERRA Philippines Champ Bradley Weiss.
"Ruben was not 100% in Switzerland nor in Belgium, so after Forissier's victory last week now we know he can be beat," said Lebrun.  "I will watch particularly Bradley Weiss. Last week before he flatted he was the only one able to follow Ruben on the bike.  Also, Dafflon, who had the best bike in Belgium, is looking forward to this long mountain bike loop in France so he has time to catch everybody on the bike.
We will also have our eye on the Russian Pavel Andreev, our 5-time winter triathlon world champion and XTERRA Finland winner; Carloni who was 3rd here two years ago and is second in the rankings, Jens Roth, third in Greece this year and our fastest swimmer, and of course Yeray Luxem, Cyprus winner, will be here and has been on the podium at this race."
2017 Rank – Name, NAT
1 – Ruben Ruzafa, ESP
2 – François Carloni, FRA
3 – Xavier Dafflon, SUI
4 – Yeray Luxem, BEL
5 – Rui, Dolores, POR
7 – Arthur Forissier, FRA
8 – Jan Kubicek, CZE
10 – Arthur Serrieres, FRA
14 – Xavier Jové, ESP
15 – Jens Roth, GER
16 – Hannes Wolpert, GER
17 – Maxim Chané, FRA
20 – Tiago Maia, POR
21 – Geert Lauryssen, BEL
22 – Pavel Andreev, RUS
24 – Sam Osborne, NZL
25 – Mark Hamersma, NED
26 – Stephan Radeck, GER
28 – Doug Hall, GBR
29 – Llewellyn Holmes, GBR
30 – Anthony Pannier, FRA
31 – Peter Lehmann, GER
33 – Bradley Weiss, RSA
34 – Tim Van Daele, BEL
35 – Jorg Scheiderbauer, GER
40 – Clément Briere, FRA
41 – Pau Botella Tarres, ESP
42 – Mattia de Paoli, ITA
45 – Dominik Wychera, AUT
48 – Guillaume Jeannin, FRA
NR – Josiah     Middaugh, USA
NR – Damien Guillemet, FRA
NR – Christophe Betard, FRA
NR – Loïc Doubey, FRA
NR – Valentin Genewe, FRA
NR – Grégory Manca, FRA
NR – Felix Schumann, GER
NR – Henry Sleight, GBR
NR – Michael Szymoniuk, AUT
The women's field returns five of the top six elites from last year's race here, minus only the defending champ Lesley Paterson.  Of special interest is the duel between tour leaders Brigitta Poor (422 points) and Helena Erbenova (406 points).  Each have three wins this year.  Brigitta got the best of Helena to win XTERRA Malta and Portugal.  Erbenova finished ahead of Poor to capture the XTERRA Greece and Spain titles.
Here, Lebrun gives us his take on the women's race…
"Myriam Guillot-Boisset will be my favorite, she was 4th in Maui and second in Vallée de Joux last week in a short race," said Lebrun.  "In France, she will have way more time to come back.  Helena had a terrible day in Switzerland and I'm sure she saved some energy for France when she realized it was not her day last weekend. Nicole Walters will probably lead the race for a long time again like she did last week, and maybe she can get enough time to stay in the front all the way.  She was very aggressive on the bike last week and for sure will arrive in Xonrupt full of confidence. Our Tour leader Brigitta Poor will be here to get more points and like Helena she wants to forget her bad Swiss race. Carina Wasle was not strong last week either, but will like the XTERRA France climbs. Renata Bucher was second here last year and will race again.  I am not sure if she had the time to train enough, but on a good day, knowing perfectly this race, she can maybe fight for the top five.  Kathrin Mueller started slow in Malta but was way better in Spain, so might be ready for a podium here, and she knows how to do it as she already won this race. We will have our first look at German Laura Philipp coming from road triathlon.  She has already won 70.3 Mallorca, St Polten and Kraichgau this year, if she can ride a MTB they might never see her."
2017 Rank – Name, NAT
1 – Brigitta Poor, HUN
2 – Helena Erbenova, CZE
5 – Carina Wasle, AUT
7 – Nicole Walters, GBR
14 – Myriam Guillot-Boisset, FRA
15 – Kathrin Müeller, GER
22 – Kristina Nec Lapinova,SVK
25 – Renata Bucher, SUI
27 – Jessie Roberts, GBR
28 – Angela Niklaus, SUI
NR – Laura Philipp, GER
NR – Anna Tomica, POL
NR – Lyzzie Orchard, NZL
NR – Belinda Hadden, AUS