News & Racing
SRAM RED eTap sweeps the men's podium at 2015 Ironman 70.3 World Championship
Just days after it was introduced, SRAM RED eTap was ridden to its first world title… and its first Worlds podium sweep. Jan Frodeno (GER), Sebastian Kienle (GER), and Javier Gomez (ESP) took the first three places respectively at the 70.3® World Championships riding the newly introduced SRAM RED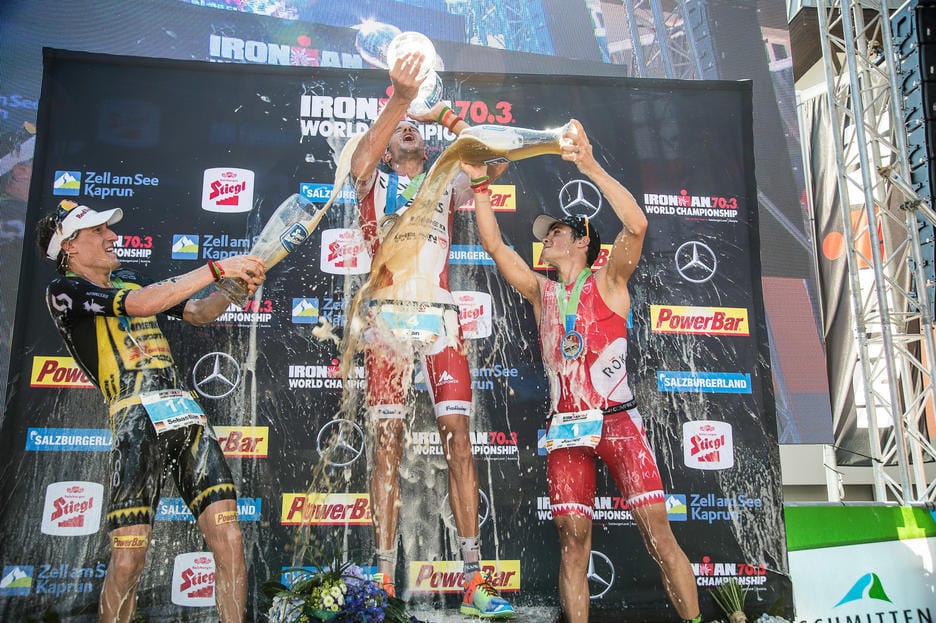 Just days after it was introduced, SRAM RED eTap was ridden to its first world title… and its first Worlds podium sweep.
Jan Frodeno (GER), Sebastian Kienle (GER), and Javier Gomez (ESP) took the first three places respectively at the 70.3 ® World Championships riding the newly introduced SRAM RED ® eTap ® groupset last weekend in Austria. The new groupset proved to be a major asset, allowing bikes to be as aerodynamically slippery as possible with no shift cables or wires connecting the derailleurs to the shift module (BlipBox).
As super testers supported by SRAM's Road Sports Marketing Team, Frodeno and Kienle already have ridden SRAM's new wireless electronic groupset to podium finishes. For Gomez, the bronze medal was his first race on the groupset. All three men rely on Quarq power measurement in training, while Frodeno and Gomez opted to also race with power measurement for constant feedback on watts expended.
The exceptionally hilly course demanded much from equipment "wheels in particular. Zipp's record of no brake-heat related failures remains unblemished on a day many riders flatted or suffered equipment issues related to brake heat.
For racers that did experience mechanical problems, SRAM Neutral Race Support (NRS) was on hand to offer racers a wheel, or even a complete bike. Present for both the elite and age group races, SRAM NRS had two motorcycles on hand with Zipp 404 Firecrests at the ready while two more NRS cars were on course with a total of 30 Zipp 808 and 404 Firecrests wheels and a phalanx of spare Specialized S-Works Tri Shiv's specced with SRAM Force 1 drivetrains (52t ring with 11-32t cassettes) and Zipp 404 Firecrest wheels mounted with Zipp Speed 25mm clincher tires.
With Kona Ironman ® World Champs looming on the horizon, Frodeno and Kienle are well positioned to repeat their Ironman 70.3 ® performances. Both athletes have set Kona as their primary goal for the season and are planning on using SRAM RED eTap to give them an advantage. Keep an eye on these great competitors as they become the first athletes ever to race a wireless electronic groupset in a full Ironman ®.