News & Racing
Super League Triathlon: Women to Join at Jersey Island
50 of the world's leading male and female triathletes, including 25 Olympians from around the world, will compete in Jersey, UK, for the Super League Triathlon crown in September 2017. The men's line-up will include the Brownlee brothers from the UK, their rivals Javier Gomez Noya and Mario Mola Dia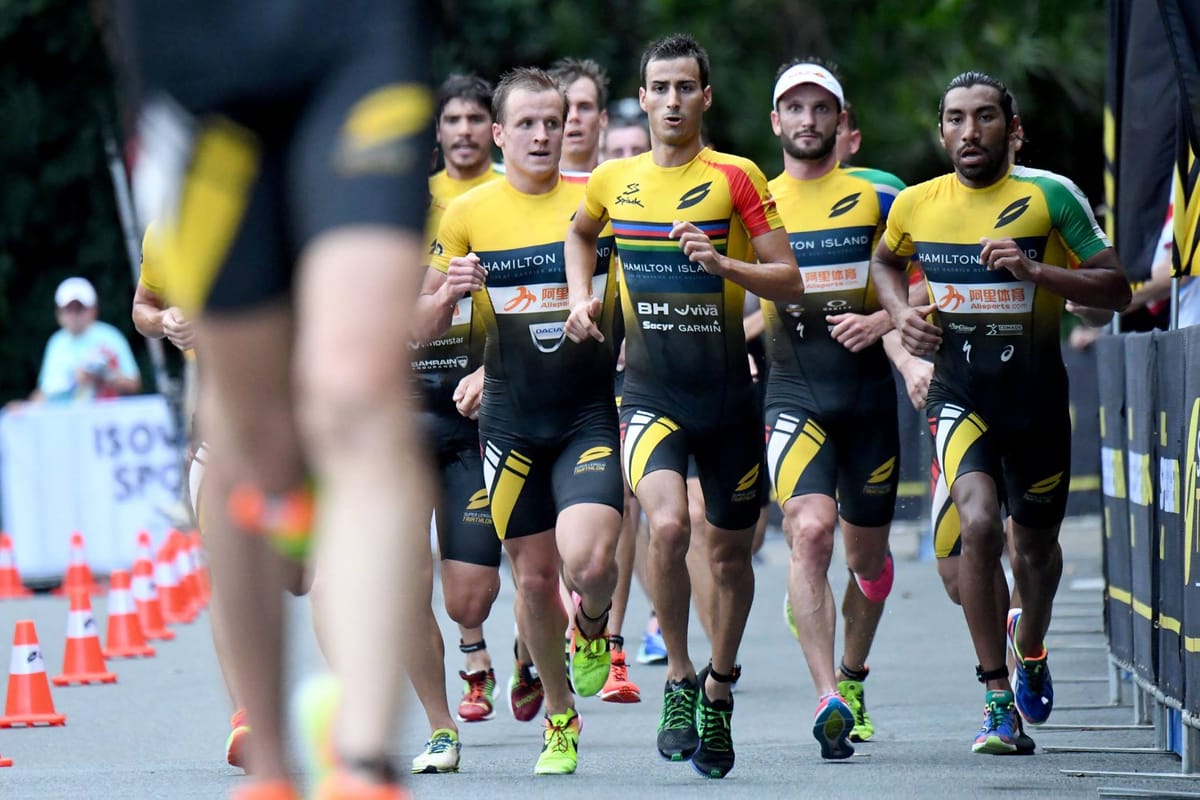 50 of the world's leading male and female triathletes, including 25 Olympians from around the world, will compete in Jersey, UK, for the Super League Triathlon crown in September 2017.
The men's line-up will include the Brownlee brothers from the UK, their rivals Javier Gomez Noya and Mario Mola Diaz from Spain, and Richard Murray from South Africa, as well as 20 other leading male triathletes.
The women's racing will see leading Brits including Vicky Holland, Jodie Stimpson, Lucy Hall and Non Stanford taking on three-time Olympian Flora Duffy from Bermuda, Olympic bronze medallist Erin Densham from Australia and the current American World Triathlon Series leader Katie Zaferes, among many other leading female triathletes.
The Super League Triathlon event in Jersey is offering equal prize money of $130,000 for both the men and women triathletes. Super League Triathlon co-founder Michael Dhulst commented: "With $130,000 in prize money on offer at Super League Jersey, it's high-stakes, high-octane racing with huge consequences for any mistakes. This is a sensational race course and an incredible location for spectators."
As Japan 2020 approaches, national Olympic federations will be keeping a close eye on how their athletes perform in Super League Triathlon in Jersey because the 2020 Olympic Games will be introducing triathlon mixed relay events, which are very similar to the fast and furious Super League Triathlon format.
Senator Lyndon Farnham, Minister for Economic Development, Tourism, Sport and Culture in Jersey, commented: "Jersey is delighted to have been chosen to host the 2017 Super League Triathlon World Series. The natural beauty of our island combined with our strong sporting culture lends itself perfectly to hosting such a prestigious global event. I am sure the whole island will get behind this as we share with the rest of the world our enthusiastic and friendly spirit in welcoming some of the world's greatest athletes and sports fans to our shores. Jersey is beginning to establish itself as one of the leading venues in the world for events and hosting the second race of the 2017 Triathlon Super League World Series is a great example of what we can offer."
The Men's Event
Commenting on the men's rivalries, two-time Ironman world champion and Super League Triathlon co-founder Chris 'Macca' McCormack said: "The Brownlee brothers have been the gold standard, and they respect long-term rival Javier Gomez Noya from Spain. The new wave of rivalry is coming from Richard Murray and Mario Mola Diaz. The new athletes to look for are Jake Birtwhistle and Ben Dijkstra."
Jonny Brownlee, who was sidelined for the Hamilton Island event due to injury, will debut the number 05 race suit in Jersey in what will be a baptism of fire. Jonny commented: "I had to miss Hamilton Island because of injury but I watched the races and know that the Super League Triathlon format will suit me as an athlete. Jersey will be brilliant, with the conditions not as humid as Hamilton Island, and I'm looking forward to racing Super League there for the first time."
With the Brownlee brothers and Javier Gomez Noya having dominated the triathlon circuit since 2009, triathletes from around the world are looking for every opportunity to take their place in Jersey over the weekend of 23rd and 24th September.
Heir apparent to the male triathlon throne, South African Richard Murray, flourished under the new Super League Triathlon format, winning the title in Australia. Richard is looking forward to Jersey in September in order to try and strengthen his claim for the number one spot on the triathlon circuit, halting the dominance British athletes have enjoyed over the sport in recent years. Murray commented: "Super League Hamilton Island changed triathlon racing and showed fans how exciting it can be when showcased properly. I can't wait for round two at Super League Jersey. Athletes and fans should expect wild, exciting and full speed racing from the fastest triathletes in the world. It's big gear, no fear! I'm planning for this event already. My competitors will need to turn up in peak condition. I'm ready for them!"
The Women's Event
"Super League Jersey will see the world's finest female triathletes enter the fray of Super League Triathlon for the first time alongside their male counterparts. Like the male professional fields, the best female athletes from short and long course racing will face-off in a best-of-the-best battle. Separate races will be conducted for the male and female fields each day," said Super League Triathlon Co-Founder Leonid Boguslavsky.
Twenty-five elite female athletes will be announced soon to take part in Super League Triathlon Jersey, including 2016 World Triathlon Series Champion Flora Duffy from Bermuda, and Rio 2016 Bronze medalist Vicky Holland from the UK. Vicky commented: "Having spent a lot of this season sidelined due to injury, the prospect of being back on a start line to race in Jersey in September is really motivating."
Jodie Stimpson missed Olympic selection despite being a Dual Commonwealth Games gold medallist. The British women are the world leaders at the moment. Jodie missed out to Non Stanford and Vicky Holland who went on to finish 3rd and 4th at the games. Despite not being true rivals, they have to compete against each other for Commonwealth and Olympic selection for Tokyo and Gold Coast as there is a very high chance of a gold medal for the UK in these events. You also have a young new star in Sophie Coldwell. This is a friendly but tense rivalry because of the depth in UK women's triathlon.
Race Format
Saturday's Triple Mix format will see athletes complete three stages of competition with alternating sequences and a ten-minute break in between stages. Stage 1 is swim-bike-run, Stage 2 is run-bike-swim, and Stage 3 is bike-swim- run. The winner of Triple Mix is the athlete with the lowest time across the three stages.
Sunday's Eliminator format will again be conducted in three stages each in a swim-bike-run format with a ten-minute break in between. Eliminator is about speed and strategy with athletes finishing 16th and above in Stage 1 being eliminated; they do not progress to Stage 2. Athletes finishing 11th and above in Stage 2 are eliminated and do not progress to Stage 3. Stage 3 sees the remaining ten athletes battle it out for the Eliminator title.
On both days racing will take place in the afternoon, with racing between 2pm and 6pm each day.
Super League showcases triathletes and the sport in a new and exciting way. Unlike the traditional triathlon format, athletes won't be able to rely on specialising in one of the three disciplines. The Super League 'Triple Mix' format tests the versatility and adaptability of the athletes by mixing up the traditional swim-bike-run sequence into three events split over two days.
McCormack added: "Super League Hamilton Island changed triathlon forever. The made-for-television racing is exciting, action-packed and full of entertainment. It set the stage for the forthcoming season, which comprises four events, all to be held in iconic destinations around the world between September and April."
Super League Triathlon's ground-breaking television and digital coverage will continue at Super League Jersey. All racing will be broadcast live with programming distributed across international broadcast partners and digital channels making it easy for any fan in any time zone to view programming live or on demand. Full programming schedules will be announced prior to the event.
Expanding upon the Championship format, Super League Jersey will also feature a corporate triathlon event, offering the opportunity for corporate participants to race on the Super League Triathlon Championship course prior to racing each day. Corporate racing is open exclusively to official corporate package partners. Spectator travel packages will also soon be announced via Super League Jersey's travel partner, Nirvana Europe.
The Course
The course for Super League Jersey is nothing short of spectacular. The super-tight and technical layout is located in the Elizabeth Marina precinct in St. Helier. The 300-metre swim course is located among the mega yachts in Elizabeth Marina. The 5-lap bike course is super-technical with hairpin turns, narrow passages through high-rise apartment blocks and a cobblestone surface that will truly test bike handling skills. The high-speed, two-loop run course navigates the foreshore of Elizabeth Marina and will favour athletes with top end speed, versus the more explosive run course of Super League Hamilton Island.
There are dead turns on the bike and run leg and varied surfaces on both. It's going to test technique, power, speed, endurance and race craft all at once. A unique element to racing is the huge tides in Jersey where the difference between high and low tide is as much as 14 metres in depth. Our races will be conducted at near low tide and athletes will face a lung-busting run out of the swim course up a ramp that brings athletes up some 12 metres in vertical height from water level to transition.
There's a lot that can go wrong for athletes if they are not at the top of their game and the highs and lows will all unfold right in front of huge crowds jam-packed into the marina precinct. Super League Triathlon is all about finding the best swim, bike, runner and there's nowhere to hide on this course.