Tim Berkel and Kate Bevilaqua win Ironman 70.3 Busselton 2014
Tim Berkel and Kate Bevilaqua have been crowned 2014 Ironman 70.3 champions after strong runs took them both through to the wins. For Tim Berkel this will give him a huge boost in confidence as he heads towards Ironman Cairns. For Kate Bevilaqua the win ends a streak of podiums on home soil and and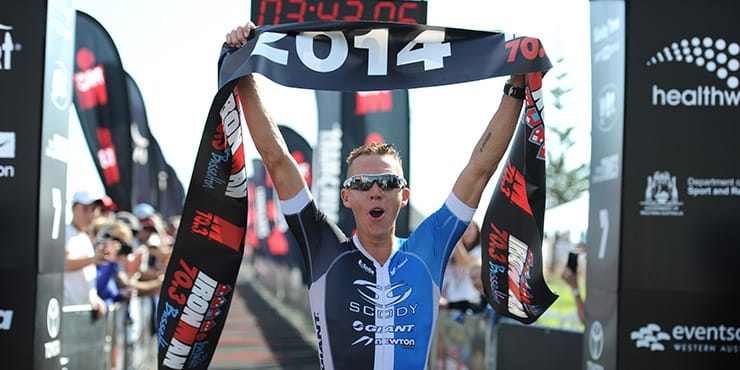 Tim Berkel and Kate Bevilaqua have been crowned 2014 Ironman 70.3 champions after strong runs took them both through to the wins.
For Tim Berkel this will give him a huge boost in confidence as he heads towards Ironman Cairns. For Kate Bevilaqua the win ends a streak of podiums on home soil and and gives her the elusive win she has been chasing.
Tim Berkel has had some great success in Western Australia with a previous victory in this race, an Ironman title, Australian Pro 70.3 title plus many more podium finishes. He adds to his Challenge Melbourne title from February this year.
Berkel didn't have it all his way with a surprise contender in Alex Reithmier pushing him all the way. Reithmier's success may have been a surprise to most but not to himself and Coach Peter Clifford from HPT in Cronulla. Clifford has been hinting to us for a while that Alex was getting closer to reaching his potential. At Ironman WA last year Reithmier debuted over the distance and finished 7th overall.
Last weekend Reithmier raced Xterra Asia Pacific Championship and showed that it had no negative impact on his race this weekend.
For Tim Berkel the lead up to this race was ideal. "My preparation leading up to the race had been really good. I'd put some solid sessions in and I was feeling comfortable at where I was."
"I nearly wasn't able to make the start line at all as my final week of preparation was thrown into chaos. The timing was terrible. Two weeks out from the race I came down with a bug which went through the squad. I ended up having it the longest, which in hindsight, may have done me well given that I had forced rest and plenty of sleep. Hats off to my wonderful wife, Bel, who looked after me while I was ill."
Coming out of T2 and onto the run was a group of 9 which consisted of Guy Crawford, James Hodge, Courtney Atkinson, Sam Appelton, Alex Reithmeir, Tom Rodgers, Sam Betten, Casey Munro and Tim Berkel. This is where the race is really going to begin as there was only about a minute between all of these leading guys.
"Halfway through the second lap I managed to shake Sam and now I was moving in on closing down the gap between myself and Courtney. By the end of 2nd lap (14km) I'd passed Courtney and from there, it was up to me to hold on and ensure the win."
Female winner Kate Bevilaqua has had a few hiccups early season. Some sight issues at Ironman Melbourne and then struggling in Taiwan all after racing Ironman New Zealand two months ago.
Rest seemed to be what the Dr ordered. "The tables have turned and yesterday I felt great again. I was second out of the water, rode solo for most the day, until a small group of girls caught me with 15K to go on the bike and the three of us entered T2 together!"
"I threw caution to the wind and went for it at the beginning of the run, hoping my fitness would allow me to get across the finish line first!!"
Kate and Guy Crawford leave this Wednesday for the USA to get back into a training routine and hit some US races.
Third placed male Sam Appleton is showing constant consistency in all of his races and will just get stronger and stronger as he matures and builds on his long course experience.
Rebecca Hoschke is showing that getting rid of a day job and racing more is the key to her success. Also like Alex Reithmier, Hoschke raced Xterra the week before albeit at a more sedate pace just to experience the race and have a bit of fun racing with husband Nigel.
| | | | | | | | |
| --- | --- | --- | --- | --- | --- | --- | --- |
| Name | Country | Swim | Bike | Run | Finish | Div. Rank | Overall Rank |
| VAN BERKEL, Tim | Australia | 00:23:14 | 02:04:07 | 01:13:26 | 03:43:07 | 1 | 1 |
| REITHMEIR, Alex | Australia | 00:23:13 | 02:04:23 | 01:13:28 | 03:43:29 | 2 | 2 |
| APPLETON, Sam | Australia | 00:23:14 | 02:04:17 | 01:13:51 | 03:43:39 | 3 | 3 |
| BETTEN, Sam | Australia | 00:22:43 | 02:04:43 | 01:18:37 | 03:48:24 | 4 | 4 |
| MUNRO, Casey | Australia | 00:23:10 | 02:04:26 | 01:19:57 | 03:49:51 | 5 | 5 |
| CRAWFORD, Guy | New Zealand | 00:23:14 | 02:04:18 | 01:20:44 | 03:50:32 | 6 | 6 |
| RODGERS, Tom | Australia | 00:23:15 | 02:04:12 | 01:23:31 | 03:53:21 | 7 | 7 |
| JOHNSEN, Jimmy | Australia | 00:24:11 | 02:10:01 | 01:20:57 | 03:57:43 | 8 | 8 |
| ANDERSON, Mitch | Australia | 00:25:47 | 02:09:39 | 01:20:31 | 03:58:35 | 9 | 9 |
| BURTON, Matt | Australia | 00:25:49 | 02:07:16 | 01:24:05 | 03:59:42 | 10 | 10 |
| ARMSTRONG, Hayden | Australia | 00:26:15 | 02:09:30 | 01:22:47 | 04:02:11 | 1 | 11 |
| HILL, Dylan | Australia | 00:26:48 | 02:12:41 | 01:19:25 | 04:02:19 | 1 | 12 |
| OGDEN, Courtney | Australia | 00:23:47 | 02:10:19 | 01:26:53 | 04:03:37 | 11 | 13 |
| KING, Ben | Australia | 00:25:32 | 02:04:34 | 01:31:25 | 04:05:26 | 2 | 14 |
| FARRELL, Greg | Australia | 00:25:19 | 02:16:40 | 01:20:58 | 04:06:01 | 12 | 15 |
| STUART, Gavin | Australia | 00:26:48 | 02:11:53 | 01:24:48 | 04:06:26 | 1 | 16 |
| STANLEY, Jamie | Australia | 00:24:06 | 02:14:06 | 01:27:22 | 04:08:04 | 13 | 17 |
| HANSEN, Lars Dyrholm | Australia | 00:26:36 | 02:14:29 | 01:23:43 | 04:08:11 | 1 | 18 |
| WALTON, Paul | Australia | 00:26:32 | 02:13:52 | 01:24:06 | 04:08:12 | 2 | 19 |
| JANSEN, Mark | Singapore | 00:28:30 | 02:11:48 | 01:25:44 | 04:09:39 | 3 | 20 |
| | | | | | | | |
| | | | | | | | |
| Name | Country | Swim | Bike | Run | Finish | Div. Rank | Overall Rank |
| BEVILAQUA, Kate | Australia | 00:26:03 | 02:25:19 | 01:25:13 | 04:19:06 | 1 | 43 |
| HOSCHKE, Rebecca | Australia | 00:29:13 | 02:21:57 | 01:26:58 | 04:21:11 | 2 | 48 |
| PEDLEY, Kate | Australia | 00:29:36 | 02:27:49 | 01:20:42 | 04:21:41 | 1 | 51 |
| GIBB, Katey | Australia | 00:26:13 | 02:26:54 | 01:27:40 | 04:23:38 | 1 | 59 |
| DUFFIELD, Katy | Australia | 00:27:29 | 02:25:34 | 01:28:31 | 04:24:12 | 3 | 62 |
| BAKER, Renee | Australia | 00:26:50 | 02:26:22 | 01:29:49 | 04:25:40 | 4 | 69 |
| GRANGER, Belinda | Australia | 00:26:50 | 02:26:12 | 01:30:05 | 04:26:14 | 5 | 71 |
| MOSLEY, Polly | Australia | 00:26:12 | 02:31:02 | 01:26:40 | 04:27:04 | 6 | 75 |
| FLANAGAN, Kira | Australia | 00:26:57 | 02:30:09 | 01:27:51 | 04:29:25 | 2 | 87 |
| RANSON, Holly | Australia | 00:28:48 | 02:25:31 | 01:32:39 | 04:29:51 | 7 | 88 |
| JAREB, Nera | Australia | 00:31:58 | 02:29:45 | 01:24:43 | 04:31:08 | 2 | 95 |
| DUFFIELD, Michelle | Australia | 00:29:12 | 02:29:53 | 01:30:11 | 04:31:53 | 8 | 100 |
| KOCIK, Jo | Australia | 00:32:21 | 02:20:03 | 01:35:51 | 04:32:03 | 3 | 102 |
| RUSSELL, Anna | New Zealand | 00:26:51 | 02:24:01 | 01:38:44 | 04:32:35 | 9 | 104 |
| SORRELL, Marie | Australia | 00:28:34 | 02:24:28 | 01:37:02 | 04:33:17 | 4 | 106 |
| STACEY, Anthea | Australia | 00:28:21 | 02:33:02 | 01:29:01 | 04:33:38 | 1 | 108 |
| LOUGHNAN, Emily | Australia | 00:27:20 | 02:33:44 | 01:32:40 | 04:37:48 | 3 | 134 |
| MULHOLLAND, Kerry | Australia | 00:26:45 | 02:26:31 | 01:41:57 | 04:39:02 | 4 | 144 |
| HALLETT, Kristy | Australia | 00:29:13 | 02:29:42 | 01:37:15 | 04:39:12 | 10 | 145 |
| DELAURENTIS, Lisa | Australia | 00:25:46 | 02:22:21 | 01:47:58 | 04:40:03 | 5 | 154 |