News & Racing
Tim Don gets first long-distance win, Wurtele takes home victory at Calgary 70.3
New champions were crowned at the Ironman 70.3 Calgary event in Western Canada on the weekend. Former World Champion and Olympian Tim Don, GBR, finally broke his long-distance duck after switching to 70.3 racing in the post-Olympic year, with a hard-fought win. Don took the win in 3:42:21, wit
New champions were crowned at the Ironman 70.3 Calgary event in Western Canada on the weekend.  Former World Champion and Olympian Tim Don, GBR, finally broke his long-distance duck after switching to 70.3 racing in the post-Olympic year, with a hard-fought win. Don took the win in 3:42:21, with a 36-second margin over Canadian Trevor Wurtele, who finished in 3:42:57. Olympian Tyler Buttlerfield rounded out the podium, finishing less than a minute back in 3:43:38.
Don was second out of the water behind Canadian Jon Bird who swam a dolphin-like 22:04 split in the waters of McKenzie Lake. A minute behind, Americans Brian Fleishmann and Matt Ree
d were next into T1, with a gap over a pack of chasers, including Tyler Butterfield and Grant Burwash.
Trevor Wurtele entered the bike course 2:45 down on Don and proceeded to put the hammer down aboard his Cervelo P5 to clock the fastest split of the day on the point-to-point leg with a 2:02:55. Wurtele, Don, and Butterfield came into T2 within seconds of each other, but it was Don who took control on the run course. Charging ahead, Don built a small lead over Wurtele and Butterfield who were both running well. Don battled through a few cramps to take his maiden 70.3 title with a closing run of 1:14:50.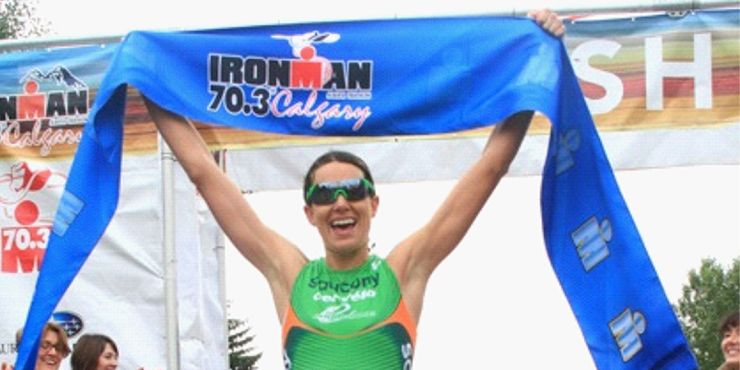 Heather Wurtele took second place here in 2010 but today showed why she is a dominant force on the half-iron distance circuit. Wurtele outran her opponents after a fast ride, to cross the line in 4:11:42, ahead of compatriot Rachel McBride, 4:13:49 and American Mandy McLane, 4:14:11.
Heather Wurtele, like husband Trevor in the men's race, exited the water about two minutes down on the front back, lead by Kiwi Anna Cleaver who clocked a fast 24:42 swim.
Riding well, Wurtele proceeded to make her way up the field. Early leader Anna Cleaver, still on her way back from injury, couldn't match the hot pace of the bike ride, and was a few minutes off the pace. At T2, a blanket could have been thrown over the race leaders with Rachel McBride leading in Wurtele and McLane. Onto the run course, Wurtele was able to light up her Saucony's and run away from McBride and McLane. Her 1:23:48 half-marathon was the fastest of the field, and gave her a 2-minute margin over McBride at the finish line.
Defending champion Magali Tisseyre swam well to exit the water 90-seconds in arrears to swim leader Anna Cleaver, however did not finish the race.
Men's Top 5:
Tim Don GBR 3:42:21

Trevor Wurtele CAN 3:42:57
Tyler Butterfield USA 3:43:38
Matt Reed USA 3:49:09
Grant Burwash CAN 3:49:09
Women's Top 5:
Heather Wurtele CAN 4:11:42

Rachel McBride CAN 4:13:49
Mandy McLane USA 4:14:11
Lisa Mensink CAN 4:18:36
Tenille Hoogland CAN 4:24:02