News & Racing
Tim Reed and Gina Crawford win Ironman 70.3 Yeppoon 2013
Tim Reed and Gina Crawford have wrapped up their preparations for a couple of big upcoming races with wins today at Ironman 70.3 Yeppoon. Tim Berkel was second overall in the men's race and Kiwi Adam Gordon was third for his first 70.3 podium. In the women's race Lisa Marangon had a grea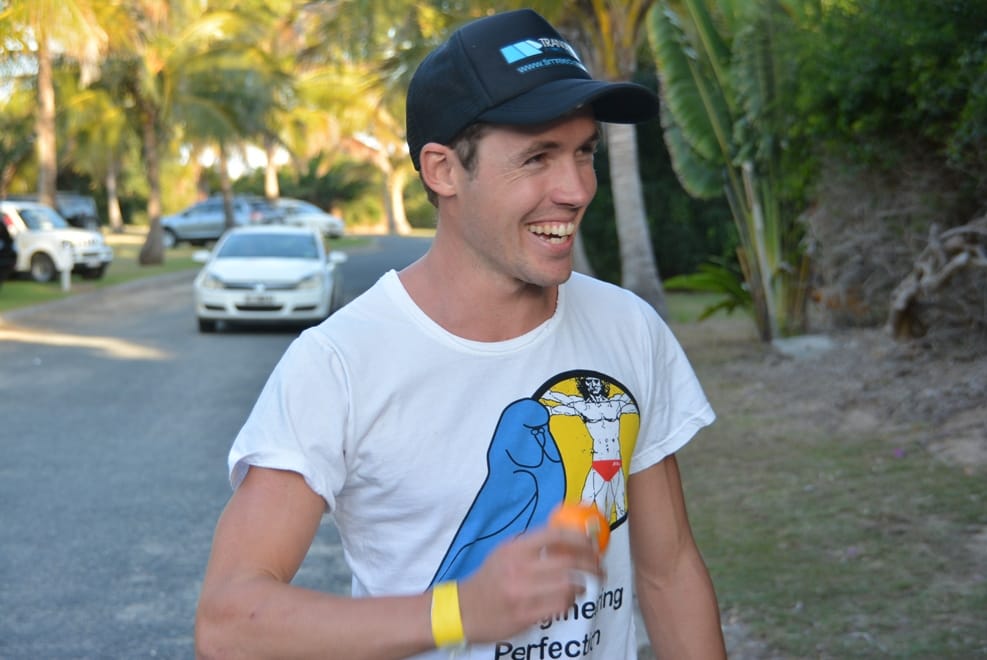 Tim Reed and Gina Crawford have wrapped up their preparations for a couple of big upcoming races with wins today at Ironman 70.3 Yeppoon.
Tim Berkel was second overall in the men's race and Kiwi Adam Gordon was third for his first 70.3 podium.
In the women's race Lisa Marangon had a great swim / bike and backed it up with a 1:35 run to take second overall and Canberra's Michelle Wu was third overall.
This is arguably the best triathlon in Australia. Let's hope Nick Munting and the team at X-Tri work hard at bringing the race back! If you have never done Yeppoon you are missing the most relaxed and awesome triathlon around. The entire race is situated around the resort. This means you are situated only minutes from transition and the entire family can relax and enjoy supporting your race.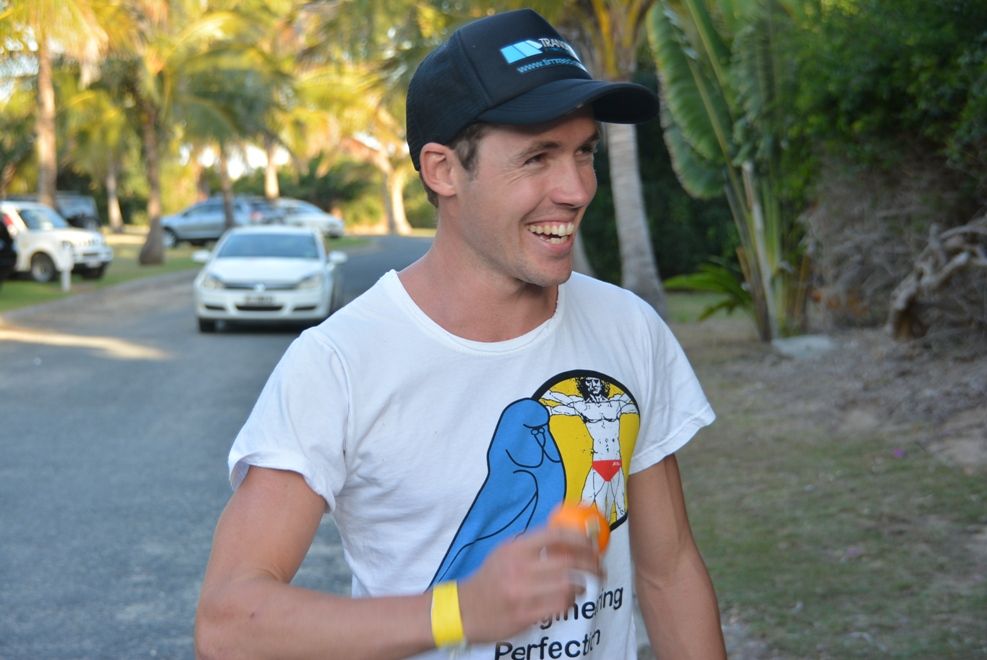 Tim Reed once again showed his class and lead from the front with a very quick swim and his now trademark dominating bike ride. Reed lost all of his gels on the bike and went in to the run completely under done from a nutrition point of view. At about 10kms he hit a wall but managed to hang on to take the win.
Proving that you are never too old to learn Gina Crawford has been applying a new race plan that she has been reading about. She put it to the test last week in Samoa at the half iron distance triathlon and again today. It is all about conserving and pacing early on which she has never done. It will be interesting to watch Gina tackle MetaMan Bintan in a couple of weeks with this new approach.
Tim Berkel was pushed all the way to take second overall. Pushed most of the way by Adam Gordon who has taken his first 70.3 podium spot. This was a great result by Adam who has been putting together some great training recently and said to us before the race that he was in good shape to have a crack at the podium.
Tim Berkel may not have been too happy at being pushed by Adam who was constantly hunting Berkel for a lot of the run. Berkel has is also racing MetaMan in two weeks and with the payday potential there will be wanting to go in to that race as fresh as possible. For Berkel the way the race was panning out it should have been a sprint to the line with Tim Reed. But a blocking penalty (while passing age groupers) lead to a 5min stint in the penalty box at the end of the bike. This saw Tim slip from second to 8th. By the end of the first lap he had clawed his way back to 2nd and just had a determined Adam Gordon chasing him.
In the men's race Ollie Whistler had a electronic gear failure in his comeback race. Mitch Robins was traveling well in second place until about 7kms in to the run. He'll be speaking to his scientists this week to find out what happened. At this stage he felt his core temp was going through the roof and struggled. Even Tim Berkel stopped to check on him when he passed Mitch.
Casey Munro and Michael Fox both had great races with very solid runs. Casey is swimming really well and rode one of the stronger rides of the day.
Matty White has been crook for a solid two weeks and after coming out of the water over a minute down on the guys he started the ride and realised that he was still not 100%. With MetaMan Bintan Iron Distance in two weeks and a possible big payday he made the right decision to save himself.
Lisa Marangon raced well after making a few changes after Busselton 70.3 this year. She has been getting herself more settled in an effort to overcome constant sickness before big races. Today Lisa swum and rode well. She wasn't entirely happy with her run after leading early.
Michelle Wu had her usual strong run and finished with a solid third overall. After extracting herself from the cold dark depths of mid winter Canberra and hoping off a plane in 26 degree weather she coped really well with the change in temperature.
It was great to see Madeleine Oldfield back racing again. Maddie has done a couple of Gatorade races in Victoria and this was her return to open racing. She has been focusing on bringing some balance and control back in to her life. Without a coach and taking more control of things she is looking forward to getting back in to racing again.
Andrea Forrest (nee Oracki) raced well for someone who is just breaking in to the pro ranks. Andrea raced at Cairns and lead out of T2 just ahead of Sam Warriner. We were looking for something similar this weekend but she was slightly off the pace and came out of the water with Michelle and Madeleine. A solid bike and the second fastest female run of the day shows there is a lot of potential.
In the men's category Troy Drinan was the first age grouper home with Jarrod Owen next.
The X-Man, Xavier Coppock proved too good for the Penrith Institute of Sports athletes. They were headed by Andrew Vicary who turned himself inside out to catch Trent Chapman before T2 and then went on to run a very handy 1:36 to take the bragging rights for this year. Ben Scull DNFd and Bob Brace overcame early electronic gear difficulties to finish as well as could be expected. Scott Hobson also unfortunately DNFd.
The Event Crew's Heath Fitzpatrick raced his first ever 70.3 and finished with the third fastest run of the day and a 4:20. Not bad for someone who has recently started triathlons. Heath comes from an elite running back ground and is enjoying the new sport. Heath will have bragging rights at the office for a while after also taking out the QLD 70.3 Age Group championship title. Something Stevo would be proud to own.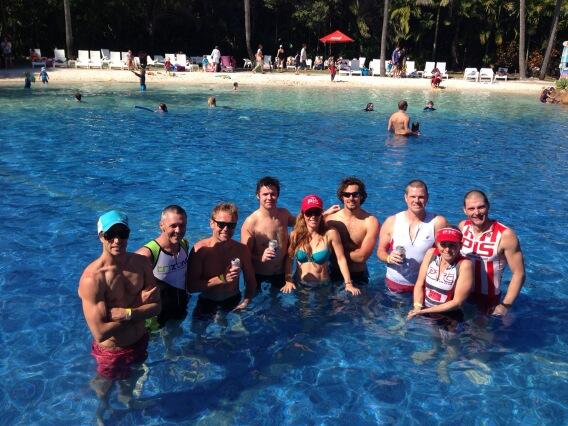 | | | | | | | | |
| --- | --- | --- | --- | --- | --- | --- | --- |
| Pos | Name (#) | Time | Categ (Pos) | Gender (Pos) | Swim | Cycle | Run |
| 1 | Tim REED (1) | 3:55:26 | Professional (1) | Male (1) | 0:23:58 | 2:08:11 | 1:21:27 |
| 2 | Tim VAN BERKEL (4) | 3:59:47 | Professional (2) | Male (2) | 0:24:09 | 2:11:43 | 1:17:26 |
| 3 | Adam GORDON (10) | 4:01:33 | Professional (3) | Male (3) | 0:26:21 | 2:13:16 | 1:19:30 |
| 4 | Casey MUNRO (11) | 4:03:08 | Professional (4) | Male (4) | 0:23:57 | 2:16:06 | 1:20:58 |
| 5 | Michael FOX (450) | 4:03:39 | Professional (5) | Male (5) | 0:23:39 | 2:16:25 | 1:21:49 |
| 6 | Kieran ROCHE (6) | 4:09:09 | Professional (6) | Male (6) | 0:24:04 | 2:15:40 | 1:27:12 |
| 7 | Matt BURTON (9) | 4:10:54 | Professional (7) | Male (7) | 0:28:25 | 2:17:10 | 1:23:03 |
| 8 | Troy DRINAN (248) | 4:13:47 | 35-39 years (1) | Male (8) | 0:26:53 | 2:17:08 | 1:27:08 |
| 9 | Brad WAUER (12) | 4:15:22 | Professional (8) | Male (9) | 0:24:11 | 2:15:36 | 1:33:06 |
| 10 | Mitchell ROBINS (19) | 4:17:32 | Professional (9) | Male (10) | 0:23:57 | 2:16:08 | 1:35:42 |
| 11 | Bradley CLARK (444) | 4:17:32 | Professional (10) | Male (11) | 0:25:43 | 2:16:57 | 1:32:39 |
| 12 | Jarrod OWEN (413) | 4:18:29 | 30-34 years (1) | Male (12) | 0:30:44 | 2:23:08 | 1:22:18 |
| 13 | Xavier COPPOCK (243) | 4:20:05 | 35-39 years (2) | Male (13) | 0:29:12 | 2:16:32 | 1:32:04 |
| 14 | David WASHBROOK (433) | 4:20:25 | 30-34 years (2) | Male (14) | 0:28:03 | 2:23:03 | 1:25:59 |
| 15 | Heath FITZPATRICK (254) | 4:20:26 | 35-39 years (3) | Male (15) | 0:29:47 | 2:26:51 | 1:19:54 |
| 16 | Leigh STABRYLA (483) | 4:21:40 | 25-29 years (1) | Male (16) | 0:27:28 | 2:26:32 | 1:25:16 |
| 17 | Luke MARTIN (402) | 4:22:14 | 30-34 years (3) | Male (17) | 0:27:55 | 2:14:42 | 1:37:20 |
| 19 | Chris MULCAHY (337) | 4:23:36 | 40-44 years (1) | Male (18) | 0:30:22 | 2:24:07 | 1:26:46 |
| 20 | Tim LANG (184) | 4:23:46 | 45-49 years (1) | Male (19) | 0:28:21 | 2:20:38 | 1:32:18 |
| 21 | Thomas HILLS (457) | 4:24:01 | 25-29 years (2) | Male (20) | 0:26:30 | 2:22:33 | 1:32:15 |
| | | | | | | | |
| Pos | Name (#) | Time | Categ (Pos) | Gender (Pos) | Swim | Cycle | Run |
| 18 | Gina CRAWFORD (15) | 4:23:05 | Professional (1) | Female (1) | 0:26:01 | 2:25:32 | 1:29:08 |
| 25 | Lisa MARANGON (13) | 4:29:34 | Professional (2) | Female (2) | 0:25:39 | 2:25:59 | 1:35:45 |
| 32 | Michelle WU (14) | 4:35:51 | Professional (3) | Female (3) | 0:28:19 | 2:30:31 | 1:34:26 |
| 35 | Andrea FORREST (17) | 4:38:42 | Professional (4) | Female (4) | 0:28:17 | 2:34:09 | 1:33:46 |
| 52 | Madeleine OLDFIELD (18) | 4:46:14 | Professional (5) | Female (5) | 0:28:04 | 2:39:21 | 1:36:40 |
| 59 | Jessica MITCHELL (113) | 4:48:43 | 18-24 years (1) | Female (6) | 0:31:12 | 2:34:39 | 1:38:17 |
| 64 | Polly MOSLEY (115) | 4:50:48 | 25-29 years (1) | Female (7) | 0:28:09 | 2:42:32 | 1:36:37 |
| 81 | Angela CLARKE (27) | 4:57:27 | 45-49 years (1) | Female (8) | 0:30:29 | 2:42:35 | 1:41:37 |
| 92 | Marion HERMITAGE (35) | 5:05:24 | 50-54 years (1) | Female (9) | 0:30:19 | 2:51:53 | 1:40:14 |
| 98 | Sarah DUNN (81) | 5:07:58 | 35-39 years (1) | Female (10) | 0:35:08 | 2:50:12 | 1:39:41 |
| 102 | Holly LARUFFA (104) | 5:08:57 | 25-29 years (2) | Female (11) | 0:33:52 | 2:39:52 | 1:51:05 |
| 112 | Megan ROBB (123) | 5:12:41 | 30-34 years (1) | Female (12) | 0:31:11 | 2:47:58 | 1:49:59 |
| 123 | Clair SOUTAR-DAWSON (127) | 5:14:27 | 18-24 years (2) | Female (13) | 0:33:04 | 2:34:43 | 2:03:04 |
| 126 | Ntasha GEREBTZOFF (87) | 5:14:56 | 35-39 years (2) | Female (14) | 0:33:01 | 2:48:42 | 1:49:25 |
| 127 | Marilyn MORRISON (48) | 5:15:32 | 50-54 years (2) | Female (15) | 0:35:56 | 2:51:57 | 1:44:18 |
| 129 | Melanie GILLESPIE (89) | 5:16:43 | 30-34 years (2) | Female (16) | 0:30:28 | 2:42:46 | 1:59:30 |
| 131 | Naomi RANDS (122) | 5:17:11 | 25-29 years (3) | Female (17) | 0:36:36 | 2:44:27 | 1:51:11 |
| 133 | Lucy SKINNER (57) | 5:17:28 | 40-44 years (1) | Female (18) | 0:35:26 | 2:45:25 | 1:53:15 |
| 136 | Julie HOWLE (37) | 5:18:26 | 40-44 years (2) | Female (19) | 0:28:46 | 3:03:05 | 1:43:44 |
| 137 | Jessie SLADE (125) | 5:18:39 | 25-29 years (4) | Female (20) | 0:34:22 | 2:54:46 | 1:44:54 |