News & Racing
Tim Reed and Lisa Marangon win Ironman Yeppoon 70.3 Triathlon 2012
Tim Reed had to dig deep on the run today to overcome a 3min deficit that eventual second place male Sam Betten had built up on the bike. The combination of Reed's pace and experienced had to be drawn on to run down Betten. Betten was one of the dark horses going in to the […]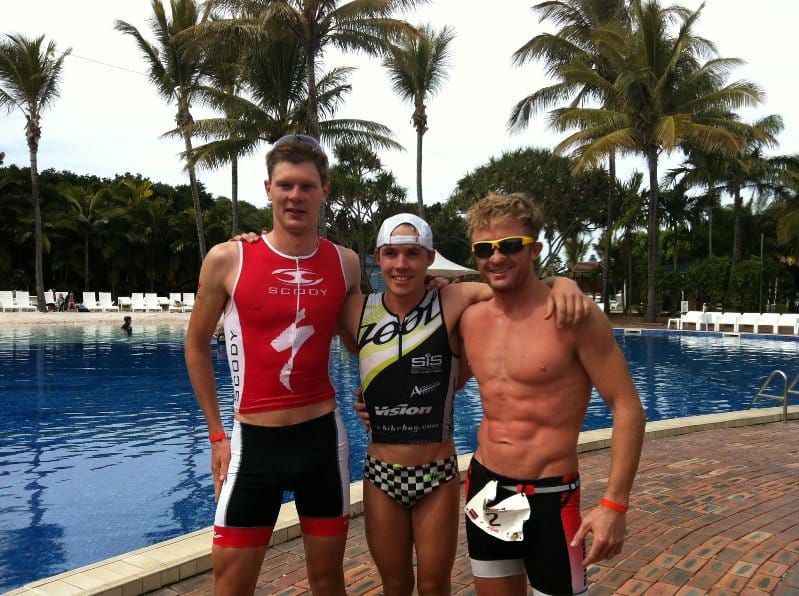 Tim Reed had to dig deep on the run today to overcome a 3min deficit that eventual second place male Sam Betten had built up on the bike. The combination of Reed's pace and experienced had to be drawn on to run down Betten. Betten was one of the dark horses going in to the race and almost took it out.
Also impressive today was Matty White's 3rd after his recent 'anti training' trip to Las Vegas. John Polson was 4th just over a minute behind Matty White. White aside Polson was a concern for Tim Reed because of his dynamite run.
Speaking to Reed straight after the race he was ecstatic with the win and felt the race went as planned. "I knew that a couple off the faster swimmers would get a head start but I was happy with where I was positioned when I came out of the water. There was a decent group on the bike."
There was some initial concern about how the five lap bike course would work with the number of athletes on the course but Reed felt it worked well. "The bike course was not congested. A group formed pretty quickly with John Poloson, Matty White, Matt Bailey, myself and a couple of others. After about three laps Matty and I decided to put some pace on. My main concern was John Polson because he can run very well. Matt Bailey stayed with Matty and I."
Out of T2 and Reed had over four minutes to make up on a flying Sam Betten. After the first lap Reed had taken back around 2 1/2 minutes from Betten. "Once I knew that I had gained that much on Sam on the first lap I relaxed a bit and wanted to conserve myself for the second half of the run. I kept a bit up m. Sleeve but felt comfortable that I had it in me.
Next up for Tim is Hy-Vee and the World 70.3 Champs. Tim has some unfinished business at Hy-Vee after being in great form through the season and coming down with the worst case of man flu in the week before his biggest race of last year.
Joey Lampe pulled out during the race after having been sick in the lead up. It was a shame to see Joey not at his best as he has been racing well and developing his potential strongly.
Age Groupers Matt Burton, Ben Bell and Alexander Houghton put in three very strong performances. Burton finished 5th overall in a time of 3:59:47 and Bell was 9th overall in 4:07:30 with Houghton 2 seconds behind in 10th place over. Burton beat home a number of the pros with an incredibly strong all round performance.
Lisa Marangon won ahead of a determined Sarah Crowley (Cairns 70.3 winner). All the reports had Marangon training up a storm in the last few weeks with her training partners saying how strong and fast she is. This played out at the race today. The predictions were that Marangon would be leading the race on to the run then it would remain to be seen how she would go out holding out a fast running Crowley. She not only held her out but put time on her in the second half of the run. It was an impressive performance by Marangon.
Speaking to Lisa after the race we asked her about the very confident approach to the race after recently training up a storm in Sydney.
Lisa Marangon was backing herself to win. This wasn't based on who she was racing but her own form. "After getting back with my coach Mick Maroney since returning from Boulder my training and planning has focused my race around winning and beating myself. I didn't take in to account who was racing. My swimming, cycling and running fell in to place just over a week ago. It was like everything just clicked at the right time."
Marangon didn't taper going to this race. Her training has been based around the Athlete Lab in Sydney and Marangon did a full race simulation of the World Ironman 70.3 Champs Las Vegas course on the Wednesday before Yeppoon. "Yeppoon was a trial to see how everything is going. Nutrition,   race mentally and physical standing all needed to be tested in race conditions with my goal races Hy-Vee and Las Vegas only weeks away.
Focusing on listening to her body during the race and making sure pacing is right was Marangon's total focus at Yeppoon. "I have reduced my nutrition intake and am taking on more water since I have trimmed down. I have changed my diet and have been training on natural foods except one day per week. I am eating a lot more natural proteins such as eggs and Kangaroo sausages along with eating more fruit and nuts during the day.I am getting a lot more rest and sleep now than I ever have had." Lisa has also been making sure she gets regular massage and goes to a hyperbaric chamber once a week.
During the race Marangon ran out of T1 without her race belt and went back to get it. She also stopped on the bike because she thought one of her tyres had flatted.
There has been a lot more consistency with training under Mick Maroney. "Mick has made every week similar and just adding a bit here and there to mix things up. I am training at level 7, 8, 9 backing off to 7 when my body is feeling done. Once again listening to my body more. On the bike my training focus is to hold 100rpm on the bike and doing some solid runs sessions off the bike. I have not been doing the high run miles I usually would do." All of Marangon's riding has been at the Athlete Lab and on the Wattbike at home.
Marangon has two weeks to Hy-Vee then another week to the World 70.3 champs. She leaves this Friday for Boulder where she will spend one week before flying to Hy-Vee, race and will remain for four days after at Des Moines then straight to Vegas. "I am so confident right now in my own ability that I am going to Hy-Vee and Las Vegas to win." Lisa has even started to eat for the time zones she is going to race at in the US. Breakfast for dinner and dinner for breakfast.
Already a great swimmer Lisa says her swimming has picked up even more, her bike is dominating and she has finally started to run well off the bike.
Good luck to both Tim and Lisa as they head off to race their two big races of the year.
| | | | | | | | |
| --- | --- | --- | --- | --- | --- | --- | --- |
| Pos | Cat Pos | Name | Time | Cat | Swim | Cycle | Run |
| 1 | 1 | Tim REED | 3:49:42 | M-Pro | 0:24:19 | 2:10:38 | 1:12:42 |
| 2 | 2 | Samuel BETTEN | 3:50:15 | M-Pro | 0:22:46 | 2:08:14 | 1:17:17 |
| 3 | 3 | Matty WHITE | 3:55:18 | M-Pro | 0:24:17 | 2:10:40 | 1:18:27 |
| 4 | 4 | John POLSON | 3:56:30 | M-Pro | 0:24:20 | 2:13:14 | 1:16:46 |
| 5 | 1 | Matt BURTON | 3:59:47 | M-18-24 | 0:26:09 | 2:13:42 | 1:17:42 |
| 6 | 5 | Matt BAILEY | 4:00:03 | M-Pro | 0:23:15 | 2:11:45 | 1:22:52 |
| 7 | 6 | Mitchell ANDERSON | 4:00:39 | M-Pro | 0:26:06 | 2:10:25 | 1:21:30 |
| 8 | 7 | Adam GORDON | 4:04:15 | M-Pro | 0:26:24 | 2:11:22 | 1:23:51 |
| 9 | 1 | Ben BELL | 4:07:30 | M-35-39 | 0:26:05 | 2:22:03 | 1:17:28 |
| 10 | 2 | Alexander HOUGHTON | 4:07:32 | M-18-24 | 0:25:09 | 2:15:49 | 1:24:14 |
| 11 | 8 | Ben HAMMOND | 4:08:06 | M-Pro | 0:25:05 | 2:16:54 | 1:23:45 |
| 12 | 1 | Jarrod OWEN | 4:09:06 | M-30-34 | 0:28:47 | 2:20:14 | 1:17:35 |
| 13 | 1 | Luke MARTIN | 4:10:47 | M-25-29 | 0:26:47 | 2:15:51 | 1:25:16 |
| 14 | 2 | Brendan BROOKS | 4:10:58 | M-25-29 | 0:26:06 | 2:12:41 | 1:29:23 |
| 15 | 9 | Luke GILLMER | 4:11:32 | M-Pro | 0:25:32 | 2:16:01 | 1:27:13 |
| 16 | 10 | Johan BORG | 4:12:07 | M-Pro | 0:27:26 | 2:20:09 | 1:22:03 |
| 17 | 3 | David KALINOWSKI | 4:12:37 | M-25-29 | 0:25:33 | 2:19:51 | 1:24:26 |
| 18 | 1 | Nick BURT | 4:13:02 | M-40-44 | 0:28:02 | 2:19:55 | 1:22:21 |
| 19 | 11 | Lindsey WALL | 4:13:18 | M-Pro | 0:24:12 | 2:19:10 | 1:27:41 |
| 20 | 3 | James GOSWELL | 4:13:27 | M-18-24 | 0:24:17 | 2:24:37 | 1:21:20 |
| | | | | | | | |
| Pos | Cat Pos | Name | Time | Cat | Swim | Cycle | Run |
| 26 | 1 | Lisa MARANGON | 4:17:27 | F-Pro | 0:25:23 | 2:24:16 | 1:25:14 |
| 39 | 2 | Sarah CROWLEY | 4:24:21 | F-Pro | 0:29:47 | 2:23:14 | 1:29:03 |
| 57 | 3 | Kristy HALLETT | 4:30:41 | F-Pro | 0:31:50 | 2:28:57 | 1:27:40 |
| 69 | 4 | Nicole BARRY | 4:34:45 | F-Pro | 0:25:19 | 2:31:57 | 1:35:23 |
| 71 | 5 | Naomi FERGUSSON | 4:35:08 | F-Pro | 0:29:19 | 2:28:25 | 1:34:55 |
| 88 | 1 | Emma MILLER | 4:39:39 | F-30-34 | 0:32:10 | 2:33:37 | 1:30:26 |
| 106 | 1 | Michelle BOYES | 4:43:37 | F-40-44 | 0:31:08 | 2:32:39 | 1:36:39 |
| 111 | 1 | Holly RANSON | 4:44:41 | F-18-24 | 0:29:04 | 2:37:57 | 1:35:22 |
| 129 | 1 | Natalie SILVESTRO | 4:49:11 | F-25-29 | 0:30:40 | 2:33:36 | 1:39:55 |
| 132 | 2 | Kacey WILLOUGHBY | 4:49:31 | F-25-29 | 0:32:24 | 2:40:28 | 1:33:21 |
| 140 | 1 | Angela CLARKE | 4:50:56 | F-45-49 | 0:30:23 | 2:41:12 | 1:36:35 |
| 149 | 1 | Mel NEWTON | 4:52:41 | F-35-39 | 0:33:25 | 2:40:34 | 1:34:52 |
| 150 | 2 | Helen KING | 4:52:44 | F-18-24 | 0:32:03 | 2:40:17 | 1:36:52 |
| 153 | 2 | Alison RYAN | 4:53:03 | F-30-34 | 0:29:17 | 2:46:43 | 1:33:58 |
| 155 | 2 | Allison COOKE | 4:53:57 | F-35-39 | 0:29:02 | 2:48:43 | 1:33:12 |
| 156 | 3 | Marina JURJEVIC | 4:54:05 | F-30-34 | 0:33:49 | 2:33:20 | 1:43:25 |
| 159 | 4 | Michelle BARNES | 4:54:34 | F-30-34 | 0:31:19 | 2:43:48 | 1:35:40 |
| 163 | 3 | Rebecca JENNER | 4:55:54 | F-18-24 | 0:33:46 | 2:41:34 | 1:37:25 |
| 166 | 2 | Sara FINCH | 4:56:19 | F-40-44 | 0:32:37 | 2:44:57 | 1:35:29 |
| 172 | 3 | Shannon PROFFIT | 4:56:55 | F-25-29 | 0:29:07 | 2:43:58 | 1:41:01 |