News & Racing
Triathlon's generation next steps up to the plate in Devonport
Australian Triathlon's generation next, led by Tasmania's Jacob Birtwhistle and Western Australian Jaz Hedgeland came of age in Devonport today. Birtwhistle, 20 and Hedgeland 19, broke through to win their first major senior titles when they scored convincing wins in the Oceania and Aust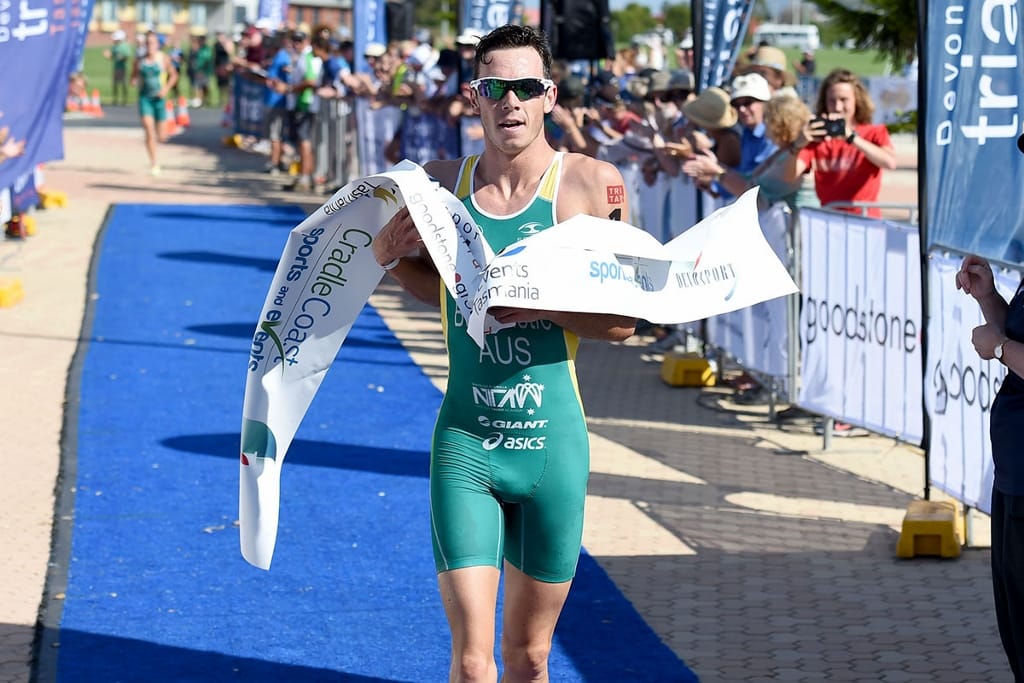 Australian Triathlon's generation next, led by Tasmania's Jacob Birtwhistle and Western Australian Jaz Hedgeland came of age in Devonport today.
Birtwhistle, 20 and Hedgeland 19, broke through to win their first major senior titles when they scored convincing wins in the Oceania and Australian Elite Championships in ideal conditions to celebrate the 30th anniversary of one of Australia's oldest triathlons in and around the picturesque Mersey Bluff.
The pair join an honour role that includes some of Australia's biggest triathlon names – Olympians, world champions and Hall of Famers.
A men's honour role, that includes 2000 Olympian and two-time winner Craig Walton, the last Tasmanian to win the title in 1999, and fellow Olympians Courtney Atkinson and Brendan Sexton (who were both in today's race), Brad Kahlefeldt and Simon Thompson.
And for Hedgeland, a two-time Australian Junior Champion and like Birtwhistle an Australian Youth Olympic Games gold medallist, her name now sits next to amongst others, Triathlon Australia's five Hall of Famers Michellie Jones, Emma Carney, the late Jackie Gallagher, Loretta Harrop and Louise Bonham "as well as the three Emmas "Snowsill, Moffatt and Jackson.
Birtwhistle and Hedgeland, with their sights set on becoming Olympic and Commonwealth Games representatives, showed all their potential to win four titles in one race.
They were crowned Oceania and Australian Champions in both Elite and Under 23s, sending a clear message to their opponents that Triathlon Australia's National Talent Academy squad are ready to step up to the plate.
Launceston's Birtwhistle came home from his Wollongong training base to thrill the local crowd who came out to cheer on their local hero. He was at the front of a group of five who came together for the final 2.5km of the grueling 10km run.
Birtwhistle, a former Australian Junior Cross Country champion and brilliant 5 and 10km track and road runner, looked comfortable in the run home, although he admitted it was tough.
"It was a tough run home, but it was all worth it; you always try and keep something in reserve but I was hurting that's for sure," admitted the 2014 ITU Junior World Championship silver medallist.
"It was great to be able step up over the last 800 metres and take the win and become only the second Tasmanian male (behind Craig Walton) ever to win the race.
"To have the support out on the course and to win in my home state was amazing."
It was Birtwhistle, who has built his race around a fluid run leg, who ran shoulder to shoulder with 2012 New Zealand Olympian Ryan Sissons and his fellow Aussie young gun Declan Wilson, Kenji Nener and Marcel Walkington.
The gold medal developed into a race in two between Birtwhistle and his fellow NTA athlete Wilson, the 2013 ITU Under 23 World Championship bronze medallist, with the Tassie boy kicking away over the final 500 metres.
It left Sissons, who has represented the Kiwis in London and at last year's Glasgow Commonwealth Games and Nener to fight it out for the bronze and the pair charged at the line in dramatic fashion, with Sissons getting Nener, another NTA athlete, by the barest of margins "2:00.00.7 to 2:00.00.8.
Hedgeland was one of seven girls who rode away from the field on the bike "riding alongside fellow Australians, NSW pair Grace Musgrove and Emma Jeffcoat and four New Zealanders Sophie Corbidge, Simone Ackerman, Rebecca Clarke and Rebecca Kingsford.
But it was Hedgeland who scampered out of transition in only her second 10km run in the Standard (Olympic) distance and was never headed.
She increased her lead on each of the four 2.5km run legs and in the end it was well over a minute between her and silver medallist Ackerman with Corbidge, who beat Hedgeland in Kinloch two weeks ago, hanging on for third.
The unlucky Musgrove crashed as the seven maneuvered around the transition corner on the bike, but as tough as teak the Wollongong Wizard picked herself up and finished fifth overall in the Oceania championship and the silver medallist in the Australian Championship which saw Ellie Salthouse take the bronze.
"Coming out of the swim in the front pack was a really good feeling and it set me up for the whole race," said Hedgeland.
"My run felt great and I was actually s little surprised at how good I felt.
"I just know that the work I'm doing with my coach Dan Atkins (on he Gold Coast) is working, I'm just going to keep trucking along, keep doing what I'm doing and hopefully keep going strong,
"Like any elite athlete I have my long term goals on the Commonwealth and Olympic Games but that's a while away yet, but I just want to focus on my next races and see what happens.
I've only just come into under 23s and it's a privilege just to start with some of the elite girls.
"Having four years as a junior and now stepping up to under 23s and elite is a whole new ball game. "
The Elites had a lot to live up to with two cracking Junior finishes, which saw a thrilling boys finish in a dead heat between Queenslanders Matt Roberts and Luke Willian with a third Queenslander Christian Wilson taking bronze.
Roberts and Willian, schoolboy rivals and good friends, could not be split as they threw themselves at the line both crashing to the ground face first in one of the more amazing finishes many long standing Triathlon officials had ever seen.
"It was great to share that with Luke," said Roberts, "we've been racing each other since early school days six years ago and neither of us was going to give in."
The women's race was almost as close with Youth Olympic Games silver medallist Brittany Dutton just edging out Jaz Hedgeland's younger sister Kira with only a fraction of a second separating them with Lara Cook (NSW) third.
In the Australian Youth Championships Loran Redmond (NSW) won the boys and Ellie Hoitink (ACT) the girls.