Twelsiek & Arendt take the cake in Wisconsin
MADISON, Wis. (September 8, 2013) – American Jackie Arendt won her first ever IRONMAN in her hometown race at IRONMAN Wisconsin, while German Maik Twelsiek claimed his second title. Twelsiek finished in 8:40:15 and Arendt recorded a winning time of 9:47:07.   In the women's race, 2008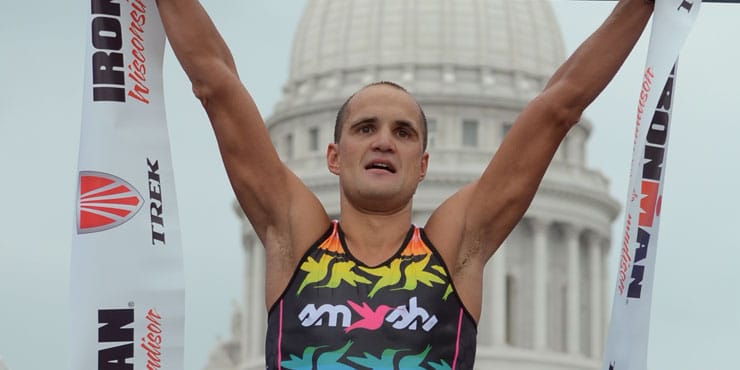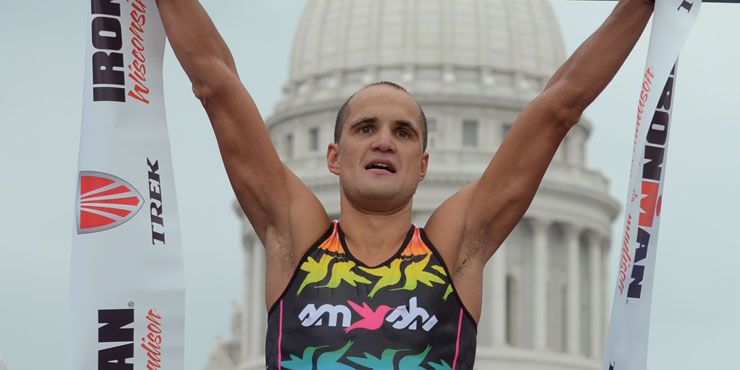 MADISON, Wis.  (September 8, 2013) "American Jackie Arendt won her first ever IRONMAN in her hometown race at IRONMAN Wisconsin, while German Maik Twelsiek claimed his second title. Twelsiek finished in 8:40:15 and Arendt recorded a winning time of 9:47:07.
In the women's race, 2008 IRONMAN Wisconsin Champion Hillary Biscay led the women up the Helix at the Monona Terrace. Her 55:31 swim put her ahead of fellow Americans Malaika Homo (56:41), Jackie Arendt (57:00), and Suzanne Serpico (4:22).
Once on the bike, Homo quickly took control of the lead by mile 10. She posted a 5:23:03 ride, and American Kendra Lee followed just 12 seconds later (but had to immediately drop out of the race due to an injured foot). This vaulted Arendt into second, with American Beth Shutt in third.
Heading out of T2 behind by 4:54, Arendt was patient, steadily chewing into Homo's lead. Shutt was down by 11:04 but she too was running strong and making up ground. At the 15-mile mark, Arendt finally tracked Homo down and passed her. With seven miles to go, Arendt's lead was 4:57 over Homo. Shutt made her move one mile earlier and took possession of second. Feeling the pressure from behind, Arendt closed with a 3:16:03 marathon to win her first career IRONMAN title in her hometown in 9:47:07. Shutt ran 3:15:50 to finish second in 9:53:42, and Homo held on for third (9:58:49).
Top 5 professional women's results are below:
1.                 Jackie Arendt       USA         9:47:07
2.                 Beth Shutt                 USA         9:52:42
3.                 Malaika Homo     USA         9:58:49
4.                 Beth Walsh             USA         9:59:56
5.                 Saleta Castro       ESP         10:04:51
In the men's race, South Africa's Kent Horner led the way out of Lake Monona in 52:34. Just a few seconds behind were France's Romain Guillaume (52:37) and Germany's Maik Twelsiek (52:38). A second group contained Australian Josh Rix (52:54), German Stephan Vuckovic (52:56), and American Daniel Bretscher (53:00). Guillaume made quick work in transition and was headed off on the bike first, determined to set the pace for the rest of the day.
On the bike, Guillaume did exactly that, along with the 2007 IRONMAN Wisconsin Champion Twelsiek. The two worked together out front and led for the majority of the ride, never more than a few seconds from each other. Guillaume tried to shake free of Twelsiek several times but the German wouldn't have it. At the 80-mile mark, Twelsiek opened up a gap of 1:10, and sensing the Frenchman's fatigue, cranked up the pace even more in the last 12 miles, finished the 112-mile unrelenting course in 4:34:58 and setting the new course record (previously set by 2012 IRONMAN Wisconsin Champion Ben Hoffman). Guillaume came into transition next down 11:30, followed by American Daniel Bretscher who was 14:42 behind.
On the marathon, Twelsiek's double-digit lead allowed him to run a solid 3:06:09 to claim his second IRONMAN Wisconsin title in 8:40:15. Bretscher ran 2:57:26 to pass Guillaume for second (8:46:00), and Canadian Elliot Holtham moved up one spot during the run to finish third in 8:50:45.
Top 5 professional men's results are below:
Maik Twelsiek                                             GER                                     8:40:15
Daniel Bretscher                                     USA                                     8:46:00
Elliot Holtham                                             CAN                                     8:50:45
Josh Rix                                                             AUS                                     8:52:51
Romain Guillaume                                 FRA                                     8:55:17
One of more than 30 events in the global IRONMAN Series, IRONMAN Wisconsin featured a challenging course that is a staple on the IRONMAN circuit. The one-loop, wetsuit legal swim took place in Lake Monona, followed by a 112-mile bike that tested athletes with a number of hills as they passed beautiful vistas of rural Wisconsin. The 26.2-mile run offered two loops and spectator support that is unparalleled as athletes ran through downtown Madison, passing the University of Wisconsin campus, Camp Randal Stadium, State Street and the scenic path alongside Lake Mendota. The event offered a total professional prize purse of $25,000 and 50 coveted slots to the 2014 IRONMAN World Championship, taking place on Oct. 11 in Kailua-Kona, Hawai`i.
Visit  www.ironman.com/triathlon/events/americas/ironman/wisconsin/results.aspx  for event information and official results. For media inquiries should be directed tomedia@ironman.com.