USA's Gwen Jorgensen creates history with sixth World Triathlon Series win in Chicago
Chicago, USA (28 June 2014) – Gwen Jorgensen (USA) ran herself into the history books on Saturday as the first women to claim six World Triathlon Series titles clinching victory in Chicago from Helen Jenkins (GBR) and Juri Ide (JAP). The American was unstoppable today after a swim that placed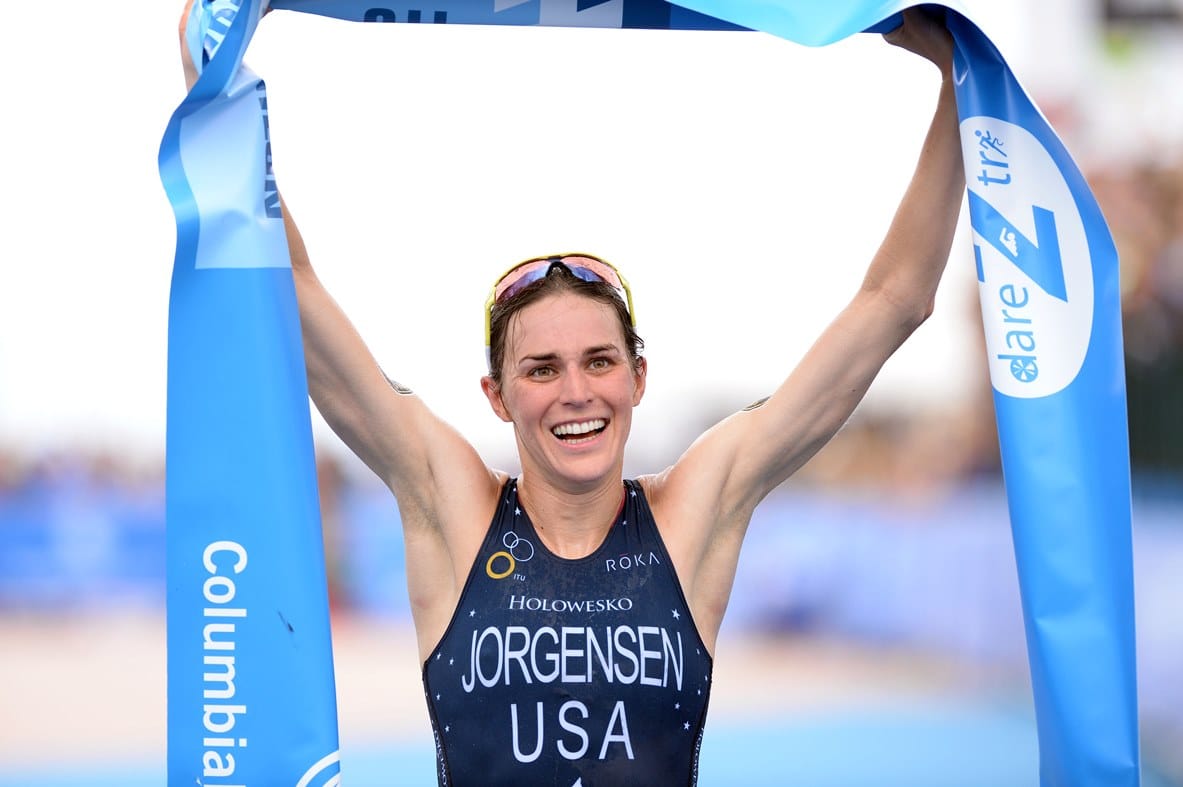 Chicago, USA (28 June 2014) – Gwen Jorgensen (USA) ran herself into the history books on Saturday as the first women to claim six World Triathlon Series titles clinching victory in Chicago from Helen Jenkins (GBR) and Juri Ide (JAP).
The American was unstoppable today after a swim that placed her into the chase group on the bike, Jorgensen sat comfortably in that group the entire 40km bike leg after falling off the lead group in the early stages, before unleashing her trademark run on the 10km course to win in a time of 1 hour 55 minutes and 33 seconds. That victory installed her as the most decorated women in history overtaking Emma Moffatt (AUS) and Paula Findlay (CAN), who each have five wins.
"The bike I wasn't really in a great position so I just tried to stick in it," said Jorgensen.
She said it was so hot and the crowd so vocal it really helped to push her today.
"My Mum, my Dad, aunts and uncles… so many friends and family its amazing, it was so great," she said.
However, with a driven Jenkins pushing a furious pace on the twisting course, Jorgensen was dropped to the chase on the first lap.
It was a tough eight laps on the bike with many turns at either end that took some sting out of the girls' legs. After working her way into the front group Kirsten Sweetland (CAN) did an enormous amount of work as did Moffatt, Jenkins and Nicky Samuels (NZL).
With such strong cyclists trading off at the helm of the pack, that gap continued to increase to 66 seconds at the final changeover, meaning Jorgenson had her work cut out today to catch the leaders.
Moffatt was first to storm out of T2 attacking the run straight away, no doubt thinking about the speedy Jorgensen behind her, but she quickly fell off the pace. Ide and Jenkins took over out front, with Sweetland joining them. Eventually the pace was too much for the Canadian going out too fast but still a great race.
At the 5km Jorgensen had halved the gap to the leaders had moved through the field and passed most of the front group. With just 2.5km to go, Jenkins and Ide remained strong out front but Jorgensen was slowly reeling them with every foot stroke as the heat was taking effect and the crowd lifting the American.
Jorgensen joined the duo at the front just before stepping it up into another gear and ran away to a famous victory along with securing the National Championship title. Jenkins proved too strong for Ide as she crossed for the silver and Ide the bronze.
| | | | | | | |
| --- | --- | --- | --- | --- | --- | --- |
| Pos | Athlete | Country | Time | Swim | Bike | Run |
| 1 | Gwen Jorgensen | USA | 01:55:33 | 00:20:31 | 00:59:17 | 00:34:14 |
| 2 | Helen Jenkins | GBR | 01:55:53 | 00:20:24 | 00:58:17 | 00:35:38 |
| 3 | Juri Ide | JPN | 01:56:00 | 00:20:25 | 00:58:18 | 00:35:48 |
| 4 | Annamaria Mazzetti | ITA | 01:56:56 | 00:20:33 | 00:58:15 | 00:36:44 |
| 5 | Charlotte Bonin | ITA | 01:57:04 | 00:20:25 | 00:58:19 | 00:36:47 |
| 6 | Emma Moffatt | AUS | 01:57:08 | 00:20:20 | 00:58:18 | 00:36:57 |
| 7 | Kirsten Sweetland | CAN | 01:57:08 | 00:20:43 | 00:58:06 | 00:36:53 |
| 8 | Vendula Frintova | CZE | 01:57:18 | 00:21:03 | 00:58:49 | 00:36:00 |
| 9 | Lisa Perterer | AUT | 01:57:25 | 00:21:02 | 00:58:49 | 00:36:06 |
| 10 | Charlotte Mcshane | AUS | 01:58:03 | 00:20:29 | 00:58:15 | 00:37:46 |
| 11 | Pamela Oliveira | BRA | 01:58:19 | 00:20:26 | 00:58:16 | 00:38:03 |
| 12 | Claudia Rivas | MEX | 01:58:27 | 00:20:32 | 00:59:20 | 00:37:05 |
| 13 | Nicky Samuels | NZL | 01:58:46 | 00:20:14 | 00:58:28 | 00:38:32 |
| 14 | Katrien Verstuyft | BEL | 01:58:57 | 00:21:05 | 00:58:48 | 00:37:37 |
| 15 | Gillian Backhouse | AUS | 01:59:19 | 00:20:58 | 00:58:51 | 00:37:59 |
| 16 | Sara Vilic | AUT | 01:59:38 | 00:21:01 | 00:58:49 | 00:38:21 |
| 17 | Kaitlin Donner | USA | 01:59:40 | 00:20:32 | 00:58:10 | 00:39:24 |
| 18 | Flora Duffy | BER | 01:59:45 | 00:21:01 | 00:58:48 | 00:38:23 |
| 19 | Yuka Sato | JPN | 01:59:54 | 00:20:22 | 00:58:25 | 00:39:38 |
| 20 | Emmie Charayron | FRA | 01:59:59 | 00:21:00 | 00:58:49 | 00:38:38 |
| 21 | Lindsey Jerdonek | USA | 02:00:17 | 00:20:29 | 00:58:13 | 00:40:04 |
| 22 | Simone Ackermann | NZL | 02:00:28 | 00:20:39 | 00:59:13 | 00:39:02 |
| 23 | Yuko Takahashi | JPN | 02:00:29 | 00:20:28 | 00:59:21 | 00:39:10 |
| 24 | Ai Ueda | JPN | 02:00:30 | 00:22:16 | 01:00:50 | 00:35:53 |
| 25 | Mariko Adachi | JPN | 02:00:53 | 00:20:30 | 00:59:15 | 00:39:34 |
| 26 | Erin Jones | USA | 02:01:24 | 00:20:38 | 00:59:18 | 00:39:59 |
| 27 | Melinda Vernon | AUS | 02:01:41 | 00:21:07 | 01:02:12 | 00:36:52 |
| 28 | Claire Michel | BEL | 02:01:47 | 00:21:08 | 01:02:10 | 00:36:59 |
| 29 | Joanna Brown | CAN | 02:02:44 | 00:22:34 | 01:00:31 | 00:37:56 |
| 30 | Mariya Shorets | RUS | 02:03:01 | 00:21:08 | 01:02:03 | 00:38:14 |
| 31 | Kate Mcilroy | NZL | 02:03:07 | 00:21:05 | 01:00:32 | 00:39:53 |
| 32 | Elena Maria Petrini | ITA | 02:03:20 | 00:20:36 | 00:59:17 | 00:41:59 |
| 33 | Agnieszka Jerzyk | POL | 02:03:47 | 00:22:38 | 01:00:38 | 00:39:01 |
| 34 | Maaike Caelers | NED | 02:04:19 | 00:22:37 | 01:00:30 | 00:39:38 |
| 35 | Gillian Sanders | RSA | 02:04:47 | 00:21:22 | 01:01:54 | 00:40:02 |
| 36 | Romina Biagioli | ARG | 02:05:01 | 00:20:58 | 01:02:18 | 00:40:09 |
| 37 | Taylor Spivey | USA | 02:05:10 | 00:20:28 | 00:59:20 | 00:43:49 |
| 38 | Romina Palacio Balena | ARG | 02:05:22 | 00:21:05 | 01:02:10 | 00:40:33 |
| 39 | Beatriz Neres | BRA | 02:07:42 | 00:22:36 | 01:00:37 | 00:42:54 |
| 40 | Anna Godoy Contreras | ESP | 02:08:43 | 00:20:30 | 01:02:49 | 00:43:51 |
| 41 | María Ortega De Miguel | ESP | 02:09:38 | 00:21:07 | 01:02:07 | 00:44:48 |
| 42 | Nicole Truxes | USA | 02:10:26 | 00:20:56 | 01:01:25 | 00:46:25 |
| DNF | Brianna Blanchard | USA | DNF | 00:20:41 | 01:02:32 | 00:00:00 |
| DNF | Maria Czesnik | POL | DNF | 00:21:06 | 01:02:02 | 00:00:00 |
| DNF | Raquel Torres | DOM | DNF | 00:22:38 | 00:00:00 | 00:00:00 |
| DNF | Erin Dolan | USA | DNF | 00:20:34 | 00:00:00 | 00:00:00 |
| DNF | Chelsea Burns | USA | DNF | 00:21:03 | 00:00:00 | 00:00:00 |
| DNF | Liubov Polyanskaya | RUS | DNF | 00:21:21 | 00:00:00 | 00:00:00 |
| DNF | Carolina Routier | ESP | DNF | 00:20:01 | 00:00:00 | 00:00:00 |
| DNF | Anne Tabarant | FRA | DNF | 00:20:41 | 00:00:00 | 00:00:00 |