Vitoria-Gasteiz local and course designer Eneko Llanos talks Challenge Vitoria
Leading triathlete, Vitoria-Gasteiz local and course designer Eneko Llanos talks Challenge Vitoria and why it's a race worth travelling to plus gives his tips for the course. Q: What makes Challenge Vitoria so special? The courses, the nature, the city, the warmth of the public. We live in a s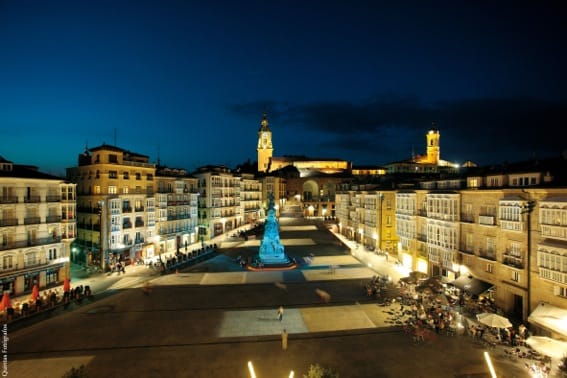 Leading triathlete, Vitoria-Gasteiz local and course designer Eneko Llanos talks Challenge Vitoria and why it's a race worth travelling to plus gives his tips for the course.
Q: What makes Challenge Vitoria so special?
The courses, the nature, the city, the warmth of the public. We live in a small city that surprises the visitor, and I'm sure anybody who comes to Challenge Vitoria will be nicely surprised too.
Q: What are your top training tips for the course?
Swim: usually the lake is flat in the mornings and not too cold, but be ready for a wetsuit swim in clear water with lots of space to swim on your own.
Bike: fast course, some rolling hills but mostly flat, spend time during your training rides on your aero position, you're going to use it a lot here. Expect some winds, especially towards the end of the 180km ride.
Run: flat and fast, one very little hill, but overall a very fast run course.
Q: What are your must-visit places in the Vitoria region?
The city centre, the old city and the Santa Maria cathedral are great to visit. There are a lot of hidden corners in this part of the city, nice bars and restaurants to enjoy a good Rioja Alavesa wine and eat awesome pintxos. "Parque de la Florida" is a beautiful place too and if you want do a training run go to "Parque del Prado" where you can find many athletes and even a marathon World Champion. One of the places I like the most in my city is "El Anillo Verde", a green belt that surrounds the whole city with awesome parks like Salburua, Armentia, Olarizu, Armentia… rent a city bike and go discover the "Green Belt".
Q: Why should athletes come and race in Vitoria?
It's a race where everybody is going to feel welcomed and supported by all the citizens of Vitoria-Gasteiz, with a beautiful race course in stunning Basque countryside combined with a great urban run. A race where you can enjoy both nature and the city.