Gear & Tech
Review: HUUB Aura 2013 Wetsuit
Initial impression The HUUB Aura comes in a sharp (but not over the top) black box. The design is clean with purple and white highlighting. It is clear that HUUB have created a suit that is about function as opposed to bling. Features Buoyancy The Aura has gone for less rather than more in regards [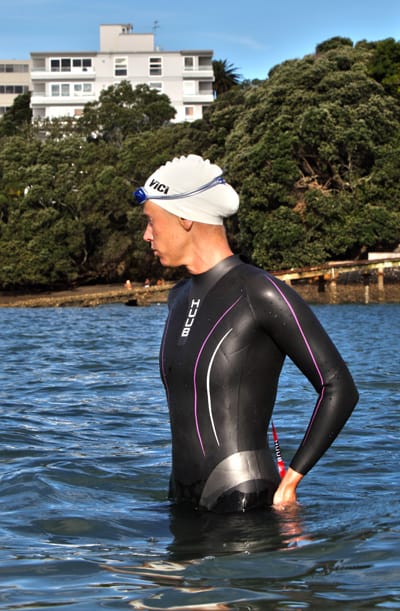 Initial impression
The HUUB Aura comes in a sharp (but not over the top) black box. The design is clean with purple and white highlighting. It is clear that HUUB have created a suit that is about function as opposed to bling.
Features
Buoyancy
The Aura has gone for less rather than more in regards to buoyancy, recognizing that the female body is already more buoyant than males. One of the intentions of this feature is to ensure that the female swimmer is not sitting too high in the water and can perform her stroke effectively. For the male swimmers, the Archimedes can be ordered in 3:5 or 4:4 versions, depending on your buoyancy needs.
Flexibility
The flexibility in this suit is certainly unparalleled. Not just in the arms where swimmers often complain about feeling restricted in their wetsuits, but in the entire suit.
Zipper
Zip this one from bottom up, you shouldn't need a friend to help you into this suit.
Transition speed
The zipper breaks away easily and the suit slides off well, given its flexibility in the arm and leg openings you should not have a problem getting this suit off.
Sizing
Given the extra flexibility in this suit, I would suggest staying with your normal size or even considering down sizing if you have been a more stiffer suit to date.
Calf panels and arm catch panels
The purple fabric on the calves is thinner than the bulk of the suit, designed to aid in circulation and kick efficiency. HUUB chose not to build paddles into the forearms of the suit, like those you may see in some other suits.
Why you want this suit
If you are after flexibility, this is your suit. The lining is incredibly flexible. It seems that HUUB recognized triathletes can get that heavy feelings in their arms with a more stiffer suit. This will not be a problem in the Aura, you are free to move through the water as you would in the swimming pool.