News & Racing
WTC Makes Changes to 5150 Triathlon Series Qualifying Opportunities
WTC has made some significant changes to the qualifying process for Hy-Vee Triathlon 5150 US Championship. This is the richest triathlon in the world with a total prize pool of US$1.1m. This compares to the Ironman World Championship prize pool of US$650,000 and the US$200,000 on offer at the Ironma
WTC has made some significant changes to the qualifying process for Hy-Vee Triathlon 5150 US Championship. This is the richest triathlon in the world with a total prize pool of US$1.1m. This compares to the Ironman World Championship prize pool of US$650,000 and the US$200,000 on offer at the Ironman 70.3 World Championship.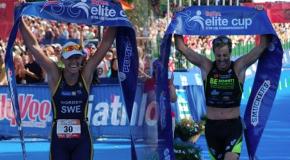 The male and female winners each took home US$151,000 in 2011. In 2011 24th place took home US$4,400 (more than second place earns in most Ironman races). With money on offer like this it is no wonder that there has been a lot more chatter this year from long course pros about chasing a qualification. Just recently I have heard a few of the top long course guys mentioning Hy-Vee.
Also with these new qualifying events including some 70.3 races we could see some of the top ITU guys and girls racing this distance. Maybe that has something to do with Brad Kahlefeldt being excited about ordering his new Giant time trial bike. (Qualifying events below…)
What we are also going to see is the world champions of each distance automatically qualifying for all three finals. Does this mean we will see Greg Bennett racing in Kona over the Ironman distance and Craig Alexander racing Hy-Vee. Melissa Rollison has automatically qualifed for Hy-Vee and last time I spoke with Melissa this was definitely one of her 'must do races' in 2012.
One thing this new qualifying system may see is some of the leading Olympic Distance guys and girls missing out with 70.3 specialists taking some of the slots through the 70.3 qualifying races. It could also mean that some longer distance athletes who are not such good Olympic Distance athletes may also qualify for Hy-Vee. 70.3 qualifying races with bigger point earning opportunities will skew this. For instance Ironman 70.3 Latin American Pro Championship – Panama has 1500 points up for grabs whereas Galveston 5150 has 500 points up for grabs.
The other issue for pros who are Australian based is that the only qualifying race in Australia is the Busselton 70.3 and there are only 500 points up for grabs. Singapore 70.3 also has 500 points available which means at least there is one other race in our region. WTC had slated a 5150 event to run alongside the newly announced Sri Lanka 70.3 but this has been cancelled which has thrown a spanner in the works for some of the pros from this region. While this hasn't been formally announced yet by WTC the athletes have been advised that it is not on.
WTC Press Release
… (this press release can be found on Ironman.com)
WTC Announces Exciting Changes to 5150 Triathlon Series
Enhancements include expanded automatic qualifying for champions, added 5150 PR opportunities and new races
Published Tuesday, January 24, 2012
WTC Announces Exciting Changes to 5150 Triathlon SeriesWorld Triathlon Corporation (WTC) today announced changes and additions to the 5150 Triathlon Series. Professional WTC champions will have the opportunity for expanded automatic qualifying across three world-renowned championship events: the Hy-Vee 5150 U.S. Championship, Ironman World Championship 70.3 and Ironman World Championship. Professional athletes will also have expanded opportunities for 5150 Pro Ranking (5150 PR) points with the addition of 5150 Triathlon Series races and select Ironman 70.3 races to the qualifying schedule.
This is a milestone for our sport," said Andrew Messick, Chief Executive Officer of WTC. "Automatic qualifying for our champions across the three championship events will add an interesting and competitive dynamic.   With this change and the additional opportunities to earn points in the 5150 PR system, we're giving professional athletes a chance to add variety to their season and compete across different distances without compromising their qualifying opportunities. We're excited to see how this unites athletes within the triathlon community."
The 2011 Hy-Vee 5150 U.S. Championship, Marine Corps Ironman World Championship 70.3 and Ford Ironman World Championship professional winners will each receive an automatic invitation to all three events in 2012, provided they validate their slots.   With expanded automatic qualification, world champions like Craig Alexander and Melissa Rollison will not only be invited back to the race that they conquered the previous year, but also have the opportunity to race in the 2012 Hy-Vee 5150 U.S. Championship.   Likewise, Greg Bennett and Lisa Norden will now be extended an invitation to compete in Kona and Las Vegas, provided they validate their slots during the 2012 qualifying period.
"It's encouraging to see WTC introduce this initiative with the 5150, Ironman 70.3 and Ironman champions getting the chance to race each other at these championship events," said Greg Bennett, 2011 Hy-Vee 5150 U.S. Championship Men's Elite Cup champion. "Over time we will see some great battles between athletes who excel in their particular arena and are getting challenged by a different distance. Bringing the best in the sport together to race each other will be brilliant for triathlon, and I'm excited to have the opportunity to race at all three championship events in 2012."
"I'm excited to hear of the new qualifying system," said Mirinda Carfrae, second-place finisher at the 2011 Ford Ironman World Championship and Hy-Vee 5150 U.S. Championship.   "It's an opportunity and great step by WTC to encourage the best athletes to compete at the biggest races across all distances."
The announcement of the automatic qualifying system comes at a significant point in triathlon history "prize purses are at an all-time high.   Not only is the 2012 Hy-Vee 5150 U.S. Championship professional prize purse more than $1.1 million, but WTC has now increased the professional prize purse for the Ironman World Championship 70.3 and Ironman World Championship.   The total 2012 Ironman World Championship 70.3 prize purse is doubling to $200,000 and the total 2012 Ironman World Championship prize purse is increasing to $650,000.
This season, the 5150 Triathlon Series will offer several new races and WTC has designated a number of Ironman 70.3 races around the world that will count toward the 5150 PR system as well.   Professional athletes will have up to five of their highest scored races count toward their 5150 PR; at least one of those races must be a 5150 Triathlon Series event and up to two of the designated Ironman 70.3 races may count toward the total.   A full list including the qualifying schedule and points can be found on the Ironman Pro Membership website at www.ironmanpromembership.com/hy-vee-5150-qualifying/.
For a complete list of the 2012 5150 Triathlon Series events or for additional information about the expanded automatic qualifying and 5150 PR, please visit www.5150.com.   Professional athlete inquiries should be directed to Proinfo@5150.com.
2011/2012 Qualifying Events (Link to full qualifying information)

| | | | |
| --- | --- | --- | --- |
| Date | Event | Points | Purse |
| 8/13/2011 | 5150 Bela Bela | P-750 | $25,000 |
| 9/04/2011 | Hy-Vee 5150 US Championship "Des Moines | P-3000 | $1,000 000 |
| 10/23/2011 | 5150 Galveston | P-500 | $25,000 |
| 1/22/2012 | Ironman 70.3 South Africa | P-750 | $50,000 |
| 2/12/2012 | Ironman 70.3 Latin American Pro Championship- Panama | P-1500 | $75,000 |
| 3/18/2012 | Ironman 70.3 Singapore | P-500 | $15,000 |
| 4/01/2012 | Ironman 70.3 US Pro Championship- Texas | P-1500 | $75,000 |
| 4/22/2012 | Ironman 70.3 New Orleans | P-500 | $15,000 |
| 4/29/2012 | 5150 Championship, St Anthony's Triathlon | P-1500 | $65,000 |
| 5/05/2012 | Ironman 70.3 Busselton | P-500 | $15,000 |
| 5/12/2012 | Ironman 70.3 Mallorca | P-500 | $15,000 |
| 5/20/2012 | Ironman 70.3 Austria | P-750 | $50,000 |
| 5/20/2012 | Memphis in May Triathlon | P-500 | $15,000 |
| 5/20/2012 | 5150 Kansas | P-500 | $15,000 |
| 6/03/2012 | Ironman 70.3 Mooseman | P-500 | $15,000 |
| TBD | 5150 Darmstadt | P-500 | $15,000 |
| 6/09/2012 | Ironman 70.3 Boise | P-750 | $50,000 |
| 6/10/2012 | 5150 Klagenfurt | P-750 | $15,000 |
| 6/17/2012 | Ironman 70.3 UK | P-500 | $15,000 |
| 6/17/2012 | Washington DC Triathlon | P-750 | $25,000 |
| 6/24/2012 | 5150 New Orleans | P-500 | $15,000 |
| 6/24/2012 | Ironman 70.3 Mont Tremblant | P-500 | $15,000 |
| 7/01/2012 | 5150 Championship, Liverpool | P-1500 | $25,000 |
| 7/08/2012 | 5150 Boulder | P-750 | $35,000 |
| 7/08/2012 | Nautica NYC Triathlon | P-500 | $31,000 |
| 7/14/201 | 5150 Zurich | P-750 | $15,000 |
| 7/15/2012 | Ironman 70.3 Racine | P-500 | $15,000 |
| 7/22/2012 | 5150 Muskoka | P-500 | $15,000 |
| 7/29/2012 | Giant Eagle Tri | P-500 | $15,000 |
| 8/05/2012 | Ironman 70.3 Boulder | P-750 | $50,000 |
| 8/05/2012 | National Harbor 70.3 | P-500 | $15,000 |