News & Racing
2023 Ironman World Championship: A Thrilling Athlete's Journey Through Nice
Athletes gear up for a challenging and visually stunning journey through the historic and scenic course of Nice in the 2023 Ironman World Championship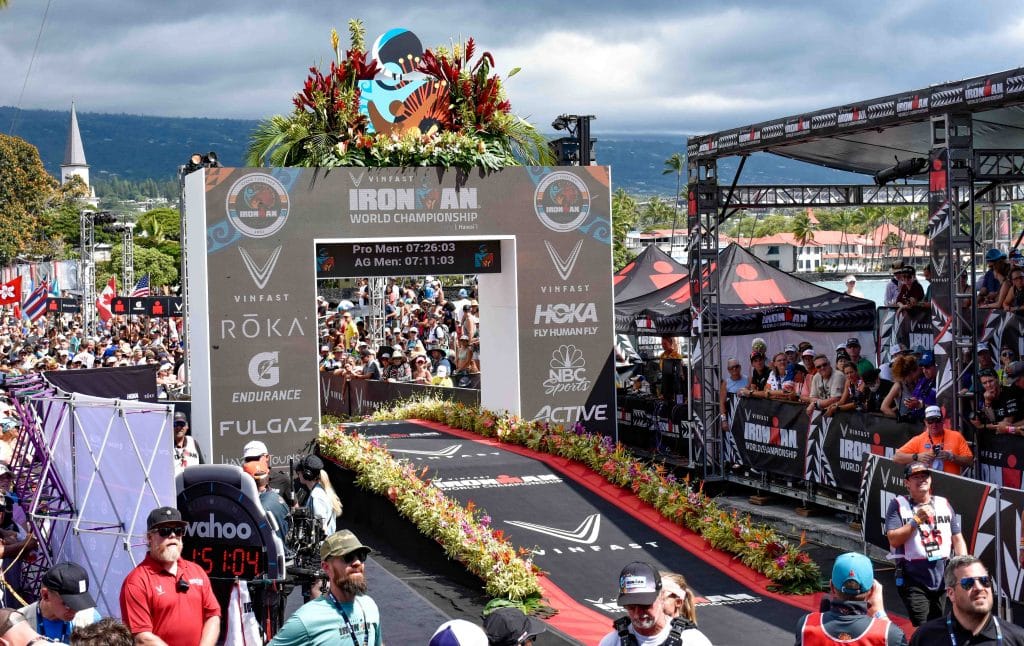 As the world's fittest athletes gear up for the 2023 Ironman World Championship, all eyes are on the tantalizing men's course unveiled in Nice, France. From azure Mediterranean waters to the world-renowned Promenade des Anglais, this epic battleground offers not only a test of strength and endurance but a visual feast, encapsulating the historic charm of the French Riviera.
Starting on September 10, 2023, the men's competition will etch its mark on the Ironman history books, being held in Nice, while the women's race will add to the Hawaiian legacy in Kailua-Kona, Hawai`i on October 14, 2023. This novel dual-location approach embodies a significant shift in the championship's traditional setup.
The race commences with a dive from the "Plage des Ponchettes" into the shimmering waters of the 'Baie des Anges,' known for its clarity and enchanting coastal views. Competitors will navigate a double rectangular course, as displayed in the images, before embarking on the most iconic bike course in all of the triathlon world.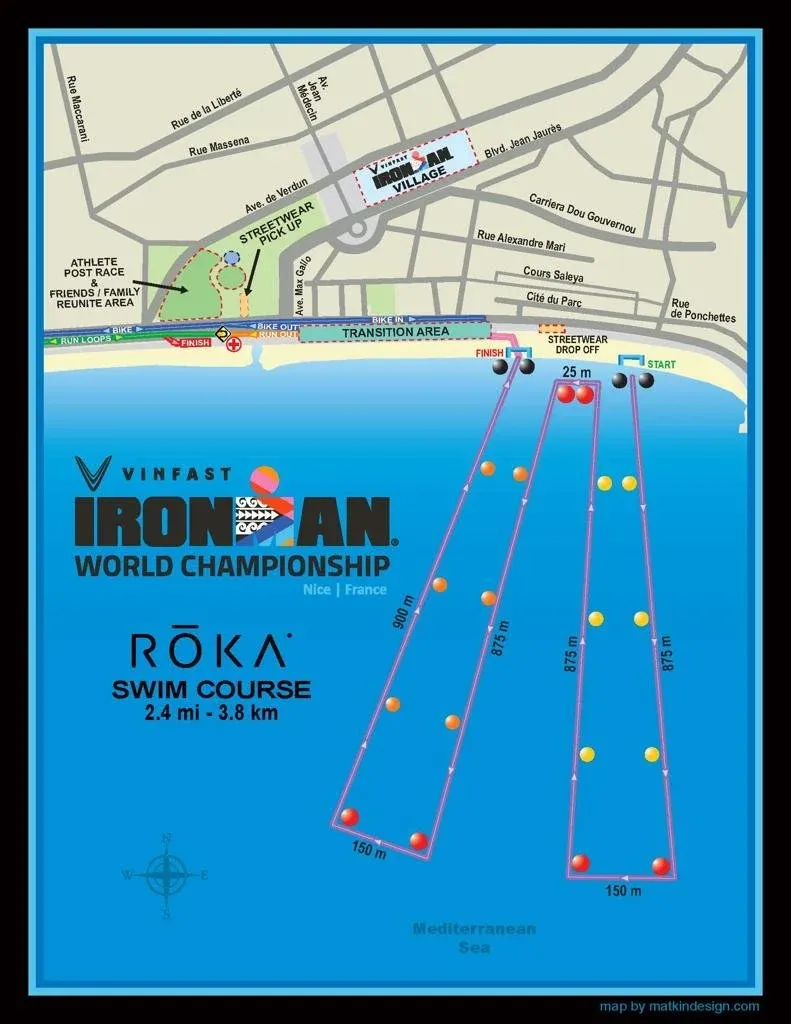 The bike course takes athletes through Nice's breathtaking hinterland, past idyllic rooftop villages of Vence, Gourdon, and Tourettes-sur-Loup. The images highlight the course's challenging climbs and technical descents, testing athletes' determination and grit. Upon completing this challenging journey, athletes will embark on a four-lap run along the picturesque Promenade des Anglais.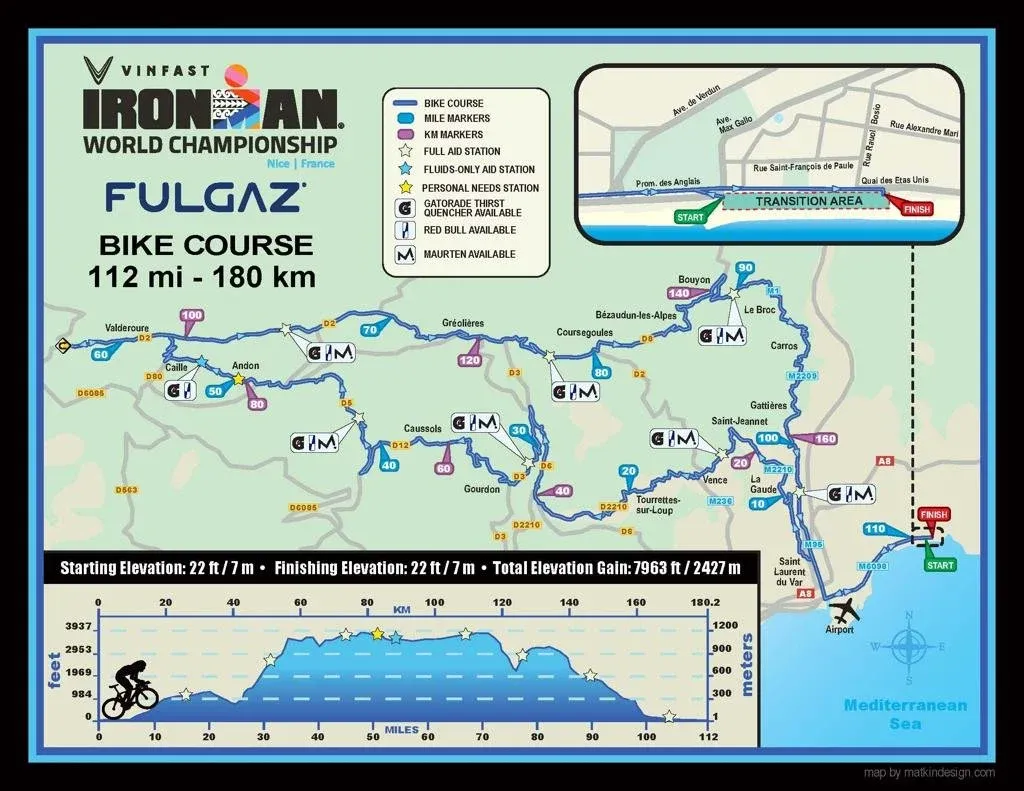 The run course is as much a treat for the eyes as it is a test of endurance. The high-quality images provide a preview of what competitors can anticipate: the famous beach clubs, the iconic blue chairs (Chaises Bleues), and the monumental Negresco Hotel, all against the backdrop of the sparkling Mediterranean Sea.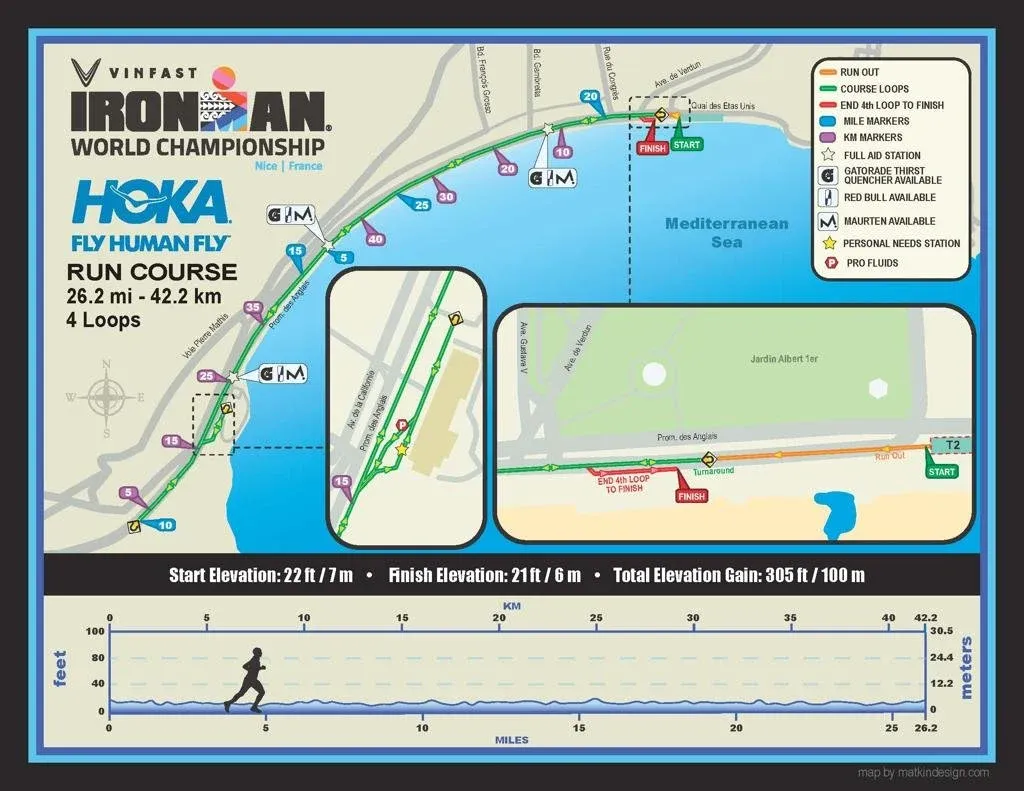 Nice, known as the birthplace of long-distance triathlon in Europe, is a city steeped in sports history. Its connection to Ironman events dates back to 2005, and it continues to be a beloved destination on the Ironman race circuit. Notable figures in the triathlon community, like Diana Bertsch, Senior Vice President of World Championship Events, and Yves Cordier, Race Director for the VinFast Ironman World Championship in Nice, have expressed their excitement for athletes to undertake this unique and exhilarating journey.
Mark Allen, a six-time Ironman World Champion, also praises the Nice course for its iconic status and beautiful challenges, declaring it an "experience you won't want to miss." For every participant, the 2023 VinFast Ironman World Championship is set to be an unforgettable odyssey, showcasing their prowess against the awe-inspiring backdrop of Nice, France.