News & Racing
Aussie Olympian Matthew Hauser Claims His Maiden WTCS Victory in Montreal
Australian triathlete Matthew Hauser secures his first WTCS win in Montreal, marking a career high after a period of significant upward momentum.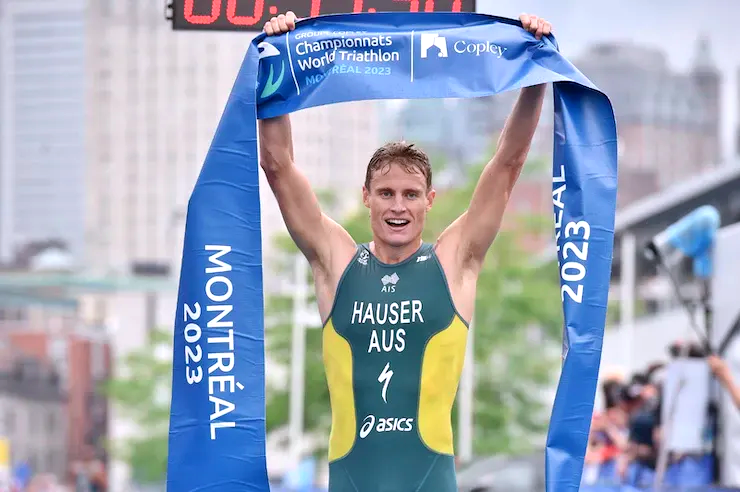 Why it matters: Matthew Hauser's win in Montreal marks his first-ever WTCS victory, capping off a strong upward trajectory in his career and boosting Australia's standing in international triathlon competitions.
Setting the pace: Hauser demonstrated his dominance from the get-go, leading the competition out of the water and maintaining his position in the lead group throughout the bike race and much of the run.
What they are saying:
Hauser: "I've just been building my momentum and felt good out there, so job done. It was just instinct when I kicked. You've just got to act in the moment – the other guys were kind of settling into a rhythm and I couldn't let that happen. It was a big group of guys and I was lucky enough to break them up."
By the numbers:
This is Hauser's first-ever victory in the WTCS.
Hauser crossed the finish line 11 seconds ahead of Brazil's Manoel Messias, finishing with a time of 53:47.
Olympic champion Kristian Blummenfelt (NOR) achieved his highest WTCS placement of the year so far, finishing in fifth.
After the Montreal race, Hauser sits 5th in the overall WTCS standings.
Manoel Messias achieved his second medal in the WTCS this season.
Jelle Geens won his first podium this season and second in Montreal.
Between transition: The weather conditions for the race were challenging due to steady drizzle, making the roads slippery and tricky to navigate. Despite this, Hauser maintained his strong performance throughout the race.
Through Time: Hauser's rise over the last few years has been significant, including a bronze at the Commonwealth Games last summer and a second-place finish in Super League's Championship series. The Montreal win now stands as the crowning achievement of his career thus far.
The bottom line: Matthew Hauser's victory in Montreal signifies not just his ascendancy in international triathlon, but also highlights Australia's increasing prominence in the sport. His consistent improvement and recent victory emphasise his potential to become a future Olympic medal contender.

Matthew Hauser 00:53:47
Manoel Messias 00:53:58
Jelle Geens 00:54:02
Tim Hellwig 00:54:03
Kristian Blummenfelt 00:54:05