News & Racing
Aaron Royle wins 2014 Australian and Oceania Olympic Distance Championships
Royle crowned Oceania king after frantic sprint finish March 2, 2104: Being an early nomination for the Australian Commonwealth Games team for Glasgow doesn't mean your mates are going to let you sit back and enjoy the ride – they're going to push you to the limit and keep you honest.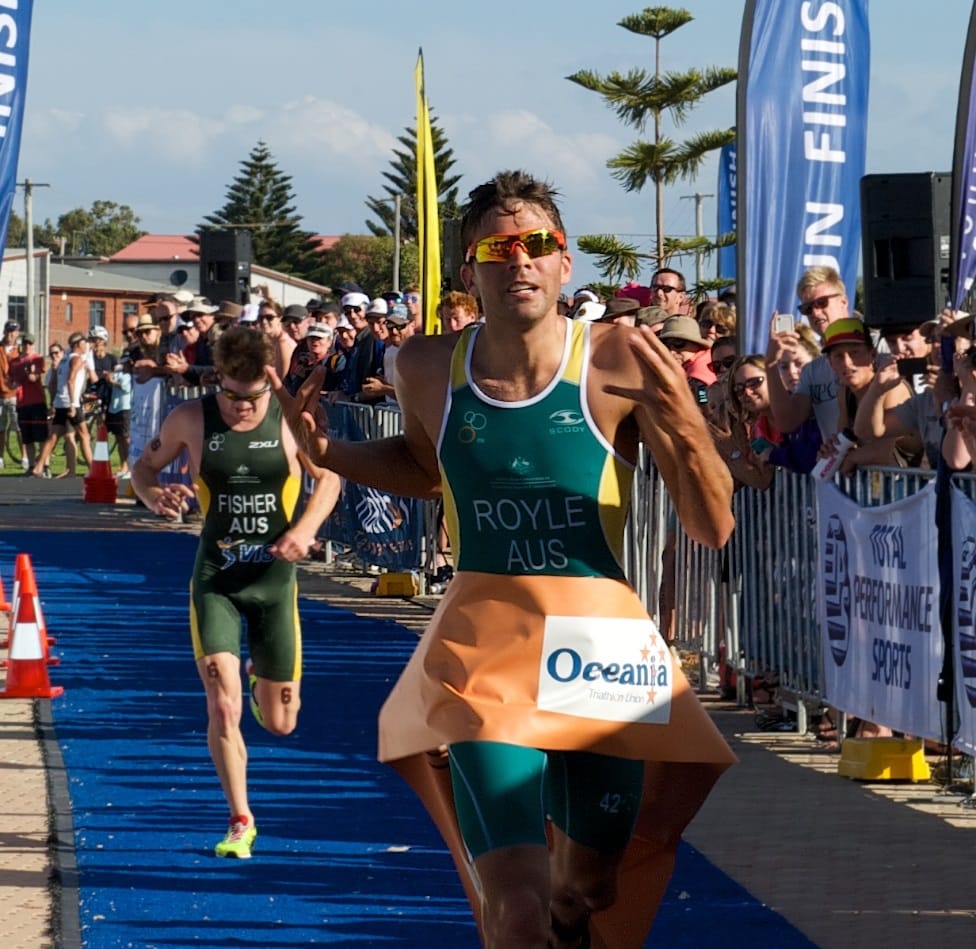 Royle crowned Oceania king after frantic sprint finish
March 2, 2104: Being an early nomination for the Australian Commonwealth Games team for Glasgow doesn't mean your mates are going to let you sit back and enjoy the ride "they're going to push you to the limit and keep you honest.
And that's just what happened in a thrilling finish to the final race on a busy day's racing at yesterday's Devonport Triathlon, which also doubled as the Australian and Oceania Olympic Distance Championships in the elite men and women.
The boys left the best till last with Newcastle-born Wollongong-based 2014 Commonwealth Games nomination Aaron Royle out-sprinting the inform Melbourne-based Queenslander and Australian team mate Ryan Fisher.
Canberra's San Diego-based Declan Wilson, last year's ITU World Championship Under 23 bronze medallist, finished third with Launceston's Youth Olympic gold medallist Jacob Birtwhistle finishing seventh in the elite category in his first ITU Olympic Distance race and was second to Wilson in the Under 23s, with ever present NSW Central Coaster Matt Baker a close-up third in an all National Talent Academy finish.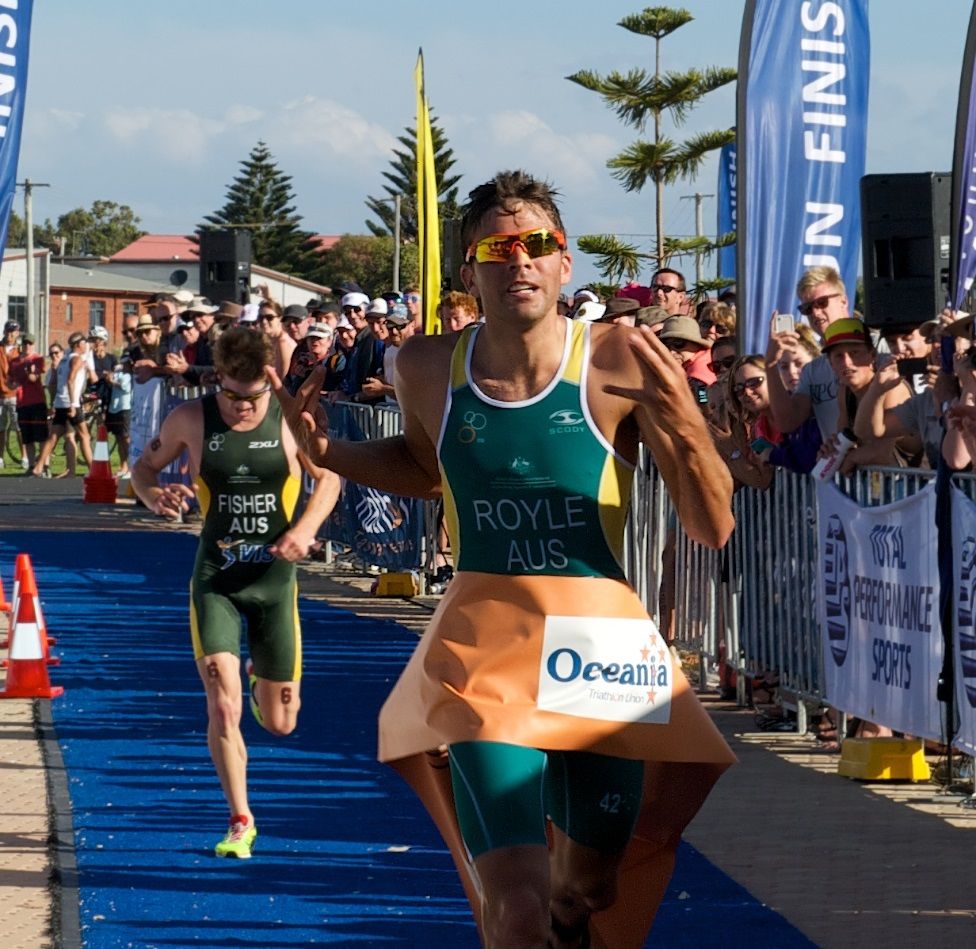 Birtwhistle, who suffered soft tissue bruising and a head cold heading into the race admitted he was "hurting" over the longer 10 kilometre run but would be better for the experience.
But it was Royle and Fisher who locked horns with a real shoulder to shoulder tussle over the final kilometre with Royle holding his line on the inside to dig deep and race away for a thrilling victory.
"No matter what I did he (Fisher) just wouldn't leave me alone," said Royle, who has finished second on two previous occasions in Devonport.
"I thought to myself I don't want to come to Devonport and finish second again. Third time lucky this time – I've got to win this one.
"It wasn't easy, coming down to that last 50 metres. There was a little bit of hustle and bustle, we both wanted that inside line but I just managed to hold him out. Once I came round that corner first that gave me the advantage to get to the line first.
"I wanted a hard race today. When you come up against the Brownlee brothers and Gomez and those kind of guys they are not easy races. So you want to try and emulate these races as much as possible.
"I decided with about two kilometres to go that I just didn't have the legs in me and I was going to save myself for a sprint finish. I decided just to keep that tempo going so Ryan still had to work to catch me but I backed it off a little bit, to save for that sprint finish. It really hurt…today it hurt a lot."
Royle said he and Fisher had been on camps and teams together for a real long time and it was good to see him going well.
"He would be the first to admit he didn't have the best season last year but he has shown he has hit some good form and is ready to try for that Commonwealth Games team," said Royle, who admitted he came to Devonport with no expectations after suffering a minor calf tear in January
"I had a couple of weeks out so I have come into this race with no expectations, I had no idea how I was going to go, I am actually quite pleased that I'm in decent form right now."
Gillian's run of wins continues in Devonport
The women's race saw the continued re-incarnation of Brisbane triathlete Gillian Backhouse when she added the OTU Oceania and Australian Olympic Distance Championship to her resume.
Just two weeks ago Backhouse, 22, achieved her best ever elite result when she conquered the wind, the rain and the surf to win the Australian Sprint Championship at Elwood Beach in Melbourne.
And yesterday in perfect sunny conditions in Devonport her extraordinary 2014 success continued when she put her hand up for ITU Under 23 World Championship selection with another stirring victory.
"The training is paying off that's for sure and especially in the run leg, not just over the five kilometres but the 10 kilometres as well," said Backhouse who beat NSW pair Natalie Van Coevorden and Melinda Vernon.
"I moved across to QAS head coach Steve Moss after a stint with him in France last year and it's been really great training with Olympian Emma Jackson and Dan Wilson and our squad members and it has kept me on the ball."
Traditionally a strong swim-biker, Backhouse admitted she had to play catch up after coming out of the 1500m swim in the second pack.
"Most of the hurt was done on the bike; I was out of the water in the second pack and it was still a fairly solid swim but the girls in front me, like Maddy Allen, Natalie Van Coevorden and Penny Hayes are really strong swimmers," said Backhouse.
"I know Nat can run and I didn't want to let her get away on the bike so I really hammered the first couple of laps and fortunately I was able to get on and we worked pretty hard on the bike.
"We had to try and keep building on the gap to keep the likes of Melinda Vernon at bay and it worked out."
Vernon is a former Deaflympics gold and silver medallist who has switched from a 10,000m track runner to triathlon and is being coached by Australian coach Darren Smith in San Diego and produced an outstanding final 10km run after too working hard to catch the chase pack on the bike.