News & Racing
Andrew Starykowicz wins with a killer bike time at Ironman 70.3 Muncie
Andrew Starykowicz and Tyler Butterfield where the two favourites leading in to the 2013 Ironman 70.3 Muncie and Callum Millward was a strong third with the possibility he may threaten the other two on a good day. These three did not disappoint with Starykowicz being in a race of his own from the st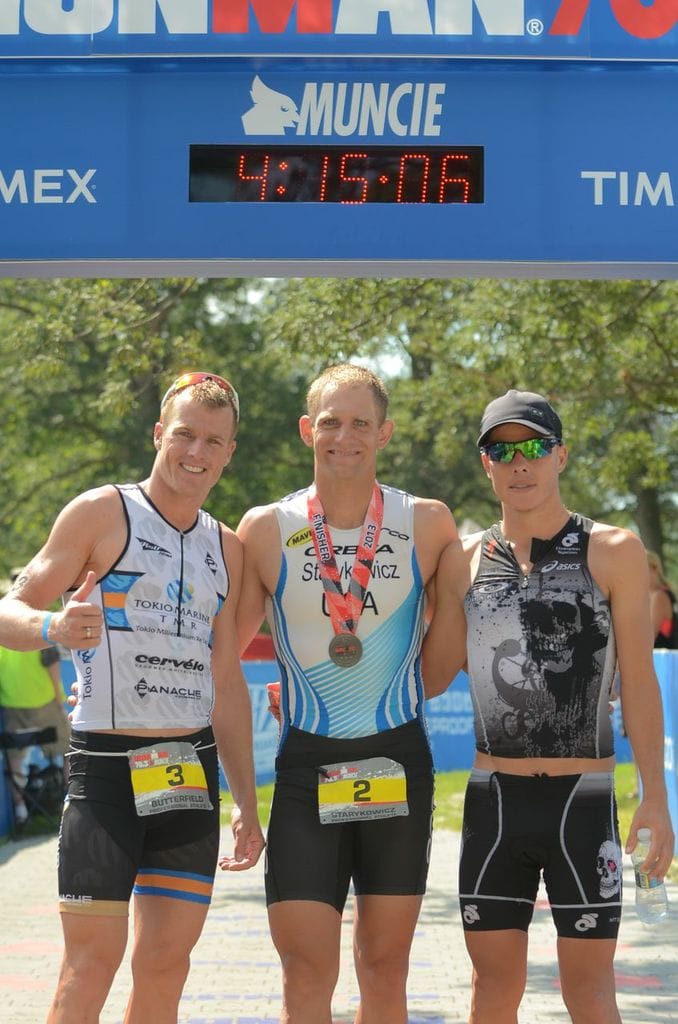 Andrew Starykowicz and Tyler Butterfield where the two favourites leading in to the 2013 Ironman 70.3 Muncie and Callum Millward was a strong third with the possibility he may threaten the other two on a good day.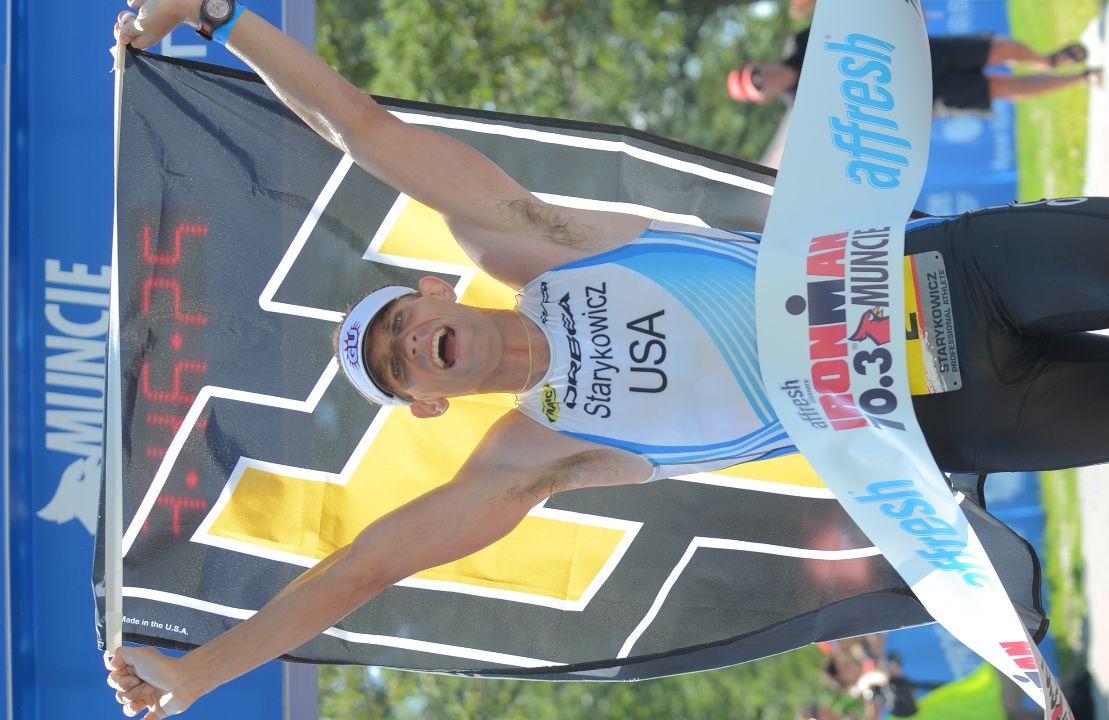 These three did not disappoint with Starykowicz being in a race of his own from the start of the bike. With the lead gained by the start of the run there would have possibly been a little bit of conservation from Starykowicz on the run.
For Tyler Butterfield it was yet another podium but still not a win. Butterfield's 1:14:16 run was fast but the deficit that he had racked up to Starykowocz on the bike was too much to claw back on the run. "I need more miles in my legs. I should be good for August and September when it really matters. Andrew was just too fast and strong on the bike and run today."
Third place went to Callum Millward just under a minute behind Butterfield was a well deserved result. Millward entered T2 along with Butterfield and Daniel Bretscher only to watch Butterfield put on the speed and pull away over the first third of the run.
The race was a good confidence booster for Millward after his recent 8th at Florida 70.3 and 12th in Boise. "I had another solid swim coming out 2nd with 45s back to the pack. Starykowicz was always going to be a handful on the bike and he quickly dispatched me, then it was about staying in touch to try and run him down. Despite having a good run, 1:15 with Butterfield running a 1:14 we weren't able to peg him back. I was still happy to put together a solid race."
Next up is for Millward is Boulder 70.3 in 3 weeks. "Boulder is on my doorstep over here in the US. It will seal my qualification for Vegas 70.3 Worlds, as I'm currently battling on struggle street in 49th. Top 50 qualify. Vegas is the major goal for me."
In the women's race Magali Tisseyre displayed a dominant performance in Muncie to take the win by an incredible ten minutes over Australian Kate Bevilaqua with Nina Kraft finishing third. The victory is the Canadian's second Ironman 70.3 title of 2013, and would have to be a huge confidence boost as we move closer to the Ironman 70.3 World Championship in Las Vegas this September.
| | | | | | | | |
| --- | --- | --- | --- | --- | --- | --- | --- |
| Name | Country | Swim | Bike | Run | Finish | Div. Rank | Overall |
| STARYKOWICZ, Andrew | USA | 0:24:25 | 2:00:55 | 1:17:46 | 3:46:25 | 1 | 1 |
| BUTTERFIELD, Tyler | BMU | 0:25:12 | 2:06:13 | 1:14:16 | 3:49:22 | 2 | 2 |
| MILLWARD, Callum | NZL | 0:24:29 | 2:07:04 | 1:15:21 | 3:50:07 | 3 | 3 |
| BRETSCHER, Daniel | USA | 0:25:17 | 2:06:01 | 1:19:24 | 3:54:01 | 4 | 4 |
| CAIAZZO, Mike | USA | 0:28:24 | 2:11:44 | 1:17:32 | 4:01:34 | 5 | 5 |
| RAU, Ryan | USA | 0:28:21 | 2:12:01 | 1:19:20 | 4:03:42 | 6 | 6 |
| BECKER, Blake | USA | 0:25:15 | 2:11:37 | 1:24:13 | 4:04:48 | 7 | 7 |
| BATES, Ryan | USA | 0:26:26 | 2:13:57 | 1:22:07 | 4:06:13 | 8 | 8 |
| WADE, Robert | USA | 0:28:37 | 2:11:43 | 1:24:18 | 4:08:21 | 9 | 9 |
| STANKO, Nicholas | USA | 0:30:54 | 2:18:00 | 1:22:25 | 4:15:40 | 10 | 11 |
| CLARKE, Timothy | USA | 0:31:14 | 2:20:30 | 1:21:00 | 4:16:32 | 1 | 12 |
| GROSICKI, Gregory | USA | 0:30:33 | 2:19:05 | 1:23:28 | 4:17:02 | 1 | 13 |
| PALMER, Devon | USA | 0:25:16 | 2:11:15 | 1:38:15 | 4:18:38 | 11 | 14 |
| FORSEE, David | USA | 0:28:22 | 2:22:10 | 1:23:15 | 4:19:18 | 1 | 15 |
| LINDEN, Ryan | USA | 0:27:14 | 2:23:29 | 1:24:13 | 4:19:55 | 2 | 16 |
| BUHR, Jeffrey | USA | 0:30:28 | 2:20:54 | 1:25:41 | 4:21:15 | 3 | 17 |
| SEIFARTH, Josh | CAN | 0:25:07 | 2:26:59 | 1:25:45 | 4:22:16 | 12 | 18 |
| SMITH, Michael | USA | 0:28:36 | 2:23:49 | 1:24:29 | 4:22:45 | 1 | 19 |
| LISA, Owen | USA | 0:29:44 | 2:14:56 | 1:33:20 | 4:22:50 | 13 | 20 |
| | | | | | | | |
| | | | | | | | |
| Name | Country | Swim | Bike | Run | Finish | Div. Rank | Overall |
| TISSEYRE, Magali | CAN | 0:26:01 | 2:17:26 | 1:25:42 | 4:12:59 | 1 | 10 |
| BEVILAQUA, Kate | AUS | 0:28:44 | 2:24:35 | 1:25:47 | 4:22:52 | 2 | 21 |
| KRAFT, Nina | USA | 0:27:00 | 2:29:06 | 1:25:24 | 4:25:44 | 3 | 27 |
| CLIFFORD, Ashley | USA | 0:26:38 | 2:29:08 | 1:26:24 | 4:26:25 | 4 | 29 |
| SHUTT, Beth | USA | 0:30:16 | 2:26:40 | 1:27:10 | 4:28:08 | 5 | 31 |
| GELLATLY, April | USA | 0:28:51 | 2:20:35 | 1:36:59 | 4:30:16 | 6 | 34 |
| KRISTICK, Corrie | USA | 0:28:29 | 2:29:58 | 1:30:20 | 4:33:01 | 1 | 41 |
| ROOHI, Molly | USA | 0:31:39 | 2:30:17 | 1:28:48 | 4:35:05 | 7 | 47 |
| MUELLER, Lisa | USA | 0:31:42 | 2:33:17 | 1:27:46 | 4:36:45 | 8 | 53 |
| BROWN, Brooke | CAN | 0:32:24 | 2:29:07 | 1:31:03 | 4:36:50 | 9 | 55 |
| BOEHMER, Briana | USA | 0:33:41 | 2:32:05 | 1:30:15 | 4:40:50 | 1 | 69 |
| WALSH, Beth | USA | 0:31:40 | 2:34:48 | 1:30:25 | 4:41:13 | 10 | 71 |
| PHELAN, Donna | CAN | 0:28:45 | 2:33:53 | 1:35:08 | 4:41:57 | 11 | 73 |
| CLEAVER, Anna | USA | 0:25:55 | 2:27:33 | 1:46:01 | 4:43:16 | 12 | 80 |
| NICOLET, Mindy | USA | 0:29:38 | 2:31:13 | 1:38:12 | 4:43:31 | 2 | 83 |
| ANDERSON, Morgan | USA | 0:37:59 | 2:30:45 | 1:30:21 | 4:43:57 | 1 | 84 |
| FLOREA, Shannon | USA | 0:31:59 | 2:33:45 | 1:35:11 | 4:45:40 | 3 | 91 |
| CARPENTER, Rebecca | USA | 0:27:18 | 2:30:27 | 1:43:59 | 4:46:04 | 1 | 94 |
| JOHANN, Carly | USA | 0:32:47 | 2:28:51 | 1:41:29 | 4:47:19 | 2 | 101 |
| BURDZILAUSKAS, Whitney | USA | 0:36:32 | 2:33:56 | 1:37:41 | 4:52:58 | 3 | 115 |